Today, we are taking a closer look at the XRay tilt-rotor FPV miniquad from Aimdroix.
A big thanks to Michael Maymi, the man behind Aimdroix, who was kind enough to send the XRay Tilt-Rotor FPV quadcopter for a review.
Some of the links on this page are affiliate links. I receive a commission (at no extra cost to you) if you make a purchase after clicking on one of these affiliate links. This helps support the free content for the community on this website. Please read our Affiliate Link Policy for more information.
This review is written by Øyvin Lanner.
Note: most of this review was written when I tested the quad with the cleanflight-based version of the firmware. But I was sent an experimental update based on Betaflight 3.1.7 which you can read more about later in the review.
Here is a link to the Aimdroix store: http://store.aimdroix.com/product-p/adx1501.htm
Link to the manual: http://www.aimdroix.com/xray_manuals
Specs
Carbon fiber frame with custom tilt-motor mechanism
Skyline32 Flight Controller with custom Tilt-Rotor firmware (based on Cleanflight)
25A Spedix BLHeli_S ESCs
Aimdroix RS2205 2300kv and 2500kv motors
PDB with 5V/12V
1000TVL CCD FPV Camera
40CH 200mW VTX
The Frame
The frame consist of 2mm carbon fiber side plates stacked together with aluminium standoffs and a bottom plate where the fc and pdb is mounted.
2mm side plates
4.5mm arms connected with 8mm rotating aluminium shafts
459grams without battery
225mm motor to motor diagonal
179mm motor to motor width
134mm motor to motor length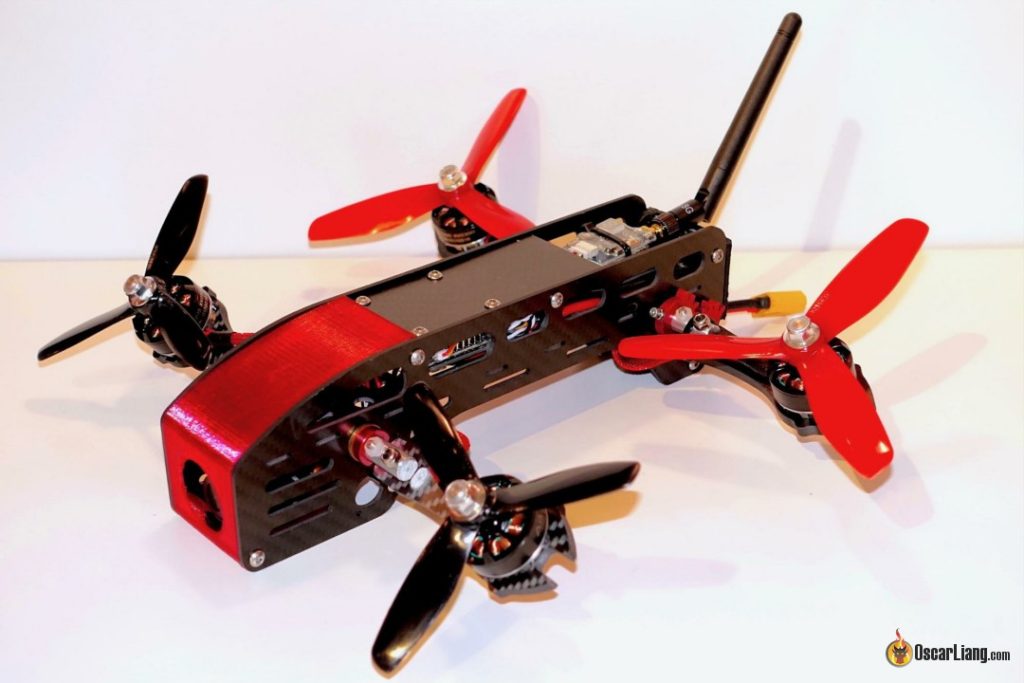 The tilt mechanism consists of an aluminium shaft in the front and back going through the body of the quad and supported by bushings. A servo is driving each of the shafts with an aluminium gear and the tolerances are good. The 4.5mm carbon fibre arms are mounted on the shafts with 2 bolts, one of them a shear bolt. If you crash hard, the bolt is designed to shear of to reduce the chance of breaking the tilt mechanism or the arms.
Here is a video by Aimdroix where you can see the tilt mechanism in action.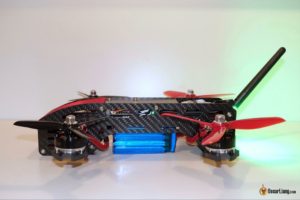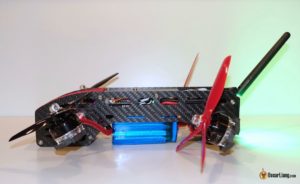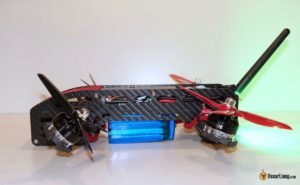 In the back there is a 4×4 LED board which can be customized in the cleanflight GUI.
You can easily fit a GoPro Session or a similar size HD camera if the red 3D printed front protector is removed from the quad.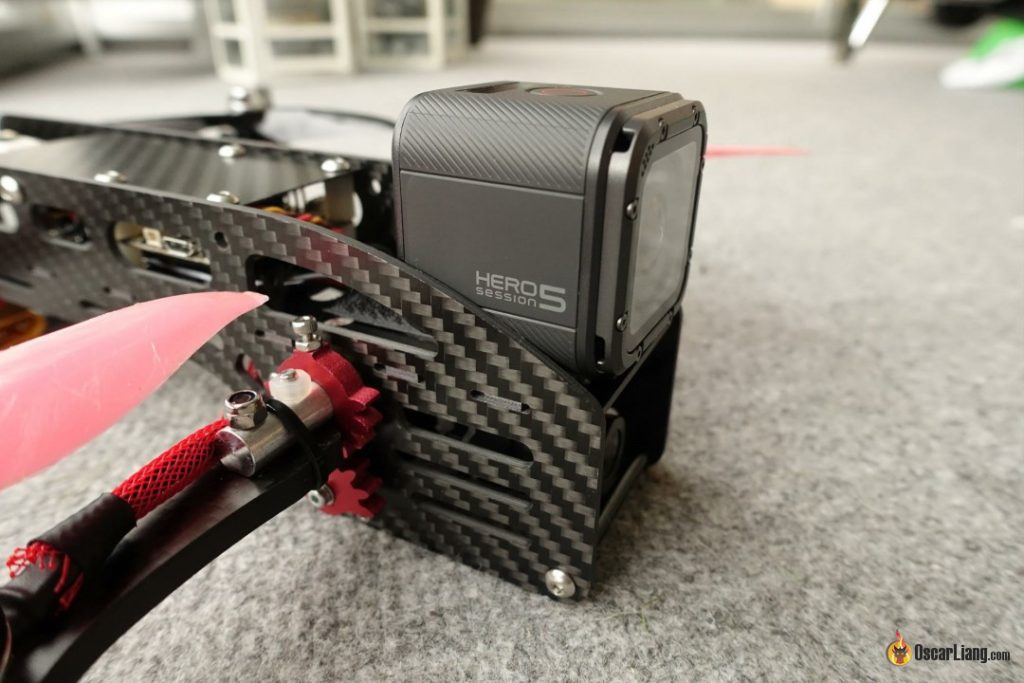 Motors and ESC
In the front there are Aimdroix RS2205 2500KV motors with Dalprop 4045BN V2 propellers and in the back you'll find RS2205 2300KV motors with Dalprop 5045BN V2 propellers. The motors feel nice and smooth and there is no play in the bearings.
The ESCs are Spedix 25A BLHeli_S ESCs running oneshot125.
Flight Controller and PDB
The Flight Controller is an Emax Skyline32 with a custom version of cleanflight firmware (Betaflight version also available). There is an Aimdroix custom PC software that must be used if you want to tweak the tilt-mechanism, and for general adjustments, Cleanflight GUI V1.2.3 is used (Betaflight GUI in the future). Unfortunately, the Aimdroix software for flashing the board and adjusting the tilt parameters is for Windows only.
The parameters for the tilt motor behaviour can be changed in the XRay Configurator.
The PIDs can be adjusted in Cleanflight GUI V1.2.3.
The PDB has 5V and 12V outputs, and it is possible to connect a micro MinimOSD to it for those who want to use OSD in FPV.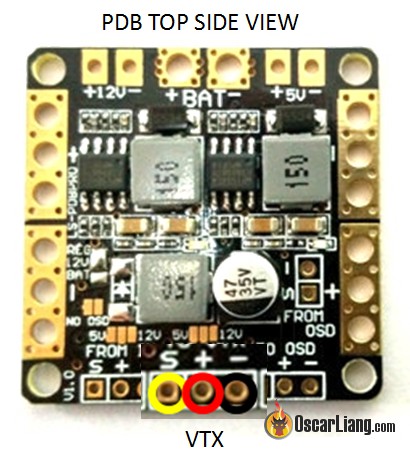 Camera and VTX
The FPV camera is an 1000TVL CCD and the VTX has 40 channels and 200mW output power. The VTX has a button and a display to show the channel and band and it comes with a linear RP-SMA dipole antenna.
The FPV camera does a decent job in difficult lighting conditions but the field of view is a bit too narrow for my taste and I would like to have a wider lens. The lens thread is standard M12 for those who wants to change it for a different lens.
How does it fly
The Aimdroix has 3 different flight modes, Angle mode, rate/acro mode and Tilt mode.
The tilt mechanism is disabled (fixed) when the quad is in angle mode and rate mode, and it flies exactly like any other standard racing quadcopter. The Tilt mechanism is only activated when it's in Tilt mode.
The Tilt mode is similar to angle mode, but the throttle, pitch and tilt is mixed which means that when you are applying pitch, the motors will tilt forwards as well as the throttle will increase. The body of the quadcopter will still be horizontal. By doing it this way, the throttle acts more like a height adjustment and you don't need to apply more throttle to keep the height like you would on a standard quad flown in angle- or rate-mode.
Accessories
A wing kit can be bought for the quad to turn it into a VTOL-FPV wing, How cool is that!?!
Unfortunately I didn't get a wing kit with the quad to test and can't say much about it other than it looks freaking awesome and I would really want to try it out!
Flying LOS
Flying LOS with this thing is very interesting. The quad feels fast and agile, and it is fun to just push the pitch-stick forward and it takes off almost leaving skid-marks in the air.
The bright LEDs on the back helps a lot with the orientation, but like any other mini quads it doesn't take long before you are too far away and losing orientation. It does however feel a bit unstable and edgy when doing hard 180 turns. However it feels much more stable with the latest Betaflight firmware.
Flying FPV
Before I say anything about my FPV experience with the XRay, I must say that I usually don't fly FPV in self-level mode, and therefore my opinion might be bias.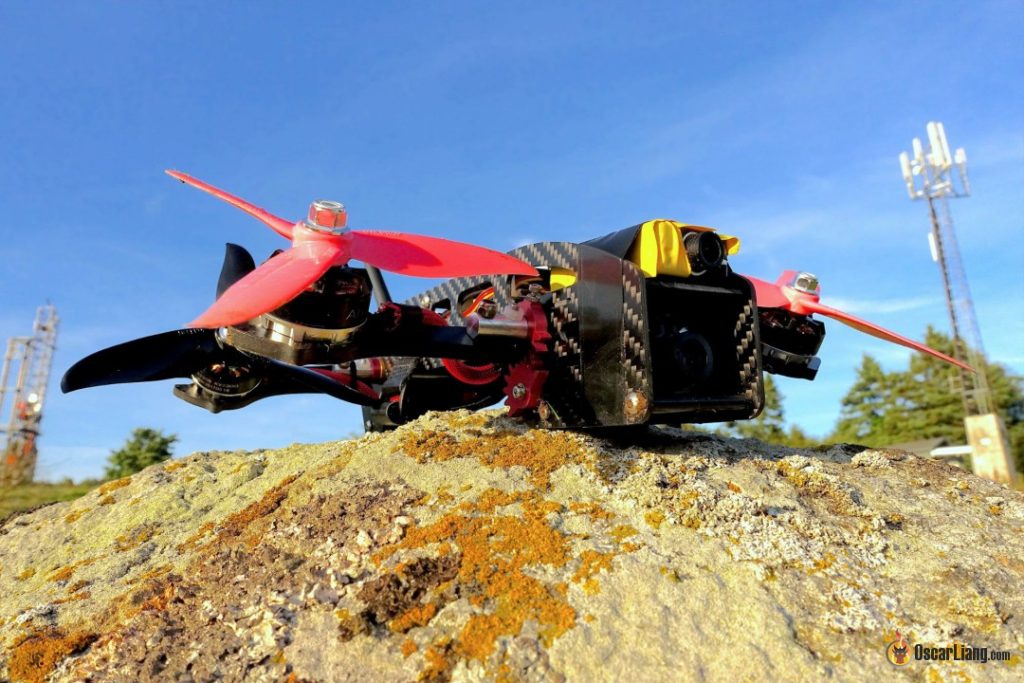 In Angle mode and Rate mode it flies pretty similar to other standard racing drones, so I won't go into detail on that. After all, the tilt rotors are what this quad is all about. (I haven't tested the acro mode and horizon mode in the latest Betaflight version as it was not implemented at the time of testing).
Flying FPV with the older Cleanflight-based firmware
Unfortunately, the quad feels a bit slow and under-powered, and not properly tuned when flying FPV. When doing a hard turn, the quad suffered from some weird oscillations which makes me think that it is not tuned properly. It also has some oscillations at full throttle, those you would normally get when P gain was too high.
Trying to fly fast and low while maintaining the altitude is a bit challenging as it feels like the quad doesn't have enough lift when the motors are fully tilted forward.
I handed the quad over to a friend of mine to let him try it out, and he felt the same way as I did. The best way to describe the flying experience is that it is a wild ride and you are just a passenger telling the quad where to go.
Here is a DVR from the first flight with the quad when it was still running the old cleanflight-based firmware:
I tried the quad with 5″ cyclone props, but it had a lot of oscillations and the quad definitely requires further tuning if you decided to use 5 inch propellers.
Flying FPV with the new Betaflight 3.1.7-based experimental firmware
I had a chat with Michael, the guy behind Aimdroix, regarding the issues I had with the quad and he sent me an experimental version of Betaflight 3.1.7 to try out.
I must say that the new firmware was a huge improvement!
The quad was flying much nicer even with stock PID: it felt much more stable and controllable than the previous firmware, and it was a lot easier to keep the altitude.
Here is a flight video, and this time I strapped a Gopro session 5 to the quad. I had some range issues with my receiver and I didn't want to fly too far out. I am sure this shouldn't be an issue if you choose a proper RX.
I installed a Frsky X4R receiver for more reliable radio signal in the last part of this video:
Verdict
The quad is well built and the tilt mechanism seems to be quite sturdy as well as light weight. I have crashed several times on grass from about 20m (60 feet) and not even a scratch on the quad, but I can't say how well it can hold up against concrete yet. :)
The motors, ESC's, and all the electrical components are working just as expected, but the F1 flight controller is starting to get a bit outdated. Also I wish there was an OSD for battery voltage monitoring and possibly a better FPV camera like the Foxeer Arrow or Runcam Swift with a wider FOV lens.
The Aimdroix is a lot of fun to fly in line of sight. After updating to the newest custom Betaflight firmware, the FPV experience was much better. It behaves very much like a normal quad in angle mode, except that the camera is kept steady in the up/down direction which is quite cool.
Keep in mind that this is not a typical racing drone and it is not meant to be. This is for those who are looking for a tilt-rotor quad to buzz around with in the field. And as an added bonus it can be ordered with a wing kit!