Diving into the world of FPV drone can be an exhilarating experience, but choosing the right FPV goggles is crucial for the immersive experience. With various systems on the market, such as Analog, DJI, HDZero, and Walksnail Avatar, finding the perfect pair of goggles to suit your needs can be a challenge. In this Ultimate FPV Goggles Guide, we'll break down the top FPV headsets for each system, helping you find the perfect match to enhance your flying adventures. Whether you're a seasoned pilot or just starting out, this comprehensive guide has got you covered, ensuring a seamless and immersive flight experience tailored to your preferences and budget.
Some of the links on this page are affiliate links. I receive a commission (at no extra cost to you) if you make a purchase after clicking on one of these affiliate links. This helps support the free content for the community on this website. Please read our Affiliate Link Policy for more information.
Digital vs. Analog: Choosing Your Ideal FPV System
Before choosing an FPV goggles, you will first have to decide which FPV system you will use.
FPV systems can be classified into digital and analog based on the technology and hardware. Analog FPV leverages analog signals for video transmission, whereas digital FPV utilizes digital signals. In practical terms, digital FPV systems will provide you with crystal-clear video quality but is more expensive, while analog FPV system delivers a lower resolution at a lower cost. Moreover, digital FPV is less susceptible to interference and boasts superior range capabilities.
There are currently 3 brands in digital FPV system: DJI, HDZero and Walksnail Avatar.
Still on the fence about which FPV system to choose? Check out my in-depth analysis to help you make an informed decision: https://oscarliang.com/fpv-system/
The Best DJI FPV Goggles
The three goggle options for DJI are the DJI Goggles V2, DJI Goggles Integra, and DJI Goggles 2. All these goggles support the older Runcam Link, FPV Air Unit, and the latest DJI O3 Air Unit.
The Goggles 2 has the edge over the V2 due to its superior features, such as on-screen display recording, more powerful hardware, diopter adjustments, and a compact, lightweight design. It also offers better video quality with 1080p resolution, OLED displays, and improved signal penetration. As the latest product, DJI Goggles 2 is more likely to receive future support and be compatible with newer technologies. Learn more about the Goggles 2 in my review here: https://oscarliang.com/dji-o3-air-unit-fpv-goggles-2/
You can find the DJI Goggles 2 from these vendors:
However, the DJI Goggles V2 provides an overall better fit and is cheaper and more readily available. It's still a great option if price and availability are concerns. You can also use DJI FPV Goggles V2 for analog via the AV input, all you need are just an analog receiver module and a module adapter to plug the receiver in.
You can find the DJI Goggles V2 from these vendors:
One major complaints of both goggles from DJI is the lack of HDMI input and support for other digital FPV systems. The latest Goggles 2 doesn't even have AV input, making it incompatible with analog system, only DJI's own system. However, if image quality and signal penetration are priorities, the DJI system is arguably one of the best options right now.
The new DJI Goggles Integra is basically a "lite" version of the Goggles 2. With a $150 savings, you'll miss a few key features and have a smaller FOV (from 51° to 44°). If you're already planning to spend $500-600 on goggles, consider spending an extra $150 for the Goggles 2. Read my blog post on the Goggles Integra for more details:  https://oscarliang.com/dji-goggles-integra/
In the battle of the DJI Goggles, each model has its unique benefits. The decision ultimately depends on your personal preferences and requirements as an FPV pilot. The DJI Goggles Integra stands out as an attractive and accessible choice for those entering the DJI ecosystem. However, considering the relatively small price difference ($150), you might still find the Goggles 2 to be a more attractive option, given its additional features and capabilities. If you really have a small budget the V2 offers the best value in my opinion.
Top FPV Goggles for HDZero
If you're flying HDZero, the HDZero Goggles are the perfect choice, hands down. These goggles are not only the best for HDZero, but also for analog, and they are the top non-Walksnail goggles for the Walksnail system. In my opinion, they are currently the most versatile goggles on the market. Learn more about the HDZero Goggles in this review: https://oscarliang.com/hdzero-fpv-goggles/
You can find the HDZero Goggles from these vendors:
For those who wish to fly HDZero but are on a budget, there are more affordable alternatives. First, there are a couple of box-style goggles from Fatshark and Emax that natively support HDZero out of the box.
Additionally, you can opt for the standalone HDZero video receiver module compatible with FPV goggles and screens with HDMI input. This cost-effective option allows you to enjoy the HDZero experience without breaking the bank.
The Best Walksnail Avatar FPV Goggles
Undoubtedly, the best FPV Goggles for the Walksnail Avatar System are the Walksnail Avatar Goggles themselves. To get the most out of the Walksnail system, these goggles are a must-have. Check out my comprehensive review for all the details about these goggles: https://oscarliang.com/walksnail-avatar-digital-fpv-system/
The Fatshark Dominator HD and Walksnail Avatar are nearly identical, with the only difference being their color. As a result, the firmware is compatible between the two. Just pick your favourite color. However they have the same drawback as the DJI Goggles 2, they don't have any video input therefore do not support other FPV systems.
You can find the Fatshark Dominator HD here:
You can find the Walksnail Avatar here:
A more budget-friendly option designed for the Walksnail system is the Fatshark Recon HD. However, it only supports up to 1080p 60fps, meaning it won't fully utilize the 100fps low latency mode in the Avatar system. This results in about 10ms higher latency compared to the 100fps mode. Additionally, the internal antennas make it less ideal for long-range flying. Despite these drawbacks, it's a good choice for those on a tight budget.
By pairing the HDZero Goggles with the Walksnail Avatar VRX, you can also enjoy the Walksnail Avatar system. As discussed in the Walksnail Avatar VRX review, this combination is quite expensive, but it's worth considering if you want to use HDZero, analog, and Walksnail systems, all at the same time.
Top Analog FPV Goggles
Designed for HDZero, The HDZero Goggles also provide a fantastic analog experience due to their advanced signal filtering and de-interlacing capabilities for the analog signal. However, you'll need to purchase an adapter to install analog receiver modules, which adds to the overall cost.
You can find the HDZero Goggles from these vendors:
You can find the analog expansion adapter here: https://s.click.aliexpress.com/e/_DmnRE0H
For those on a tight budget who are certain they'll only fly analog and never switch to HDZero or Avatar systems, the best options are the Fatshark HDO2 and Skyzone SKY04X. These goggles share similar specs: sharp and clear OLED displays with 1280×960 resolution, a 46° FOV, adjustable focus, and high-quality finish.
The Skyzone SKY04X stands out for its user-friendly OSD menu, included receiver module, and faceplate options. While the HDO2 is a solid choice, the SKY04X offers better value and user experience in comparison.
Purchase the SKY04X from:
Purchase the HDO2 from:
The Best Box Goggles
For those who can't justify spending $600 on FPV goggles, the Skyzone Cobra X is an excellent alternative. Although it's a bit pricey for a box goggle, the Cobra X boasts decent build quality and is packed with features. It's a great choice for those who only fly analog.
While the Cobra X has HDMI input and supports HDZero and Walksnail VRX, the latency is noticeably higher than with other goggles. Nonetheless, the Skyzone Cobra X is a solid option for analog pilots looking for a more affordable yet high-quality FPV goggle. To learn more about this goggles check out my review.
Get the Skyzone Cobra X from:
The Best Analog Goggles Below $100
When it comes to budget-friendly analog FPV goggles, the Eachine EV800D is my top pick. This proven and reliable model offers a wide range of features, including diversity receivers, built-in DVR, and antennas. The impressive feature set and affordability make the EV800D an excellent option for those new to the hobby or on a tight budget.
The EV800D goggles utilize a single, large screen that is further enlarged by a lens, providing a much bigger field of view compared to more expensive compact goggles. However, the downside of box goggles is their considerably bulkier and heavier design, which may not suit everyone. Additionally, some pilots may find the large FOV overwhelming, as it requires looking at different areas of the screen.
For newcomers to the hobby who can't justify the expense of high-end goggles, the Eachine EV800D is the perfect entry-level headset.
Buy the EV800D from:
---
FPV Headset Design
When it comes to FPV goggles design, we can divide them into two primary groups that each utilize distinct display technologies: Binocular Goggles and Box Goggles. This directly influences factors like form factor, comfort, price, and overall aesthetics.
Binocular Goggles
When you think of FPV pilots, the image that comes to mind is likely someone wearing a pair of binocular goggles. As the most popular type of headset, binocular FPV goggles are compact devices worn like glasses, featuring two independent displays—one for each eye. Due to the need for dual micro displays and specialized electronics, these goggles typically fall on the pricier side, retailing between $400 and $700.
Binocular FPV goggles boast a sleek, low-profile design, thanks to two small screens that display a duplicated image. This compact form factor results in significantly smaller and lighter design than their box counterparts. This makes them a breeze to carry around, and you won't feel like you've stuck your face in a toaster oven! However, be prepared to pay a premium for the convenience and aesthetics offered by the micro displays in these goggles.
| | X | | | | |
| --- | --- | --- | --- | --- | --- |
| Model | Skyzone SKY04L | Eachine EV200D | Fatshark Attitude V6 | Eachine EV300D | Skyzone SKY02O |
| Price | $379.99 | $300 | $350 | $360 | $370 |
| Shops | GetFPV | Discontinued | Discontinued | Banggood | Banggood |
| Display | LCOS | LCD | LCOS | LCOS | OLED |
| FOV | 39° | 42° | 39° | 42° | 29° |
| Resolution | 1280 X 960 | 1280 x 720 | 1280 X 960 | 1280 x 960 | 640 x 400 |
| Ratio | 4:3 & 16:9 | 4:3 & 16:9 | 4:3 & 16:9 | 4:3 & 16:9 | 16:10 |
| IPD | 58-71mm | 56-72mm | 54-74 mm | 56-72mm | 59-69mm |
| Focal Adjust | +6 to -6 | No | +2 to -6 | TBC | No |
| RX Module | Included Modular | Included Modular | Included Modular | Included Modular | Built-in 48ch |
| DVR | Yes | Yes | Yes | Yes | Yes |
| Audio Output | Yes | Yes | Yes | Yes | Yes |
| HDMI In | Yes | Yes | Yes | Yes | Yes |
| Weight | 267g | TBC | 199g | 208g | 207g |
| | | | | | |
| --- | --- | --- | --- | --- | --- |
| Model | HDZero Goggles | Eachine EV300O | Skyzone SKY04X | Fatshark HDO2 | Orqa FPV.ONE Pilot |
| Price | $599.99 | $450 | $500 | $500 | $569 |
| Shops | AliExpress | Banggood | RDQ | NBD | Banggood | AliExpress | GetFPV |
| Display | OLED | OLED | OLED | OLED | OLED |
| FOV | 46° | 38° | 46° | 46° | 37° |
| Resolution | 1920x1080 | 1024×768 | 1280X960 | 1280×960 | 1280×960 |
| Ratio | 16:9 & 4:3 | 4:3 & 16:9 | 4:3 & 16:9 | 4:3 & 16:9 | 4:3 & 16:9 |
| IPD | 57-70mm | 58-71mm | 58-71mm | 54-74mm | 56-74mm |
| Focal Adjust | +6 to -6 | +6 to -6 | +6 to -6 | +2 to -6 | -4 to +4 |
| VRX Module | Not Included | Included Modular | Included Modular | Not Included | Not Included |
| Audio Output | Yes | Yes | Yes | Yes | Yes |
| HDMI In | Yes | Yes | Yes | Yes | Yes |
| Weight | 360g | 262g | 267g | 208g | 210g |
Box Goggles
In contrast to binocular goggles, box goggles employ a single LCD screen, typically ranging from 3 to 6 inches in size. This larger coverage translates to a greater field of view (FOV), offering a more immersive flying experience for those who crave it. But racers might prefer a smaller FOV to maintain a tunnel vision-like focus during competitions.
However, box goggles often utilize cheaper screens, resulting in lower image quality compared to the OLED displays found in binocular goggles. Despite this, box goggles can be more comfortable and budget-friendly, making them an excellent choice for casual pilots and hobbyists alike.
Box goggles also cater to users with specific needs, such as those who wear glasses or have extreme IPD (inter-pupillary distance) measurements. Their roomy design might allow for glasses to be worn while using box goggles, and the lack of IPD limitations accommodates individuals who might struggle to focus on the smaller screens in slimline goggles.
| | | | | | |
| --- | --- | --- | --- | --- | --- |
| Model | BetaFPV VR03 | Eachine EV800D | Skyzone Cobra S | Skyzone Cobra X | Fatshark Scout |
| Price | $69.99 | $99 | $170 | $220 | $230 |
| Shops | BetaFPV | AliExpress | GetFPV | Discontinued | AliExpress | RDQ | RDQ | GetFPV |
| Resolution | 800 x 480 | 800 x 480 | 800 x 480 | 1280 x 720 | 1136 x 640 |
| Ratio | 16:9 | 16:9 & 4:3 | 4:3 | 16:9 & 4:3 | 16:9 |
| FOV | 40° | 50°+ | 50° | 50° | 50° |
| Built-in VRX | Yes | Yes | Yes | Yes | Yes |
| Channels | 48ch | 40ch | 48ch | 48ch | 40ch |
| DVR | Yes | Yes | Yes | Yes | Yes |
| Diversity | No | Yes | Yes | Yes | No |
| Weight | 300g | 362g | 332g | 332g | 337g |
Price
Entering the world of FPV flying doesn't have to break the bank. You can start with a modest $30 monitor or opt for a $100 box goggles setup. However, if you're seeking top-notch features and image quality, be prepared to shell out $500 or more for a pair of top end FPV goggles. But fear not—there are plenty of affordable options that deliver great performance.
Remember, FPV goggles are a long-term investment! It's worth spending a little extra.
Unlike drones, FPV goggles aren't prone to crashing and shattering into countless pieces (assuming you're wearing them on your head and not attaching them to your drone). As one of the most durable and long-lasting components in your RC arsenal, you'll be using your goggles with all your models.
So, feel confident in investing as much as you can comfortably afford in your FPV goggles, as they'll serve you well in the long run.
Resolution and Display
As pilots rely solely on their goggles for vision during flights, it's crucial that the image feed is crisp and clear enough for the pilots to risk extremely precise turns and maneuvers that are otherwise impossible with a blurry image.
As a general guideline, higher resolution translates to better image quality—assuming the video feed from the camera matches the display's resolution. For digital FPV systems offering 720p or even 1080p video feeds, your experience will undoubtedly be enhanced with higher-resolution goggles. However, for analog FPV system, there's minimal difference between using lower-end 720p goggles and higher-end 1080p goggles, given the relatively low resolution image from analog cameras.
The type of display can also play a significant role in image quality. OLED screens typically offer more contrast and vibrant colors compared to cheaper LCD or LCOS displays, enhancing the overall visual experience.
Field of View (FOV)
In simple terms, the field of view (FOV) is the measurement of the size of the FPV screen. A larger FOV corresponds to a bigger screen and potentially a more immersive experience. For example, with a 35-degree FOV in your FPV goggles, the edges of the screen are at a 35-degree angle from the center point of your eyes. Note that there are horizontal FOV, vertical FOV, and diagonal FOV, which all represent the different fields of view of the screen. Diagonal FOV is the most common measurement in FPV goggles; when talking about FOV, if unspecified, it's usually assumed to be diagonal FOV.
A larger FOV can create a more immersive experience, but when it's too large, it can be distracting for some people. A higher FOV can make it difficult to see the image at the edges of the screen due to the width of the screen. In races, it's essential to see everything in front of your eyes at a glance to make split-second decisions. Additionally, a smaller screen ensures that you won't have to constantly move your eyes to read OSD data.
Generally, box goggles have an FOV between 50-80 degrees, while binocular goggles feature a 30-50 degree FOV. You can use this tool to compare the FOV of different FPV goggles: https://oscarliang.com/js/fpvgogglefov.html.
Ultimately, FOV is a matter of personal preference. For binocular goggles, my preferred FOV range is between 40 and 45 degrees. Don't confuse FPV goggles' FOV with camera FOV, these are entirely unrelated numbers.
Aspect Ratio
A display's aspect ratio plays a crucial role in determining how the video feed appears on the screen, ultimately affecting resolution and field of view.
The most common aspect ratios for FPV drones are 16:9 and 4:3. While other aspect ratios might be available, they're rare and can often result in image distortion due to mismatches between the camera and the screen. It's essential to ensure that your FPV goggles support both 16:9 and 4:3, or have the correct ratio to match your camera. Using an incorrect aspect ratio can lead to a stretched or squashed image.
Many FPV goggles (and cameras) today offer the ability to switch between aspect ratios, providing greater flexibility and compatibility. However, be mindful of the native aspect ratio, as switching to a non-native ratio can lead to cropping and effectively reduce the overall field of view and resolution. For instance, a 4:3 display with a 1280×960 resolution and 46-degree FOV, will have a smaller resolution of 1280×720 and FOV of 42-degree (with the top and bottom cropped) when switched to 16:9.
IPD
The interpupillary distance (IPD) is the distance between the centers of the two pupils. IPD is important in binocular goggles, which utilize individual screens for each eye and require specific positioning to generate the correct image for the user. Using goggles with an incorrect IPD setting can cause the image edges to appear blurry.
Since everyone has a different IPD, it's essential to know your IPD when choosing FPV goggles and ensure that they support your specific measurement. Most binocular FPV goggles have adjustable IPD, but only within a certain range.
However, IPD is not a concern when using box-style goggles.
Video Receiver
For FPV goggles to work, they must be equipped with the appropriate video receiver module (VRX). This enables them to receive the image from your drone.
Built-in Receiver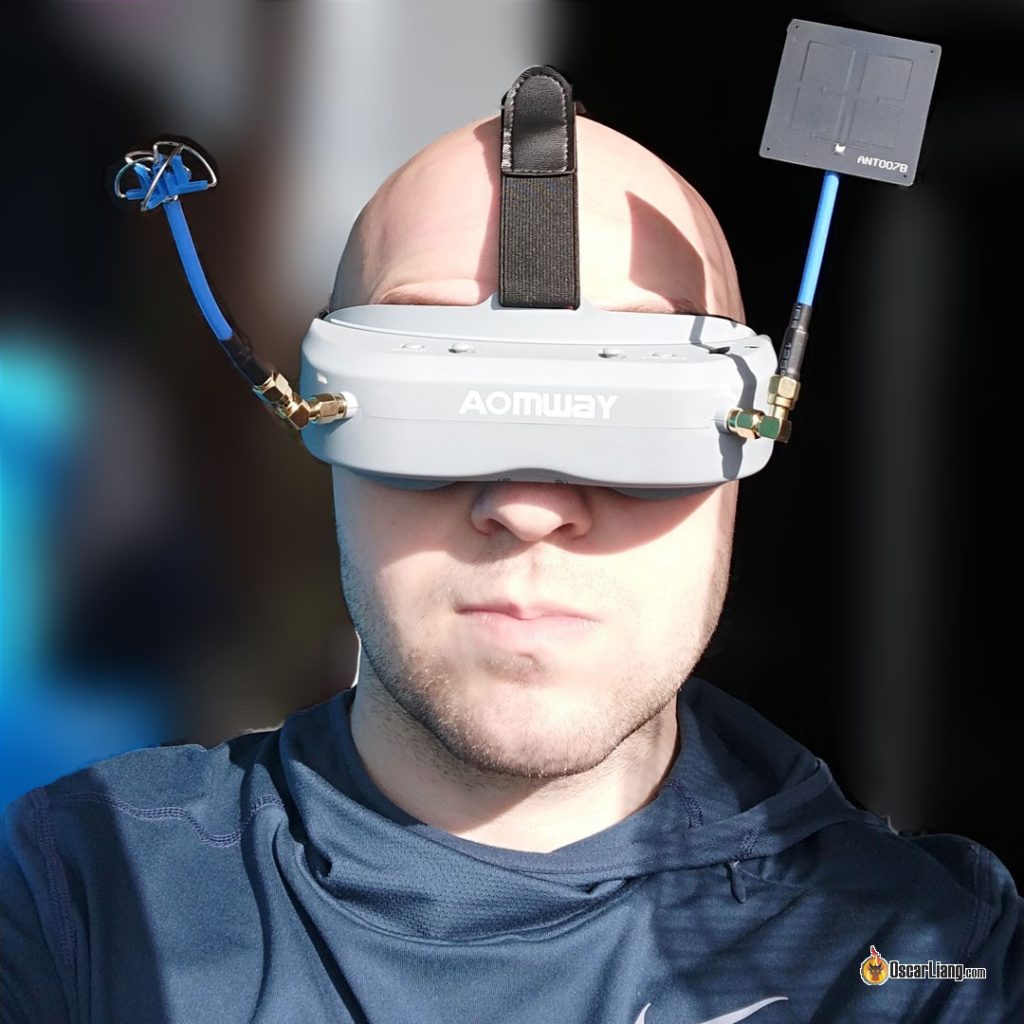 Some FPV goggles come with an integrated video receiver, which can be convenient because they'll work right out of the box, eliminating the need for additional receiver purchases.
However, you'll be limited to the available features, and built-in receivers typically can't be upgraded. If you want to upgrade the receiver, you'll need to replace the entire goggles.
External Receiver Module
For goggles without a built-in receiver, you can opt for one of the many powerful aftermarket receiver modules. These modules typically offer higher video quality and additional features that enhance your FPV experience. Most external receiver modules support diversity setups, which further improve the quality of your video feed. Although external modules come with added costs, the investment is well worth it for the improved performance and flexibility.
Diversity Receivers
A diversity system includes two video receivers within a single module, automatically selecting the receiver with the stronger signal to maintain the best possible video link. Some more advanced diversity systems merge the two signals into one, minimizing breakup and static interference—this is often referred to as "true diversity."
Older generations of diversity receivers would simply switch to the stronger signal, causing a momentary blank screen during the switch. However, newer generations like the TBS Fusion, ImmersionRC rapidFIRE, and Skyzone's SteadyView, combine signals from two sources to create a better quality video. Some even feature so called "Sync Pulse Reconstruction" technology to prevent video tearing when the signal is weak.
In short, a true diversity system is a must-have in modern analog FPV goggles, as it significantly enhances your FPV video quality.
The best-performing aftermarket modules are the Rapidfire and TBS Fusion. They offer similar maximum range to other modules but truly excel in handling multipath interference. For more information on which module to buy, see my review: https://oscarliang.com/rapidfire-fusion/
You can find the ImmersionRC Rapidfire Module here:
Get the TBS Fusion Module here:
A diversity receiver module uses two antennas, which can be pointed in different directions. You can even use different types of antennas, such as a directional and an omnidirectional, for optimal results depending on the application.
Further Reading: How to choose the best FPV antennas.
Diving Deep into Receiver Chip Details
Many analog video receivers utilize the same chip – RTC6715, an integrated receiving IC created by RichWave. The transmitting IC is known as RTC6705. As far as we know, RTC6715 is the only IC on the market at present that can be controlled via SPI (serial programming interface). If you encounter a receiver module that uses dip switches to change channels, it's likely using an IC that isn't SPI-controllable.
Here are some key features of the RTC6715:
Powered by 3.3V
Sensitivity at -85dBm
The camera sends a sync signal, but due to multipathing or signal loss, the sync pulses can sometimes become distorted and unreadable by the goggles. To minimize screen flickering, sync pulses must be generated at the receiver.
Most 5.8GHz analog video receivers primarily differ in their video processing and software. Some variation exists in RF signal filtering and component quality, but the difference in hardware sensitivity between the best and worst receiver modules is typically only 1-3dB.
Powering Your FPV Goggles
FPV goggles are typically powered by one of two ways: built-in batteries or external batteries. Most FPV goggles rely on an external battery, which is usually not included. These can be LiPo or lithium-ion batteries.
For Goggles that support 2S, the Auline 2S 4800mAh Li-Ion Goggle battery is a good option:
While there are batteries designed specifically for powering FPV goggles, for goggles that support up to 4S (and some even up to 6S), using your drone battery to power them is a convenient solution. Be sure to monitor the voltage of the battery to avoid running out during a flight. It's crucial to have some form of low-voltage warning.
Several factors to consider when evaluating FPV headset batteries include:
Location: Determine if the battery is integrated into the headset or mounted on a strap. Integrated batteries offer a sleeker appearance and easier management while allowing the headset to internally track charge state and provide on-screen warnings before failure. On the other hand, external batteries can be replaced in the field and charged with standard charging equipment.
Capacity: Assess the expected battery life. Will it last for an entire flying session? We recommend looking for headsets with at least 2 hours of battery life to avoid constantly being distracted by battery life.
Charging: Consider how the battery is charged. Some batteries can be charged via car cigarette lighters or USB ports, others require a LiPo charger.
Comfort and Fit
Comfort is perhaps the most crucial factor when choosing an FPV headset, but it's also one that can't be easily determined from reading specifications or watching reviews. Everyone has different facial structures, so a headset that's comfortable for one person might be unwearable for another. For instance, certain headsets might press uncomfortably against some people's noses while fitting others perfectly.
Wearability issue tends to be more significant for binocular goggles, while box goggles are generally more forgiving in that regard. Nonetheless, if in doubt, we recommend attending a few FPV meet-ups and asking people if you can try their goggles to get an idea of what works best for you.
Anti-fog Fan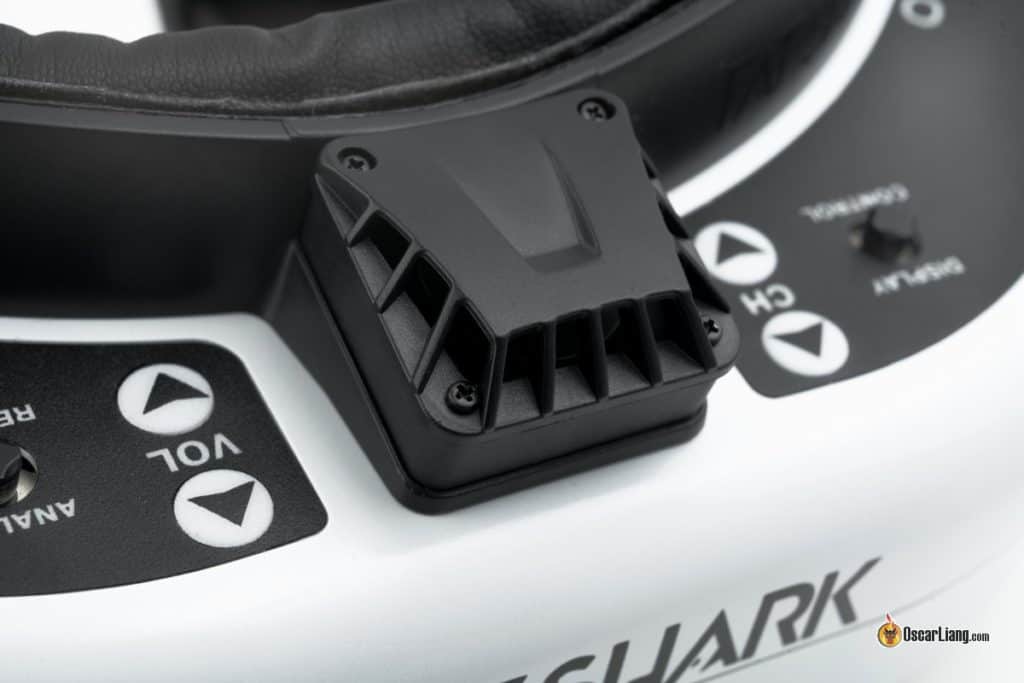 Goggles can become foggy in hot and humid conditions, which can significantly impact your FPV experience. Some goggles are designed with a built-in fan (or even multiple fans) to address such issue. These fans help to circulate air within the goggles, preventing the lenses from fogging up and ensuring clear vision. If you plan to fly in hot countries or areas prone to high humidity, having proper anti-fog fan is an important feature to consider when choosing your FPV goggles.
DVR
DVR, or digital video recorder, is a feature that allows you to record the video feed you see in your goggles onto a micro SD card. This is similar to equipping your FPV drone with an HD action camera, except without the weight or aerodynamic penalty associated with that camera. Additionally, you won't have to worry about damaging the action cam in crashes. It's worth noting, however, that DVR footage is generally of lower quality than videos from an action camera.
Still, having a DVR offers many practical uses and is typically found in mid to high end headsets. One of the benefits of a DVR is that it can help you locate your drone if you crash, as most goggles with DVR functionality allow you to play back the footage inside the goggles. For this reason I always start recording in the DVR before taking off. Furthermore, using a DVR can keep your drone lightweight, as it can potentially replace an action camera if you don't mind the lower resolution and signal breakups during the flight.
Focal Adjustment
If you wear glasses and cannot see the goggle screens clearly without them, it's important that your FPV goggles have adjustable focus. This feature allows you to adjust between different diopters, typically in the range of -6 to +6 depending on the model, eliminating the need for extra lenses.
Some older goggles, like the Fatsharks, offer slots and support fixed diopter inserts/lenses, which are also worth considering. You can buy diopter lenses to insert in your goggles (if supported):
Video Input and Output
Many entry-level FPV headsets on the market tend to skip video input and output jacks, relying solely on a 5.8GHz analog receiver as the only method to feed video to the headset. While this setup is perfectly adequate for beginners, it does come with some limitations.
Having the ability to feed video from alternative sources into your headset is essential if you plan on using a ground station someday – a popular choice among long range pilots.
HDMI input ports, in particular, are a fantastic feature to have. These ports not only allow you to connect your goggles to digital FPV systems like Walksnail and HDZero but also enable you to use your goggles as a computer screen for immersive FPV simulator practice sessions.
Other Features
Audio Output
By installing a microphone in your drone, you can listen to the changing motor RPM, giving you a more connected feeling. Many goggles offer audio output via a headphone jack. See this post to learn how to set up audio for FPV: https://oscarliang.com/microphone-fpv/
Head Tracking
Though not used frequently, head tracking is a nice feature to have. It allows the goggles to recognize the pilot's head movements and sync them with a gimbal-mounted camera onboard the drone. As the pilot moves their head, the camera moves too, creating an even more immersive FPV experience. A gimbal can add a lot of weight, so it's probably more suitable for fixed-wing platforms than multirotors.
Headset Colour
Color is mostly a personal preference. Black or other darker-colored goggles tend to get hotter under the sun, but lighter colors might be more likely to suffer from light leakage through the plastic on certain goggles. That's another good reason to check out my reviews before making your decision.
Pro Tip: Don't Leave Your Goggles Facing Direct Sunlight. With the optics in the goggles, direct sunlight can be deadly to the display, and it can burn them if exposed to the sun for too long. Make sure you keep the displays/optics facing away from the sun when you put them down.
3D Support
3D support enables the use of 3D FPV camera/transmitter systems. However, there are currently not many choices when it comes to 3D camera setups, so it's not a critical consideration.
Flying FPV with a Monitor
It's absolutely possible to fly FPV using a monitor instead of FPV goggles. However, there are pros and cons to this approach that you should carefully consider.
On the positive side, monitors are generally more affordable and allow pilots to easily switch between line of sight flying and FPV. They can also be more convenient for those who wear glasses, although many goggle manufacturers now offer diopter lenses or focus adjustment catering to specific prescriptions.
On the downside, using a monitor for FPV can result in a far less immersive experience. Additionally, you may struggle with screen visibility due to reflections and lack of screen brightness when flying under direct sunlight.
Personally, I would strongly recommend opting for proper FPV goggles over a monitor. However, if you're set on using a monitor, here are some key factors to keep in mind:
Correct Video Input: Ensure the monitor supports the correct input compatible with your video receiver (i.e. AV input or HDMI).
Size: A minimum screen size of 5 inches is ideal for an FPV monitor; anything smaller may be difficult to see clearly.
Brightness and Backlight: Choose a monitor with adjustable brightness and a backlight for better visibility in various lighting conditions.
Non-Blue Screen: For analog system, avoid monitors that revert to a blue or black screen when receiving weak video signals. A screen that displays static is preferable, as it can help you navigate back to an area with better reception.
In a pinch, any screen with an AV input can be connected to a 5.8GHz video receiver. For example:
You can even use your TV, smartphone, or tablet for FPV by employing an analog-to-digital video converter:
However, I wouldn't recommend this approach due to the high latency of these methods. It might be acceptable for spectating, but not for the best FPV experience.
Is DVR a Fair Representation of FPV Goggles Quality?
The belief that DVR footage from FPV goggles doesn't accurately represent the actual video quality seen by pilots is outdated due to the fact that old FPV goggles have mediocre DVR.
Modern goggles like DJI Goggles 2, Walksnail Avatar, and HDZero have high-quality DVR systems that provide an accurate representation of the video seen in the goggles.
Factors such as YouTube bitrate compression and OLED screens can influence the perception of video quality. While YouTube's bitrate can degrade the quality of uploaded videos, selecting the 4K option during playback can help. OLED screens in goggles can make video quality appear better due to their brightness and contrast.
Final Thoughts
FPV goggles are a long-term investment, serving you for years while you continuously upgrade your drone to stay competitive. Choosing the right goggles is crucial for an optimal flying experience. If the process seems overwhelming, refer to my recommendations at the beginning of this tutorial for a curated list of reliable FPV goggles. Keep in mind, the right choice will not only enhance your flying experience but also ensure you get the most out of your investment in this essential piece of FPV gear.
Edit History
March 2015 – Article created
Apr 2017 – Updated products
Jan 2018 – Article edited, products updated
Apr 2018 – Added recommended options for different categories
Sep 2019 – Updated product listing
Jan 2020 – Added HDO2
Mar 2021 – Updated guide, added SKY04X, EV300O, Scout, Recon V3, DJI FPV Goggles, Attitute V6, Cobra X
Mar 2023 – Updated guide and production recommendations