DJI just released the new Goggles 2 and DJI O3 Air Unit. Not only have the image quality and features been significantly improved, resolution has also been increased to 1080p at up to 100fps. But is the new Air Unit O3 and Goggles 2 for everyone and worth upgrading to if you already own the original DJI FPV system? Let's find out.
Still wondering which FPV system should you get in 2023? See my summary here.
Where to Buy
Get the DJI Goggles 2 here:
Get the DJI O3 Air Unit here:
The Air Unit O3 (including camera and antenna) costs US$229. However you can also get spare parts separately, that's great if you break something you won't have to buy the whole thing:
DJI O3 Air Unit Closer Look
DJI basically just took the same camera and video transmitter from the newly released DJI Avata drone, put it in a "DIY" package and call it the O3 Air Unit. Therefore it has the same image quality as the Avata drone.
The O3 Air Unit is compatible with the new DJI Goggles 2 as well as the older DJI FPV Goggles V2 (but with reduced performance). DJI FPV goggles V1 is not compatible probably due to the lack of dual band capability.
With Goggles 2
1080p 100fps 30ms latency
1080p 60fps 40ms latency
With FPV Goggles V2
810p 120fps 28ms latency
810p 60fps 30ms latency
You actually get less latency with the older V2 goggles but less resolution. 1080p and 810p might not sound like a lot, but actually it's almost double the amount of pixels and it can make a noticeable difference.
Specifications
Price: $229
1/1.7-inch 4:3 image sensor
155° FOV
10km range
O3 Air Unit Dimension 30.5 x 30.5 x 14.5mm
O3 Air Unit Mounting Hole Pattern 25.5 x 25.5mm (M1.6 screws)
Camera module dimension: 20mm (width) x 21.2mm (length) including lens
Camera module mounting: 2 holes on each side 6mm apart (M2)
Camera ribbon cable length: 115mm
Antenna wire length 85mm
Length of silicon wires to FC: 100mm
Input voltage: 7.4V to 26.4V (2S to 6S)
Weight: 39.5 grams (whole setup)
Size and Weight
The DJI O3 Air Unit is smaller and lighter than the original DJI FPV Air Unit (39.5g vs 53.4g), but it is larger and heavier than the Runcam Link / Caddx Vista (33g) and the Walksnail Avatar VTX/Cam combo (28g). It has similar height to the Vista, but wider and longer (similar width/length to the Avatar VTX).
The Air Unit uses two antennas, but DJI put them in the same housing for easy mounting, so it appears like a single antenna, which is great. There are two wires that come out of the antenna and go to two separate U.FL connectors on the Air Unit.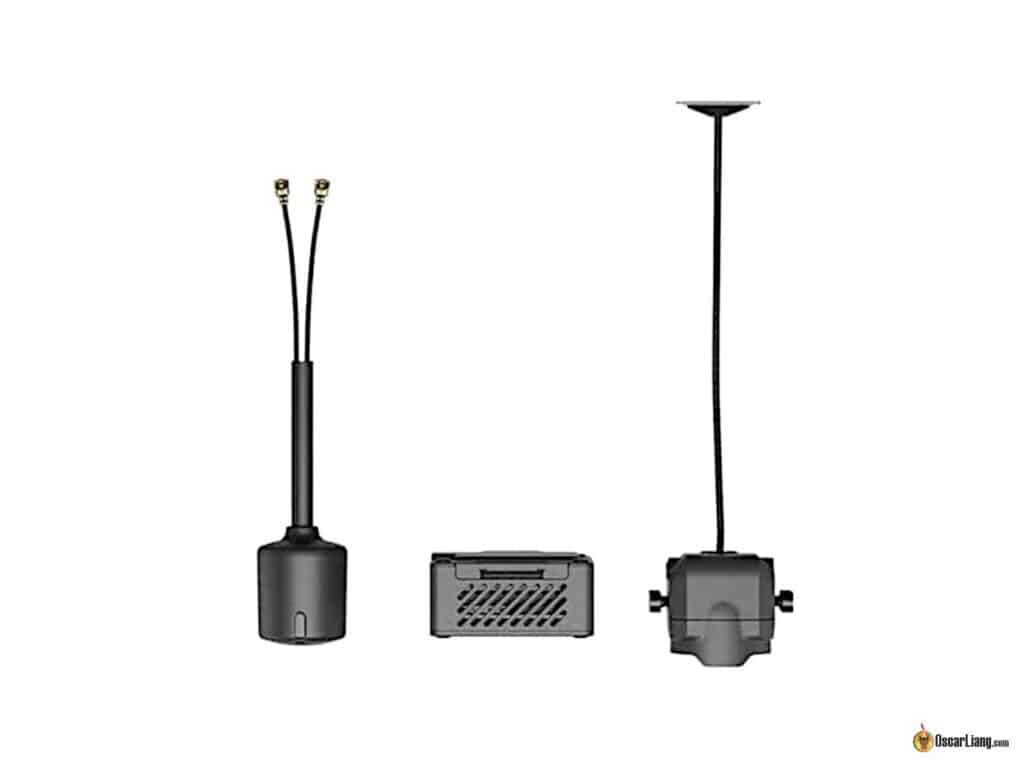 The O3 Air Unit has 25.5×25.5mm mounting with M1.6 screws. It's slightly bigger than the Vista, but it should still fit the majority of frames out there.
However, the camera module is a problem for FPV frames currently on the market. It has a huge lens and non-standard dimensions. The reason for the bigger camera is the larger sensor which in theory gives you better image quality, low light performance, etc.
It can be a struggle to install it unless we make custom made 3D printed brackets or buy a whole new frame that's designed specifically for the O3 AU.
All my frames currently don't fit the camera module natively, they all require 3D printed holders in order to work. The camera sticks out of the frame because it's too wide to fit between the standoffs, so there's not a lot of protection in a crash.
On the other hand the video transmitter is small enough to fit in most frames. Even if your frame doesn't have 25.5×25.5 mounting, you can either make an adapter or just use double sided tape with a zip tie to secure it.
This is the iFlight Nazgul V2 by the way.
Image Quality
The new O3 Air Unit is basically a 4K action camera on its own.
Compared to the previous DJI FPV Air Unit, the image quality is noticeably better, there's so much more detail and dynamic range, and also there are more resolution and frame rate options to choose from.
You can adjust exposure, white balance, ISO, shutter speed etc in the goggles menu, which makes it extremely flexible to use just like a GoPro.
You can also change field of view, but that only changes the onboard recording, and does not affect what you see in the goggles (Goggles is always in "Wide" FOV). I recommend switching to 4:3 aspect ratio in the goggles as it gives you additional vertical FOV since the image sensor is 4:3.
Price Differences
Purely comparing the video transmitter and camera, the $229 O3 Air Unit is about $70 more expensive than the Walksnail setup, $90 more expensive than the Runcam Link + Wasp cam setup, and $50 more than the HDZero setup (Freestyle VTX + Micro Cam V2).
You are paying more for the DJI O3 System because of the additional features, such as the true 1080p video link, 4K stabilized onboard recording and built-in radio control link etc. For some people, it's even enough to replace the heavy HD action camera, which makes the quad lighter and fly better.
However, when you crash, the first thing that get smashed is likely to be the camera, and it's not cheap to replace. The O3 camera module is priced at $109. For other digital FPV system, the camera only costs around $40-$60 on average.
Onboard Recording
Apart from being an FPV camera, the O3 Air Unit can also be used as an HD action camera!
I can record up to 4K at 100fps in 16:9 aspect ratio or 2.7K at 120fps with the V2 goggles. The recorded video can be stabilized with the built-in RockSteady feature. Gyro data is also available along with the video files when Rocksteady is disabled, so you can use Gyroflow for stabilization instead.
However, note that vibration can significantly impact Rocksteady stabilization performance. The gyro sensor is located inside the camera module (not the transmitter module), to get optimal stabilization, the O3 AU requires a clean drone build and effective camera mounting to dampen those vibrations.
The image quality of the onboard recording is not quite on par with the latest GoPro cameras (personally I think it's close to a GoPro Hero 6), but it's probably good enough for ordinary FPV hobbyists. It has 20GB built-in memory for recording, enough for about 20mins of 4K 60fps recording. If that's not enough you can also use a micro SD card. Unfortunately it doesn't record sound (no onboard microphone). It's great when you forget your SD card you can still record some footage and won't be going home empty handed.
You can slap an ND filter on the O3 camera and create more motion blur for cinematic videos, but it also affects the image you are looking at inside the goggles, so it's not as flexible as using a separate action camera.
Built-in Radio Control Link
The Air Unit O3 also has an SBUS output just like the original Air Unit and Vista. It's compatible with the DJI remote controller V2 (those come with the Avata and DJI FPV Drone), so it's possible to fly your drone with an external receiver like the Crossfire or ExpressLRS.
Using the DJI remote controller 2 makes it easier to setup the drone, however the built-in radio link doesn't have the same range and packet rate as high performance radio links such as ExpressLRS. If you want the most solid radio link and better performance, you probably still want to use a dedicated receiver in your drone. The other disadvantage with the DJI Radio 2 is the lack of functionality and screen, it's not as customizable and feature-rich as other radios of similar size like the Radiomaster Zorro.
Heat Issue
The O3 AU is known to generate more heat and is more likely to overheat than the Vista and original FPV air unit, therefore extra cooling is important to ensure performance and reliability. Make sure low power mode is enabled so it transmits at the lowest possible power level when the drone is not armed.
It's worth noting that even with Low Power mode turn off, the O3 Air Unit does not output maximum RF Power until it receives the Arming command from the flight controller. This is a concern for those who flying fixed wings and doesn't want to use a flight controller, so at the moment it seems if you want best range you'd have to connect the O3 to a FC.
Pros and Cons
Pros:
You can update the O3 air unit without the need to power up your quad! No more worrying about overheating on the bench. It also lets you to access both the internal storage as well as the SD card, super convenient
It's compatible with both the new DJI Goggles 2 and old FPV Goggles V2
Larger image sensor
DJI's Flagship O3+ Video Streaming
Built-in 20GB memory for great quality onboard recording, also takes mciro SD card for memory expansion
4K recording can potentially replace GoPro
Built-in RockSteady Stabilization, also supports Gyroflow
Native Betaflight OSD Support (MSP Displayport), no more need for hacking
Records OSD and the whole menu in Goggles DVR
Cons
Doesn't support DJI FPV Goggles V1
More expensive than other digital FPV systems
Bigger and heavier than the Vista
The Camera module is too big for many frames
Consumes 40% more power than the Vista due to the 4K onboard recording and stabilization and better encoding etc, not only it overheats more quickly, it's also important to make sure your BEC can handle 17W-18W at least just to be safe (e.g. 2A at 9V)
Does not output maximum RF power unless you use it with a flight controller (with MSP UART connected), which means it's not ideal for wings without FC
DJI Goggles 2
The new DJI Goggles 2 has been redesigned from the ground up, looks and feels largely different from the previous versions, it's a lot more compact and easier to carry around.
They are about the same size as the Orqa FPV.One Pilot.
Even slightly smaller than the Walksnail Avatar (aka Fatshark Dominator HD).
The Goggles 2 has OLED screens which in my opinion are a massive upgrade from the LCD screen in the V1 and V2. The OLED are more 'contrasty', vibrant and sharper, which HD video can really take advantage of.
Specifications
Two Micro-OLED Screens, screen size 0.49 inch
Screen resolution 1920x1080p
2 Hour Battery Time with the included battery
Diopter Adjustment (+2 to -8), but no astigmatism correction support
IPD: 56-72 mm
FOV: 51° diagonally in 4:3 aspect ratio
Max Video Transmission Bitrate: 50Mbps
Video Transmission Encoding: H.265/H.264
Supports MP4 and MOV Video and Audio Playback Formats
Input voltage: 2S
Supports DLNA Protocol (WiFi streaming)
WiFi protocol: Wi-Fi 802.11b/a/g/n/ac
Supports head tracking
Dual band capability 2.4GHz and 5.8GHz
Dimension with antenna folded: 167.40×103.90×81.31 mm
Weight: 290g 298g
Differences between FPV Goggles V2 and DJI Goggles 2
Very confusing naming by DJI, here are the differences.
The FPV Goggles V2 goggles are a couple of years older now, they were released around the same time as the DJI FPV drones in 2020. The new DJI Goggles 2 was just released recently together with the DJI Avata drones in Fall 2022.
The Goggles 2 is much lighter and smaller than the FPV Goggles V2. I was absolutely shocked how much smaller and lighter DJI managed to make them, given that they have even better tech than the previous gen.
The new DJI O3 Air Unit is compatible with both the FPV Goggles V2 and Goggles 2 headsets, but with the V2 Goggles, you won't get the full performance out of it. On the FPV Goggles V2, video feed is 810p 120fps with 28ms latency, while on the Goggles 2, it's 1080p 100fps with 30ms latency.
Note that the new Goggles 2 do not have AV input, so they don't support analog FPV system at all unlike the previous FPV Goggles V2/V1. They don't have HDMI input either, so they don't support other digital FPV system like HDZero or Avatar.
The two foldable antennas are linear polarized antennas, and there are two additional antenna inside the goggles. Although your VTX might have circular polarized antennas (therefore there's some slight signal loss), it's fine! For FPV drones it's best to have circular polarized antennas on the VTX as the drone can change attitude constantly, and circular polarized antenna offers more even coverage.
The antennas are removable, they are connected via MCX connectors, so hopefully there will be aftermarket antennas in the future for the DJI Goggles 2, that are circular polarized which are more suited for FPV.
It's super convenient that they just fold up like that. The fact that antennas are included means you save a lot of money. Many FPV goggles nowadays don't come with antennas.
Track Pad
The Goggles 2 has no buttons!
It uses a trackpad to navigate and work the menu. It's innovative and probably a lot cheaper to make and more durable than mechanical buttons but they aren't as easy to use. And it often registers the wrong gesture which can be slightly annoying. It will take some getting used to for sure. But look at the bright side, at least it means you won't accidentally bump the buttons when you put the goggles on or take them off.
Goggles DVR
The Goggles 2 DVR can now record the entire screen including OSD and menu (and you can also choose to record the clean feed without any OSD if you want – option is in the menu). This feature is only available on the Goggles 2, not in the FPV Goggles V2 as overlaying the OSD / menu on top of the video feed requires additional encoding and processing power that's only possible in the newer Goggles 2. With the V2 and O3 Air Unit, you will still just get a clean feed DVR like before.
The DVR videos are in 1080p 60fps, they takes up more space than before and require a faster SD card too. Note that the video in the goggles are not stabilized, as well as the goggles DVR. You can choose in the settings whether or not to store the OSD data in an .srt file (subtitles).
IPD and Focus Adjustment
You can't wear glasses while putting the Goggles 2 on like you can with the FPV Goggles V2, however they have a wide focus adjustment between +2 and -8. Once you are done with IPD and focal adjustment, you can lock the knobs so you won't accidentally change them.
There's a sensor between the lenses, it can detect whether you are wearing the goggles or not. When you put the goggles down, it will automatically shut the screens to save power. When you put them back on, the screens take about half a second to turn on. There are some concerns about reliability in the long run, but it's certainly a slick feature nonetheless.

Headstrap
The headstrap is attached to the goggles by velcro, easily removable if you prefer an aftermarket strap. It works fine for the most part, but I think I would prefer a wider, more flexible and stretchy strap. Also it's not designed to hold the battery on the strap, so it probably needs some kind of 3D printed holder to do that. At the moment I just put the battery in my pocket while flying.
Battery
It comes with a 2S 1800mAh battery pack (weight: 120g) which can provide about 3 hours of battery life per charge.
I haven't opened the battery yet, but I read online it has two 18650 Li-ion cells inside and people have been able to replace them with 21700 for more capacity. Maybe that's a modification I will do in the future.
Video Output
The DJI Goggles 2 has a USB-C port for video output. You need a USB-C to USB-C cable, and install the DJI Fly app on your smartphone. It's not available in the Play store, you can download the APK from DJI's website):  https://www.dji.com/nl/downloads/djiapp/dji-fly
This will display the video feed along with Betaflight OSD on your phone, but it doesn't display the menu. There's currently no way to get a clean video feed from the Goggles 2 (without OSD and logo). Also it's currently unknown if it's possible to get an HDMI video output from the Goggles 2. If you want a clean feed and HDMI output when using the O3 Air Unit, the FPV Goggles V2 can do it, but it can't display the OSD at all.
Compatibility
Here's a compatibility table (last updated Jan 2023):
How To Setup DJI Goggles 2 and O3 Air Unit
Unboxing
Before powering on the goggles, please fully charge the battery. Charger is not included, but you can use any USB charger as far as I know. It supports PD and QC charging as well, charging power up to 12W. To fully charge the battery from empty takes just under 1 hour.
I think it's possible to power the goggles from a PD/QC cable power bank or power adapter, but I have yet tested it. You can give it a try if you want longer flight time, you might need a different USB-C cable though: https://s.click.aliexpress.com/e/_DkomM0j
Unfold the two top antennas, remove the screen protector and install the head strap which is attached to the goggles with Velcro.
Power On Goggles
How to power on goggles – connect the battery to the goggles. There's a power button on the battery, press it once to check battery level. Press it again and hold it for two seconds to power it on/off. You will hear music when it's booted up (yes the goggles have speakers!).
Once you got an image in the goggles, you can adjust IPD and focus using the dials on the bottom. Adjust one eye at a time with the other eye closed. Push the dial left and right so you can see all four corners relatively well with minimal blurry edges. For some people it's just impossible to have absolutely clear corners/edges, it's fine, just get it as good as you can. Then twist the dial to adjust focus until the image is crystal clear. Push the knob up and turn it to the left to lock it in place so you won't accidentally change your IPD and focus .
The focus adjustment allows -8.0D – +2.0D, if you require diopter outside of this range or astigmatism correction, there are eyeglass frames provided that can be installed on the goggles, so you can use your own lenses.
Unlike most other FPV goggles out there, there's no buttons on the Goggles 2, control is via a touch pad. For the first time you power on the goggles, you will have to go through a tutorial which explains how to use the touch pad to bring up the menu, change settings, and lock/unlock the screen etc. Pretty straightforward.
You should definitely get an SD card for recording DVR, it can record your flying, also when you crash, you can look back and try find where you went down. Because the DVR records 1080p videos, you need a pretty fast card. I tried the Sandisk 16GB Class10 A1 card from the DJI FPV Goggles V2 (which records 720p) and it gave me a slow SD card warning. But this card works totally fine: Samsung Evo Plus U3: https://amzn.to/3j8lg9A
And don't forget to format the SD card inside the goggles.
Activation
After the tutorial, you will need to activate your goggles using DJI Assistant 2 (Consumer Drones Series) software available on Windows and MacOS – NOT the DJI FPV Series. Download: https://www.dji.com/nl/downloads/softwares/dji-assistant-2-consumer-drones-series.
USB-C cable is not included, but any USB-C data cable should work just fine. Update to the latest firmware version while you are here.
If you updated your FPV Goggles V2 to support the O3 AU, you will have to use the "DJI Assistant 2 (Consumer Drone Series)" too, same goes for the vista that you updated to support the Goggles 2. I think DJI will slowly move away from the FPV Drone Series one.
Connection O3 to FC
The O3 Air Unit has the same pinout as the previous Air Unit and Vista, it's plug and play with flight controllers with the DJI 6-pin connector. It can be powered by 2S to 6S voltage (7.4-26.4V).
For most FC it's plug and play, no soldering, but beware of the wiring order, in some rare cases you might need to swap cables around.
If you are using your own radio receiver, make sure to remove the DJI HDL and GND wires from the cable like so.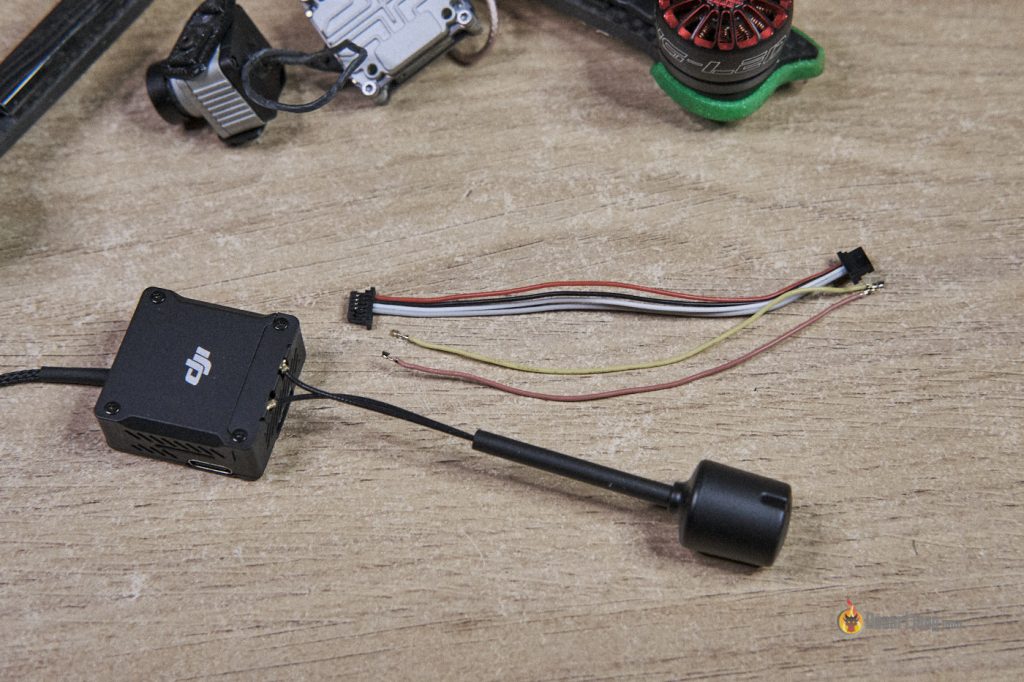 Now connect the O3 AU to your computer via USB-C (no need to power the quad), open "DJI Assistant 2 (Consumer Drone Series)", and activate it, and also upgrade firmware to the latest version.
If you want to record videos inside the O3 air unit, you need to get an SD card. I was getting a slow SD card warning using the Sandisk Extreme Pro 64GB U3 A1 card. Switched to a Samsung 256GB Evo A2 fixed that issue, you can get this card here: https://amzn.to/3B8JplQ
It's best if you format the card inside the Air Unit (option in the goggles' camera menu).
OSD
The DJI O3 Air Unit fully supports Betaflight OSD. Betaflight OSD menu and all the OSD elements are fully functional.
If you are using Betaflight 4.3, go to the Presets tab, and search for "dji", the "FPV.WTF MSP-OSD" preset should pop up, in options, select the UART you've connected to the O3 AU.
Picking this preset is the same as entering these command lines in CLI, but Preset makes it so much easier!
set osd_displayport_device = MSP
set displayport_msp_serial = x (should be 1 less than the UART number, e.g. if UART1, enter 0 here)
save
Here's the official manual if you want to learn more.
Pairing DJI Goggles 2 and O3 Air Unit
Power on the Goggles. On your track pad, swipe right to open the System menu, go to Status and switch to "DJI O3 Air Unit".
Then press the link button between the lenses.
Power on your O3 Air Unit, wait until the green LED turns off and become red. Press the bind button, it will start flashing. when binding is successful LED will turn green. And you should have image from the camera in your Goggles.
Binding DJI FPV Goggles V2 and O3 Air Unit
In the FPV Goggles V2 menu, go to Settings => Device => Switch to DJI FPV, then power cycle the goggles. This is important, if you are in the wrong mode, the update won't work properly.
Then connect your V2 goggles to the computer, open up DJI Assistant 2 (DJI FPV Series) app, and update to the latest firmware. If you are interested in rooting your goggles and install WTFOS, then you must root it before updating, more info here.
Once updated, go to the menu, Settings => About => Switch Aircraft Model =>  DJI O3 Air Unit.
Power on the O3 Air Unit and Goggles, then press the bind buttons on both devices, they should be bound within seconds.
Warning (23 Nov 2022): with the FPV Goggles V2, when you switch mode to use the O3 Air Unit, all your previous binds with the Vista and FPV Air Units will be lost! If you want to use your older air units and vista, you'd have to bind them again. Apparently if you bind one of the old air units, all the binds come back (not confirmed), but then your binds with any O3 Air Units are gone. It seems to be more like a bug than a feature, hopefully DJI can fix this in future firmware updates.
Unlock FCC Mode
In FCC mode, there should be 7 available channels in the 20MHz mode, and 3 available channels in the 40MHz mode.
If your Goggles 2 are shipped with CE mode (to comply with European regulations), they will be limited in terms of output power (only 25mW) and channels. There will be only 1 available channel in the 40MHz mode and 3 available channels in the 20MHz mode.
You can perform the "FCC hack" to unlock higher output power (more range and signal penetration) and more channels (allows more pilots in the air at the same time) if that's legal to do where you fly. It's simply a file you place in the goggles. Note that it's NOT the naco text file we previously used with the Vista but the process is similar.
To switch to FCC mode, the method is exactly the same as for the DJI Avata drone. Simply get the file "ham_cfg_support" and unzip it to the root directory of the SD card and put it in the goggles.
Download here: https://drive.google.com/file/d/1ug2U_i5kdrKQQ2I17NLJBXm2tKQeNj5Q/view?usp=share_link
To check if you are in FCC mode, go to Settings => Transmission => Channel Mode, switch to Manual, under 40MHz bandwidth, you should see 3 channels available in FCC mode. If you are in CE mode, it will only show 1 channel there.
The FCC mode is permanent, however you can go back to CE mode from FCC mode by factory reset the headset (in the menu Settings / About).
Recording Videos
Since the goggles don't have any physical buttons, to start recording you'd have to do it in the screen menu. Just swipe down from the top to access the Record button.
You can also set it up, so the goggles and O3 AU start recording as soon as you arm the quad, which is my preferred way. (Settings=>Camera=>Advanced Camera Settings)
To download the videos, simply plug in the USB cable, no need to take SD card out, very handy. For the O3 AU, you will get two separate external drives, one for the SD card, one for the internal memory. For the Goggles 2, you have to power on the goggles first otherwise connecting USB does nothing.
Changing MIPI Cable
You might want to use a longer or shorter camera cable, which involves taking apart the camera module.
The ribbon cable between the O3 Air Unit and camera module is called a MIPI cable. The connectors might look similar to the previous generation, but it actually uses different connectors. The connector on the video transmitter side is a 40-pin connector, while on the camera module side uses a 30-pin connector. In the older Air Unit and Vista, they use 30-pin connector on both sides.
That's why all the cables, camera modules and video transmitters are not compatible between the new and old generations. When you want to replace a new MIPI cable, make sure it's for the O3 Air Unit!
To remove the antenna from the O3 AU, simply take off the metal bar and disconnect the UFL connectors.
Best Settings
O3 Air Unit Camera Settings
Resolution and Frame Rate
Depends on what you want to do with the footage, 4K offers the highest bitrate and resolution, however it isn't always the best option. The main drawback of 4K is the lack of 4:3 aspect ratio which means when you use Gyroflow or Rocksteady, you will crop more into the image (it would look a bit more zoomed in). And of course the video would take up more space on your SD card too and takes more processing power to edit/render.
Generally I think 2.7K 100fps is the best for general purposes, it allows 4:3 and offers relatively good bitrate. Also 100fps is the smoothest for video feed in the goggles (personal opinion).
Apart from resolution, frame rate (fps) also has an effect on the bitrate of the video, higher frame rate generally allows higher bitrate.
Resolution has no effect on your FPV feed, but frame rate does. Whatever frame rate you choose for recording, it will display the same frame rate in your goggles. I will talk more about this later in "Goggles settings".
Here is a list of the resolution/frame rate and the respective bitrate / data per minute.
1080p 120 100Mbps (750MB/min)
1080p 100 100Mbps (750MB/min)
1080p 60 80Mbps (600MB/min)
1080p 50 80Mbps (600MB/min)
1080p 30 40Mbps (300MB/min)
2.7K 120 150Mbps (1.13GB/min)
2.7K 100 150Mbps (1.13GB/min)
2.7K 60 130Mbps (0.98GB/min)
2.7K 50 130Mbps (0.98GB/min)
2.7K 30 80Mbps (600MB/min)
4K 120 150Mbps (1.13GB/min)
4K 100 150Mbps (1.13GB/min)
4K 60 150Mbps (1.13GB/min)
4K 50 150Mbps (1.13GB/min)
4K 30 110Mbps (0.83GB/min)
ISO and Shutter Speed
I usually set ISO and Shutter Speed to Auto, this works well in most lighting conditions for FPV.
You can do this by setting the camera mode to Auto, by simply swiping up, in the first option (Mode), select Auto.
However, when using ND filter, to get the most out of it, you should set your ISO as low as possible, then set Shutter Speed to a fixed values, e.g. one over twice your frame rate (180-degree rule), for example for 120fps, set shutter speed to 1/240. Then select an appropriate ND filter for a correctly exposed image. You can learn more about using ND filters in this post. But if you aren't doing anything serious with the footage from the O3 air unit, then there's no need to use ND filters in my opinion.
---
Color
With the O3 Air Unit, there are two color modes you can choose: Normal and D-Cinelike.
Basically D-Cinelike is Flat Color in a GoPro (or Log), the video will look grey and dull out of the camera, but it actually contains more image data, retaining a wider color gamut, dynamic range, and tonal range, which provides more flexibility for color grading.
When you change color mode in the O3 AU recording it also affects what you see in the goggles.
I'd suggest using Normal color whenever you can, it just looks way better in the goggles. Unless you intend to color grade the footage out of O3 Air Unit, then you probably want to use D-Cinelike.
You can do this by swiping up, and find the last option (Color) in the menu.
---
EV
EV is the exposure value.
With the default camera settings, the image tends to be slightly under exposed for my taste (a bit too dark), so I normally increase EV to +0.3.
You can find this option in camera settings by swiping up in the track pad.
---
Sharpness
Set Sharpness to -1.
You can do this by swiping right, go to Settings=>Camera=>Advanced Camera Settings.
Changing the Sharpness setting has a pretty obvious effect on the image. At -2 it's clearly a bit too soft. Setting it higher would look pretty good in DVR, but watching in the goggles, it just feels kind of over-sharpening with digital artefacts. For me -1 feels just about right.
---
Noise Reduction
Set Noise Reduction to -2.
Noise Reduction has more subtle effect for the environment I fly, there seems to be some improvement in the detail of the tree branches especially in the darker area of the image as I decrease Noise Reduction. -2 seems to give me the clearest image.

---
EIS
The EIS option stands for "Electronic Image Stabilization", basically it's asking if you want to use the built-in Rocksteady technology to stabilize the footage recorded inside the O3 Air Unit. Note that it doesn't stabilize what you see in the FPV goggles, it only applies to the recorded videos in the O3.
If you turn EIS off, the video is not stabilized, however, it will record the video with gyro data with it, so you can use Gyroflow instead for stabilization in post. Most people probably would prefer this way, because you can customize the level of stabilization to apply.
BUT! Gyro data is only recorded when you set Camera FOV to Wide or Normal. When you set it to Ultra Wide, gyro data will not be recorded and so it won't work in Gyroflow.
Also you have to make sure your quad is relatively vibration-free, otherwise it will mess up the gyro data and it won't work well with either Rocksteady or Gyroflow. It's recommended by DJI to use 48KHz PWM frequency on your ESC.
If you need help with tuning, here is my tutorial.
Goggles 2 Settings
Resolution and Frame rate
In a nutshell, set frame rate to 2.7K 100FPS (or 1080p 100FPS) for best flying experience.
Here are the latency for each resolution/frame rate setting (figures from the SRT files in the O3 AU):
1080p 120 34ms
1080p 100 40ms
1080p 60 34ms
1080p 50 40ms
1080p 30 34ms
2.7K 120 34ms
2.7K 100 40ms
2.7K 60 34ms
2.7K 50 40ms
2.7K 30 34ms
4K 120 34ms
4K 100 40ms
4K 60 34ms
4K 50 40ms
4K 30 34ms
Latency seems to be affected by only the frame rate. Although it shows 100fps has higher latency at 40ms than the 34ms of other fps, I found 100fps offers the smoothest FPV feed, and that's what I would recommend.
120fps seems to perform the same as 60fps, you can feel the frame rate in the goggles is lower, but still pretty good. At 50fps, it's noticeably lower than 100fps and 60fps, but still flyable. But at 30fps, frame rate is so low you can almost "feel the stuttering" and it's almost unflyable for me.
As mentioned, resolution has no effect on video feed, so you can select whatever resolution you want to use.
You can set the resolution and frame rate in Camera settings by swiping up in the track pad, and find "Video Quality".
Note that when you set 4K, you cannot use 4:3, only 16:9 is available. I don't rely on the O3 for 4K recording, I much prefer to get the best flying experience in the goggles, so I normally go with 2.7K/100 (or just 1080p/100 if you want to save SD card space in the O3 AU).
---
Enhanced Display
Enable Enhanced Display as it will improve the viewing experience when you are flying to make it easier to see better in bright and dark lighting conditions.
To enable it, simply swipe down, and select the Enhanced Display icon.
---
Bandwidth
When flying alone, set it to 40Mhz. When flying in a group, set it to 20MHz, or even 10MHz if you want the least interference to other pilots.
To do this, swipe right, go to Transmission, set Channel Mode to Manual, and In bandwidth select 40 MHz.
The larger the bandwidth, the better the image quality. So go with 40MHz whenever you can. But when flying with other people it's better to choose a lower bandwidth which causes less interference and it allows more people to fly together. When using 40MHz, the maximum channel available is reduced from 7 to 3 (in FCC mode).
Focus Mode
I didn't find any noticeable difference when setting this mode off and auto, so I just leave it off for now.
---
Image Scaling
I don't know about other people, but I have some blurry edges with the Goggles 2, and I can't quite get a clear view of the OSD around the corners. So I had to scale down the image to 90% which works much better for me.
You can do this by swiping right, Settings=>Display and select 90% under Air Unit Display Scaling.
---
Conclusion
Signal
In a nutshell, for the V2 goggles owners, the O3 Air Unit is definitely a worthy upgrade from the Vista and original Air Unit. Image is better, signal penetration is better, 4K onboard recording and image stabilization are simply stunning. It's worth the extra money IMO over the original Air Unit and Vista. (Although installing the O3 in existing frame can be a pain!)
The Goggles 2 on the other hand, are not entirely an upgrade (for now). The screens are way better indeed, the overall size is much smaller and lighter (it's shockingly small compared to the V2). The link quality is close but not quite as good as the V2 goggles however. Maybe it has something to do with the better aftermarket antennas in the V2? Hopefully there will be better 3rd party antennas that can boost the range and penetration for the Goggles 2 in the future.
Comfort and User Experience
But I have to say, I really enjoy flying with the Goggles 2, they are extremely portable, and comfortable to wear. They are super light weight and fit my face unexpectedly well, I have almost no light leak at all. However sometimes it takes a bit more effort to get a good focus on the screen compared to the V2, I often find myself keep adjusting the Goggles 2 when I am putting them on my face. The V2 needs no adjusting at all.
I am also getting some blurry edges on the Goggles 2 even though the screens are smaller than the V2. I ended up using a 90% screen scaling in the system setting as a work around to get rid of those blurry edges. Again, no blurry edges in the V2. Apart from that, I still love how clear the image looks in the Goggles 2.
It's nice to have full Betaflight OSD support without any hacking.
Micro Drone Support, Latency, Low Light
Perhaps the O3 Air Unit is still a bit too big and heavy for micro drones, therefore it's more suited for larger quads like 5″. I think a 3″ is a minimum if you want to use it for freestyle flying, any smaller drones would struggle to fly well. Also the high price can be a deal breaker for some. However, for those who consider the O3 AU onboard recording good enough to replace their action camera, you can save a significant amount of weight.
For freestyle, cinematic or just cruising and enjoying surrounding view, DJI is a great choice. But for racing, aggressive flying in confined space where reaction time matter, you might want to consider other systems with lower / more consistent latency such as HDZero. Low light performance is also another weaknesses of the O3 Air Unit at the moment.
Not a GoPro Replacement
Honestly, I don't think the O3 is a GoPro Replacement no matter what other reviewers are telling you. There are quite a few problems with the O3 AU which in my opinion makes it less appealing to a GoPro.
4K recording is only available in 16:9 ratio, to use 4:3 you have to lower resolution to 2.7K. The problem with 16:9 is that you need to crop more in stabilization to avoid black edges compared to 4:3 videos. Also the O3 AU is very picky about vibration/oscillation in order for Rocksteady or Gyroflow to work well, the latest GoPro's are more forgiving in that regard.
And to get the best out of the O3 recording, you have to make sacrifice in your FPV experience. I say that because when you change camera settings, it affects what you see in the goggles and that has a huge impact to how well you can fly. For example aspect ratio, frame rate, color, and setting ISO / Shutter speed to a fixed value etc. It's just not as flexible as using a GoPro.
You will most likely to get props in view (or even part of the frame) because how we normally mount our FPV camera, it doesn't look good in HD videos.
Lastly, the latest GoPro's still have better image quality than the O3, though the gap is closing. I think the O3 is on par with the older Hero 6 and can be a decent replacement.
Price
DJI has been my top choice for a FPV system, and their Goggles 2 and O3 Air Unit just brought it to whole new level. It's definitely one of the best quality FPV links available right now with great dynamic range, image detail and features. I think I will be using the Goggles 2 a lot more now because they also support the older Vista, I would much prefer them over the V2 due to portability. But if you don't care about specs and size, you can actually save $140 by going with the V2 as its price has been marked down to $430.
Buy the DJI FPV Goggles V2:
Get the DJI Goggles 2 here:
Get the DJI O3 Air Unit here:
---
DJI FPV Goggles V2 Supports O3 Air Unit
To make your V2 goggles compatible with the new O3 Air Unit, you ned to update the goggles firmware first.
Switch the goggles to DJI FPV mode and then update the firmware to V01.04.0000 using DJI Assistant 2 (Consumer Drones Series) software on your computer. According to the fpv.wtf, updating to this firmware won't affect the the ability to root the goggles as long as you make sure the firmware in DIY Mode (DJI Digital FPV System mode) is v1.00.06.06 or v1.00.06.08. However, if you intent to eventually root your DJI FPV Goggles V2 and want to play safe, you should perform the root hack in advance, once it's rooted it's permanent.
DJI Goggles 2 Supports Vista and FPV Air Unit
Update on 8th Dec 2022
As promised by DJI, they have added support to use the new DJI Goggles 2 with Runcam Link (Caddx Vista) and the FPV Ait Units. Also, the remote controller 2 will also support the Vista and FPV Air Unit.
When using the Goggles 2 with the Vista and FPV Air Units, Canvas mode will work too, meaning full Betaflight OSD is supported, no need to root anymore (but still won't work with V2 and V1 goggles, for these goggles you still need to root to get full Betaflight OSD support)
For this support to happen, simply update to the latest firmware on your Vista/FPV Air Unit (V01.01.0000) and Goggles 2 (V01.03.0000) or newer, restart the devices after the update is complete. If you previously rooted and installed WTFOS, you need to uninstall WTFOS first: https://oscarliang.com/fpv-wtf-root-hack-dji/#How-To-Update-DJI-Firmware-After-Rooting. Your Vist is still rooted (it's permanently) so you can always roll back and isntall WTFOS again if you want. Dont' worry.
To setup OSD, the process is the same as the O3 Air Unit
The catch:
FPV Air Unit (the old one) loses its ability of onboard recording when used with Goggles 2, hopefully it can be fixed in future firmware
After the update, the Vista and FPV Air Unit won't work with the V1/V2 goggles and the DJI FPV Remote Controller (V1). You can however downgrade the FPV Air Unit and Vista firmware to v01.00.06.08, if you want to use those older goggles and remote again. Though if you have V01.05.0000 on your V2 goggles, it will work with Vista/FPV Air unit with V01.01.0000 firmware
Once updated, the Vista/Air Unit will work the same way as the O3 Air Unit, i.e. you cannot set output power anymore, it's set dynamically by the system. You can still unlock FCC mode but using the same method as the O3 Air Unit (as I described in this post)
This is extremely good news for people who already own the older generation DJI video transmitters and also getting the new Goggles 2. That means you can continue to use your older gear and not have to upgrade all of them to the O3 Air Unit. But if you own both Goggles V2 and Goggles 2, then it will pretty much force you to choose which goggles to use as you cannot use both at the same time. If you bind your Vista to one goggles, you will lose the bind to the other. You can however roll back on the firmware if you wish.
Swipe right to go to the System menu, Status => Switch => DJI FPV Air Unit.
However the flying experience with O3 is far better than the Vista. Just based on my testing, the Vista with G2 seems to have much lower and less stable bitrate, it never goes higher than 45Mbps, and drops to around 20-30Mbps or even 10Mbps pretty quickly if you are behind trees, but I can still fly pretty far out though (1km+). I haven't pushed it to range limit yet. Also you can't change output power, it's dynamically controlled by the system just like the O3. And DVR recording has to be manually started, arming doesn't start DVR automatically which I think it's a bug. hopefully it gets fixed soon.
10-bit Color for DJI O3 Air Unit
Updated on 07 Jan 2023
With the latest V01.02.0000 Firmware, 10-bit color is available for the O3 Air Unit in D-Cinelike color mode.
What 10-bit color does to your footage is that it would look more lifelike as a result because it contains more color information and has more color depth, and the transitions between different colors looks more natural.