In this review we will check out Orqa's latest FPV.ONE Pilot FPV goggles. They look similar to the previous version with some improvements. Are they for you and are they better than the Fatshark HDO2? Let's find out.
Some of the links on this page are affiliate links. I receive a commission (at no extra cost to you) if you make a purchase after clicking on one of these affiliate links. This helps support the free content for the community on this website. Please read our Affiliate Link Policy for more information.
New to FPV and not sure which Goggles to buy? Check out my FPV Goggles buyer's guide.
Where to Buy?
You can get the Orqa FPV.ONE Pilot Goggles from these vendors. These are affiliate links, when you make your purchase using one of these links, I receive a small commission which will help to keep this blog going.
It comes with a zipper case, two different faceplate paddings, lens cleaning cloth.
Battery is not included, but you can get the 2S 2500mAh LiPo battery from Orqa here: https://oscarliang.com/product-75qi. To charge this battery, you will need a barrel to XT60 converter: https://oscarliang.com/product-a6ew (or using this trick by charging only through the balance lead, though it's not the safest way: Parallel Charging Without Plugging in Main Leads)
Alternatively you can also use any 2S to 6S battery to power these goggles, but you will need a barrel to XT60 cable like this: https://oscarliang.com/product-fh6t
Update (May 2022): Orqa released a "Racing" version of the Pilot goggles partnered with FIVE33. They are cheaper, and also provide the option to a smaller FOV (33º) "Race Mode" which they claim is more suitable for racing. You can also switch back to 37º freestyle mode according to the product page.
How does the Pilot compares to the V1 and Fatshark HDO2
Here's a basic specs overview and comparison between the new Orqa FPV.ONE Pilot, the previous FPV.ONE (V1) and the Fatshark HDO2 FPV Goggles (see my previous review).
Prices are taken from GetFPV on 26th March 2022:
| | | | |
| --- | --- | --- | --- |
| | FPV.ONE Pilot | FPV.ONE (V1) | HDO2 |
| Price | $569 | $549 | $500 |
| FOV | 37° | 44° | 46° |
| Display | OLED | OLED | OLED |
| Resolution | 1280×960 | 1280×960 | 1280×960 |
| Aspect Ratio | 4:3 Native, 16:9 | 4:3 Native, 16:9 | 4:3 Native, 16:9 |
| Power Supply | 2S-6S | 2S Only | 2S-3S |
| IPD Adjustment | 56-74mm | 56-74mm | 54-74mm* |
| Focal Adjustment | -4 to +4 | No adjustment | -6 to +2 |
| DVR | Best in Class | Best in Class | Mediocre |
| OSD Menu | Really Good | Good | Really Basic |
* IPD between these goggles might look similar on paper, however, the HDO2 actually has much narrower IPD based on my measurements, which is only between 59mm – 69mm. But I can confirm the advertised IPD of the FPV.ONE Pilot is accurate.
The Pilot's form factor is significantly smaller than the DJI FPV Goggles, and definitely more comfortable to wear without much light leaks.
FOV, Screen and Optics
After spending a few days with the new Orqa FPV.ONE Pilot Goggles, I must say the user experience has been better than the HDO2. Not only the Orqa offers a lot more features than the Fatshark (which I will explain in a bit more detail later), the re-designed OSD menu is also very powerful and user-friendly
The only put-off for me would probably be the smaller field of view, though after a while I started to get used to it.
Actually the Pilot is using the same sized OLED screen as the HDO2 (both 0.5″ Sony OLED screens) according to the specs, but the FOV is still considerably smaller. This is due to the different optics. The optics in the Pilot are great, image is super sharp and contrasty, I have nothing to complain about the image quality, but the downside is that they do make the FOV smaller at only 37°, while the FOV of the HDO2 is 46°. You can see the FOV difference using this FPV Goggles FOV comparison tool.
However for someone who's new to FPV or coming from goggles with smaller FOV, this probably wouldn't be a concern. 37-degree is totally acceptable for FPV flying, some people even prefer the smaller FOV as it's just a personal preference.
As an analogy, it's a bit like sitting in a cinema, if the HDO2 was the front seat, then the Pilot would be like a few rows behind. Not sure if it's because the screens are further away from your eyes, it's more like looking though a tube (as you can see in the below image, there's a circle around the rectangle screen), you need to be slightly more precise how you position the goggles on your face, to get the screens line up with your eyes to avoid obstruction. But like I said, I got used to this after a while.
Receiver Module
Just like the Fatshark HDO2, the Orqa FPV.ONE Pilot doesn't come with a receiver module, which adds another $100-$150 to the cost on top of the goggles itself. (That's why I like the Skyzone SKY04X so much as it comes with a pretty decent receiver module)
Here's the receiver module bay.
The stock module cover is designed for the ImmersionRC Rapidfire, if you want to use some other modules like the TBS Fusion you will have to 3D print the cover for it.
User Interface
Darker colour goggles tend to get hotter in the summer when you fly under direct sunlight. That's why many like the Fatshark as they are typically white. But the Orqa does look more professional in my opinion with the space grey colour and matte finish.
There are a lot of buttons and some of them are a little too subtle to feel and press when you are wearing the goggles. It takes some get used to. It would be nice if the buttons had some sort of rubbery surface.
You have both IPD and focal adjustment which was missing in the previous version. Also, they are still keeping those diopter slots in case you have special prescription and you can't wear contact lenses. How thoughtful!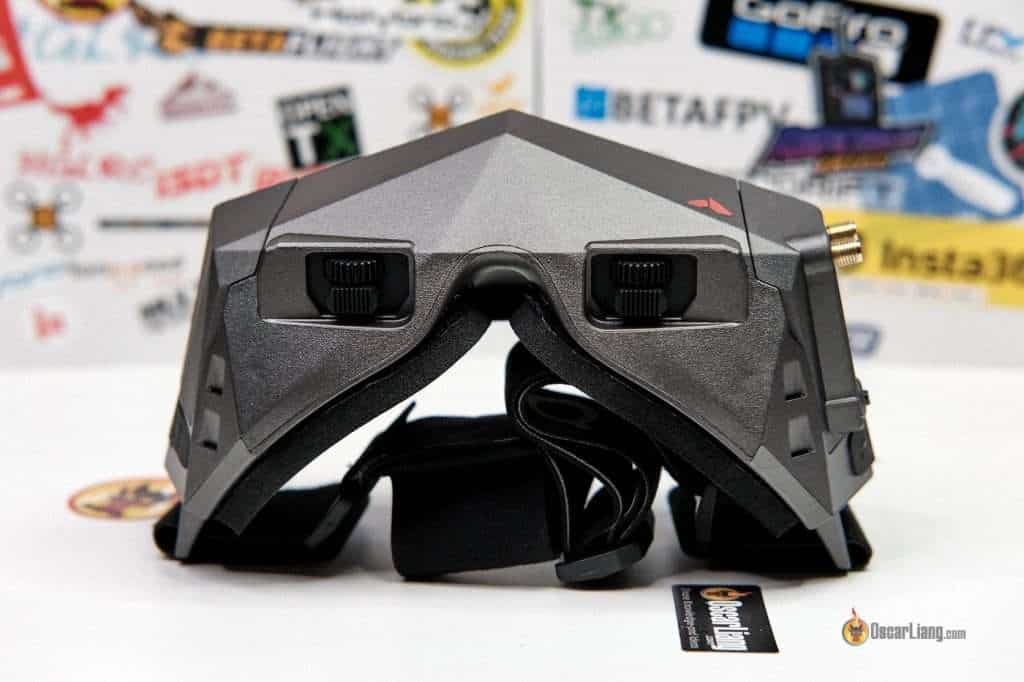 The OSD Menu is fantastic, it's user friendly and well designed.
Apologies for the image quality of the OSD menu screenshots. The DVR doesn't record the OSD menu so I had to capture the screen with my phone, it was hard to get it focus. The menu looks a lot sharper and vibrant inside the goggles.
You have total control of the Goggles screen image quality by adjusting brightness, colour, contrast, luminescence and aspect ratio. The cool thing is they give you a real-time preview which is really cool.
Headstrap
The stock Orqa head strap goes through a buckle, fold around and velcro together. As you can probably tell, you won't be able to use the aftermarket Fatshark straps on the Orqa, because there's no gap in the strap retainer. But this certainly avoids issues with straps wearing out over time and accidentally slipping right out. You might be stuck with the Orqa strap for now until new straps come out that are made for this goggles.
With that said, the strap provided is of great quality, fits my normal size head perfectly. It works as intended.
Other Features
The built-in DVR is way better on the Orqa than the Fatsharks, probably one of the best on the market with its 1280×960 resolution, 50/60 FPS, H.264 encoding and mp4 format specs.
Audio output using earbud works well.
As we all probably know, Orqa has their own digital HD system coming (but we have no idea when it's gonna be released), and the Pilot will be compatible. The video receiver for this HD system is not built into the goggles, you will need to purchase that receiver separately when it's available, and connect it to the goggles via the special connector located on top. As far as we know, the V1 will also be compatible but it will be using the HDMI input just like HDZero.
You can get the official 2S 2500mAh LiPo battery from Orqa, it's basically the same pack from Tattu which I reviewed before, just rebranded. The good news is that the Pilot supports up to 6S LiPo, so you can pretty much use your drone battery to power it if you want, which is really convenient.
It has some really clever features too that I have never seen before, such as
focus calibration for your eyes
head tilt warning – if you drop your head too much it reminds you (useful when using a patch antenna, and it can be turned off)
FPV.Connect
You can purchase a separate board called FPV.Connect, install it in the goggles, and you would be do many more other things:
live stream your flight from your goggles to your phone
download DVR footage to your phone
update goggles firmware
more features to come in the future…
You can buy the FPV.Connect Module here:
Here's where you install the board:
Install the FPV.Connect module in the Goggles.
When you turn on the goggles it creates a WiFi hotspot.
Download the Orqa Connect App on your phone, and connect to the Orqa WiFi network. Password is the FPV Goggles ID (it's part of the network name, i.e. ORQA-AP-(your goggles FPV ID), or you can find it on the sticker inside the module bay).
Follow the instruction on the app and have fun!
For more info about FPV.Connect, check manual here: https://orqafpv.freshdesk.com/support/solutions/articles/48001144522-fpv-connect