The Video Transmitter (VTX) is a crucial component of the FPV system, wirelessly transmitting camera images to FPV goggles. When selecting a 5.8GHz VTX, consider compact size, features, channel support, and accurate transmitting frequency, in addition to long range and high output power, to ensure optimal flight performance and minimal interference for fellow pilots. By understanding these key factors, you'll be better equipped to choose the optimal 5.8GHz VTX for your FPV drone and enjoy a more immersive and enjoyable flying experience.
Some of the links on this page are affiliate links. I receive a commission (at no extra cost to you) if you make a purchase after clicking on one of these affiliate links. This helps support the free content for the community on this website. Please read our Affiliate Link Policy for more information.
Analog vs Digital FPV Systems
FPV systems can be categorized into two types: analog and digital.
Analog equipment is not compatible with digital FPV gear. Presently, there are three digital FPV systems: DJI, Walksnail, and HDZero. Cameras and VTXs designed for a specific digital FPV system are also incompatible with other digital FPV systems. If you're unsure about which FPV system to choose, here's my review explaining the pros and cons of each system: https://oscarliang.com/fpv-system/
VTX Recommendations
In this section, I will recommend the best VTX for each FPV system for different applications.
DJI
---
Walksnail
Best All-Around VTX

Great for Micro

Walksnail Avatar HD VTX V2
Walksnail Avatar 1S Lite VTX

The Walksnail Avatar HD V2 VTX offers enhanced features such as 32GB storage for onboard 1080p recording, Gyroflow support for image stabilization, a grounded heatsink to reduce GPS interference, and additional 20x20mm mounting options for greater frame compatibility. Various compatible cameras are available depending on your preferences for image quality, low light performance, or weight reduction.

As a budget-friendly alternative to DJI systems, Walksnail's V2 VTX does have some drawbacks, such as the lack of an SD card slot for storage expansion and 4K recording, and a single antenna design that could impact range and penetration performance. 

The Walksnail Avatar HD Mini 1S Lite VTX, ideal for micro drones such as Tiny Whoops, boasts a compact design and weighs just 8.7 grams together with the Lite nano camera. It offers 720p and 1080p HD FPV capabilities, along with 8GB of onboard storage for video recording.

However, the Mini 1S Lite VTX requires an input voltage between 3.1V and 5V, so it can either be powered directly from a 1S LiPo battery or a 5V 2A BEC if you are using 2S batteries. Ensure the 5V BEC can supply adequate current for optimal performance.

Get the Walksnail VTX V2 from:

AliExpress: https://s.click.aliexpress.com
GetFPV: https://oscarliang.com/product-escn
Amazon: https://amzn.to/40GZkTf
RDQ: https://oscarliang.com/product-rs15
Caddx: https://oscarliang.com/product-sjj8

Product Pages:

Caddx: https://oscarliang.com/product-d75h
AE: https://s.click.aliexpress.com/e/_DdCMC0z
GetFPV: https://oscarliang.com/product-27gi
RDQ: https://oscarliang.com/product-3uda
Amazon: https://amzn.to/3FASTZv
---
HDZero
Best VTX for Freestyle and Long Range
HDZero 1W Freestyle
The HDZero Freestyle VTX offers the best range and penetration for the HDZero systems, thanks to its 1W transmit power. Ideal for aggressive freestyle and long-range flights, it features massive heatsinks on both sides for physical protection and cooling.
Out of the box, it supports 25mW/200mW, but with a HAM radio license, it can be upgraded to 1W using special firmware. The VTX weighs 28g and supports 2S-6S batteries (old version supports up to 4S), with SmartAudio and MSP Canvas Mode compatibility.
Find the HDZero 1W Freestyle VTX from these vendors:
GetFPV: https://oscarliang.com/product-umiy
RDQ: https://oscarliang.com/product-c6xg
AliExpress: https://s.click.aliexpress.com/e/_9JZfw7
Light Weight Option

Best VTX for Micro Drones

HDZero Race V2 VTX
HDZero Whoop Lite

The HDZero Race V2 VTX is designed for racing, featuring a compact and lightweight design that fits on 20x20mm M3 mounting. It supports SmartAudio, allowing VTX settings changes from Betaflight OSD and OpenTX/EdgeTX radios. The U.FL connector can be secured with a zip tie to prevent antenna detachment during crashes, and it has a built-in TVS diode for power protection.

However, its 200mW output power is modest and may not be ideal for long-range flights. This limitation is not significant for racing events, as most restrict output power to 25mW.

The HDZero Whoop Lite VTX is the smallest and lightest VTX in the HDZero system, designed specifically for micro FPV drones like tiny whoops. Versatile with 1S to 3S power support, it can be powered directly from most micro drone batteries. It also features SmartAudio for changing VTX settings in Betaflight OSD.

When paired with the HDZero Nano Lite Camera (1.5g) and a 0.4g dipole antenna, this combo creates the world's lightest digital FPV solution, weighing under 7g in total.

Product Pages:

GetFPV: https://oscarliang.com/product-ee00
RDQ: https://oscarliang.com/product-i6a0
AliExpress: https://s.click.aliexpress.com/

Get the HDZero Whoop Lite from:

RDQ: https://oscarliang.com/product-x3g9
AE: https://s.click.aliexpress.com/e/_DeXQpih
GetFPV: https://oscarliang.com/product-nsgx
NBD: https://oscarliang.com/product-wrqp
---
Analog
Decent Value VTX

Most Versatile Premium VTX

Rush Tank Ultimate Plus
TBS Unify Pro32 HV

The 800mW high transmit power VTX is a reliable choice for analog, striking a good balance between performance and cost.

The Rush Ultimate Plus is ideal for builds with limited space for an extra board in the FC stack. However it also includes a 30.5×30.5mm adapter for installation on top of your FC if needed.

The built-in microphone is a bonus, allowing you to hear the motors and beeper through your FPV goggles audio output.

The TBS Unify Pro32 HV is a versatile premium VTX known for its accurate output power levels, clean signal transmission, high quality, and reliability. With up to 1000mW output power in a compact package, it's perfect for long range, racing, or casual freestyle.

The VTX also supports TBS Crossfire systems, allowing users to change channels and power levels through the Crossfire receiver. This feature is especially useful for pilots without a flight controller or Betaflight OSD, like those flying fixed-wing aircraft.

Find the Rush Tank Ultimate Plus from:

AE: https://s.click.aliexpress.com/e/_DE9aA0t
GetFPV: https://oscarliang.com/product-211v

Get the TBS Unify Pro32 HV from these vendros:

GetFPV: http://bit.ly/2m9XMmT
NBD: https://oscarliang.com/product-z0ht
AliExpress: https://s.click.aliexpress.com/
Budget Smallest

Premium Smallest

Happymodel ELRS Fyujon AIO Board
TBS Unify Pro32 Nano

The Happymodel ELRS Fyujon AIO Board is an affordable, compact 300mW VTX designed for micro drones. With 25.5×25.5mm, 20x20mm, and 16x16mm mounting options available, it offers great compatibility.

Priced at just $21, it includes both a VTX and an ExpressLRS 2.4GHz receiver, with the entire combo weighing a mere 3g. This all-in-one solution is perfect for tiny drones that lack a built-in VTX and RX in the flight controller.

The TBS Unify Pro32 Nano is the ultimate choice for micro quads and Tiny Whoops if you're seeking the smallest and most powerful VTX. It holds the title for the most compact video transmitter on the market, measuring just 15x13x2mm and weighing a mere 1 gram.

Despite its tiny size, the Pro32 Nano can deliver an impressive output power of up to 500mW. Conveniently, it can be powered directly from a 2S or 3S LiPo battery, making it an ideal option when there's no 5V source available.

Find the Happymodel ELRS Fyujon AIO Board here:

AliExpress: https://s.click.aliexpress.com/
GetFPV: https://oscarliang.com/product-z0ds
Amazon: https://amzn.to/3MkDP6v

Shops:

AE: https://s.click.aliexpress.com/e/_DdeBxKh
GetFPV: http://bit.ly/2ma58qv
NBD: https://oscarliang.com/product-ctdh
Image Quality
Although VTX prices can vary significantly, image quality is mostly determined by your FPV camera, not the VTX. Paying a premium for a high-end VTX won't dramatically improve image quality in most cases. However, selecting a VTX with excellent features and reliable signal quality can enhance your overall flying experience.
Signal Quality
The main factors that contribute to FPV signal quality and range are the quality and placement of the antennas and the VTX's accuracy in transmitting at the intended frequency.
Higher-end analog VTXs offer more accurate transmit frequencies and cleaner signals that interfere less to the neighbouring channels. Antennas should be designed and tuned for a specific frequency range.
Some digital VTXs offer dual antennas (diversity), allowing you to mount them at a 90-degree angle to improve signal quality regardless of your aircraft's attitude during flight.
You can learn more about the optimal antenna placement in this post: https://oscarliang.com/antenna-positioning/
Antenna Connector
Most VTXs come with antennas you can simply plug in. However, if you want to upgrade or replace them, it's important to know the connector type your VTX comes with.
VTXs have various connectors, with the most popular types being SMA, RP-SMA, IPEX (aka UFL), and MMCX.
SMA and RP-SMA

SMA and RP-SMA are the oldest connector used in FPV gear. They are relatively large and threaded connector. There are two kinds, SMA and RP-SMA, make sure you match the connector type with the appropriate antenna.
You can use SMA to RP-SMA converters and adapter cables for incompatible connectors, but be aware that there's a small performance penalty for each adapter used. Generally a few percent of signal loss, it's not much.
UFL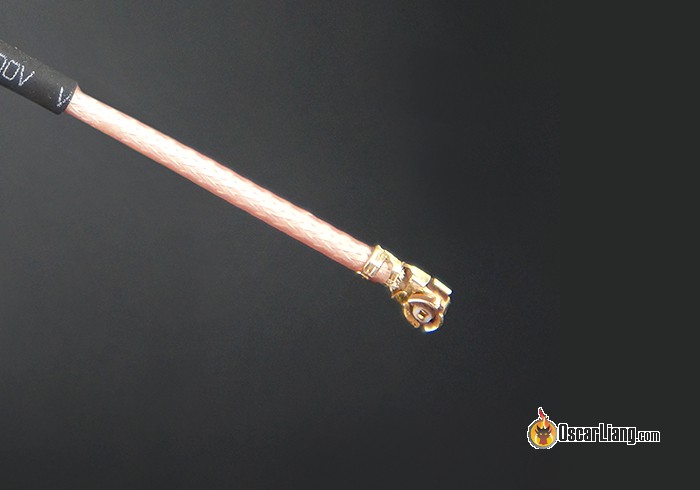 IPEX or U.FL connectors are popular for smaller VTXs due to their low profile design compared to SMA connectors. However, they wear out more quickly due to the much lower mating cycles. You can connect a U.FL to SMA pigtail to the VTX or use an antenna with a U.FL connector. This connector is smaller than SMA connectors and is press-fit into place, making it prone to coming loose in crashes, therefore manufactures tend to use glue or retention to secure it in place.
MMCX
MMCX strikes a balance between the fragile U.FL and bulky SMA connectors. As a newer connector type, it's a press-fit connector but much sturdier than UFL, making it less likely to pop out during a crash. MMCX also has a higher mating cycle count than UFL. This design balances the tradeoffs between SMA's durability and U.FL's size and weight. However, finding an MMCX antenna can be challenging as it's not yet as common as the other two connectors.
Powering VTX
Modern video transmitters (VTX) typically support a wide range of input voltages, allowing you to power them directly from your drone's battery (e.g., 4S or even 6S LiPo). However, a popular approach is to power the VTX using a voltage regulator on the flight controller, commonly known as a BEC (Battery Elimination Circuit).
Not only does a BEC convert higher voltage to a lower one, but it also acts as a filter for your VTX's power supply. Drone batteries can be incredibly noisy power sources due to the noise generated by the ESC and motors. These days, most flight controllers come equipped with onboard BEC specifically designed to power VTXs. They provide 8V, 9V, 10V, or 12V voltage output and feature excellent filtering circuitry to minimize voltage spikes and electrical noise from your power system.
Another essential factor to consider when powering your VTX from a BEC (or any voltage regulator) is ensuring it can supply the required current for the VTX to function correctly. Manufacturers don't always include amp draw in their specs, which is why it's helpful to check out my reviews as I always try to provide info like this. An underpowered VTX might result in reduced range or instability, affecting your overall FPV experience.
If you choose to power your VTX directly from the battery, make sure it has proper power filtering to prevent noise and lines in your videos. A popular filtering method is using an LC filter or simply adding a low ESR capacitor at the power input.
Output Power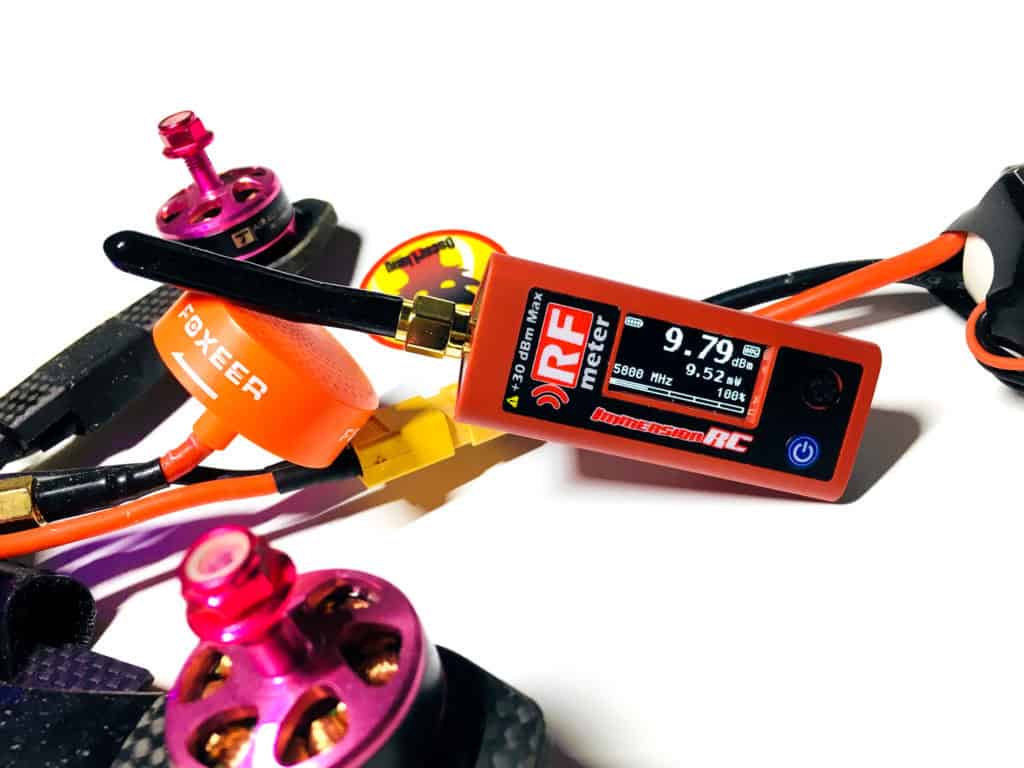 The power output of a video transmitter determines the amount of energy radiated through it. VTX output power is measured in milliwatts (mW) or decibels milliwatts (dBm). Most VTXs have adjustable output power, providing flexibility depending on your flying environment and preferences.
Higher Power for Extended Range
Generally, more power means more range; however, this comes with some downsides, such as increased heat in the VTX and potential interference for other pilots. Additionally, each country may have different legal limits on the maximum output power you are allowed to transmit.
Typically, 25mW is excellent for indoor flying and flying with others, offering sufficient range for most racing tracks. On the other hand, pilots tend to use higher output power when flying outdoors for a more reliable link and to fly further. Keep in mind that increasing output power results in diminishing returns in range improvement, as it takes four times the power to double the range. Learn how to calculate range in this tutorial: https://oscarliang.com/calculate-fpv-range/
Downsides of High Output Power
Higher output power also generates more heat, which can cause VTXs to overheat, impacting performance or even shutting down mid-flight in extreme cases. High power isn't always ideal in environments with significant multipath interference, such as garages and stadiums, where signals can bounce off concrete or metal surfaces. In these situations, it makes sense to use a lower output power.
When flying with a group, it's best to avoid high-power VTXs, as they can bleed into other pilots' video feeds, making it difficult to fly together. Most racing events require pilots to run 25mW VTXs.
Antennas: Equally or More Important
In addition to your VTX's output power, the antennas on your transmitter and FPV goggles or receiver significantly impact your range and signal quality. With an optimal antenna setup, 25mW has been proven to be able to achieve over 5km of range, while 400mW should be able to handle four times of that (over 20km) in ideal conditions. Many factors, such as interference, antenna alignment and placement, can impact your maximum range too. To learn more about FPV antennas, check out this tutorial: https://oscarliang.com/best-fpv-antenna/
Understanding VTX Channels
VTX channels are preset frequencies you can use to broadcast your video back to the video receiver. To establish a connection, select the same channel on both the video transmitter and video receiver. 5.8GHz (5800MHz) is the preferred frequency band for FPV because it's legal in many countries, and the antennas can be made quite small.
In the analog system, there are five bands: A, B, E, F (Fatshark), and R (Raceband), with eight channels per band. This gives you a total of 40 channels to choose from. While these are the most common bands, there are others, but not all frequencies are legal to use. However, some channels overlap between different bands, so you can't have 40 people flying simultaneously. In fact, it's quite a challenge to have just 8 people flying at the same time. To maximize the number of pilots in the air without interference, it's key to use good quality VTX that has clean signal, and ensure to allocate channels with enough frequency separation.

For digital FPV systems, channel management is simpler, because there is just one band available (only 8 channels), and it's easier to manage. These channels fall within the same or similar frequencies as the analog Raceband channels.
If you fly alone, you don't need to worry about which VTX channel to use—just pick any! However, when flying with others, it's essential to allocate channels carefully to minimize interference. To learn more about selecting the best FPV channel, check out this post: https://oscarliang.com/fpv-channels/#choosing-a-channel-in-analog
Onboard Microphone
By having a microphone in the drone allows you to listen to the motors, which some pilots argue makes them feel more connected to the drone, especially when flying at distances where the drone's sound is no longer audible. For more details, visit: https://oscarliang.com/microphone-fpv/
Manufacturers of digital FPV systems generally don't include onboard microphones in their VTX designs. However, some analog VTXs and FPV cameras have built-in microphones if you wish to incorporate this feature in your FPV setup.
Key Considerations for Analog VTX
While analog video quality pales in comparison to digital systems, with its blurry, low-resolution, and noisy images, it remains popular due to its wide availability, low cost, compact size, and low latency. Another key advantage of analog systems is their compatibility, allowing you to easily swap video transmitters from different brands with one another.
Essentially any analog VTX will suffice for beginners, but when flying with others, it's crucial to have a high-quality one. Some low-quality, generic VTXs have "dirty" signals that scatter beyond the actually set channel into other frequencies, potentially interfering with other pilots' signals.
Changing VTX Settings
There are several methods to change channels, bands, and power settings on your VTX.
Almost all VTXs these days come with a push button for changing channels and adjusting other settings. However, due to the single button and limited status indicators (LED lights), this procedure can be confusing and complicated.
The most efficient method for changing analog video transmitter settings is using Betaflight OSD. If your VTX supports SmartAudio or Tramp protocols, you can follow this guide to set up VTX Control: https://oscarliang.com/vtx-control/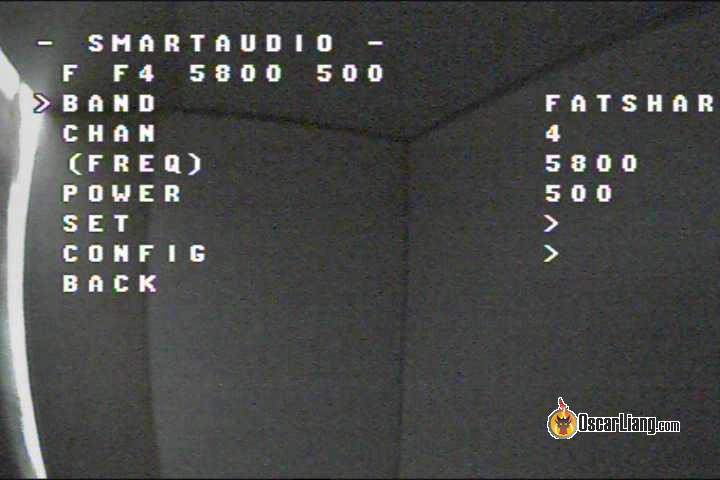 Pitmode
Pitmode is a crucial feature for those who race or often fly with other pilots. It enables the output power of your VTX to drop to an extremely low level (practically zero) when your quad is powering on or has crashed. This way, you can change your VTX settings or retrieve your quad without disrupting other pilots who might still be in the air.
Connecting an Analog FPV Camera to a VTX
Wiring an analog video transmitter in your drone may vary depending on the components involved. At its most basic, a VTX requires 3 connections: video input, power, and ground.
To connect the FPV camera directly to a VTX, connect the signal wires and ensure you have a working video receiver on the same channel in your FPV goggles to receive an image. If the FPV camera and VTX are powered from different sources, also connect their ground wires.
A common way to connect a VTX is through the flight controller if it has a built-in OSD chip. You'll find a video input (Vin) on the flight controller to connect the camera signal and a video output (Vout) on the flight controller to connect to the VTX.
Make sure you provide the correct voltage to your VTX to avoid damaging or under-powering it. You can typically power your VTX directly from your flight controller if it has a BEC (a built-in voltage regulator that supplies either 5V, 9V, or 12V, etc.). Most VTXs nowadays support a wide range of input voltage, so you might be able to power them directly from a LiPo battery.
Best Practices Using VTX
Never Power Up VTX without an Antenna
Always remember to connect an antenna to your VTX before powering it up. If you power up your VTX without an antenna, the energy has nowhere to escape, causing heat to build up in the transmitter. Over time, this excess heat can damage the VTX.
How to Avoid Noisy Video
Motors and ESCs can generate a significant amount of electrical noise in your power system, which can introduce noise into your video feed. If you power your FPV gear (e.g., VTX and camera) directly from the battery, electrical noise can cause interference, resulting in white lines or flickering across the screen.
To troubleshoot and prevent these issues, consider the following:
Add extra low ESR capacitors to reduce noise in the power system if you haven't already. These capacitors can help filter out the electrical noise created by the ESCs and motors, ensuring a cleaner video feed.
Properly manage your wiring, grounding, and power distribution. Keep video signal and power wires as far apart as possible, and use twisted or shielded cables to minimize interference.
Use a dedicated voltage regulator or an LC filter for your VTX and camera. This can help reduce noise and stabilize the power supply, resulting in a cleaner video feed.
For more detailed information on how to fix FPV noise, please refer to these articles:
Avoid Contact between VTX Antenna Ground and Frame
Some drone frames feature a hole in the carbon fibre that allows you to mount the SMA antenna connector directly to the frame. However, this creates contact between the antenna ground and the carbon fibre frame, which is conductive. If any live wire touches the carbon fibre frame, it could potentially fry your VTX. Additionally, this contact can cause noise to back-feed into the system, leading to a range of issues, including VTX overheating due to increased resistance.
Conclusion
In conclusion, understanding the ins and outs of video transmitters is important for an optimal FPV experience. This guide has covered essential aspects of video transmitters, including output power considerations, channels and frequency, how to change VTX settings, and the best practices for proper use.
By following these guidelines and recommendations, you can make informed decisions when choosing and setting up your video transmitter for both casual and professional flying. Ultimately, mastering the use of VTXs will ensure a seamless and enjoyable FPV experience, allowing you to explore the skies with confidence and precision.
Edit History
Apr 2016 – Article created
Apr 2017 – Article updated, added "digital FPV system", "smart audio and telemetry feature", "10 bands, 80 channels"
March 2018 – Article updated with info about antenna connectors, VTX Control, power and signal connection
Oct 2019 – Updated info about connection
Dec 2022 – Updated section about output power
Apr 2023 – Article revisited, added product recommendations, shortened URL