In this tutorial I will explain how to choose a good LiPo battery charger and suitable power supply, what the important features and considerations are. Hopefully it will help you pick the best FPV drones and RC LiPo charger for you.
New to FPV? Don't forget to learn about the basics of LiPo Battery first, it explains most of the technical terms used in this guide.
TLDR – Just Tell Me Which Charger To Buy!
Here are my LiPo charger recommendations: The best LiPo chargers for FPV Drones.
Get a Smart Charger
Smart chargers are what most people use these days, because they have a lot of useful features and usually more powerful.
Non-smart chargers (or non-programmable chargers) are very cheap and simple to use – you just plug in your battery and it will start charging. But that's all it can do, and they are slow to charge and you can't change any settings.
It's better to invest a bit more in a decent charger, it will give you a much nicer experience and likely to last most of your FPV career.
A smart charger (or programmable charger) offers many useful features. It can charge different types of batteries including LiPo and Li-ion, and allows you to set charging parameters such as charging current, cell count, end voltage etc. They have a screen that shows useful information such as the charging progress, voltage of the battery, and the current that is going into the battery.
Most smart chargers these days also comes with discharging and storage charging capabilities, which covers most of your battery needs.
The other benefit of a smart charger is the ability to measure internal resistance. While it might not be very precise, but it's still useful for monitoring the health of your batteries over a period of time.
Cell Count Support
Definitely get a charger that can support at least 6S LiPo (that means the charger can charge LiPo with 6 cells and below). 4S and 6S LiPo are the most common cell counts used in 5-inch FPV drones in 2022, so that should cover most if not all of our needs.
However, if you fly tiny whoops and micro drones that run 1S batteries, you might want to consider getting a charger that is designed specifically for those. Check out my Tiny Whoop Charger recommendations here. As an alternative and use your normal charger for those tiny 1S LiPo, you can DIY and make a cable that charge 4x1S batteries as a single 4S battery like this.
Charging Current Requirement
Charging current is limited by two factors:
How much your LiPo Battery CAN TAKE
How much your charger CAN PROVIDE
It's generally safe to charge LiPo batteries at 1C, that means the charging current is 1 times the capacity. For example 1C of a 4S 1500mAh would be 1500mA which is 1.5A. Some LiPo batteries are advertised to be capable of fast charging at 2C or even higher. If you are charging at faster rate, just understand that it comes with higher risk as the battery is more likely to overheat and cause issues.
Every charger has a power rating (wattage) and maximum charging current rating (amps). The maximum charging current a charger can provide is limited by both of these ratings, whichever limit is reached first. Current is limited by the power rating of the charger and voltage of the pack you are charging. (P = V * I)
For example, for a 100W charger to charge a 4S LiPo at 16V, the max charge current would be 100W/16V = 6.25A. Note that the current can actually decrease as voltage increases during the charging cycle.
Charger Power Requirement
LiPo charger power is measured in Watt which is calculated by multiplying voltage (Volts) and current (Amps).
If you are just charging one battery at a time, you don't need much power. For example, to charge a 4S 1500mAh, the most you need is 1.5A x 16.8V = 25.2W (assuming you are charging at 1C). But if you want to "parallel charge" multiple packs at once, then the power requirement will go up significantly. For example to charge six 4S 1500mAh packs at once, it would require a charger with over 150W of power.
I am not saying you have to always meet the power requirement, you can still charge the same amount of batteries at once with a low power charger, but it will just charge slower at a lower current.
Supported Battery Types
It's nice for a charger to support as many battery types as possible, but for our FPV drone pilots, all we really needs are not that many. We mostly just need LiPo, Li-ion, and HVLi (same as LiPo just with a higher end voltage 4.35V). It would be nice to have NIMH support too which is useful to rescue over-discharged LiPo that cannot be recognised by the charger. Some newer chargers have "trickle charge" which does the same thing so it's not that important in those chargers, I will explain in more detail what it does in the next chapter.
Some might support NiCad and PB too, but they are not that useful for people only fly multirotors.
Charger's Modes
Here I will explain the common modes in a modern smart chargers. A decent charger should at least have "Balance Charge Mode", "Discharge Mode" and "Storage Charge". The other modes are just good to have.
Balance Charge
You will spend most of your charging time in this mode, as this is the safest way to charge your LiPo batteries. You will be required to plug in both the main lead and balance lead, so the charger can read the voltages of all the cells, and it can automatically balance the cells during charging to avoid problems.
Fast Charge
Charging is faster in this mode because it doesn't monitor and balance the voltage of the individual cells. It only looks at the overall voltage of the whole pack and there is a risk of overcharging one or multiple cells. I don't recommend this mode at all unless you know what you are doing.
Discharge
This mode brings down the voltage of a LiPo battery to as low as the charger allows (some might be 3V, some might be 3.3V, it depends on the charger and settings).
Storage Charge
It takes the voltage of each cell to 3.85V, which is suitable for storage.
Trickle Charge
After batteries sit for long periods of time, the battery will self-discharge and the voltage will naturally drop down, or sometimes you might run them too long after a flight, and not charge them back in time. Once the cell's voltage is low enough, the charger will no longer be able to detect the cell or the whole battery.
This is where "trickle charge mode" comes in, it very slowly pumps current into the battery to wake up the dead cells. Note that "battery resurrection" is dependent on cell health, some batteries may be too far gone and this might not work.
Number of Outputs/Channels
Most chargers have a single output, meaning you can only charge one battery at a time, however you can connect a parallel charging board to it in order to charge multiple batteries simultaneously if you wish.
A charger with multiple channels/outputs lets you charge multiple batteries at the same time without the need of a parallel charging board (or you can still use them to charge even more batteries). Each output acts like a charger of its own, you can charge different batteries regardless capacity, voltage level, cell count. They are more expensive, but more flexible and makes charging faster if you have different types of batteries.
How to Choose a Power Supply
Some chargers have built-in power supply that allows you to power them directly from AC wall socket. However the majority of LiPo chargers require an external power supply (PSU), which you might have to purchase separately.
You can buy PSU that are made for LiPo chargers, and you can also modify PSU from computer/server which is usually much cheaper if you know how.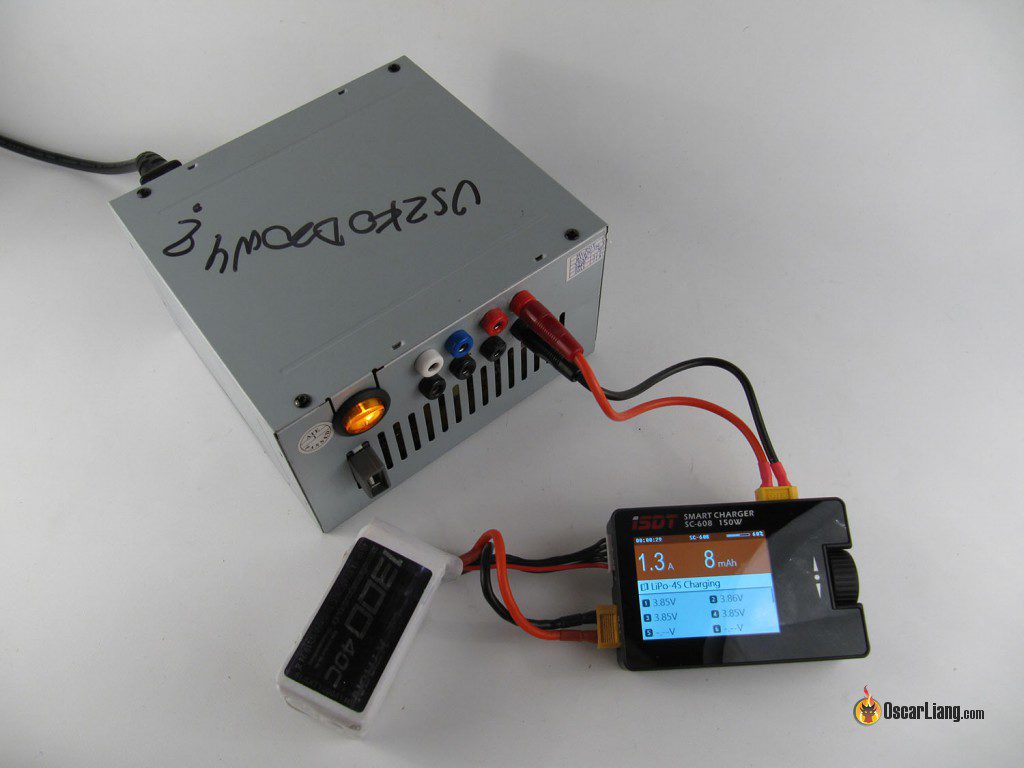 There are two things to look at, power and output voltage.
The power of the PSU should be well above the power demand of your charger if you want to get the most out of your charger. The output voltage of the PSU should be within the input voltage range of your charger.
So if you have a 100W charger, you will need a power supply that is rated higher than 100W. An over-powered PSU won't make your charger anymore powerful, but it's going to be more future-proof perhaps in case you get a more powerful charger in the future. With a under-powered power supply, you could overload your power supply and cause overheat issue and eventually burns it out. In this case, you can set a power limit on the charger so it won't go over it to protect your PSU, but that's not ideal and not using your charger to its full potential. It's better to be overpowered than underpowered.
Here are some PSU options:
The ToolkitRC P200 PSU (review) is also a good option, it doesn't have very high power, only up to 200W, but it's more versatile as you can adjust the voltage output and current limit. It's tiny and has an USB-C output for charging mobile devices and cameras too.
What am I using? Well, currently I am using a charger with built-in PSU so I don't need an external one. It's the ToolkitRC M6DAC (review).
How Much Should I Spend On a Charger?
A LiPo charger is probably one of the most long term investment in the RC hobby, they are going to last years just like your radio transmitter and FPV goggles! So I would suggest spending a bit more on a quality charger and don't cheap out.
The most expensive charger is not necessary the best, but a good quality charger comes with reasonable price. My advice is, don't look at the how much it is before you figure out what you actually need. List your requirements on a piece of paper, and find the chargers that you are happy with. If you don't need the "fancy features", then don't add it to your list.
Happy flying and charging!
Edit History
Feb 2015 – Guide created
Jun 2017 – Smart charger became main stream, added charger's modes
May 2022 – Updated guide and product links for power supply