In this comprehensive buyer's guide, we'll explore how to choose the ideal LiPo battery charger and an appropriate power supply for your FPV drones, highlighting key features and considerations. Our goal is to help you select the best LiPo charger for your specific needs and budget.
Some of the links on this page are affiliate links. I receive a commission (at no extra cost to you) if you make a purchase after clicking on one of these affiliate links. This helps support the free content for the community on this website. Please read our Affiliate Link Policy for more information.
If you're new to FPV, we recommend starting with our guide on LiPo Battery Basics, which explains the essential terminology used throughout this article: https://oscarliang.com/lipo-battery-guide/
Top LiPo Charger Recommendations
We've compiled a list of the best LiPo chargers suitable for FPV drone pilots at all skill levels.
If you're concerned about parallel charging, consider investing in a dual-channel or even four-channel charger to avoid slow, one-at-a-time charging. However, if you're comfortable using a parallel charging board, a single-port charger can simultaneously charge multiple batteries. Before attempting parallel charging, ensure you familiarize yourself with the proper safety procedures: https://oscarliang.com/parallel-charging-multiple-lipo/
SkyRC D200Neo – Best Value and Versatility
The SkyRC D200Neo is a power-packed battery charger that ticks all the right boxes, and is well-suited to meet the needs of most FPV pilots. Not only does it matches the well-loved D6 Pro in almost all respects, but it also features many unique advanced features. These include a battery analyzer, an enhanced USB port, Bluetooth support, and amplified DC charging power.
While there is room for improvement in the software and user interface, potential enhancements via future firmware updates make the D200 Neo a promising contender. Considering its impressive specifications and price point, it presents a compelling option indeed.
Check out my review of the D200Neo to learn more: https://oscarliang.com/skyrc-d200neo-lipo-charger/
To purchase the SkyRC D200 Neo Charger, you can visit the following links:
AliExpress: https://s.click.aliexpress.com/e/_DDitGNJ
Amazon: https://amzn.to/43wnyR6
Banggood: https://oscarliang.com/product-h4pn
HOTA D6 Pro – Tried and Tested
The HOTA D6 Pro Dual 650W AC/DC charger had been the go-to charger for many in the past thanks to its excellent balance between value and performance. While it's been proven to be a reliable charger, it's falling behind other newer options in terms of features. But if you just want a charger that works, it's still a strong contender.
Featuring dual output channels, it functions like two independent chargers, enabling you to charge different voltage or battery types simultaneously. The built-in AC power supply eliminates the need for an external power supply initially. However, the 100W per channel limit may require a more powerful external power supply (650W or higher) through the DC input to fully utilize its potential.
Purchase the HOTA D6 Pro from:
AliExpress: https://s.click.aliexpress.com/e/_DdHB0EV
Banggood: https://oscarliang.com/product-gj71
RDQ: https://oscarliang.com/product-xyjj
Amazon: https://amzn.to/31lFuAd
GetFPV: https://oscarliang.com/product-j8tr
SkyRC B6Neo – My Favourite for Field Charging
The SkyRC B6neo (full review) offers incredible portability and affordability in a compact package. With a 200W output, it can efficiently charge up to six (4S 1500mAh) batteries simultaneously in under an hour using a parallel charging board. It can also be powered via USB-C by a PD3.0 power supply. Its performance-to-price ratio is truly impressive. Its lightweight design makes it perfect for travel and field charging.
Get the SkyRC B6Neo from these vendors:
AliExpress: https://s.click.aliexpress.com/e/_DFnuemV
Banggood: https://oscarliang.com/product-utze
iSDT 608AC – Best for Beginners
If you're looking for an affordable and straightforward charger that works right out of the box, the iSDT 608AC 200W AC/DC Charger (Full Review) is a great option.
This user-friendly charger features a detachable power supply that plugs directly into a wall outlet. When powered from AC, it provides 60W output, which may not be as powerful as other AC-capable chargers on this list but is sufficient for beginners or those who don't charge many batteries. As you progress and require faster charging for more or larger batteries, you can upgrade to a more powerful external power supply to unlock the charger's full 200W potential.
Find the iSDT 608AC from these vendors:
Banggood: http://bit.ly/isdt-608ac
Amazon: https://amzn.to/38YgRuY
GetFPV: http://bit.ly/2Sf4Hax
RaceDayQuad: http://bit.ly/390muJ1
AliExpress: https://s.click.aliexpress.com/e/_Ddf7GPR
iSDT D2 – Top Quality with Powerful Dual Outputs
The iSDT D2 is a highly-regarded indoor charger among FPV pilots, offering built-in power supply and powerful dual-channel outputs (200W per channel). It even includes a USB port (USB-A 5V 2A) for charging cameras and phones, as well as a vibrant color LCD screen. Its two buttons and scroll wheel make it incredibly user-friendly. However, it does have a couple of drawbacks: the absence of a DC input and its considerable weight, making it less suitable for field charging. With a two-channel charger, you can charge two different batteries simultaneously or manage two parallel boards at once, essentially functioning as two separate chargers.
Get the iSDT D2 from here:
AliExpress: https://s.click.aliexpress.com/e/_DCai2op
GetFPV: https://oscarliang.com/product-joo4
Amazon: https://amzn.to/3Ms8UoV
Banggood: http://bit.ly/2yq4tlg
Vifly WhoopStor V3 – Best Charger for Tiny Whoop's 1S Batteries
The Vifly WhoopStor V3 is arguably one of the most feature-packed 1S LiPo chargers available today. It accommodates both popular BT2.0, A30 and PH2.0 batteries and can independently charge up to 6 batteries simultaneously. The charger also supports discharging and storage-charging batteries, offering an impressive charging current of up to 1.3A per port. For a detailed review of the WhoopStor V3 charger, visit: https://oscarliang.com/vifly-whoopstor-v3/
Find the Vifly WhoopStor V3 from these vendors:
AliExpress: https://s.click.aliexpress.com/e/_DeZwHol
RDQ: https://oscarliang.com/product-4ies
Opt for a Smart Charger
Smart chargers are the preferred choice for most users today, thanks to their powerful features and capabilities. In contrast, non-smart chargers (or non-programmable chargers) are inexpensive and straightforward to use. However, they only offer basic charging functionality and often cannot be adjusted or customized. Investing in a high-quality modern charger will enhance your experience and likely last throughout most of your FPV career.
A smart charger (or programmable charger) boasts numerous practical features. It can charge various battery types, including the popular LiPo and Li-ion used in drones, and allows you to customize charging parameters such as charging current, cell count, and end voltage. Additionally, smart chargers feature a display that provides essential information like charging progress, battery voltage, and charging current in real-time.
Modern smart chargers also offer discharging and storage charging capabilities, addressing most of your battery management needs. Another advantage of smart chargers is their ability to measure internal resistance. Although not always highly precise, this feature is useful for monitoring battery health over time.
Ensure Cell Count Compatibility
It's crucial to choose a charger that supports at least 6S LiPo batteries, meaning it can charge LiPo batteries with six cells or fewer. In 2023, 4S and 6S LiPo batteries are the most common cell counts used in 5-inch FPV drones, so a 6S-compatible charger should cater to the majority of your charging needs.
For those flying tiny whoops or other micro drones powered by 1S batteries, consider acquiring a charger specifically designed for these smaller batteries. Explore my recommendations for Tiny Whoop chargers here: https://oscarliang.com/best-tiny-whoop/#Best-Tiny-Whoop-Chargers
Understanding Charging Current Requirements
The charging current for LiPo batteries is determined by two factors:
The maximum charging current the LiPo battery can handle
The maximum charging current the charger can provide
It's generally safe to charge LiPo batteries at 1C, which means the charging current is equal to the battery's capacity. For instance, 1C for a 4S 1500mAh battery would be 1500mA (or 1.5A). Some LiPo batteries are advertised to handle fast charging at 2C or even higher. However, be aware that charging at higher rates increases the risk of battery overheating and related issues.
Each charger has a power rating (wattage) and a maximum charging current rating (amps). The maximum charging current a charger can provide is limited by either of these ratings, whichever is reached first. The current is limited by the charger's power rating and the voltage of the battery being charged (P = V * I).
For example, a 100W charger charging a 4S LiPo battery at 16V would have a maximum charge current of 100W / 16V = 6.25A. Note that the current will decrease during the charging cycle as the voltage gradually increases.
Assessing Charger Power Requirements
A LiPo charger's power is measured in watts, calculated by multiplying voltage (volts) and current (amps).
If you're only charging one battery at a time, you don't require much power. For instance, to charge a 4S 1500mAh battery, you'll need a maximum of 1.5A x 16.8V = 25.2W (assuming you're charging at 1C). However, if you want to parallel charge multiple packs simultaneously, the power requirement increases significantly. For example, to charge six 4S 1500mAh packs at once, a charger with over 150W of power is needed.
It's important to note that you don't always need to meet the exact power requirement. You can still charge the same number of batteries at once with a lower-power charger, but charging will be slower due to a reduced current.
Supported Battery Types
While it's beneficial for a charger to support various battery types, FPV drone pilots don't need an extensive range. Primarily, we require support for LiPo, Li-ion, and LiHV (same type of battery as LiPo but with a higher end voltage of 4.35V per cell) batteries. Having NiMH support can be useful for rescuing over-discharged LiPo batteries that cannot be recognized by the charger. However, some newer chargers come with a "trickle charge" feature, which serves the same purpose, making NiMH support less crucial in those models. We'll discuss the trickle charge feature in more detail in the next section. While some chargers may support NiCad and PB batteries, these types are less relevant for pilots who only fly multirotors.
Understanding Charger Modes
In this section, we'll discuss common modes in modern smart chargers. A decent charger should at least offer "Balance Charge Mode", "Discharge Mode", and "Storage Charge". Other modes are nice to have but not as essential.
Balance Charge
This mode is the safest way to charge your LiPo batteries, and you'll likely spend most of your charging time using it. You'll need to plug in both the main connector and balance connector so the charger can read the voltages of all the cells. The charger will automatically balance the cells during the charge cycle to prevent issues.
Fast Charge
This mode charges batteries faster because it doesn't monitor and balance individual cell voltages. Instead, it only looks at the overall voltage of the whole pack, which carries the risk of overcharging one or multiple cells. You may not see this mode in most chargers nowadays as it's deemed unsafe for charging LiPo batteries. We don't recommend this mode unless you're experienced and know what you're doing.
Discharge
In this mode, the charger reduces the LiPo battery voltage to its lowest allowed level (e.g., 3V or 3.3V, depending on the charger and settings).
Storage Charge
This mode charges or discharges the battery until the voltage of each cell reaches 3.85V, making it suitable for storage.
Trickle Charge
Batteries that sit for long periods may self-discharge, causing voltage levels to drop. If a cell's voltage is too low, the charger may not be able to detect it or the entire battery. Trickle charge mode slowly pumps current into the battery to revive dead cells. Keep in mind that battery resurrection depends on cell health, and some batteries may be beyond recovery.
Considering the Number of Channels
When selecting a charger, it's important to consider the number of outputs or channels it has. This will determine how many batteries you can charge simultaneously.
Single-output chargers can charge only one battery at a time. However, if you connect a parallel charging board, you can charge multiple batteries simultaneously too. This is a more cost-effective option, but it requires some knowledge on how to parallel charge safely.
Chargers with multiple channels or outputs allow you to charge several batteries at once without the need for a parallel charging board. Each output functions as an independent charger, enabling you to charge different batteries regardless of their battery type, capacity, voltage level, or cell count. Multi-channel chargers are more expensive but offer greater flexibility and faster charging.
Don't Overlook Balance Current
What's balance current in a charger?
The balance current of a LiPo charger refers to the current used by the charger to balance the voltage levels of individual cells within a multi-cell LiPo battery during the charging process. Balancing the cells ensures that they all have equal voltage levels, which is essential for maintaining the overall health, safety, and longevity of the battery.
LiPo chargers typically have a balance current rating, measured in milliamps (mA), which indicates the maximum current that the charger can use to balance the cells. Higher balance current ratings generally lead to faster balancing and shorter charging times, while lower ratings may result in longer charging times due to slower cell balancing.
Cheaper chargers tend to have lower balance current ratings, such as 0.2A/cell, while higher-end chargers may have higher balance current ratings, like 1.6A/cell. It is important to choose a LiPo charger with a decent balance current rating to ensure efficient charging and minimize the time you spend waiting for your batteries to finish charging.
Choosing the Right Power Supply for Your Charger
When selecting a charger, you may need to consider the power supply. Some chargers have a built-in power supply, allowing you to plug them directly into an AC wall socket. However, many LiPo chargers require an external power supply (PSU), which you may need to purchase separately.
You can buy PSUs specifically designed for LiPo chargers or modify computer/server PSUs for a more cost-effective solution if you have the necessary skills.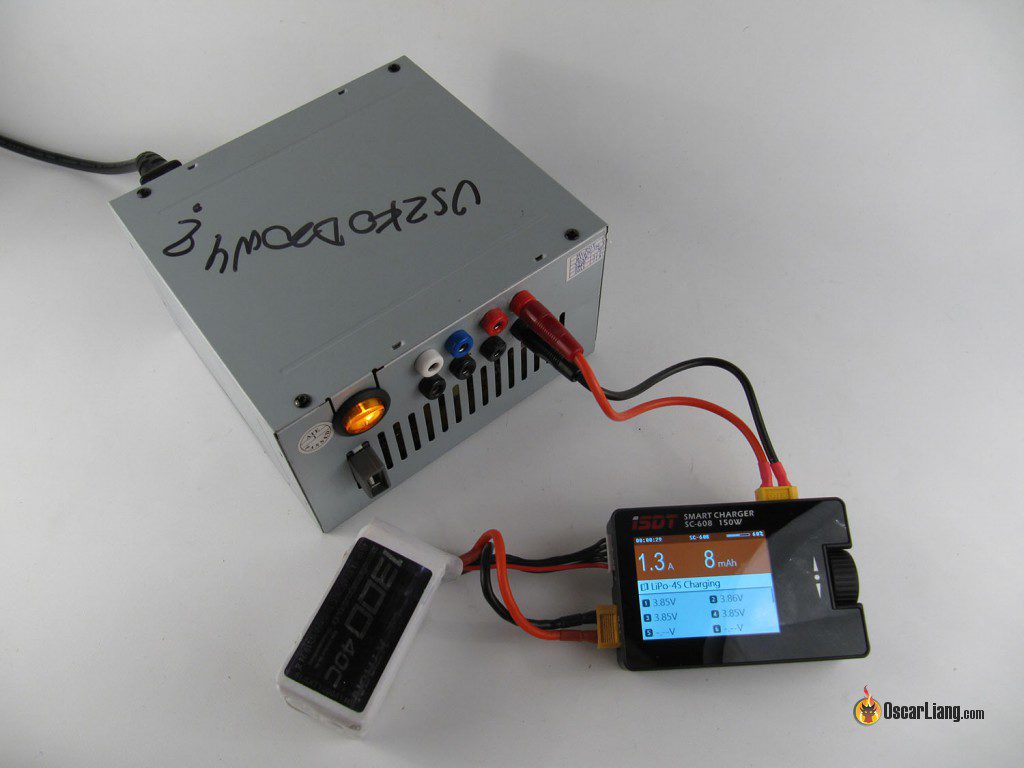 Consider the following when choosing a PSU:
Power: The PSU's power should be higher than the power demand of your charger. An overpowered PSU won't make your charger more powerful, but it will be more future-proof. An underpowered PSU can cause overheating and burnout issues. If needed, set a power limit on your charger to protect the PSU. However, using the charger to its full potential is ideal.
Output Voltage: The PSU's output voltage should be within the input voltage range of your charger.
Here are some PSU options based on their power ratings:
100W PSU:
240W PSU:
360W PSU:
400-460W PSU:
1200W PSU:
The ToolkitRC P200 PSU (review) is also worth considering. It's a versatile 200W power supply you can use for various tasks. It features adjustable voltage output and current limit, is compact in size, and has a USB-C output for charging mobile devices and cameras.
How Much You Should Spend On a LiPo Charger
A LiPo charger is a long-term investment in the RC hobby, as it will likely last for years, much like your radio transmitter and FPV goggles. Therefore, it's wise to allocate a reasonable budget for a quality charger instead of opting for the cheapest option.
The most expensive charger isn't necessarily the best, but good quality chargers often come at a fair price. Before focusing on the cost, consider what you actually need from a charger. Write down your requirements and find chargers that meet your needs. If you don't require certain "fancy features," don't include them in your list, and prioritize the essential features that will serve you best in the long run.
Conclusion
Choosing the right LiPo charger for your FPV drone may seem like a daunting task, but with the right guidance and understanding of your specific requirements, you'll be able to make an informed decision. In this post, we've explored various charger options, power requirements, and essential features to help you find the charger that best suits your needs and budget. I will continue to keep this list of recommended LiPo chargers up to date. Please leave us a comment if you have any questions.
Happy flying and charging!
Edit History
Feb 2015 – Guide created
Jun 2017 – Smart charger became main stream, added charger's modes
May 2022 – Updated guide and product links for power supply
Apr 2023 – Tutorial revised