Parallel charging is an efficient way to charge multiple LiPo batteries simultaneously. When it's done safely, you can quickly charge many LiPo's at the same time to minimize waiting given the short flight time FPV drones have.
If you are new to LiPo batteries, make sure to check out this guide: FPV Drone LiPo Battery Explained.
What is "LiPo Parallel Charging"?
Parallel charging is a fast and easy method to charge multiple LiPo batteries at once with just one single charger. The batteries are connected in parallel, hence the name "parallel charging".
When charging batteries one by one, you have to repeatedly unplug a battery and plug another one in between charge. Parallel charging is way more convenient, as you only have to do this once.
Is Parallel Charging Dangerous?
When you connect two batteries in parallel, their voltage will attempt to equalize.
It's like connecting two barrels at the bottom with a pipe, water from the fuller one will rush into the emptier one until the two barrels have the same amount of water. The same happens with batteries when you connect them in parallel, but when the voltage difference is too much, you can risk burning out the wires and overheating the batteries, even catching fire.
To safely charge batteries in parallel, you should only connect batteries of similar voltage level. The general consensus is, a difference within 0.1V per cell should be fine, that's 0.4V for a 4S battery or 0.6V for a 6S. Note that the smaller the voltage difference, the safer it is.
A technique of mine before parallel charging is to sort them based on voltage. I have voltage labels on my charging bench and I put batteries of the same voltage in a pile, so I won't forget.
When multiple batteries are connected in parallel, they effectively combine and become one big battery. The individual cells in each battery are also connected in parallel, so all the cell voltages will be balanced nicely too. To the charger, this is no different than charging one single battery.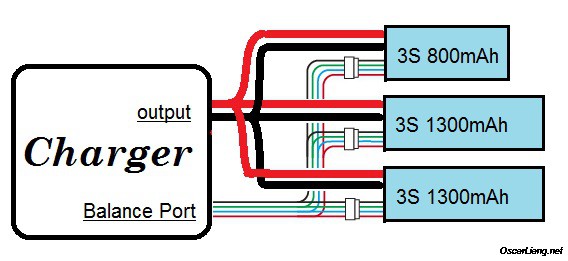 Getting a Parallel Charging Board
A must have tool when it comes to parallel charging is a "parallel charging board". These boards are designed to connect multiple LiPo batteries in parallel, and often has built-in protection such as fuses to prevent damage to the charger and the batteries due to current surge.
You have to plug both the main lead (XT30/XT60) and the balance lead from the Lipo battery in the parallel charging board.
A typical parallel charging board has enough slots to connect 4 to 6 batteries. More isn't necessarily better, as it's riskier, and it takes a more powerful charger to get the most out of it. In my opinion, 6 is more than enough for most pilots.
You will find many cheap and basic options like this, which I don't recommend due to the lack of safety features. Yes they are dirt cheap, but a simple user mistake such as plugging the balance lead in backward will burn out the copper traces on the board, and you'd have to buy another one. (I learned my lesson the hard way when I was a beginner)
Get a parallel board with fuses, like the ones below.
Purchase: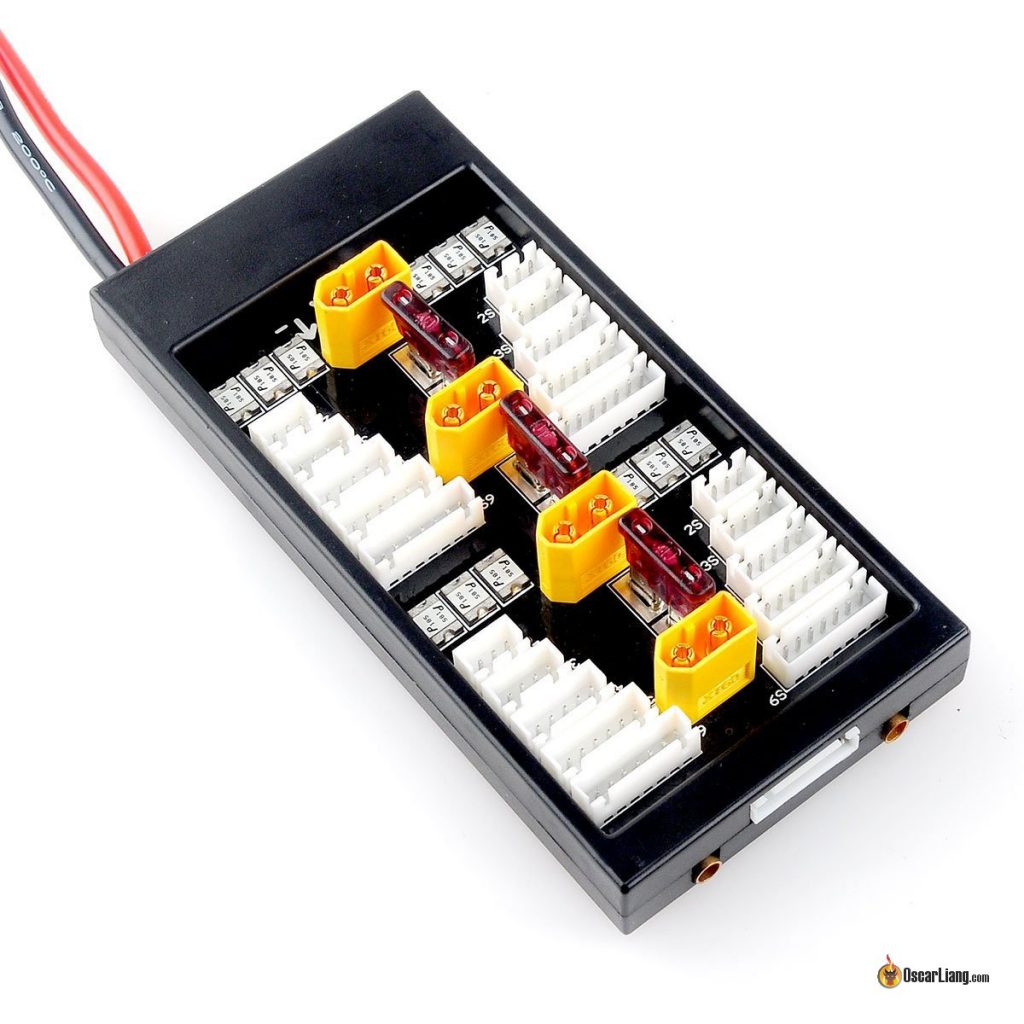 And this is what I am currently using, it's affordable, supports 2S to 6S LiPo and has both XT30 and XT60 connectors, as well as fuses. See my review of the HGLRC Thor.
You can get it from:
What Charger For Parallel Charging?
You can use any LiPo charger for parallel charging as long as they supports balance charging. Here is a list of chargers that I recommend and they are all great smart chargers fit for parallel charging.
How to Parallel Charging?
Parallel charging is a convenient way to charge your LiPo, but it's also more prone to user-error than charging battery individually. Please do your research and ensure charging batteries safely. Here are some of the important tips you should bear in mind.
1. Precautions
It doesn't matter how you are charging your LiPo, always keep a fire extinguisher near your charging station. I personally charge my batteries in an Ammo box (product page: https://amzn.to/3i4LkNo), it will help prevent a fire from spreading. Some recommend "LiPo bags" (product page: https://amzn.to/2YyS7Hp), but use these cautiously, many tests have proven them to be ineffective from preventing a fire.
2. Same Cell Count
Make sure all your batteries have the same cell count. E.g. you should only charge 4S batteries with 4S. If you accidentally connect a 4S with a 6S, you will get current surge and it's not going to be pretty.
3. Brand, Capacity and C-Rating
It should be fine parallel-charging batteries of different brands and capacity together. However to ensure maximum safety, I only recommend charging batteries of similar spec, and capacity should be within a reasonable range. Anyway, use your common sense!
4. Check Voltage First!
Before plugging the batteries in the charging board, make sure you check the voltage of each battery first.
Make sure cell voltage difference is within 0.1V, that's 0.4V for a 4S battery. If you want to play safe, you might want even smaller voltage difference. If a battery has vastly different voltage than the rest, you should just charge that one alone.
An easy way to do this is to use a LiPo voltage checker. They immediately display the voltage of each cell when you plug the balance lead in.
Or a fancy one like the iSDT BG 8S.
5. Connecting Balance Leads
Always connect the balance leads when parallel charging. This is no different than charging batteries individually. It prevents the charger from overcharging a particular cell.
6. Setting Charge Current Correctly
When charging a single LiPo pack, most people would charge at 1C to be safe. The charge current can be calculated as
Current = 1C x Capacity.
For example, to charge a 1500mAh pack at 1C, the charge current would be 1500mA, or 1.5A.
The same principle applies when charging multiple LiPo batteries, the only difference is that the capacity is now the sum of all batteries connected in parallel. For example if I have three 1500mah batteries, the total capacity is 4500mAh, and therefore the charge current would be 4.5A when charging at 1C.
7. Don't Charge Damaged Batteries
We crash a lot with our FPV drones, and inevitably our batteries get battered and bruised.
You should never charge damaged and unhealthy batteries, not to mention parallel-charging them. Retire damaged LiPo as soon as you can, any time you charge them, there is a risk of fire.
Further Reading: When should I throw out LiPo?
Deformed LiPo batteries could be a sign of defected cells that results in higher internal resistance and significant increase in temperature during charging and discharging. And heat is the main cause of LiPo fires.
Further Reading: How to Protect LiPo from Physical Damage?
8. Don't Go Away While Charging
Never leave LiPos charging unattended. You might be able to catch some signs of fire before it happens. For example, overheating, swelling and crackling.
Most LiPo fires could have been avoided if the person was there to stop the charging immediately and get the bad battery to a safe location.
9. Plugging  XT60 In First
Always connect the XT60 first, then the balance leads.
When you first connect the batteries together, voltage difference will cause current surge as they try to equalize. The balance leads are not rated for high current applications and could overheat and get damaged if current is too high.
And make sure you don't plug the balance connector in backward, or you could melt the traces on a parallel charging board like the picture below.
Alternative to Parallel Charging
Multiple-channel chargers are thought to be an alternative to parallel charging.
There are chargers with multiple output channels. These are designed to charge multiple batteries at the same time.
Some people prefer multi-channel charger over parallel charging because they believe it's safer as the batteries are not connected at all. Also they allow you to charge batteries of completely different specs, including type, cell count and voltages, so arguably it's way more convenient.
But the number of batteries you can charge simultaneously is limited by the number of channels, which is usually two. There are four-channel chargers, but they are very expensive.
Check out this two channel charger: Review: ToolkitRC M6DAC LiPo Charger
Edit History
Dec 2014 – Article created
Oct 2016 – Updated equipment options
Nov 2017 – Article revised
Jan 2019 – Article updated
Mar 2019 – Added image how I group batteries based on voltage
Jun 2020 – Re-wrote guide, added ParaGuard