Parallel charging is a time-saving method for charging multiple LiPo batteries simultaneously, perfect for FPV pilots dealing with short flight times and lengthy charging process. This tutorial will cover the essentials of parallel charging, including safety precautions and recommended parallel charging boards, to help you optimize your charging experience.
Some of the links on this page are affiliate links. I receive a commission (at no extra cost to you) if you make a purchase after clicking on one of these affiliate links. This helps support the free content for the community on this website. Please read our Affiliate Link Policy for more information.
For those new to handling LiPo, explore our comprehensive battery guide: https://oscarliang.com/lipo-battery-guide/
What is LiPo Parallel Charging?
LiPo parallel charging is an efficient method for charging multiple LiPo batteries simultaneously using a single charger. By connecting the batteries in parallel (hence the name parallel charging), you can eliminate the need to repeatedly unplug and plug batteries during the charging process.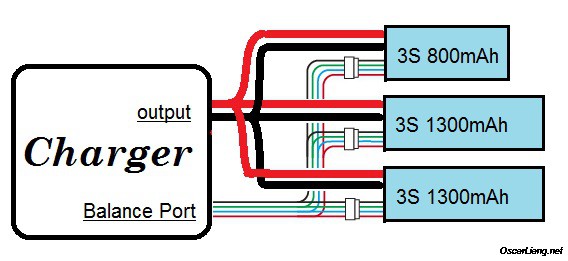 In a parallel charging setup, LiPo batteries are connected through a parallel charging board, effectively forming a larger battery with a combined capacity while maintaining the original voltage. For example, if you are charging six 6S 1500mAh LiPos on a parallel charging board, it's the same as charging a single 6S 9000mAh battery.
The individual cells in each battery are also connected in parallel, allowing for balanced cell voltages across all batteries. From the charger's perspective, this setup is no different than charging a single battery.
Choosing the Right Parallel Charging Board
When parallel charging, a parallel charging board is a must-have tool for safely connecting multiple LiPo batteries in parallel. These boards typically include built-in protection features, such as fuses, to prevent damage to both the charger and batteries due to current surges.
To parallel charge, simply plug both the XT30/XT60 connector and the balance connector from the LiPo battery into the parallel charging board. Most boards accommodate 4 to 6 batteries, which is sufficient for the majority of pilots.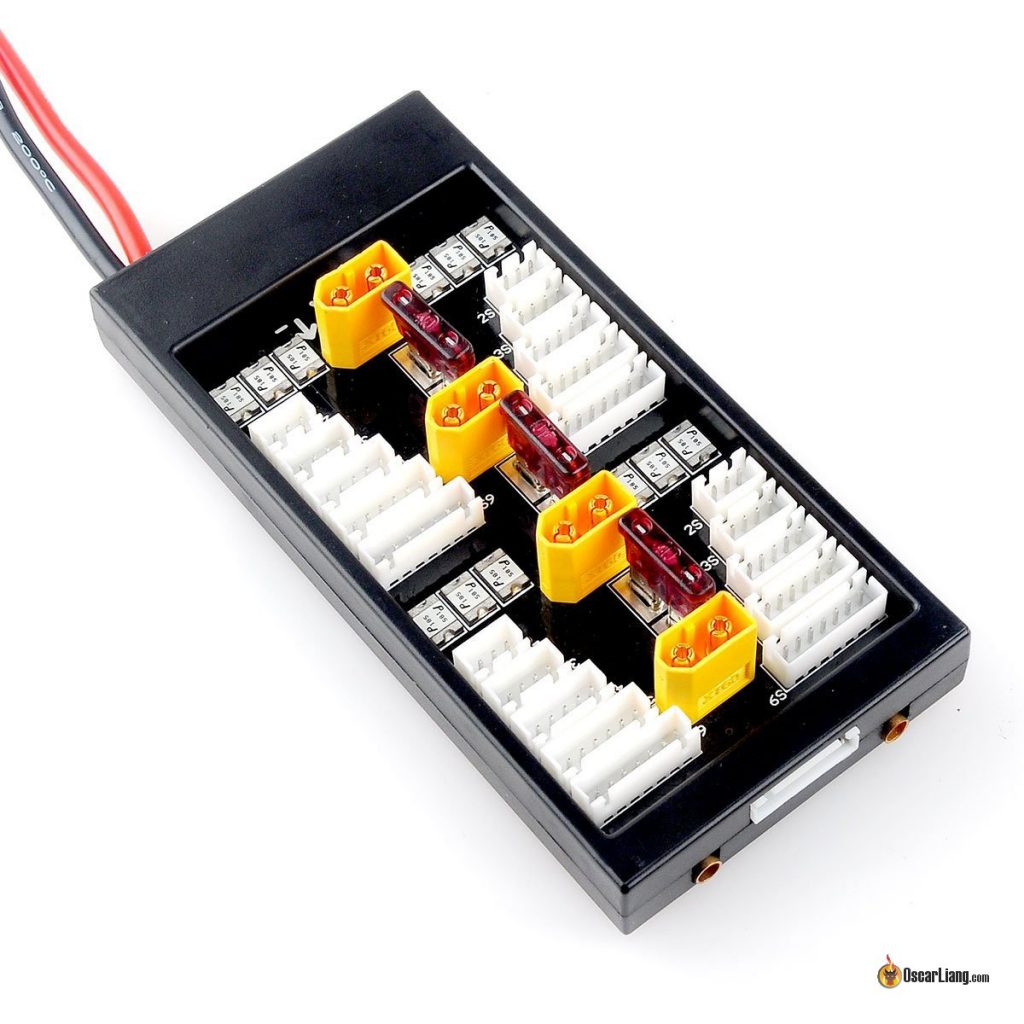 Although there are many cheap and basic options available, we recommend selecting a board with safety features to minimize the risk of user errors. A basic, budget-friendly board with fuses, like this one, is a good starting point.
Get it from these vendors:
For a more advanced option, consider the HGLRC Thor 6 Pro, which supports 2S to 6S LiPo, has both XT30 and XT60 connectors, and includes fuses. It can charge up to 6 LiPo batteries at once. This is what I personally use currently, read the full review here: https://oscarliang.com/hglrc-thor-pro-6-parallel-charging-board/.
You can get it from:
Choosing the Right Charger for Parallel Charging
Any LiPo charger that supports balance charging can be used for parallel charging. However, a powerful charger helps you fully capitalize on parallel charging and significantly speeds up the process. Don't forget to check out my recommended chargers: https://oscarliang.com/choose-lipo-battery-charger-power-supply/#Top-LiPo-Charger-Recommendations
During parallel charging, the output current from the charger is distributed among all connected batteries. A charger with a higher output current can greatly accelerate the charging process. For example, to charge six 6S 1500mAh LiPos at 1C, your charger should be capable of providing 9A of charge current (6 x 1.5A). You can charge at a rate lower than 1C, but it will take longer to fully charge the LiPo.
In the same scenario, you need a charger rated with at least 226.8W output (25.2V x 9A) to supply the necessary 9A current. If your charger is rated at 200W, you can only charge at 7.9A (200W / 25.2V), which is effectively 0.88C.
Important Rules to Follow when Parallel Charging
Charge in a Fireproof Place
Always keep a fire extinguisher nearby when charging. Personally, I charge my batteries in an ammo box (a metal box): https://oscarliang.com/lipo-battery-guide/#Ammo-Box. While some recommend using "LiPo bags" (https://oscarliang.com/lipo-battery-guide/#LiPo-Safe-Bags), many tests have proven them to be ineffective in preventing fires.
Only Connect LiPos of the Same Cell Count
When you connect a 4S and a 6S LiPo in parallel, the current from the 6S LiPo will flow to the 4S until their voltages equalize. However, this will overcharge the 4S battery, potentially causing it to explode. The current surge can also overheat the battery, electrical wires and may cause the solder joints to melt.
Only Connect LiPos with Similar Voltage
When two LiPo batteries with significant voltage differences are connected in parallel, the higher voltage LiPo will charge the lower voltage LiPo until their voltages equalize. This will cause a current surge which is bad for the batteries and your charging board.
Before plugging the batteries into the charging board, check each battery's voltage. Personally, I always ensure the cell voltage differences is within 0.1V per cell (e.g., 0.4V for a 4S battery, 0.6V for a 6S battery). If a battery has a significantly different voltage than the rest, charge it separately. Connecting batteries with similar voltage levels ensures a safe parallel charging process.
I use a LiPo voltage checker for quickly checking battery voltage by plugging in the balance lead. Here are some options: https://oscarliang.com/fpv-tools/#LiPo-Voltage-Checker
Purchase a basic voltage checker:
For a more advanced option: https://oscarliang.com/toolkitrc-mc8/
A technique I use before parallel charging is to sort the batteries based on voltage. I have voltage labels on my charging bench, and I place batteries with the same voltage in a pile, ensuring I don't forget their respective voltage levels.
Connect the Main Plug First
Always connect the XT60 plug first, followed by the balance leads. When initially connecting the batteries, voltage differences can cause a current surge as they attempt to equalize. Balance leads aren't rated for high current applications and may overheat or get damaged if the current is too high.
Connect the Balance Plug Correctly
Always connect the balance leads during parallel charging, as this is essential to prevent overcharging individual cells. Be cautious about polarity, as connecting batteries with the wrong polarity can cause shorts and fires.
I recall using a charging board without fuses many years ago and accidentally plugged in the balance connector the wrong way round. The copper traces melted instantly due to the mistake, emphasizing the importance of fuses in preventing such accidents.
Only Charge LiPos with Similar Capacity
You should only parallel-charge LiPo batteries of similar capacity. You might get away with charging LiPo batteries with slightly different capacities, but it's a good practice to charge those with similar specifications for safety. Use your common sense!
Setting Charge Current Correctly
When charging a single LiPo pack, most people would charge at 1C for safety. The charge current can be calculated as:
Current = 1C x Capacity.
For example, to charge a 1500mAh pack at 1C, the charge current would be 1500mA, or 1.5A.
The same principle applies when charging multiple LiPo batteries; the only difference is that the capacity is now the sum of all connected batteries in parallel. For example, if you have three 1500mAh batteries, the total capacity would be 4500mAh, and the charge current would be 4.5A when charging at 1C.
Don't Charge Damaged Batteries
Crashes are inevitable with FPV drones, and our batteries can become battered and bruised. You should never charge damaged or unhealthy batteries, especially not in parallel. Retire damaged LiPo batteries as soon as possible, as there is a risk of fire each time you charge them.
Further Reading: When should I throw out a LiPo: https://oscarliang.com/when-retire-lipo-battery/
Deformed or puffy LiPo batteries could be a sign of defective cells, resulting in higher internal resistance and a significant temperature increase during charging and discharging. Heat is the primary cause of LiPo fires.
Further Reading: Ways to Protect LiPo from Physical Damage: https://oscarliang.com/protect-lipo-battery/
Don't Leave Charging Unattended
NEVER leave LiPo batteries charging unattended. You might be able to detect early signs of potential fire, such as overheating, swelling, or crackling. Most LiPo fires could have been avoided if someone was present to stop the charging immediately and move the problematic battery to a safe location.
Alternatives to Parallel Charging
Multi-channel chargers are considered a safer alternative to parallel charging. These chargers allow you to charge multiple LiPo packs simultaneously without connecting them through a parallel charging board. Since the LiPo packs are not connected, many believe this method to be safer.
Chargers with multiple output channels are designed to charge several batteries at the same time. Furthermore, multi-channel chargers enable you to charge batteries with different types and specifications, unlike parallel charging, which requires similar voltage levels and the same cell count for each LiPo pack. However, multi-channel chargers can be expensive, and the options are quite limited.
The ToolkitRC M4Q is a good 4-channel charger (review): https://oscarliang.com/toolkitrc-m4q-charger/
Check out my LiPo Charger recommendations: https://oscarliang.com/choose-lipo-battery-charger-power-supply/#Top-LiPo-Charger-Recommendations
Conclusion
In conclusion, parallel charging is a valuable technique for FPV drone pilots to charge multiple LiPo batteries efficiently. By following essential safety guidelines and understanding the principles of parallel charging, you can maximize its benefits. Alternatives like multi-channel chargers offer added convenience and safety. Choose the right method based on your specific needs and budget.
Edit History
Dec 2014 – Article created
Oct 2016 – Updated equipment options
Nov 2017 – Article revised
Jan 2019 – Article updated
Mar 2019 – Added image how I group batteries based on voltage
Jun 2020 – Re-wrote guide, added ParaGuard
Apr 2023 – Updated guide and product links