Crashes are inevitable when flying FPV drones, and LiPo batteries often take a hit. I will share some effective methods to protect your batteries from impact and damage, ensuring longevity and optimal performance.
Some of the links on this page are affiliate links. I receive a commission (at no extra cost to you) if you make a purchase after clicking on one of these affiliate links. This helps support the free content for the community on this website. Please read our Affiliate Link Policy for more information.
Further Reading: How to choose LiPo Battery for FPV Drones?
Safeguarding LiPo Batteries from Physical Damage
LiPo batteries are not only expensive investments but can also pose a danger when damaged. As they are typically placed in vulnerable locations on FPV drones, they are more susceptible to impact and punctures during crashes. It's crucial to discard dented and damaged LiPo batteries safely to prevent fire hazards. Don't risk your safety over a $20 battery!
Pro Tip: How to dispose LiPo battery safely?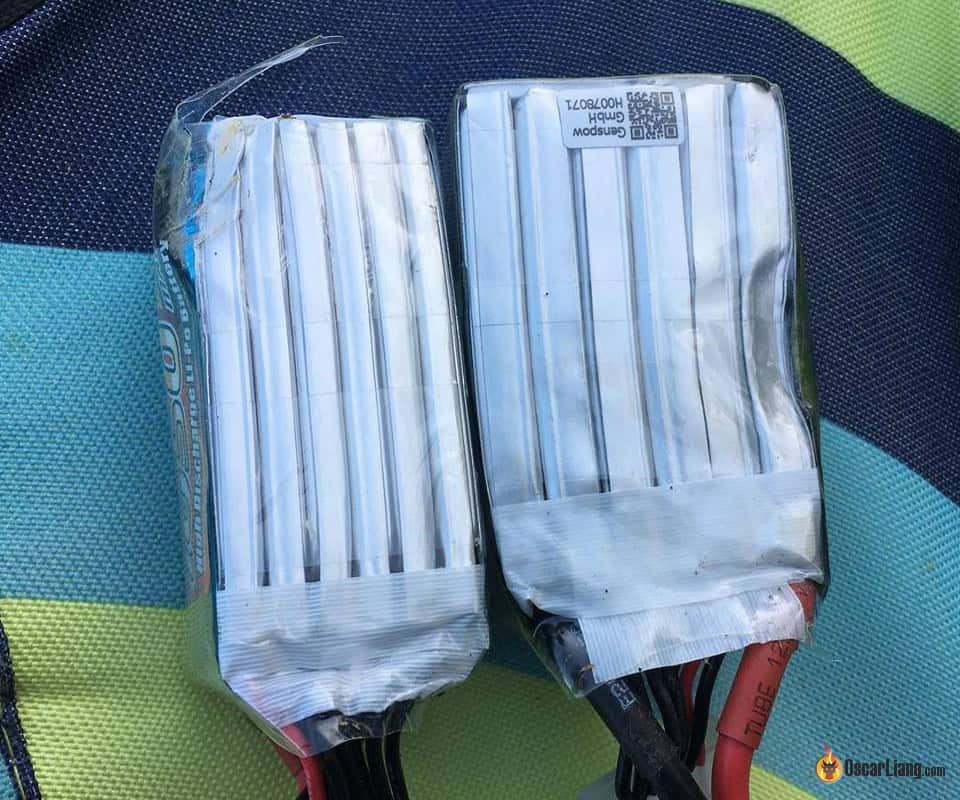 To maximize the hundreds of charge cycles LiPo batteries are rated for, protecting them from damage is an essential, yet often overlooked task.
Preventing Battery Ejections
A common cause of LiPo battery damage is ejection after a crash. Therefore, other than minimizing impact, it's also important to prevent ejections.
One of the great ways is to use sticky anti-slip battery pads to secure your battery: https://oscarliang.com/fpv-tools/#Battery-Pads
If space and weight permit, consider using two battery straps for added security: https://oscarliang.com/fpv-tools/#Battery-Straps
Using Heat Shrink for LiPo Battery Protection
Heat shrink provides a basic layer of protection, serving as lightweight, affordable, and easy-to-apply armor for LiPo batteries. Most LiPo batteries come with a thin layer of PVC heat shrink, but adding an extra layer can enhance protection. Heat shrinks also let you customize your battery's colors.
There are two types of heat shrink for LiPo batteries:
PVC Shrink Film
Polyolefin Heat Shrink Tube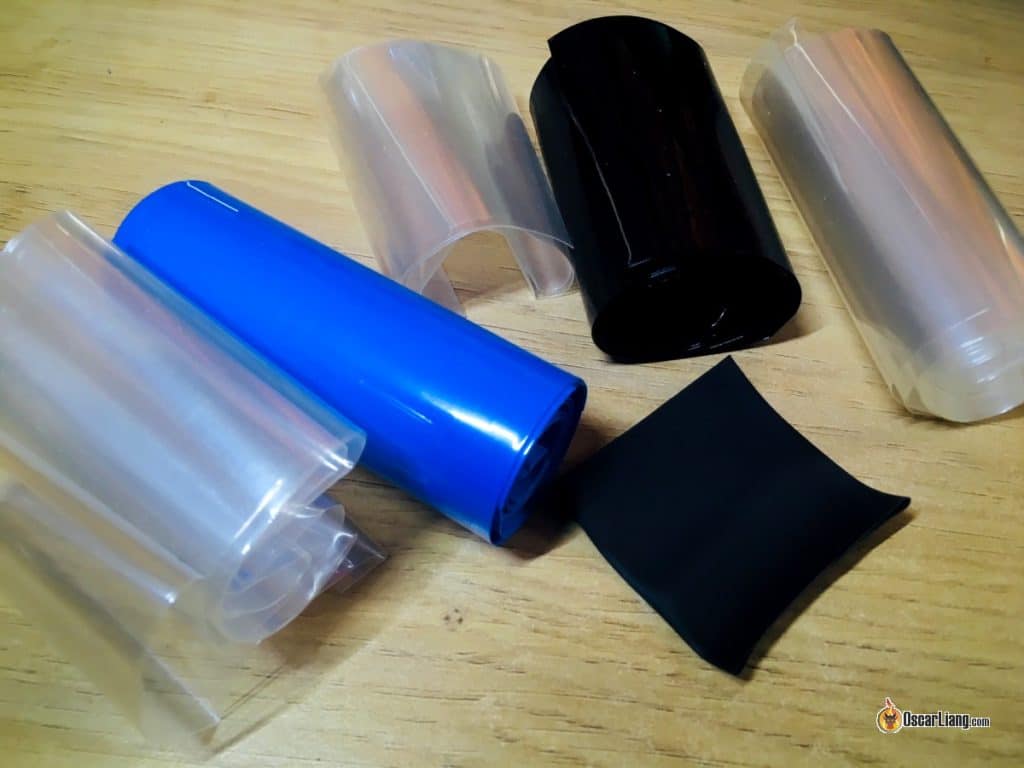 Polyolefin Heatshrink Tube
For 6S 1100-1300mAh, get some 90mm flat width (57mm diameter), for 4S 1300mah – 1500mah, get some 70-80mm flat width (50mm diameter). Transparent option is preferred as it allows you to see the physical condition of the cells.
Purchase here:
Polyolefin heat shrink tubes offer decent protection for LiPo batteries, helping to absorb impact from minor crashes. However, it adds extra weight. Polyolefin shrink tubes grip better on anti-slip battery pads than PVC.
Compared to PVC heat shrink, rubber-like heat shrink like Polyolefin is a superior option for protection. It's thicker (~0.5mm), more flexible, and more durable. However, it is heavier, adding about 6 grams per pack for a 4S 1500mAh battery.
PVC Heat Shrink Film
For 6S 1100-1300mAh, get some 90mm flat width (57mm diameter), for 4S 1300mah – 1500mah, get some 70-80mm flat width (50mm diameter). Transparent option is preferred as it allows you to see the physical condition of the cells.
Purchase here:
PVC shrink films are thinner and lighter but provide less protection. Additional layers may be needed for better protection.
PVC heat shrink film is lightweight (less than 2 grams per pack), thin, and stiff. It's commonly used in battery packaging, and your batteries likely already have it. While it can handle some scratches, PVC heat shrink offers little protection against heavy impacts. Transparent option is preferred as it allows you to see the physical condition of the cells.
Selecting Heat Shrink Size
Heatshink tube sizes can be measured in two ways:
diameter, the diameter of the tube
flat size, the width of its flat form (half of the circumference)
You can convert between diameter and flat size using this formula:
Flat Size = 3.14 x Diameter / 2
Choose a shrink tube with a flat width slightly larger than the sum of height and width  of your LiPo. Shrink tubes can shrink to half or one-third of their original size, so slightly larger tubes are acceptable.
For a typical 4S 1300-1600mAh battery, 70mm to 80mm flat-sized tubes should suffice. For example, if your LiPo measures 39mm x 41mm (height and width), the required shrink tube's flat width should be at least 80mm (39 + 41).
Applying Heat Shrink
First of all, remove the original packaging to save a few grams, or you could keep it for an extra layer of protection. Remove the battery label before heat shrinking and reapply it to the new heat shrink tube, otherwise you would need to manually label your LiPo afterwards.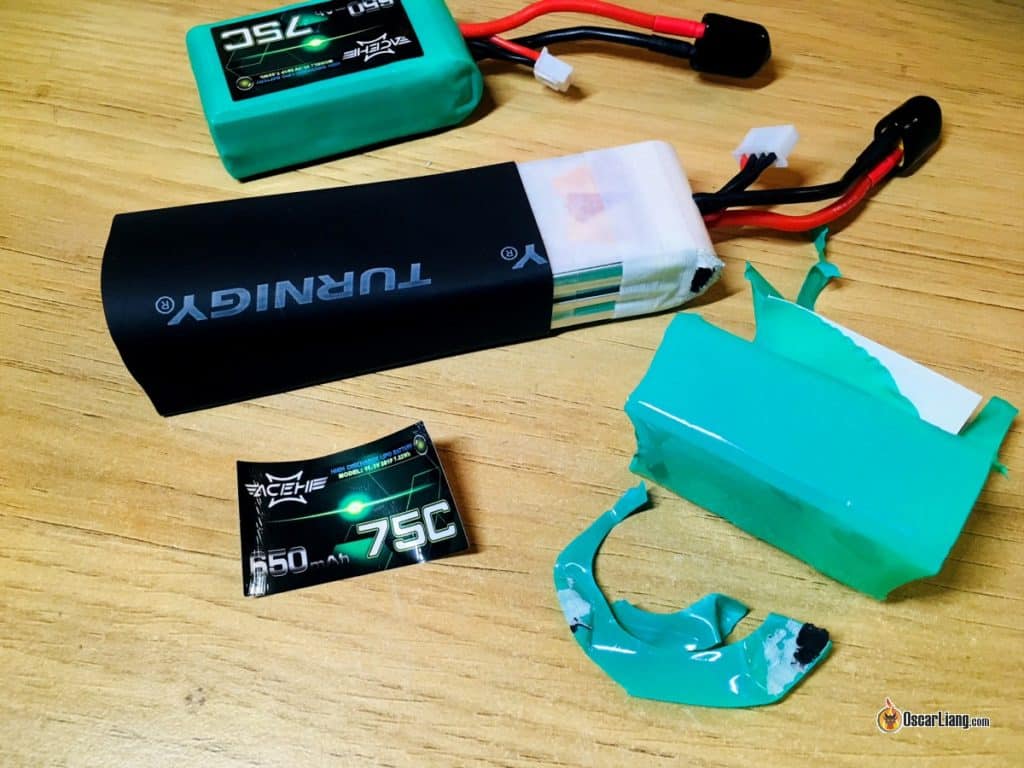 Use a hot air gun to wrap the battery with a heat shrink tube. If you don't have one, try a hairdryer. Avoid using lighter/fire, as it may damage or ignite your LiPo. Rotate the battery constantly during the process and avoid applying too much heat to the same spot for too long.
Reapply the sticker to identify the battery's capacity and cell count.
PVC Corners
PVC corners offer ultimate LiPo protection. Most battery damages occur at the corners and edges, so tightly wrapping these 90-degree PVC corners to the battery with fiberglass tape provides effective protection against physical damage. And they are easily removable. However, this will add 10g to 15g of weight to each battery (for 4S 1500mAh and 6S 1100mAh).
Two different sizes are available: 10mm and 15mm. Purchase PVC corners in hardware stores or online at:
You'll also need fiber tape to secure the corners. Alternatively, you can use heat shrink tubes.
Extra bonus: If you have a bottom-mounted battery, the corners help your quad stand level on uneven surfaces.
Bicycle Inner Tube
Be safe, put a rubber on.
Bicycle inner tubes are an affordable alternative to heat shrink tubes. They provide better protection due to their thicker material, but they are heavier. The rubbery surface offers a strong grip to the frame/battery pad.
The main challenge is finding a suitable tube size for your LiPo. Try 20″ tubes for 3S packs and 26″ tubes for 4S. Visit your local bike shop to ask for unwanted tubes, which may be free.
To fit the tube over the battery:
Cut the tube to a length slightly longer than the LiPo.
Use pliers to slip the tube over the battery, stretching it as you insert the battery.
Consider using two sets of pliers from both sides or getting someone to help you.
Optionally, apply heat to the inner tube with a hot air gun before inserting the battery, making it easier to stretch.
Added weight per pack: ~10g.
3D Printed TPU LiPo Protector
A TPU LiPo protector is designed to protect LiPo batteries mounted on or under the drone. Purchase it or 3D print it yourself if you have access to a 3D printer. This hassle-free solution only requires one protector for all of your batteries, and it also includes a spot to secure your balance cable, preventing it from being cut by props mid-flight. The protector also protects your LiPo from normal landings. However, it adds extra weight.
Added weight per pack: ~16g.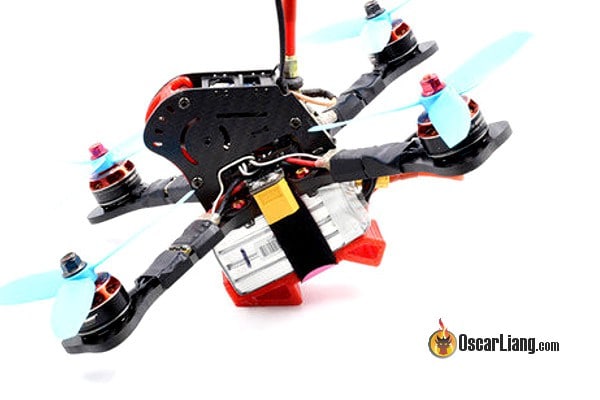 Conclusion
These methods can help protect your LiPo batteries from crashes. Don't forget to check out my guide on how to take care of your LiPo battery for maximum performance and lifespan. Applying a layer of heatshrink and PVC corners can provide better protection despite the added weight. Most importantly, it offers peace of mind during landings and crashes. Happy flying! Please consider supporting me on Patreon for more tutorials like this.
Update: A reader made a video demo – check it out!
Edit History
Apr 2018 – article created
Jun 2019 – added a demo video, updated product links
Mar 2021 – revisited post, updated product links
Apr 2023 – updated product links