This buyer's guide explains the basics of radio transmitter for FPV drone. Apart from price, the supported frequency and protocols and the number of channels, there are a lot more to consider when buying a TX.
A radio transmitter (a.k.a. TX) is used to control a drone remotely. The user commands are then received by the radio receiver (RX) which is connected to a flight controller.
A radio transmitter should be one of the very first items to buy when getting into FPV, as you can use it to play with drone simulators before even owning a drone. Unlike many other components and accessories that are more likely to break or become obsolete, a good radio will follow you for many years, so it's okay to invest a bit more on a decent one.
New to FPV? Make sure to check out my beginner guide to FPV drones.
Radio Transmitter Round-up
Here is a list of all the popular radio transmitters on the market currently.
Too many choices right? Well, here are my recommendations below. However, I encourage you to do more research and check out reviews on the radios you like before deciding.
Radio Recommendations
Best Value With Small Form Factor
Radiomaster Zorro
Product Page (ELRS Version):
The Zorro is almost a perfect radio for some people: it has a very compact form factor, is affordable, runs EdgeTX (probably the most advanced radio firmware currently), has built-in ELRS/multiprotocol module as well as supports external module. Also the ergonomics is excellent for "thumbers". It has more than enough switches for most people, and the large bright screen is easy to see under sunlight. It supports FPV simulators so you can get this to practice flying before even building/buying an FPV drone.
The main limitation would be battery life because it uses the little 18350 Li-ion batteries, which only has 1/3 of the capacity of a typical 18650 battery (hence 1/3 of the run time). However the Zorro allows you to power the radio using a 2S battery, as well as charging the battery from a USB power bank while flying.
I strongly recommend checking my review of the Zorro before buying. It comes in several different versions that differ in the internal RF module.
---
Best Value and Versatility
Radiomaster TX16S
Product Page: Banggood | RDQ | Amazon
In my opinion, the most versatile and best value radio right now has to be the TX16S. It has a multi-protocol module inside that supports almost every protocol in the hobby, and it also fully compatible with Crossfire. The full size hall sensor gimbals gives you full range of stick travel and excellent precision. All these, and more for only $130. See my review of the TX16S. I'd recommend getting the Crossfire module with this radio.
---
Portability and Performance
TBS Tango 2
Product Page: GetFPV | RMRC | Amazon
The Tango 2 is a compact and portable radio yet offers exceptional ergonomics, suitable for both "thumbers and pinchers". It has built-in 900MHz Crossfire module with a maximum output power of 250mW. It's compatible with OpenTX and has built-in USB charging. And it's made by TBS – the brand you can trust when it comes to quality.
Note: my friend Giovanni who owns the Tango 2 disagrees with TBS's claim of using full size gimbals in this radio. He said they are noticeably smaller than the gimbals on a larger radio like the Taranis X9D.
The Tango 2 also support external module (lite module), meaning you can use a multiprotocol module or ExpressLRS module with the Tango 2 so that it can used with practically everything in the hobby. However, this requires user DIY to install the module bay add-on.
It's primarily designed for multicopters, not idea for wing and plane flyers due to the lack of switches and sliders. Also there is no trim buttons. See my full review of the Tango 2 and how it compares to the Frsky X-Lite Pro.
The main difference between the pro and non-pro versions seems to be the sticks. The Pro has foldable sticks which is easy to pack in your bag, the non-pro is $40 cheaper without this feature.
---
Form Factor
There are two main styles of radio: full size and gamepad style.
Gamepad style radios are very compact at the cost of reduced features such as smaller gimbals, fewer switches and smaller screens due to the lack of space. They might not feel as comfortable to hold as a full size radio, especially for "pinchers" and people with big hands.
If size isn't a concern, I would recommend a full size radio. Personally I found them to have better ergonomics and the standard size gimbals give me better resolution and precision.
---
Now, let's get down to the technical stuff and learn about radio transmitters.
Radio Transmitter Frequency
The common frequencies used in FPV drones are 2.4GHz and 900Mhz.
2.4GHz is the standard nowadays for radio control thanks to its frequency hopping technology, which manages channel automatically to avoid interference between pilots.
900MHz is another popular frequency mostly used in long range flying. Those who don't fly long range could also choose 900MHz over 2.4GHz purely for its better signal penetration and reliability. The exact operational frequency differs depending on the region, EU uses 868MHz, while non-EU countries use 915Mhz.
There are other less common frequencies used in RC, such as 27MHz, 72MHz, 433MHz and 1.3GHz. But these are either older technology or used in very specific applications, you will learn about these as you progress, all you need to know now is 2.4GHz and 900Mhz.
---
Gimbal Sticks
The sticks on a radio are referred to as "gimbals", they translate user inputs into digital data and control the drone's movement.
Gimbal Types
There are two types of gimbals:
Potentiometer
Hall Sensor
Potentiometer based gimbals are normally cheaper and deteriorate faster over time due to friction between contacts. On the other hand, hall sensor gimbals uses magnets to determine stick position and thus should last longer.
Apart from increased longevity, hall sensor gimbals also offer better accuracy and resolution with reduced jittering.
For a beginner, the difference in gimbal quality might not be huge, but it becomes an important consideration as you grow as a pilot.
Regardless the type of gimbals, you can normally adjust the spring tension to achieve certain stick feel. This is mostly a personal preference, and it could help tremendously with your control precision. In my reviews I usually attach a diagram where you can do this inside the radio. Here is a guide on adjusting stick tension for the Taranis and other popular radios.
How to Hold Gimbals?
Another thing to consider is how you should hold the gimbal sticks. I have another post explaining the different ways and benefits.
"Thumbers" typically want shorter sticks and a thinner radio body, similar to how they would hold a gaming controller. "Pinchers" might prefer longer sticks and travel, and a neck strap might also help stabilize the radio due to the weakened grip.
There is no right or wrong way, it's purely personal preference.
Stick Ends
The tip of a gimbal stick is called "stick end", and it can be replaced. "Pinchers" might prefer a different type of stick end to "thumbers".
Gimbal sticks are normally either M3 or M4 threads, so make sure you check before purchasing replacements.
Here is an example of the different types of stick ends:
FRSKY Taranis Standard Gimbals – M3
FRSKY Taranis Hall Effect Gimbals – M4
FRSKY X-LITE – M2.5
TBS TANGO 2 – M3
Jumper T16 – M3
Jumper T18 – M3
Radiomaster TX16s – M4
Jumper T12 Pro – M3
Mode
Before getting your first radio, decide on which radio mode you prefer. Radio mode determines the configuration of the two control sticks. There are 4 modes – mode 1, mode 2, mode 3 and mode 4.
Mode 1 configuration has the elevator control on the left joystick and the throttle on the right one.
Mode 2 is the most common among FPV drone pilots because the stick represents the movement of your quadcopter. It has the elevator control on the right joystick and the motor throttle on the left one. The right joystick self centres in the both axis, whereas the left joystick only self centres in yaw axis (left/right direction) and slides in the throttle (up/down) axis in order to allow constant throttle.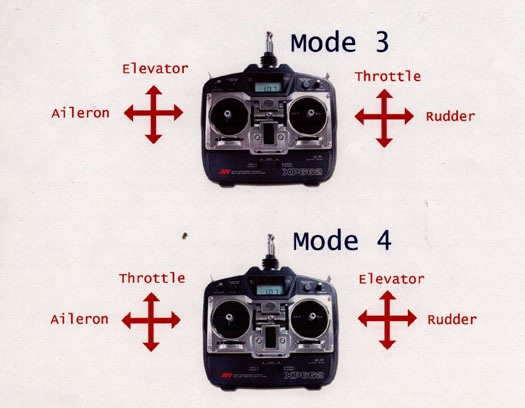 Mode 3 – same as Mode 1 except Aileron and Rudder are swapped.
Mode 4 – same as Mode 2 except Aileron and Rudder are swapped.
There is no right or wrong mode, just personal preference. If you are not sure which mode to use, I recommend mode 2, that's what the majority of pilots use.
Most modern radios allow you to switch between all these modes by simply making adjustments in the hardware and software, so you can try out all these modes without the need to buy a new radio.
Switches
Transmitters also have an array of switches you can use for arming and changing flight modes etc.
Switches come in two-position or three-position forms as well as sliders and rotary knobs. However as FPV drone pilots we don't need as many switches as RC plane flyers do.
I think having 2 to 4 switches are enough for most FPV drone pilots. Of course it doesn't hurt to have more.
Channels
Each control, or switch on the transmitter requires a channel to send the data to the receiver. Channel values range between 1000 to 2000.
The two gimbals has 4 control inputs: throttle, yaw, pitch and roll. Each of these takes up a channel and so to control a drone, at least 4 channels are required.
The extra channels are called "AUX channels" (Auxiliary), they can be assigned to the switches on your radio for arming the drone and activating other features.
You don't need to use a lot of channels to fly an FPV drone. Personally I only use 6 to 8 channels normally: 1- arm switch,  2 – buzzer switch, 3 – flight mode switch, 4 – flip over after crash.
The number of channels is also limited by the receiver protocol. For example, Frsky D16 (SBUS) can support up to 16 channels, while Frsky D8 (PPM) can only support up to 8.
Radio Control Systems
There are two main frequency bands used in RC systems, 2.4GHz and 900MHz (868MHz/915MHz). 900MHz has better signal penetration than 2.4GHz but the antennas are much bulkier.
The most popular RC systems used in FPV drones today:
There are some other brands, but they are less common.
Most if not all of these RC systems exist in the form of an external RF module that can be installed in the module bay of your radio. Therefore it's a big plus to have an external module bay when choosing a radio.
Some radios come with one of these systems built-in, so you might save money if you know which system you want to run before buying the radio.
Before 2021 I was mostly using Crossfire because it was reliable and easy to use. But today my recommendation would be ExpressLRS (2.4GHz version) because it's cheaper with higher performance, and the antennas are smaller too.
Radio Receivers
A radio receiver (a.k.a. RX) is the device that receives user commands from the radio transmitter, and passes that data to the flight controller.
A radio receiver is normally only compatible with transmitters from the same brand, using the same protocol. The "protocols" are like a language spoken between the transmitter and receiver, every brand has their own protocols. Here is an overview of all the TX protocols and RX protocols.
However the exception is "multi-protocol module" that is designed to be compatible with receivers from many different manufacturers. And there are 3rd party receivers made to work with Frsky transmitters. Check product pages, they should tell you what protocols are supported.
When you buy a radio transmitter, you need to realize that you are also locking yourself into their receivers (eco system). This becomes an important consideration: some brands of receivers are more expensive than others; some brands might have a better selection of light weight receivers for micro drones; Some brands don't have certain features such as telemetry…. etc…
Remember, you are going to put a receiver in every quad you build so the cost adds up quickly the more drones you own.
Here is a size comparison between some of the popular receivers from different brands.
Binding TX and RX
To establish communication between a radio transmitter and a receiver, you must bind them first.
Binding of TX and RX only needs to be done once (it might need to re-bind after firmware updates).
The binding process is usually straightforward (matter of pressing a button on the receiver), but the steps might differ on specific brand. It's best to refer to the user manual for instructions.
Note that you can bind multiple receivers to the same TX (in theory, you can control multiple drones using the same transmitter at the same time), but you can only bind the RX to one TX.
How to choose receivers
Things to consider: size, weight, RX protocols, telemetry. Here are the popular RX Round-ups:
Receiver Antenna
Antenna on radio receivers is usually just a coax wire where the active element is wrapped in shielding.
Some receivers have two antennas – this is so called "diversity" which improves signal reliability. To achieve the best result, it is recommended to have the two antennas mounted at 90-degree apart.
Range
There are many factors that can affect the range of your RC link.
Lower frequency system are better at long range
Line of sight gives you the best possible signal, obstacles between your TX and RX can significantly reduce range
Higher transmitter output power usually results in longer range, but beware of local regulations
Receiver sensitivity, the more sensitive the better the range
Receiver diversity, some "full range" RX offers two antennas for diversity
Antenna placement
Typically, a 2.4Ghz radio system could give you up to about 1K to 1.5Km range. If you want to go further with reliable signal, you will want to invest in a "long range" UHF system that runs on lower frequency. Popular options are the TBS Crossfire and Frsky R9M.
External Module Support
A lot of radios these days have a module bay on the back, which allows you to insert an external transmitter module in order to bind to receivers from a different brand or frequency.
Here is the Jumper T16 with Crossfire module.
Operating System
Every radio has its own operating system (OS), which is basically the user interface.
My recommendation is OpenTX, which has become the industry standard in recent years. Many popular radios ship with OpenTX these days.
OpenTX is an open source project, it's an extremely powerful and highly configurable radio system. It also offers support for many different types of aircraft. Learning curve might be a little steep for beginners, but the knowledge you gain will serve you well in the many years to come.
You can even change drone settings from your transmitters, including PID, rates and other Betaflight settings, thanks to the powerful LUA script feature in OpenTX.
Telemetry Support
Telemetry is a feature that allows the receiver to send crucial flight information back to the radio transmitter, such as RSSI (signal strength), battery voltage, current draw etc.
In OpenTX, you can display telemetry data on your radio screen, or have the value read out as audio warnings.
FPV Simulator Support
I strongly recommend getting a radio that supports FPV simulators, when you connect the radio to your computer via USB, it will show up as a joystick controller.
Training in FPV simulators will help you build up muscle memory and practice without damaging expensive components.
Ergonomics
Ergonomics is very much a personal preference, considerations including radio weight, the location of the sticks and switches, housing material, radio form factor, all play a part in this.
In my opinion, it's not the biggest factor to worry about, as all of the companies we recommend on this page have been around in the RC industry long enough to know how to make a good radio transmitter.
The best thing to do is probably going to a local meetup and try a few different radios from other pilots and decide for yourself.
Edit History
Oct 2013 – Article created
Jun 2016 – Updated with popular TX options
Jun 2017 – Article updated, added receiver info
July 2018 – Added info about gimbals, switches, OS, and Range
Oct 2019 – Updated product listing
Jun 2020 – Updated products, and my recommendations
Mar 2021 – replaced BetaFPV Lite Radio 2 with Jumper T-Lite
Mar 2022 – replaced T-Lite with Zorro