The Radiomaster Boxer radio transmitter is a great balance between ergonomics, size, function and usability. It's equipped with full size hall gimbals, plenty of switches, an built-in 1W ELRS module, an oversized battery compartment and removable antenna. For me it ticks most boxes for an all-round radio.
Some of the links on this page are affiliate links. I receive a commission (at no extra cost to you) if you make a purchase after clicking on one of these affiliate links. This helps support the free content for the community on this website. Please read our Affiliate Link Policy for more information.
New to FPV? Here's a radio transmitter buyer's guide for beginners.
Where to Buy?
Get your Radiomaster Boxer radio here:
The Radiomaster Boxer is available in 3 different internal RF modules: ELRS 2.4GHz, 4in1 Multiprotocol and CC2500. The ELRS and 4in1 cost $139.99, while the CC2500 costs only $99.99.
CC2500 only supports Frsky, Futaba SFHSS, Hitec, Radiolink, Esky, Corona etc.
The 4in1 multi-protocol module (JP4IN1) chipsets include CC2500 and more, here are some of the supported protocols:
A7105: Flysky, Hubsan, AFHDS2A etc
CC2500: Frsky, Futaba SFHSS, Hitec, Radiolink, Esky, Corona etc
CYRF6936: DSM / DSMX, Walkera Devo, Wfly, etc
NRF24L01: HISKY, Syma, ASSAN, etc
The Boxer comes with the following accessories:
1x Carry Case
1x Antenna
1x USB-C Cable
1x Gimbal Protector
1 * 1.5mm Allen Key
2 * M4*4 Screws (spare)
4 * Low Tension Springs (spare)
1 * Stickers
1 * Manual
An injection moulded plastic gimbal protector is also included, I didn't get one with my review sample, so I can't show you. But here's a picture of the gimbal protector that you will get when you purchase the Boxer. It also provides protections to the switches, ensures the safety of your radio while being thrown around by the baggage handlers at the airport. :-p
Note that batteries are not included. Like the TX16S, the Boxer comes with a 18650 battery holder, so all you need are just two 18650 li-ion cells to get started. I did some testing and found Panasonic NCR18650B the best for FPV equipment.
Alternatively, you can get this massive 2S 6200mAh LiPo Battery (from Radiomaster, from GetFPV), which has double the capacity as two typical 18650 cells, so in theory you should get twice the run time with it. The only downside is perhaps the weight.
Specs and Features
The Radiomaster Boxer radio is shipped with EdgeTX V2.8.0 pre-installed, the internal ELRS RF Module is loaded with V3.0.1, both are cutting edge software in radio technology.
Specifications:
Powerful STM32F407VGT6 processor with 1MB RAM
Operation Frequency: 2.400GHz-2.480GHz
Internal RF Versions: CC2500 / 4-in-1 multi-protocol / ELRS
Max Transmitting Power for CC2500 and 4IN1: 20dBm (100mW)
Max Transmitting Power for ExpressLRS: 30dBm (1W, or for FPV pilots it's 1000mW :-p )
Built in cooling fan for the internal ELRS RF module
Up to 16 Channels (receiver dependent)
Input Voltage Range: 6.6V – 8.4V DC
Supported Battery: 2S LiPo or two 18650 Lithium-Ion cells (batteries not included)
Supports QC3.0 fast charging with up to 2A charge current at 5V
128*64 Monochrome LCD display
Hall effect sensor gimbals with front tension adjustments
External module bay available – JR/FrSKY/Crossfire modules compatible
Size: 235*178*77mm
Weight: 532.5g

529g w/o battery
638g with two 18650
727g with 2S 6200mAh LiPo
Closer Look at the Radiomaster Boxer
The housing is made of plastic with a black matte finish. The control layout looks familiar, similar to that of the TX16S.
Gimbals
The gimbals on the Radiomaster Boxer are the exact same ones from the standard TX16S MKII. They are full sized V4.0 Hall effect gimbals. There are in total four trim switches for both sticks.
Stickends are standard ones from Radiomaster, get some Sticky360 which offers a more solid grip (TX16S version).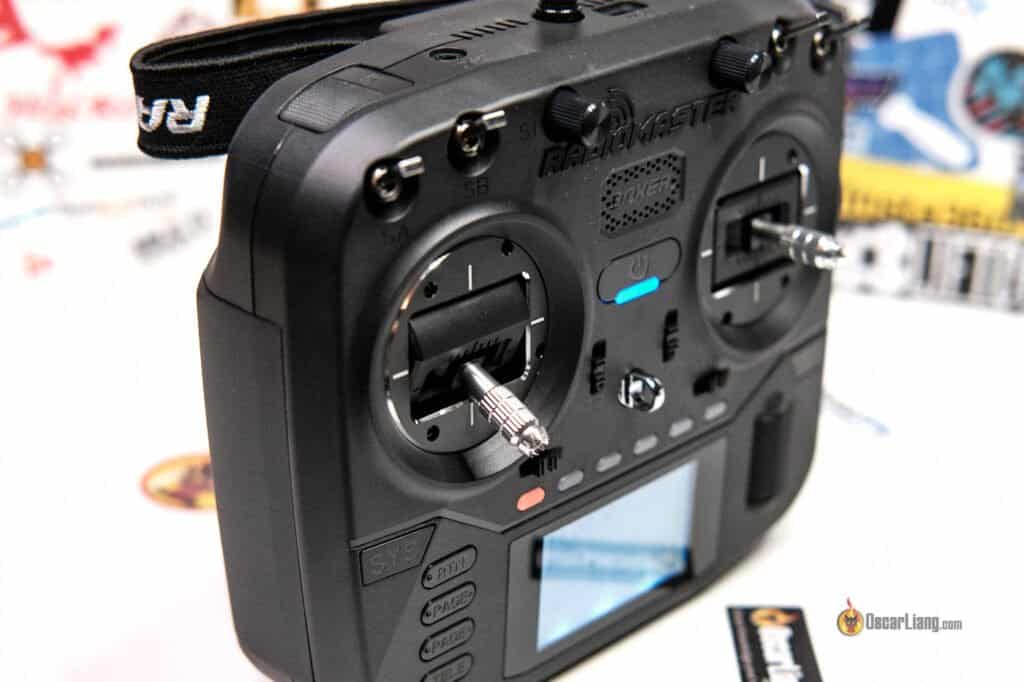 Adjusting gimbal tension is very convenient with the Boxer, you can do that from the front, no need to take apart the radio. By the way, taking apart the radio will void the warranty as there's a warranty sticker on the bottom of the radio.
You can upgrade to the premium fully CNC metal AG01 Gimbals if you wish without doing any custom mod, it's a direct swap:
The Boxer is suitable for both pinchers and thumbers, a very comfortable and firm grip.
Switches and Menu Buttons
Radio control overview:
On the front, there are four switches, one 2-position and one 3-position switches on each side. Two rotatory dials in the middle. The power button is located in the centre between the two gimbals, with a color LED indicator below it.
There are two more low profile switches at the top corners – a latching switch (SE) on the top left and a momentary switch (SF) on the top right.
In the lower half of the radio, between the gimbals and screen, you have 6 buttons for flight modes. You can also assign other functions to these buttons in Special Functions, such as playing music/sound/telemetry value or taking screenshots.
The menu button layout and scroll wheel are pretty standard just like other Radiomaster radios, very easy and intuitive to use. The roller wheel is made of metal feels solid and high quality.
The screen is a monochrome LCD display, slightly smaller than the one in the Radiomaster Zorro, but has the same resolution at 128x64px. It has bright backlights and still visible under direct sunlight.
Antenna and Connectors
The removable T-shape Antenna can be bent at an angle for optimal reception. It's the same antenna that comes with the Radiomaster Ranger Micro/Nano modules. It's a relatively low gain antenna (3.43dBi) that provides even signal all around the pilot.
The Boxer has an RP-SMA connector, you can remove the antenna for transportation, or swap out the antenna for a higher gain one.
If you want a higher gain antenna for longer range, here is a good one: https://oscarliang.com/product-yt2o (5.98dBi). In theory it would give you up to 38% increase in maximum range at the cost of reduced range above/below yourself. Here's a calculator for FPV range.
On top of the radio, you can also find the Trainer port,  USB data port for accessing SD card and playing simulator and headphone jack.
Back Handle
The Boxer is the first radio with fabric handle. It can't be used like a stand, but it's more compact and better for portability.
The rubber handles on the back provide a solid grip, I am quite happy with them. They are removable, so it's possible to have aftermarket handles as upgrades in the future.
Battery and Charging
The battery compartment in the Boxer is MASSIVE! It's the biggest battery bay in all of Radiomaster's radios.
A 18650 battery holder is included, all you need are two 18650 Li-ion cells (unprotected cells).
However, there's more than enough space for a 2S 6200mAh Pack. This battery pack seems to be designed for the battery compartment in the TX16S, which is slightly smaller than the one in the Boxer. I am pretty sure the Boxer can fit an even slightly larger battery in there. The battery compartment in the Boxer measures 100x57x18mm approximately.
When I measure the power consumption of the Boxer at 7.4V, it draws around 0.48A current at 1W output power (ELRS version, without screen backlight):
Two 18650 3000mAh Li-ion cells can give you around 6 hours of battery life
A 2S 6200mAh LiPo battery can give you more than 12 hours!
If you use 25mW output power (0.3A at 7.4V), it's possible to get up to 20 hours of battery life (calculation from current draw, it has not been tested in the field)
The backlight at maximum brightness can actually draw a considerable amount of power, at around 0.1A at 7.4V, so it's important to turn it off while flying for maximized battery life.
With this big 2S 6200mah LiPo installed, I can definitely feel the weight, 723g to be exact. It makes the radio bottom-heavy and will take you a while to get used to the weight shift if you came from a lighter radio. A neck strap might help in this case. I think I prefer having two 18650 if I am just flying for 4-5 hours, the 2S 6200mAh feels slightly too heavy for my taste (wish the weight is more in the center), but it would be useful if you plan to fly longer than 6 hours without charging (or even up to a couple of days at lower power output).
You can charge both LiPo and Li-ion batteries inside the radio via the USB-C port located on the bottom of the radio. Battery charging supports QC3.0. In my testing, it was able to pull up to 9.6W (around 1.9A at 5V) with my QC capable power adapter. To fully charge two 18650 3000mAh Li-ion cells from empty, it would take at least two and a half hours. For a 2S 6200mAh LiPo, it would take at least 6 hours. If you are in a hurry, it's probably quicker to remove the batteries from the radio and charge it on a proper LiPo charger (e.g. to charge at 1C it would just take an hour).
Here's a clever design by Radiomaster – there are a couple of slots in the battery cover, they allow you to pass the XT30 power lead through to plug into the External module (if you are using one).
The Boxer supports external JR module, compatible with modules like Crossfire, other ExpressLRS modules, Ghost, Tracer etc.
The Radiomaster Boxer has an SD card slot inside the battery bay, a 256MB micro SD card is included in the Boxer.
There are only 4 screws to remove to take apart the radio (top left and top right corners, and two more are under the rubber cover at the bottom left and bottom right). Here's the PCB, looks to be high quality with clean soldering. All the controls (switches) are connected via connectors, makes it robust and easy for repair.
The 1W ELRS internal module has a massive heatsink sitting on it, with a cooling fan blowing air to keep it cool (it blows the air upward, through the heatsink and out of the vents next to the antenna). The cooling fan is only available in the ELRS version, since the CC2500 and 4in1 versions only do 100mW, so there's no need for active cooling.
Here is a side by side size comparison between the TX16S and Boxer.
Here's a size comparison to the Zorro.
Output Power Testing
Output powers (in mW) and current draws at 7.4V (just the internal RF module) at different power levels:
| | | | | | | |
| --- | --- | --- | --- | --- | --- | --- |
| Power Levels | 25mW | 50mW | 100mW | 250mW | 500mW | 1000mW |
| Boxer Internal Module | 24 (0.22A) | 53 (0.24A) | 97 (0.26A) | 212 (0.28A) | 435 (0.32A) | 932 (0.4A) |
Note that the measured output powers are not a representation of the hardware quality, but the accuracy of the factory calibration and if the maximum output power meets expectation. Measurements were taken with the ImmersionRC Power meter V2.
I also left these modules at 1W output power for a 20-minute period and see how they hold up. As you can see the Boxer settles around 835mW after 20 mins, slightly lower than the Ranger Nano's 870mW, but consistency is what we are looking for here, which is still not bad given it's an internal module.

Conclusion
The Boxer is slightly more compact than the TX16S MKII, and $60 cheaper! Not to mention it has an 1W built-in transmitter module, you no longer need an external ELRS module for higher power. You are basically getting a smaller, better radio for less. The only main thing that you are giving up would be the beautiful large touch screen in the TX16S, which is really nice indeed but not a must-have feature.
Although the Radiomaster Zorro looks smaller and is lighter than the Boxer, it still takes almost as much space as the Boxer's due to their similar dimensions. Furthermore, the Boxer offers much longer battery life, full size gimbals, better switches, better internal RF module, better antenna, just all around better IMO. The Zorro is lighter and easier to hold in your hands for a long period of time though, so might be better for those hour-long indoor whoop sessions.
A part of me wish the Boxer was smaller, even if it meant smaller screen or smaller gimbals like the ones in the Zorro, but that would also mean less space for battery, results in shorter battery life. And that would probably impact ergonomics also. There are many compromises to be made if you want to make a small radio, that's why I think the Boxer is a great balance of all aspects. If you want the smallest yet cheapest possible radio that still offer most of the modern radio features for FPV drones, I think the Jumper T-Lite V2 is an excellent choice.
I specifically asked to review the ELRS version (ExpressLRS), because that's what I'd recommend if you are new to FPV and don't know which version to get. ExpressLRS is just fantastic, great performance with affordable receivers, I use it on almost all my quads these days. If you mostly just fly Frsky (many old whoops and micro quads have Frsky compatible receivers), the CC2500 is good value, and you can also use an external module on the Boxer later on if you want to run other radio protocols.
Boxer vs TBS Mambo
The Radiomaster Boxer and TBS Mambo share a similar form factor and might look a bit similar, however, it's important to note that the Mambo wasn't the first radio to adopt this design. Several older remotes such as the DJI V1 radio followed this form factor, so in my opinion while they might look similar, the Radiomaster Boxer isn't a TBS Mambo clone at all as claimed by some people online.
The Radiomaster Boxer has several unique features that make it stand out when compared to the Mambo:
Built-in 1W ExpressLRS: The Boxer comes with built-in ExpressLRS, allowing you to leave your Crossfire module in the back without needing to swap modules.
EdgeTX Operating System: Unlike the Mambo's FreedomTX, the Boxer runs on EdgeTX, offering better features and performance.
Higher Rates on ExpressLRS: The Boxer supports up to 1000 Hz on ExpressLRS, while the Mambo is limited to 250 Hz.
Affordable: the Boxer is way cheaper.
The TBS Mambo has its own set of unique features:
Tracer Built-in: The Mambo comes with built-in Tracer, though some users may prefer a Crossfire option instead.
Upgradable Gimbals: The Mambo allows for gimbal upgrades to the Version 2 Gimbals with Pro stick ends.
FreedomTX Operating System: Although not as flexible as EdgeTX, FreedomTX still offers most of the functionality required by most people.
How to Setup Radiomaster Boxer
This is how I setup my radio, modify as you see fit.
Go to System menu by holding down the SYS key. Things that I changed are:
Date & Time
Battery meter range (for 18650, 6.0 – 8.4V, for 2S LiPo, set 7.0 – 8.4V)
Alarms

Battery low => for 18650, 6.6V, for 2S LiPo 7.4V
Inactivity => 10m (if the radio is untouched for 10 minutes, it starts shouting "inactivity alarm")

Backlight

Mode => Keys (only menu buttons would activate backlight, sticks and switches won't, this saves battery as you don't need backlight while flying)
Duration => 15s (backlight stays lit for 15 seconds)
OFF brightness set to lowest to save battery
Alarm => Enabled (backlight turns on when there's a warning on the radio)

Pwr Off delay – the time it takes to hold down the power button to switch off the radio, this is basically a safety feature to avoid accidentally turning the radio off. I personally set it to 1s for faster shut down, but if you want to play safe just leave it at default (2s)
Pwr On delay – fastest possible
USB mode – set it to ASK
(Optional) lower haptic strength and length, default was a bit too strong
(Optional) set Sound to "All" so you get the "beeps" when scrolling
IMPORTANT: Go to the Hardware page in System setup, and turn off ADC Filter!
If you play simulator a lot, I'd recommend creating a profile for sims with both internal and external module turned off.
Calibrating Gimbals
Do this whenever you get a new radio and after you've flashed a new EdgeTX/OpenTX firmware.
Go to Radio Setup page again, then press "PAGE" button a few times to go to "HARDWARE" page, select "Calibration" option to calibrate the sticks and sliders. Just follow the instruction, it's pretty straight forward
Make sure you only move the sticks as shown in the following image. For best result, avoid moving the sticks in circle. Be as gentle as possible when pushing the sticks, so the radio reads the end points correctly.
Make sure you also move the sliders, rotary switches. You also need to calibrate the 6 flight mode buttons, they are actually treated as a slider in the radio. If your flight mode buttons are not working, chances are you haven't calibrated them yet.
Calibrate Battery Voltage
To ensure accurate battery voltage reading, you should calibrate the radio's battery voltage.
Remove the battery from the radio, and check voltage with a voltage checker, or a digital multimeter.
Put the battery back in the radio, go to the "Hardware" page (hold SYS button and press PAGE button), scroll down to Battery Calibration and verify if the readings are the same. You can adjust it with the roller wheel button.
Updating EdgeTX Firmware
You don't have to update firmware, unless there is a bug with your current version, or the new firmware offers a feature you really want. You can follow this guide to flash EdgeTX.
If you mess any thing up, don't worry, there's a EdgeTX firmware file in the the FIRMWARE folder you can re-flash the radio with.
Updating Internal RF Module
For the ELRS version, the steps are the same as the Zorro: https://oscarliang.com/update-zorro-elrs-firmware/, just pick a different Device before flashing, in this case it would be the Radiomaster Boxer. (But at the time of posting, the ELRS firmware isn't available for the Boxer yet, you won't find it in the device list, just wait for the next release).
To update 4in1 multiprotocol mdoule, follow these instructions: https://oscarliang.com/flash-edgetx/#update-internal-multi-protocol-module
Setting Binding Phrase
Since we can't flash ExpressLRS yet, to set the binding phrase you can enable WiFi in the LUA script, and do that in the webpage configuration (password expresslrs). The Binding phrase option is in "OPTIONS".
Assign Volume and Backlight Brightness to Rotary Switches
I found it really convenient to be able to adjust radio sound volume and screen backlight brightness using those potentiometers (S1 or S2). Something like this:
Go to Radio Setup Page again, then press "PAGE" button a few times to go to "Global function" page, and assign volume control to a knob. You can also do it under model setup, special function, but I prefer doing this in Global function so it works on all models. Repeat this for Backlight brightness.
Replacing Internal Button Cell Battery
If your radio stops saving settings such as date and time, you probably need to replace the button cell battery inside the radio (or it's missing). You can buy this quite cheaply online.
Lithium 3V CR1220, Amazon (affiliate link): https://amzn.to/3yDyDBe
Upgrading to AG01 Gimbals
The Boxer is totally compatible with the AG01 gimbals, it's a direct swap.
First, remove the original gimbals. There are only 4 screws at the corners of each gimbals.
Then install the AG01 gimbals.
I also upgraded the stick ends to the Radiomaster Sticky 360.
EdgeTX Firmware Official Support
EdgeTX 2.8.1 was released on the 18th of Feb 2023 which officially supports the Radiomaster Boxer radio. You can flash your Boxer following this tutorial.