SMA (RP-SMA), MMCX and U.FL are the three main types of connector used in FPV transmitters, receivers and antennas. The many types of connector can be confusing for beginners.  In this guide I will explain the differences to help you avoid incompatibility in your equipment.
Some of the links on this page are affiliate links. I receive a commission (at no extra cost to you) if you make a purchase after clicking on one of these affiliate links. This helps support the free content for the community on this website. Please read our Affiliate Link Policy for more information.
SMA and RP-SMA
SMA stands for Sub-Miniature Version A, these are coaxial RF connectors developed back in the 1960s.
Originally, SMA and RP-SMA connectors were used in almost all FPV equipment thanks to their robustness and versatility, even today it's the most common type of connector. Another advantage of SMA is durability, as it allows 500+ mating cycles according to Wikipedia.
Differences between SMA and RP-SMA
RP-SMA stands for Reverse Polarity SMA), it is a variation of the SMA connector which reverses the gender of the interface.
When it comes to video or signal quality, there is absolutely no difference between SMA and RP-SMA. However, I believe SMA is unofficially the standard for analogue FPV system, as there appears to be far more options in video transmitters and antennas with SMA connectors than RP-SMA.
The gender of SMA and RP-SMA connectors are just as confusing as the names. Here is a comparison table of the SMA and RP-SMA connectors.
| | |
| --- | --- |
| SMA Female | SMA Male |
| | |
| Female SMA connector has a female contact body (ground) and a female inner hole sleeve contact (signal). | Male SMA is the opposite to the Female SMA. |
| RP-SMA Female | RP-SMA Male |
| | |
| Female RP-SMA connector has a female contact body (ground) and a male inner pin contact (signal). | A male RP-SMA connector is the opposite in both respects — male body (inside threads) with a female inner sleeve contact. |
Just remember this – an SMA antenna basically has the pin in the middle while the RP-SMA antenna is the exact opposite with a small hole in the centre. It's not that hard so I'm not coming up with a nursery rhyme to memorize it like some others do. :-)
When buying FPV equipment with an SMA/RPSMA connector, we urge you to double check if the product description matches the product image to avoid surprises. Sometimes even the manufacturer can get it wrong.
Some people prefer RP-SMA over SMA, because the female contact (hole) get worn out faster than the male contact (pin). That means the pin would be on the video transmitter (RP-SMA female) while the hole is on the antenna (RP-SMA male), when the contact is no longer effective you could just change out the antenna. But honestly this is not something you should be concerned about as SMA connectors are extremely durable.
Can I use connect SMA to RP-SMA?
NO!
When you connect SMA female to RP-SMA male, both connectors don't have a pin, so the signal is not connected. DO NOT put a pin between them, you will break your VTX or antenna.
When you connect SMA male to RP-SMA female, both connectors have a pin, so you won't be able to fasten the antenna securely. DO NOT remove the pin, you will most likely just break it and it wouldn't work properly.
If you happen to have antennas of the wrong connector, just get an adapter for it.

Straight SMA to RP-SMA Adapter: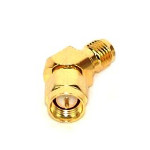 45-degree SMA to SMA Adapter:
90-degree SMA to SMA Adapter:
Note that there will be a tiny bit of performance loss to every adapter you use, so avoid it whenever possible. It's not much, straight adapter has about 0.1dB loss, right angle adapter has about 0.4dB loss. To find out how much loss to your FPV range, you can use my FPV range calculator.
Removing/Changing SMA Connectors
To replace the RP-SMA to SMA or vice versa on a video transmitter, simply cut off the bulk of the connector with some wire cutters or a dremel cutting wheel, and use your iron to remove the remaining little legs off the VTX surface. If you're really handy with an iron or have a heat gun, you can remove it without needing to cut anything off.
The signal line runs inside along the middle separated from the ground shielding by a silicone or plastic layer. Do not accidentally short signal and ground when soldering.
Why RP-SMA Exists?
The intent behind creating RP-SMA was to comply with specific local RF regulations. The manufacturers had to make a new non-standard antenna connector for their WiFi devices that was hard to find replacements for (as they were all regular SMA before that), to prevent consumers from connecting higher gain antennas and therefore breach compliance. So they just simply swapped the locations of the centre pin and hole between the male and female connectors.
The term "reverse polarity" here basically means the change of gender. It might confuse those who are not WiFi engineers, as polarity elsewhere in radio frequency literature can refer to the electromagnetic polarity, not to a change of gender.
U.FL Connectors
SMA are great, but they are also fairly bulky and heavy. Every gram counts when it comes to FPV drones, so UFL is introduced to video transmitters.
As known as IPEX, U.FL is a miniature surface-mount coaxial connector that has been widely used in small size video transmitters and antennas. They are also very popular in radio receivers due to their compact sizes.
U.FL connectors are way more fragile than standard SMA/RPSMA connectors and have much fewer mating cycles (30+ according to Wikipedia).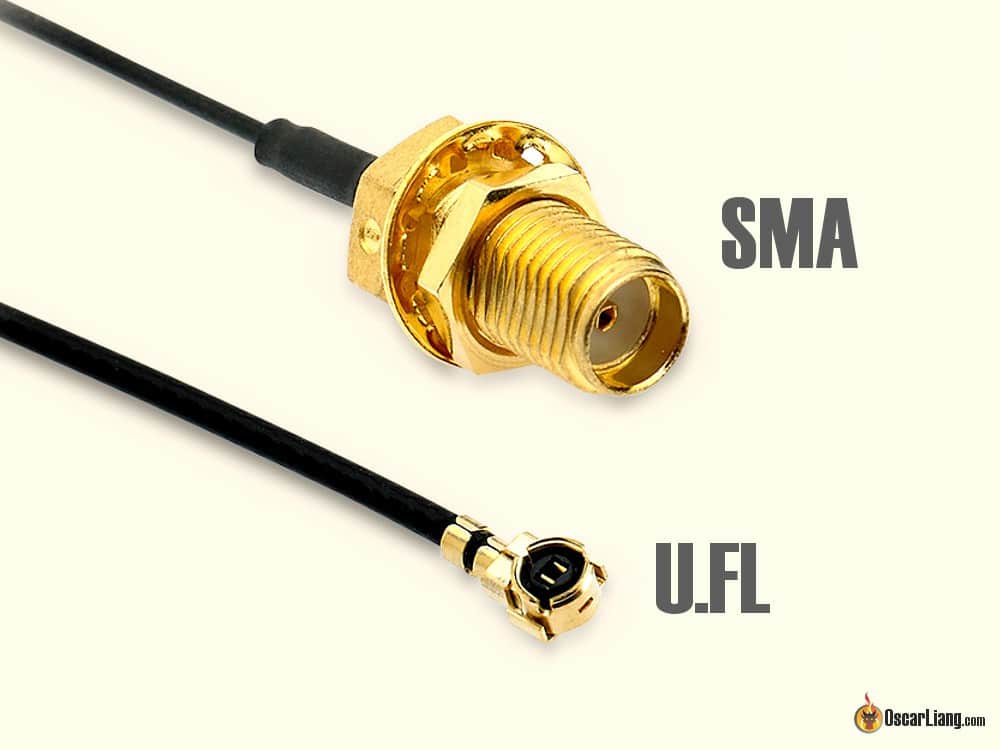 But in the never-ending search for shaving weight, this is absolutely a great choice. You can also get UFL to SMA pigtail adapters.
UFL to SMA pigtail adapter:
In some radio receivers they use a smaller version of the IPEX connector called "IPEX 4th Generation". Be careful when shopping for replacement antennas for your radio receivers and don't get the wrong one.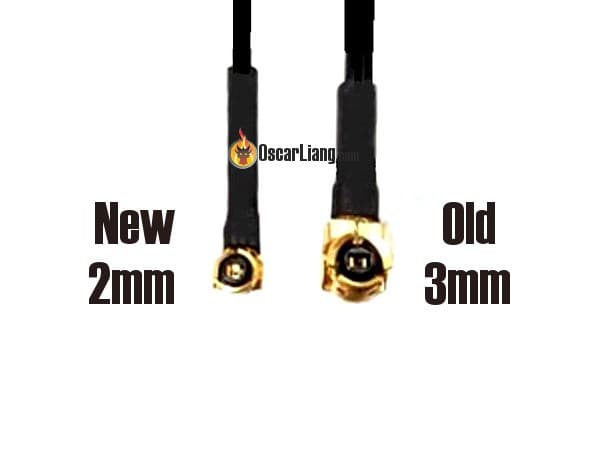 MMCX Connectors
SMA is too big and heavy, U.FL is too fragile, and the MMCX is the best balance of the two!
MMCX connectors are slightly smaller and lighter than SMA connectors, but much tougher than U.FL. Rated for 100+ mating cycles, more and more VTX and antennas are using MMCX and we can only expect it to play a bigger role in FPV.
MMCX to SMA pigtail adapter:
Hopefully this helps clear up the differences and provides some useful tips. If you have any suggestions or comments please leave them below. Thanks for reading and happy flying!
Edit History
Jan 2014 – Article created
Aug 2016 – Added info about UFL connector
Jul 2017 – Added info about MMCX
Dec 2022 – shortened URL, revisited article