Here is a list of essential FPV tools, tapes, glues and materials for building and repairing FPV drones and fixed wings. I will make recommendations on what products you should get that are useful for building, repairs and troubleshooting.
Some of the links on this page are affiliate links. I receive a commission (at no extra cost to you) if you make a purchase after clicking on one of these affiliate links. This helps support the free content for the community on this website. Please read our Affiliate Link Policy for more information.
Getting the "essential tools" listed in this post should be adequate to get you started with building and repairing an FPV drone and fixed wing. Having some of the "Nice-to-have tools" can make your builds more professional looking and can help repair/troubleshoot your drone, but by no mean necessary.
All the links in this page are affiliate links. It doesn't cost you a dime more, but it sends us a few cents every time a purchase is made to keep this blog going. Thanks!
FPV Toolkits
If you get one of these toolkits, you can pretty much skip the "essential tools" section as they contain most tools required for building your FPV drone. These All-In-One tool kits are designed specifically for FPV, they are reasonably priced and come with decent quality tools. It's really handy because you don't need to go search for each item separately.
They all also have a zippered case to keep things together. But having the right tool for the job can make a huge difference in what you can accomplish and how effective your repair is, so choosing the right set for you can still make a lot of difference.
Newbeedrone Kit V1.5
RDQ Drone Tool Kit V2
Flywoo Tool Kit

Additional soldering tools.
Great quality tools.
Great prop wrench.

Great value at $20.
Decent quality tools.

Wide variety of tools.
Multimeter included.
Slightly more expensive.

Find this product here:
Find this product here:
Find this product here:
For most FPV pilots, it's still hard to beat the value of the RaceDayQuads kit. It's the least expensive and a very versatile kit with a great selection of tools. On the other hand, NewBeeDrone offers a kit with a full soldering suite that can keep you flying all day. These two are clearly most geared toward the functional needs of the serious FPV racer or freestyle pilot, and I would most easily recommend these two. It's harder to call a winner this time around and depends how much you want to spend and what capabilities you want.
---
Essential Tools
These are the recommended and must-have tools for building and repairing your mini quad.
Soldering Tools
You will need a soldering iron for building your quad, as well as for the eventual repairs. I will explain how to choose a good soldering iron and solder wires in this post, if you wish to skip it, here are my product recommendations.
Soldering Iron (Sequre SI012)
Solder Wires
Solder Flux

Compact and portable.
Powered by 12V-25V or USB PD3.0
See my review


These are some of the best solder wires I've ever used.

Makes soldering easier.
Improves soldering quality.

Find this product here:

 https://s.click.aliexpress.com/e/_DEMdEs1
https://amzn.to/3WW9yya

Find this product here:
Find this product here:
These are helpful add-on for soldering.
| | | |
| --- | --- | --- |
| Solder Helping Hand | Tip Cleaner | Mounting Putty |
| | | |
| For holding components in place while soldering. | For cleaning the tip of soldering iron more effectively than wet sponge. | Aka Blu Tack, putty can be used for holding small wires and components in place quickly. |
| Find this product here: | Find this product here: | Find this product here: |
Hex Screwdriver Set
Hex screws are commonly used to hold your FPV drone together, so getting a set of hex screwdrivers is extremely important. The most important sizes you should have are:
Or look for metric sets of 1.3-3mm sizes.
Here are some good options:
Assorted Screwdriver Set
For the screw sizes typically found on RC planes and wings, both cross slotted and single slotted might come in handy. Some of these sets on AliExpress come with some hex screwdrivers too that can save you some money.
Prop Nut Tools
For removing and securing propeller nuts requires a dedicated "prop tool". You could just get a generic 8mm hex nut wrench, but I'd recommend getting a tool that's designed specifically for FPV which are easier to use. There are a lot of options:
Some have one-way bearing that allows it to turn one direction – one side for removing the prop nuts while the other side for fastening. It allows you to basically tightening/loosen the nut without lifting the tool which is more efficient.
Some tools also have 1.5mm, 2.0mm or 2.5mm hex bit which are handy to have
Find this products here:
Scissors
For cutting tapes and small wires. When I am being lazy I'd also use it for stripping wires before soldering, perhaps not the best practice but it gets the job done.
Wire Cutters
I use wire cutters for cutting zip ties, electrical wires, control rods etc, basically for things that are too hard for scissors.
Pliers
For accessing hard to reach spots and gripping components while working with other tools (for example when soldering a wire to an XT60 or ESC power, the wire might become too hot to hold by hand). It can also be used as a nut wrench.
For the most part, a pair of needle nose pliers will be your tool of choice here, but a variety wouldn't hurt either.
Multimeter
A digital multimeter (DDM)is used to troubleshoot your quad's electronics, measuring voltage, current, resistance, and test for short circuit. I have a whole tutorial explaining how to use a digital multimeter on an FPV drone.
A multimeter is a small investment that can potentially save you hundreds of dollars in damaged electrical parts by testing circuits before plugging them in. A cheap multimeter will be fine for the purposes of testing for shorts, finding broken wires and checking battery voltage.
Some good DDM purchase options are:
Smoke Stopper
A "smoke stopper" is a testing device that you connect between the FPV drone and LiPo battery. You use it when you plug in the battery for the first time to see if the drone has a short circuit, which could potentially damage your components without a smoke stopper.
I recommend the Vifly ShortSafer V2 (review), it works and you can buy it off the shelf:
LiPo Voltage Checker
By simply connecting the balance lead of a LiPo battery to a LiPo checker, it tells you the voltage of the battery, as well as the voltage of each cell. It's an important tool to have to monitor the state of your LiPo batteries on the go.
ToolkitRC MC8
It's more than just a battery checker, it's also a servo and ESC tester and can read various RC signals. See my review on what it does here: https://oscarliang.com/toolkitrc-mc8/
LiPo Safe Bags
While LiPo bags may not be the most effective solution at stopping or containing a battery fire, they are useful for storing your batteries temporally and for transportation
Get your LiPo bags from:
Ammo Box
Metal ammo boxes are great for storing your LiPo batteries during or after charging as they can prevent fire from spreading more effectively than typical LiPo bags.
Get your Ammo Box from:
Bat-Safe LiPo Box
The Bat-Safe box safely contains battery fires, vents hot gases, filters flame and soot, while ensuring easy battery charging and transportation. It's like the upgraded version of the Ammo box. See my full review here: https://oscarliang.com/bat-safe-lipo-battery-charging-box/
You can find the Bat-Safe Box here:
---
Nice-to-have Tools
Your FPV friends will surely be impressed by these tools :)
Electric Screwdriver
Not necessary but a godsend if you have to do a bunch of 20mm, 30mm long screws often. Simply press a button and the screwdriver will do the rest for you. They also come with a wide selection of screwdriver bits, which could save you from buying those screwdrivers separately.
I recommend the ES126, it's quite powerful and good quality. One charge can last weeks.
Tool Bags
Way better than using Ziploc bags. Can hold small tools and components when taking equipment to the field.
Bench Power Supply
A bench power supply (PSU) has variable voltage output that can power many things, including your soldering iron, test your quad, FPV components, LiPo charger and so on.
My favorite at the moment is the ToolkitRC P200. It's versatile and compact.
3D Printer
One of the biggest benefits of 3D printing for FPV drone enthusiasts is the ability to quickly and easily replace broken parts or make modifications to existing designs.
I have a tutorial to help you get started with 3D printing: https://oscarliang.com/3d-printer/
Tweezers
Tweezers are used to hold and move small components and wires into place. Look for longer length tweezers to make it easier to access small components. Cross-lock tweezers (or reverse tweezers) are preferred because they apply pressure when you release them, they won't let go of your work even if you set them down.
Wire Strippers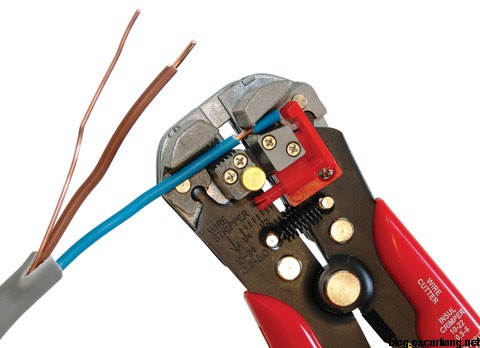 I have one but I rarely use it (mostly due to laziness), most of the times I just use scissors for stripping wires. But wire strippers provide more consistent and precise results if you are a perfectionist. Normally they only cover a cedrtain range of wire gauge, make sure the pair you get meet your requirement.
Heat Gun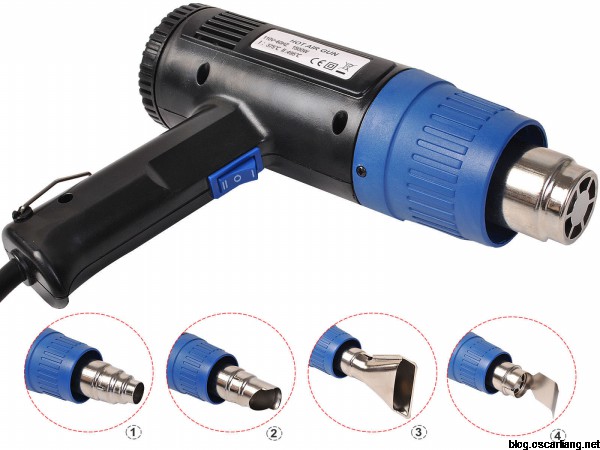 Heat gun, or hot-air gun, is mainly used to shrink heat-shrink insulation tubes. Most people would just use a lighter, hot air gun is perhaps an overkill, but it provides more consistent heat and don't leave burn marks.
Rotary Tool
Drills can be used to make modifications to even the most stubborn of materials. They can be used for shaping framework or components as well as creating new hole placements for screws or other gear.
Most frames and components purchased from reputable dealers should correctly fit from the get go. However, sometimes small modifications may have to be made in order to get everything to fit perfectly. A rotary tool or drill is nice to have around for working with difficult to modify materials like carbon fiber and aluminium.
Dremel rotary tool kit is a high end, name brand that can be used without a power cord.
File Set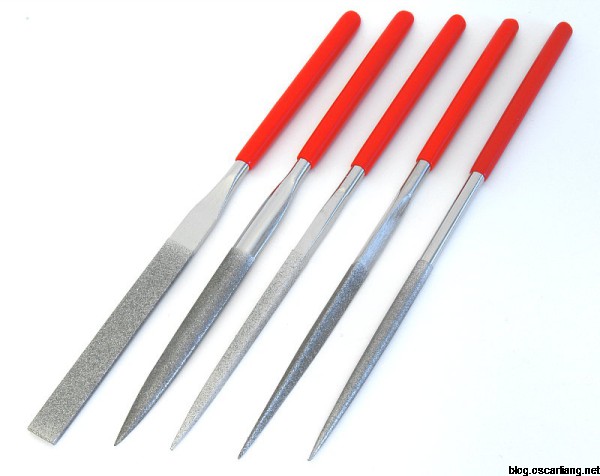 You'll use these files to modify and clean up things like carbon fiber frame parts, to give them a nice and smooth finish.
Digital Calliper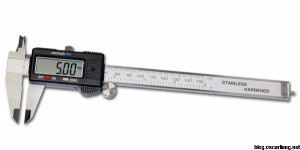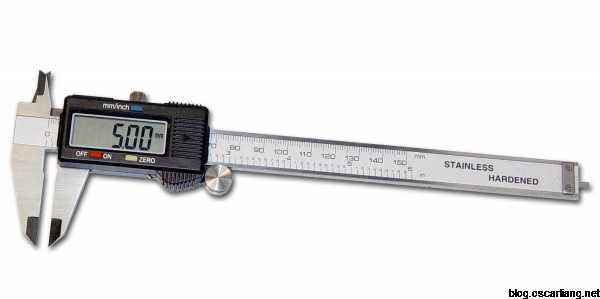 Useful for precise measurement up to 0.1mm.
Digital Scale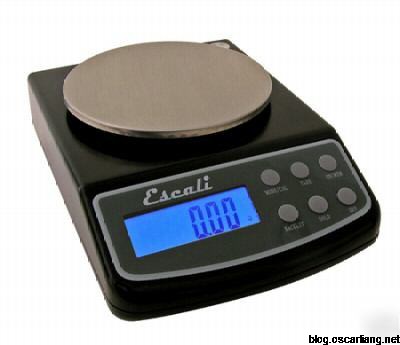 Every gram counts for RC models, so having an accurate tool to weigh your quadcopter and components is important. Having 1g precision is good enough generally, but 0.1g is even better. Make sure maximum capacity is over 1kg, if you plan to build larger models you might want to choose one with even higher weight limit.
Clamp Meter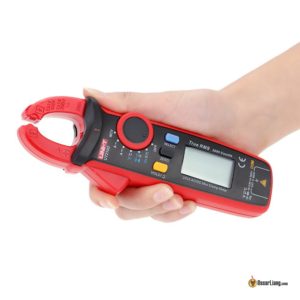 A clamp meter allows you to measure current instantaneously by clamping the jaws around a wire without the need to break into the circuit to take measurements. It's capable of measuring higher current than a multimeter, but the accuracy might be lower and they are fairly expensive.
Watt Meter
A watt meter (or power meter) can measure current drawn and power consumption. It's useful for testing motor or even measuring the power of a whole quadcopter. It's important to get one with XT60 connectors or open wires so you can solder your own. Rating up to 60V and 200A would be desirable for FPV drone use.
Soldering Fume Extractor
Solder fumes are very bad for your lung. Some people can become sensitized to flux fumes, especially from the older rosin flux used in cored solder, and get breathing problems.
Desktop Fan
Great for cooling when you power the VTX on the bench, it can double as soldering smoke fan (suck the fume away).
RF Power Meter
For testing and measuring radio/video transmitter output power. ImmersionRC Power Meter V2 is an compact and affordable option though accuracy is not guarantee, it's better than nothing.
FTDI Adapter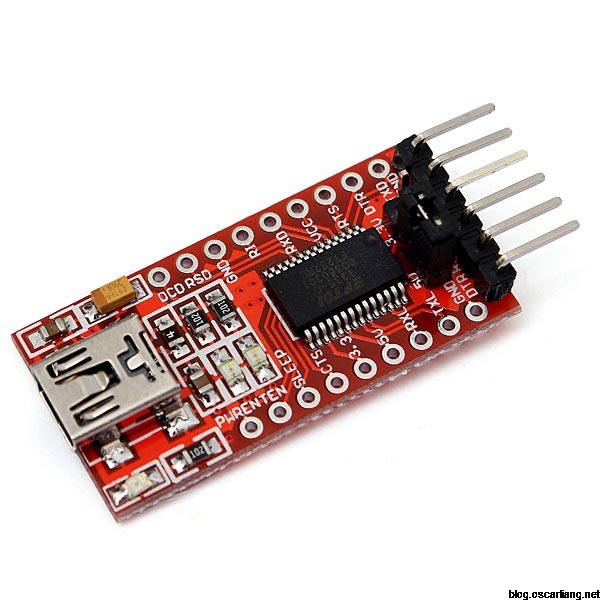 FTDI adapter, aka serial converter, can be useful for programming ESC, OSD, FC, configuring GPS etc. In the events of damaged USB port on your FC, you can also use it to connect your FC to your computer via one of the UART.
FPV Backpack
FPV Backpacks are extremely useful because they are designed specifically for storing typical FPV gear. Sure, you can just use any ordinary backpack, but they are not going to be as efficient and convenient to use for FPV stuff. And they usually lack the necessary padding on the outside to protect your gear if you drop it.
Micro-fibre Cloth
Use a proper microfibre cloth to clean your camera lenses and goggles screens to avoid scratching the glass!
---
Tools for FPV Fixed Wings
Hobby Knife / Utility Knife
Hobby knife is great for cutting and removing foam, tape and heatshrink. Box cutters would do too, but they tend to be less precise and less sharp.
Pearl Head Pins
For holding foam parts / carbon parts together if you are using glue that takes a while to dry.
Sand Paper
You want to sand the foam surfaces and carbon fibre spars before apply glue to them, it makes them stick better.
I'd say anything between 40 grits to 240 grits is fine. It depends on your preference really, as long as you're not ripping bubbles off the foam. I personally use 80 to 120 grit, I find anything less will make the beads of foam pop out, and anything more than 120 takes a long time to achieve the desired result.
Servo Tester
It's useful for testing servos, and centring them when setting up elevons. Also useful for troubleshooting and testing ESC and motor spin direction. You may also use it for motor thrust testing.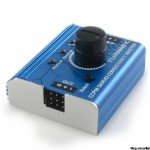 Weight for CG
These are weight blocks you can place in your wing to balance CG. It's not a bad idea if you want something neat, but I normally just use coins. Actually coins turn out to be cheaper.
Servo Cable Crimping Tool
this is used for crimping wires onto lugs. You don't need to buy one right away if you're just getting into the hobby but eventually the day will come when you will need one and will find it useful.
Servo connectors are Dupont 2.54mm, balance leads are JST-XH 2.54mm.
Scotch Heavy Duty Packing Tape
The must have tape for general purposes – covering, reinforcing hinges, laminating… Sellotape tape is okay, but I find good quality packing tape are normally thicker and stronger.
Color Packing Tape
Sometimes referred to as wing tapes, color packing tapes are great for decorating your wings, and adding some colors to it. It's often used for covering and laminating.
The ones I use are thinner than the heavy duty packing tape and aren't as strong. But it doesn't add any noticeable weight to the aircraft which is what I like!
Fibre Tape
AKA Reinforce Packing Tape – it's extremely strong and sticky! Often used to protect leading edges and reinforcing weak foam parts and joints. It can also be used for covering your servos in the wing.
Outdoor Vinyl Tape
It might feel similar to electrical tape, but it's less stretchy and has a shiny finish and stick much more securely. It's also twice as thick as packing tape. It conforms to irregularity well, great for applying on control surfaces, like on top of servos, it gives it a very smooth finish
Duct Tape
Stronger than packing tape and works much better on irregular surfaces, but it's also much heavier; it's easier to remove and replace; another disadvantage is that they tend to wrinkle up under the sun. it's usually a choice between this or outdoor vinyl tape
---
Tapes
You can probably get 90% of the jobs done using 2-3 types of tapes, but it's useful to have the variety for different applications too.
Electrical Tape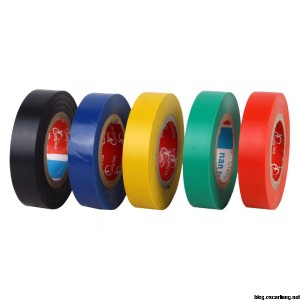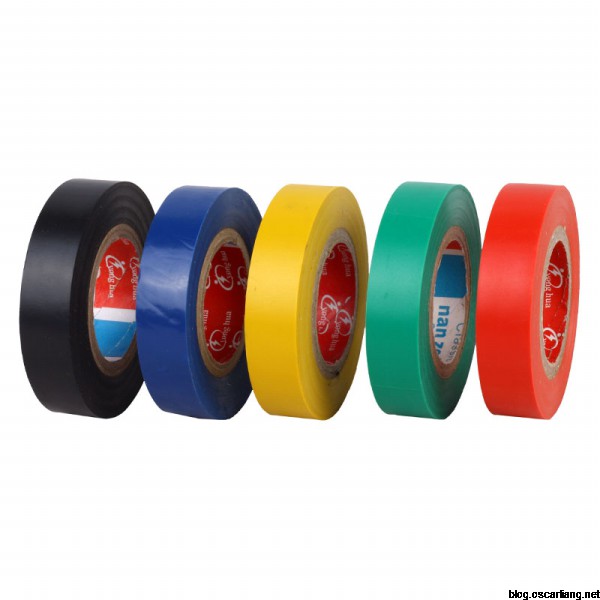 Electrical tape is a must-have whenever working with electrical stuff. It's great for insulation and holding parts in place in your FPV drone build. I also use it for masking when I am soldering.
I only use 3M Super 35, it's stretchy vinyl and pretty flexible, great for wrapping motor wires or ESC on the drone arms too.
Double-sided Tape
Double sided tape is for sticking components inside the build. If you want some really sticker and strong ones, get the 3M Scotch brand, that's the sh*t! :) Great for sticking two separate things together, like a receiver to the frame. It takes a few hours to cure, once it's secure it's hard to remove.
Kapton Tape
Kapton tape is basically non-stretchy translucent electrical tape. It can withstand high temperature and won't melt easily, therefore is great for covering PCB when soldering, and wrapping components when you don't have the right sized clear heatshrink.
Masking Tape
It's basically just sticky paper :) You can tear it off the reel with your fingers, very convenient to use if you just want to hold something in place temporally during the build. It can be removed easily without leaving any mess behind. You can also write on it since it's just paper.
Clothes Tape
A.k.a gaffer's tape, it's flexible like cloth, great for wrapping things around. It's sticky but also easy to remove. I use these for wrapping the motor wires to the arms, provides certain protection to the wires from prop strikes too.
---
Glue
Any foam friendly glues would do!
Hot Glue
Hot glue is probably the most popular option for building/repairing foam models. Because they melt into the foam like a chemical glue, but also creates an extremely strong physical bond at the same time.
The strength is also its downside. The bond is so strong it's near impossible to remove without ripping the foam apart. Sometimes you might want the foam to just fall apart in a crash rather than completely destroyed? It's a personal preference.
The other properties is that it sets very quickly as it cools down. But that's also the disadvantage, because you have only a short time to position the parts. That gets worse in cold weather.
E6000 Glue
Currently my favourite glue, I am using this as a replacement to hot glue and CA for building/fixing wings. I have a whole article to discuss why I like it so much.
UHU Por Glue
UHU POR glue is ideal for gluing hard foam like styrofoam. It is flexible, resistant to aging and waterproof. Takes 10-20 mins to set, becomes transparent when dried.
Gorilla Clear Glue
A very popular option for RC model building. Strong stuff for a great range of materials, but personally not a big fan of Gorilla glue, because getting it on your hands can be worse than epoxy!
---
Materials and Supply
Zip Ties
Useful sizes (width): 2mm and 3mm
Silicone Electrical Wires
Get your electrical wires in various gauges, commonly used sizes for 5″ FPV drones are 12AWG, 14AWG for power, 20AWG for motors, and 28AWG for signals. The size requirement depends on the current going through the wire, check out this guide about electrical wires and connector for more detail.
Heat-shrink Tubes
Get various sizes for different applications, e.g. 2mm, 3mm for motor wires and XT60 pigtail, 20mm, 25mm for ESCs / RX, etc.
Battery Pads
A good battery pad will stop your battery from sliding, and prevent it from being punctured by the screw heads on the frame. Here are some great sticky pads:
Ummagrip 3mm thick Version
Ummagrip 1.5mm thick Version
Battery Straps
For 5-inch or larger drones, 20mm width velcro straps are good choice. Typically 200-220mm length for 4S, and 240-260mm length for 6S, but it mostly depends on your choice of frame.
Thread Locker
Information about thread locker, basically it prevents screws from coming loose due to vibration.
Hardware
When picking up metal screws and bolts, beware of what material they are made of. My preference is to get 10-9 or 12-9 whenever possible. These numbers refer to the alloy of steel used in the screws. Those are the good stuff, they don't strip out easily and very strong.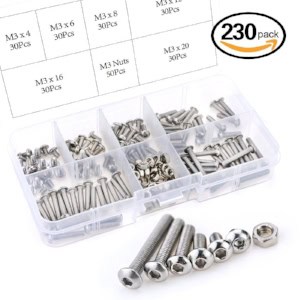 M3 Stainless Steel Screws Assortment: https://amzn.to/3tOpPpA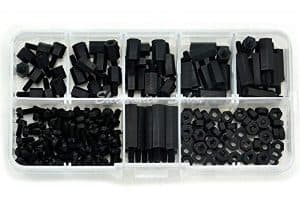 M3 Nylon Hardware Kit:
AliExpress – https://s.click.aliexpress.com/e/_DEvf1gl
Amazon – https://amzn.to/3xlFMph
Silicone Conformal Coating
By coating this on your electronics, it makes it water proof! You can learn more in my tutorial.
Isopropyl Alcohol
Isopropyl alcohol can be used as a degreaser, solvent and cleaning agent. You can use it to clean residue from burnt solder flux, as well as just general cleaning of your electronics. It can also be used to remove certain types of glue, as well as silicone conformal coating.
---
Edit History
April 2015 – Post created
October 2015 – Updated with pictures
May 2017 – 10 more items added
Apr 2021 – Shortened page URL, reviewed and re-organized items, updated product links
Jun 2022 – Added a bit more detail about the RDQ drone tool kit, added some prop tool options
Feb 2023 – Updated list, product links and combined with FPV wing tools