Here is a list of essential FPV tools and materials for building and repairing FPV drones. I will make recommendations what products you might also want to get that are useful for troubleshooting and building.
Getting the "essential tools" listed in this post should be adequate to get you started with building and repairing a quadcopter. However it would be nice to have some of the "good-to-have tools" too, but by no mean they are necessary.
All the links in this page are affiliate links. It doesn't cost you anything, but if you make your purchase via one of these links I will receive a small commission to keep this blog going.
Essential Tools
These are the recommended and must-have tools for building and repairing your mini quad.
FPV Toolkit
Toolkits that are designed specifically for FPV pilots come with a great selection of useful tools. It's super handy as you don't need to go out and search for each item, and usually this is cheaper. They might not be the best quality, but certainly enough to get your started.
For $50, the NewBeeDrone FPV tool kit offers an almost complete set of tools plus a full soldering suite.
RDQ Drone Racing Tool Kit
It's hard to beat the value of the RDQ kit though for only $20. It's a lot less expensive yet still very versatile with a great selection of tools that are adequate for most pilots.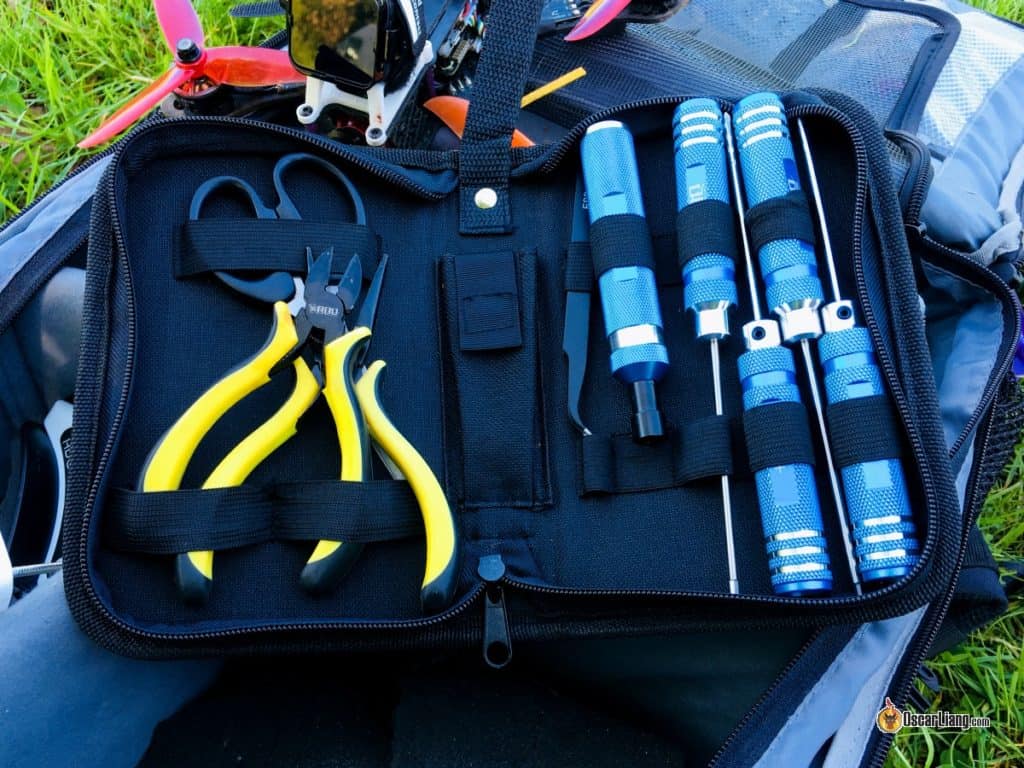 Buy from RDQ: https://oscarliang.com/product-ijh5
The tool set includes:
Hex drivers: 2mm, 2.5mm (typically M2 and M3 screws)
Hex nut driver: 8mm (prop nut)
Philips/cross-point driver
Flat-head driver
Needle-nose pliers
Side cutters
Tweezers
Scissors
Tool case
That's basically most if not all the tools you will normally need for building and repairing a mini quad. With the case, you can take these tool with you when you go flying. The whole bag only weighs slightly under 500g.
The quality of the tools is decent, they all have either knurling surface or rubberized handle for a good grip. The tweezers and pliers have nonconducting handles that protect your electronics from static electricity.
However, I would replace the 8mm nut driver with a proper prop nut tool as listed below. Because it's not very effective when the prop nut is tight. Another missing tool would probably be a 1.5mm hex driver which is pretty commonly in micro quads.
Prop Nut Tool #1 – STP 8mm
Not necessary the best tool but probably the cheapest yet functional prop tool on the list.
It has a compact, light weight yet ergonomic design for working with prop nuts on mini quad specifically. It works with 8mm (M8) nuts, suitable for modern 3″, 4″, 5″, 6″ and anything larger.
The round rod has a good grip but doesn't hurt your hand. You can even push the rod to one side if you need a greater leverage.
Prop Tool #2 – URUAV
Product page: https://oscarliang.com/product-dwoi
I love how easy and efficient this tool is for taking prop nuts on and off.
Each of the socket has a one-way bearing that allows it to turn one direction, one side for taking prop nuts off and the other side for taking it off. It allows you to basically fasten/loosen the nut without lifting the tool and just keep going.
It also has a 2.0mm hex bit and 2.5mm hex bit which are great to have, which are commonly used in the frame and motor screws.
Prop Tool #3 – iFlight
Product Page: https://oscarliang.com/product-ro1e
Pretty much the same tool as the URUAV one, with possibly more ergonomic design with the handle. However it's quite a bit more expensive for no apparent reason.
---
Soldering Tools
Choosing a good soldering iron and solder tin will take a whole blog post to explain. And there are other related tools you might want to get too which make soldering easier and the soldering quality better.
I recommend getting the TS100 soldering iron:
As for solder, I'd recommend:
And you also want to get some solder paste (flux):
Soldering Helping Hands
Soldering requires at least 4 hands – one to hold the iron, one for the solder and two others to hold the components. That's why you want to get some "soldering helping hands" if hiring an assistant is too expensive.
Mounting putty (even cheaper): https://amzn.to/3xexEqJ
---
Hex Screw Driver Set
We mostly use hex screws in this hobby, so getting a set of hex screwdrivers is extremely important. The most common sizes you will need are:
Here are some good options:
---
Wire Cutters
I use wire cutters for cutting zip ties, electrical wires etc. When I am being lazy I'd use it to strip wires too before soldering, not the best practice but it works.
---
Pliers
For gripping components while working with other tools (for example when soldering a wire to an XT60 or ESC power, the wire might become too hot to hold by hand). It can also be used as a nut wrench.
---
Prop Nut Wrench
We commonly use 5mm nylon lock nuts to secure propellers on motors, it's not an easy job to tighten and undo them without proper tools.
My favourite is probably the Spedix one-way bearing wrench: https://oscarliang.com/product-sdun
---
Multimeter
A digital multimeter (DDM) can be used to troubleshoot your quad's electronics, verifying voltage outputs, short circuit etc.
I have a whole tutorial explaining how to use a digital multimeter on an FPV drone. Some good DDM purchase options are:
---
Smoke Stopper
A "smoke stopper" is a testing device that you connect between the FPV drone and LiPo battery. You use it when you plug in the battery for the first time to see if the drone has a short circuit, which could potentially damage your components without a smoke stopper.
I recommend the Vifly ShortSafer V2 (review), it works and you can buy it off the shelf:
---
LiPo Voltage Checker
By simply connecting the balance lead of a LiPo battery to a LiPo checker, it tells you the voltage of the battery, as well as the voltage of each cell. It's an important tool to have to monitor the state of your LiPo batteries on the go.
---
Good-to-have Tools
Your FPV friends will surely be impressed by these tools :)
Electric Screwdriver
Not necessary but a godsend if you have to do a bunch of 20mm, 30mm long screws often. Simply press a button and the screwdriver will do the rest for you. They also come with a wide selection of screwdriver bits, which could save you from buying those screwdrivers separately.
I recommend the ES126, it's quite powerful and good quality.
Bench Power Supply
A bench power supply (PSU) has variable voltage output that can power many things, including your TS100 soldering iron, test your quad, FPV components, LiPo charger and so on.
My favorite at the moment is the ToolkitRC P200. It's versatile and compact.
Tweezers
Tweezers are used to hold and move small components. cross-lock tweezers are preferred because they apply pressure when you release them, they won't let go of your work even if you set them down.
Amazon: https://amzn.to/3sMLlK7
---
Wire Strippers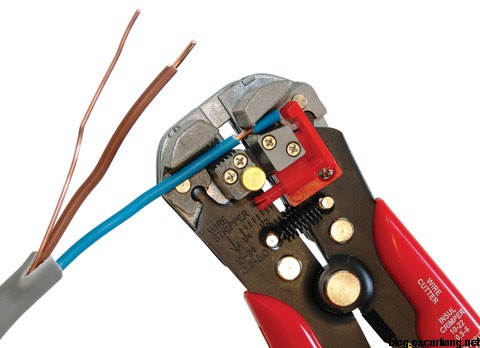 I have one but I rarely use it (mostly due to laziness), I just use my cutters or scissors to strip wires most of the times. But wire strippers provide more consistent and precise results if you are a perfectionist.
---
Heat Gun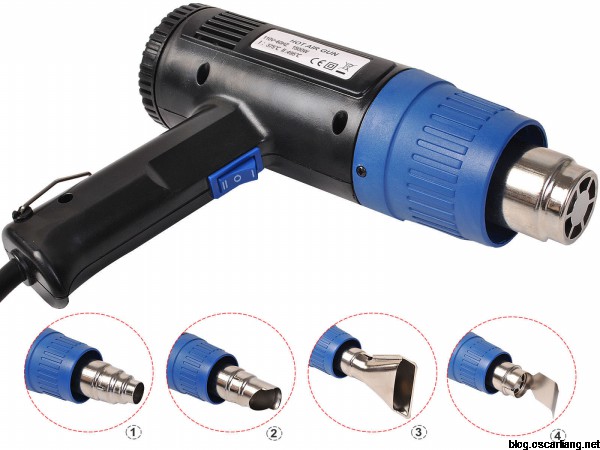 Heat gun, or hot-air gun, is mainly used to shrink heat-shrink insulation tubes. Yes, you can just use a lighter, but heat guns provide more consistent heat and don't leave burn marks.
---
File Set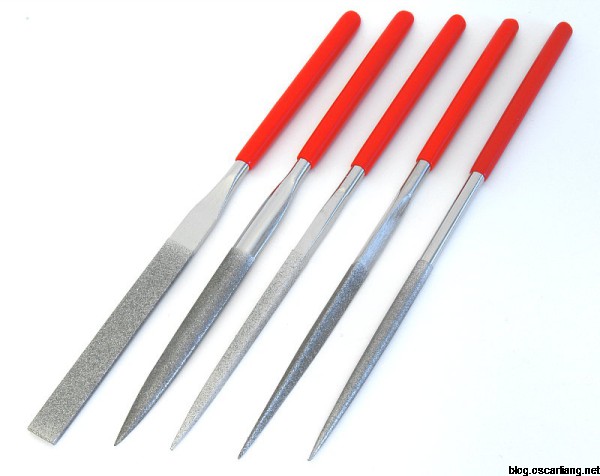 You'll use these files to modify and clean up things like carbon fiber frame parts, giving them a nice and smooth finish.
---
Digital Caliper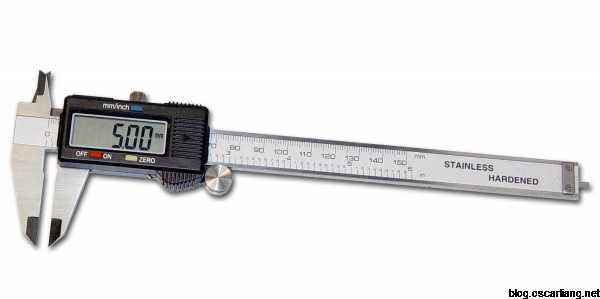 Useful for precise measurement up to 0.1mm.
---
Digital Scale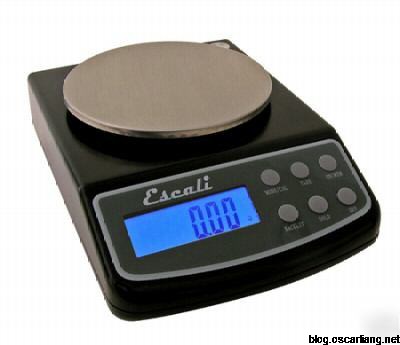 Every gram counts for RC models that fly, so having an accurate tool to weigh your quadcopter and components is important. Having 1g precision is good enough generally, but 0.1g is even better. Make sure maximum capacity is over 1kg, if you plan to build larger models you might want to choose one with even higher weight limit.
---
Clamp Meter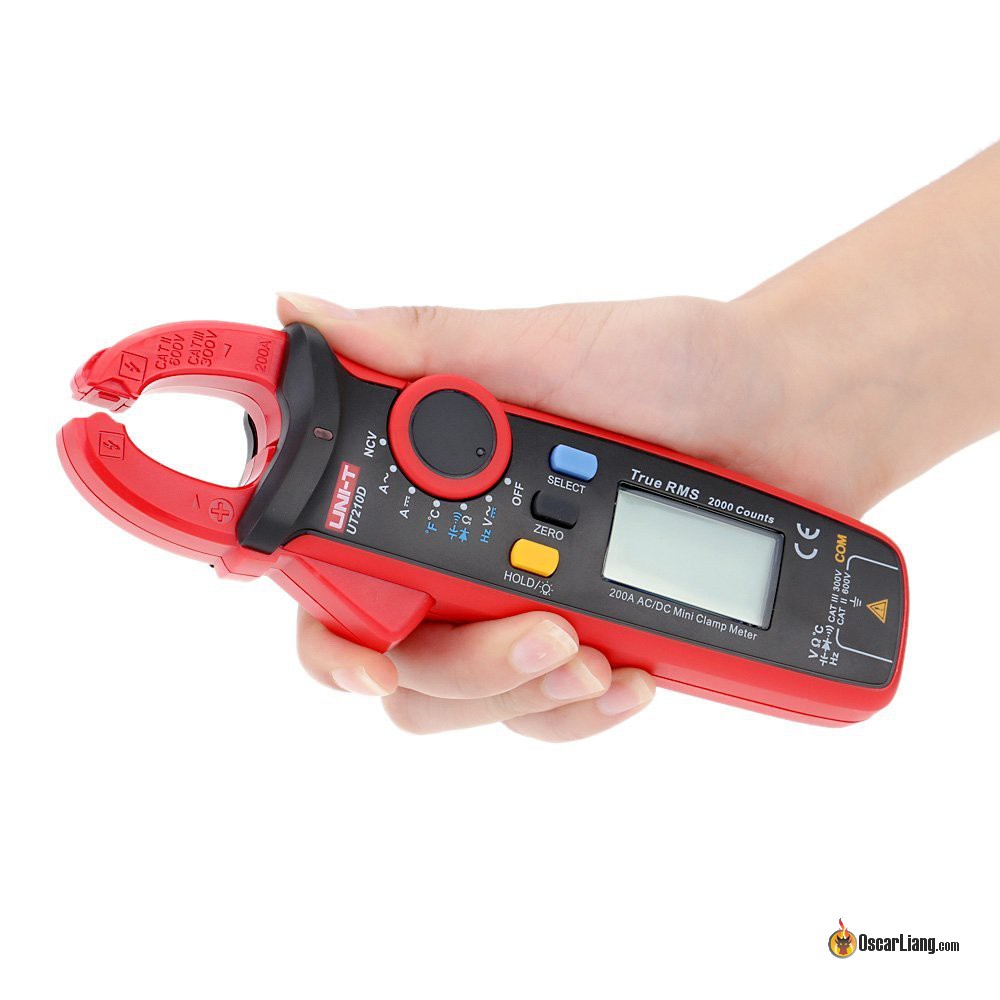 A clamp meter allows you to measure current instantaneously by clamping the jaws around a wire without the need to break into the circuit to take measurements. It's capable of measuring higher current than a multimeter, but the accuracy might be lower and they are fairly expensive.
---
Kapton Tape
Kapton tape is basically non-stretchy translucent electrical tape. It can withstand high temperature and won't melt easily, therefore is great for covering PCB when soldering, and wrapping components when you don't have the right sized clear heatshrink.
Amazon: https://amzn.to/3sGtu7u
---
Watt Meter
A watt meter (or power meter) can measure current drawn and power consumption. It's useful for testing motor or even measuring the power of a whole quadcopter. It's important to get one with XT60 connectors or open wires so you can solder your own. Rating up to 60V and 200A would be desirable for FPV drone use.
---
Motor Thrust Testing Stand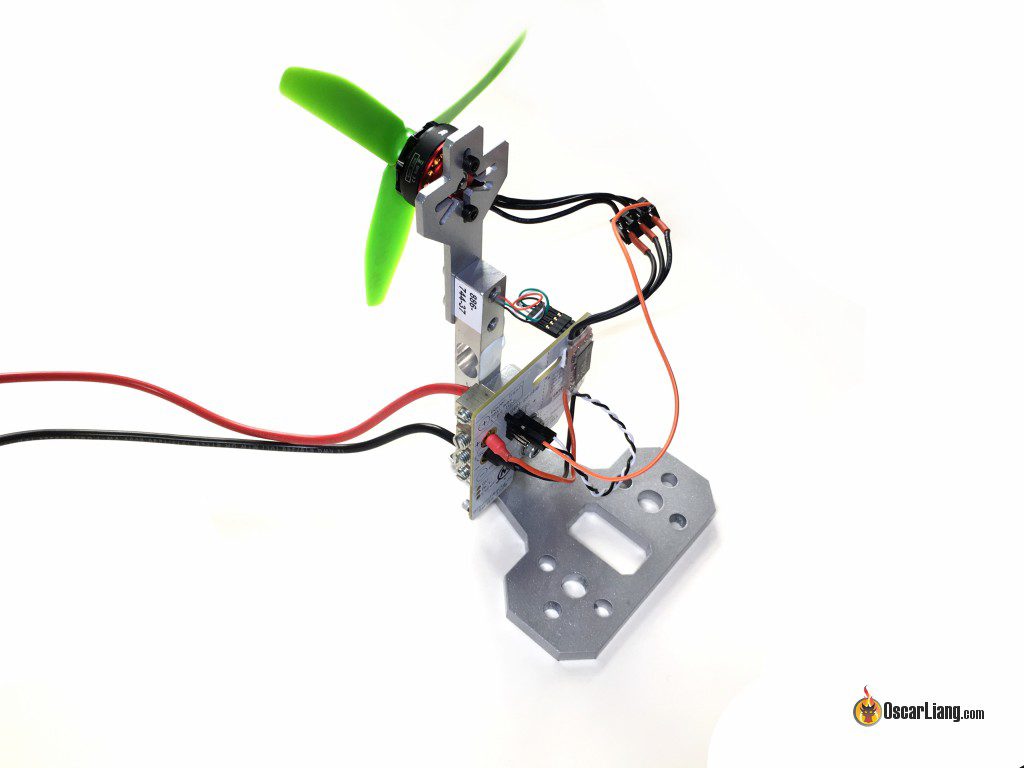 You will need a motor thrust stand for testing motors, propellers and ESC. You can measure thrust, current draw (power), RPM etc.
Soldering Fume Extractor
Solder fumes are very bad for your lung. Some people can become sensitized to flux fumes, especially from the older rosin flux used in cored solder, and get breathing problems.
---
RF Power Meter
For testing and measuring radio/video transmitter output power. ImmersionRC Power Meter V2 is an compact and affordable option.
---
FTDI Adapter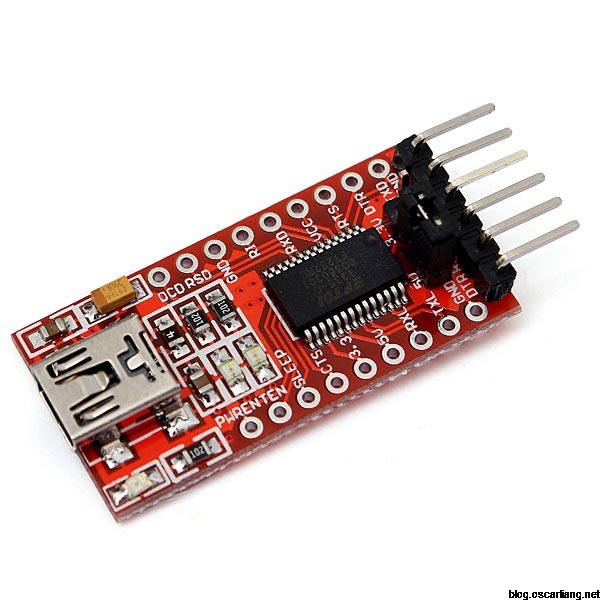 FTDI adapter, aka serial converter, can be useful for programming ESC, OSD, FC etc. In the events of damaged USB port on your FC, you can also use it to connect your FC to your computer via one of the UART.
---
Propeller Balancer
A nice addition if you fly 7″ or larger quadcopters, those big propellers might need balancing for the best possible performance. Mini quad propellers such as 5″/6″ and smaller don't normally require prop balancing.
Motor Grip Pliers
A pair of motor grip pliers come in handy when your prop nut is too tight to remove, they provide a good grip to the motor bell while releasing the prop nut. I don't remember how many times I scratched my hands with the shape edges on the motor or propellers in the process of taking off the prop nut. It's extra painful in the winter.
Some people complain about the rubber losing grip after a bit and it slips, one work around is to wrap the pliers with rubber bands or racket wrap.
---
Supplies and Materials
Electrical Tape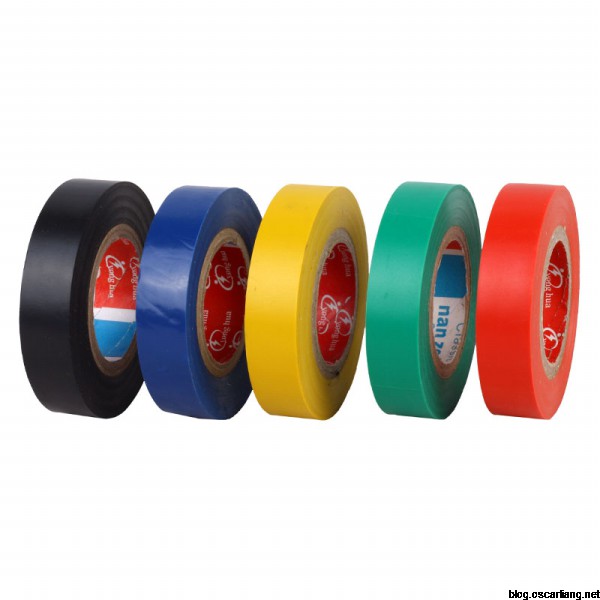 Electrical tape is generally a must-have whenever working with electrical stuff. It's great for insulation and holding parts in place in your FPV drone build. I also use it for masking when I am soldering.
I only use 3M Super 35, it's stretchy vinyl and pretty flexible, great for wrapping motor wires or ESC on the drone arms too.
Amazon: https://amzn.to/3ngQNn5
---
Double-sided Tape
Double sided tape is for sticking components inside the build.
---
Zip Ties
Useful sizes (width): 2mm, 3mm and 4mm: https://oscarliang.com/product-m5zz
---
Electrical Wires
Get your electrical wires in various gauges, commonly used sizes for 5″ FPV drones are 12AWG, 14AWG for power, 20AWG for motors, and 28AWG for signals. The size requirement depends on the current going through the wire, check out this guide about electrical wires and connector for more detail.
---
Heat-shrink Tubes
Get various sizes for different applications, e.g. 2mm, 3mm for motor wires and XT60 pigtail, 20mm, 25mm for ESCs / RX, etc.
---
Battery Pads
A good battery pad will stop your battery from sliding, or getting punctured by the screw heads on the frame. The best battery pads on the market right now is probably the Ummagrip:
Original Version (3mm thick)
Lite Version (1.5mm thick)
---
Thread Locker
Information about thread locker, basically it prevents screws from coming loose due to vibration.
Amazon: https://amzn.to/2Qrl5aV
---
Hardware
When picking up metal screws and bolts, beware of what material they are made of. My preference is to get 10-9 or 12-9 whenever possible. These numbers refer to the alloy of steel used in the screws. Those are the good stuff, they don't strip out easily and very strong.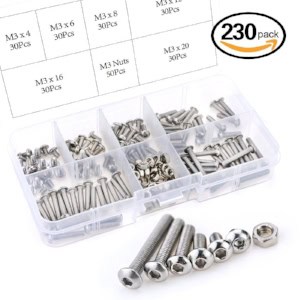 M3 Stainless Steel Screws Assortment: https://amzn.to/3tOpPpA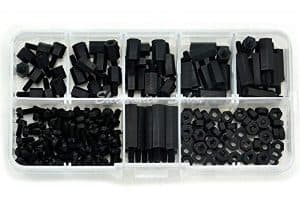 M3 Nylon Hardware Kit:
Banggood – http://bit.ly/2AB4p6s
Amazon – https://amzn.to/3xlFMph
Silicone Conformal Coating
By coating this on your electronics, it makes it water proof! You can learn more in my tutorial.
---
Isopropyl Alcohol
Isopropyl alcohol can be used as a degreaser, solvent and cleaning agent. You can use it to clean residue from burnt solder flux, as well as just general cleaning of your electronics. It can also be used to remove certain types of glue, as well as silicone conformal coating.
---
Edit History
April 2015 – Post created
October 2015 – Updated with pictures
May 2017 – 10 more items added
Apr 2021 – Shortened page URL, reviewed and re-organized items, updated product links
Jun 2022 – Added a bit more detail about the RDQ drone tool kit, added some prop tool options