This is a review of the Taranis Q X7 by Frsky, a RC transmitters (TX). It's just been released, and it's the younger sibling of the Taranis X9D – probably one of the most popular TX among FPV mini quad pilots.
Some of the links on this page are affiliate links. I receive a commission (at no extra cost to you) if you make a purchase after clicking on one of these affiliate links. This helps support the free content for the community on this website. Please read our Affiliate Link Policy for more information.
The Taranis Q X7 was provided by Frsky for this review. This article is written by Artur Banach.
The QX7 is available from
Hall Sensor gimbal upgrade is also available now for the QX7 – Link.
Update (Nov 2017) – Frsky recently released a "Special" edition of the Q X7 – the Taranis Q X7S. Check out our review here.
Features Compared to Taranis X9D
Quad ball bearing gimbals (not hall sensor)
Supports up to 16 channels
Supports Telemetry
Speech Audio Output
Supports External TX modules
Memory Supports Up to 60 Models (more allowed via SD card)
128×64 pixels LCD screen with backlight
6 switches (4 of which are three-positioned), 2 pots
Input voltage: 6-15V (2S and 3S LiPo compatible)
Model configuration files compatible with Taranis X9D
OpenTX Firmware Pre-installed
| | | |
| --- | --- | --- |
| | Taranis QX7 | Taranis X9D Plus |
| Price | $110 | $182 |
| Number of Channels | Up to 16 | Up to 16 |
| Input Voltage | 6V-15V (2S, 3S LiPo compatible) | 6V-15V (2S, 3S LiPo compatible) |
| LCD Screen Resolution | 128 x 64 pixels | 212 x 64 pixels |
| Model Memory | 60 (extendable by SD card) | 60 (extendable by SD card) |
| Number of Switches | 6 | 8 |
| Number of Sliders | 0 | 2 |
| Battery | No battery included | 2000mAh battery included |
| SD Card | No SD card included | 2GB SD Card included |
| Current Consumption | 210mA max | 260mA max |
Quality & Handling
The Radio comes with a neck strap and a manual. There is no battery or charger included.
The Taranis Q X7 offers two choices of colour: white and black. Comparing to the Taranis X9D, it's around 15mm wider, around 10mm lower in height and 10-15mm thinner. It weights 619g without a battery, about 70g lighter than the X9D.
It has a futuristic and minimalistic shape with sharper corners and not so much of ovality like the X9D. In every aspect, the QX7 looks like a totally different TX.
Both gimbals come sticks spring centered. That means some adjustment is required to turn one of the 2 sticks into a throttle stick: simply tighten the screw on the gimbal. This allows the users to switch between Mode 1, 2, 3 and 4 easily.
There are rubber grips on the back of the TX, and it feels very good when holding it in my hands. It is a big improvement from the X9D in my opinion. It's ideal for "thumbers", but "pinchers" and "hybrid-pinchers" should also find it very comfortable (meaning of these terms). Distance between the 2 sticks is 5mm longer than that on the X9D, but it doesn't really matter as long as it fits well in your hands.
One little thing I noticed was: when hybrid pinching there is a chance of hitting the top right switch when it's in low position. Of course it depends on how you hold the radio, it might not affect everyone.
There is a SD Card slot and mini USB socket in the bottom of the TX, along with a TF port. According to the manual, TF port is used for the future development. Ports are under flexible rubber cover, similar material/design you can find in some digital cameras.
USB socket in the bottom doesn't stop you from connecting the TX to a computer and simulator, but you may find the location a bit inconvenient.
Build quality is good. It feels solid, no squeaking sounds, case elements fits well together. Rubber grip at the back feels good too. Battery cover is a bit flimsy though and I find it hard to get it open. X9D battery cover is much more solid.
There are 6 switches and two pots on the radio. Taranis X9D has 2 extra switches and 2 extra pots on the side. There is no name labeling for the switches on the TX. That information can only be found in the manual and the orientation is visible on the screen.
What's new here is the multi-color LED light status in the centre of the radio. Depends on operation status, warning or switch positions etc, the LED goes Blue, Red or Green.
There is no more tiny buttons like those on X9D. Instead we have 3 much larger pads/buttons and one spinning wheel with button built into it. The wheel button allows us to scroll through menu and options, change settings and enter EDIT option. For those familiar with DSLRs for instance, it should be instinctive. Spinning wheel is much faster than buttons and that's a nice feature.
To power down the radio simply hold down the ON/OFF button for 3 seconds.
The Q X7 LCD Screen has lower resolution than Taranis X9D which is noticeable right away. It is also narrower, and more pixelated. There is no option to change backlight color – it is blue-ish green.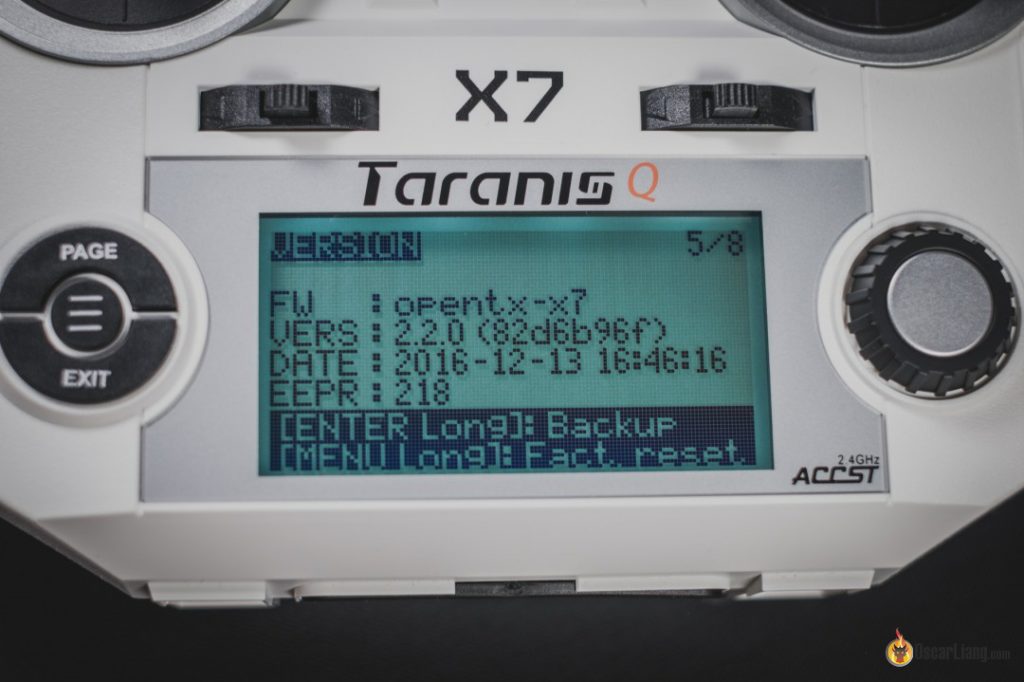 Audio speaker is very good. There is no annoying buzzing issue we sometimes find on the X9D, but during normal operations the speaker makes a very quiet white noise, which is noticeable when I put my ear next to the TX.
Haptic feedback is improved as well. It does work nicer compared to X9D where vibrations felt like the case was about to explode. It is more gentle with the QX7.
The gimbals are not the best, but they are okay. These are ball bearing gimbals, same as the stock X9D gimbals. They are not interchangeable with Taranis X9D gimbals (M9) because of the different size and mounting holes pattern (around 10mm smaller than on X9D). However Frsky will release the hall sensor gimbals upgrade for the QX7 soon – X7 gimbals (need to be purchased separately).
Taking Apart the Taranis Q X7
To open the Taranis Q X7, there are 4 screws to be removed. Unlike X9D, after removing screws the back panel can be detached completely because there is no electronics hanging off it.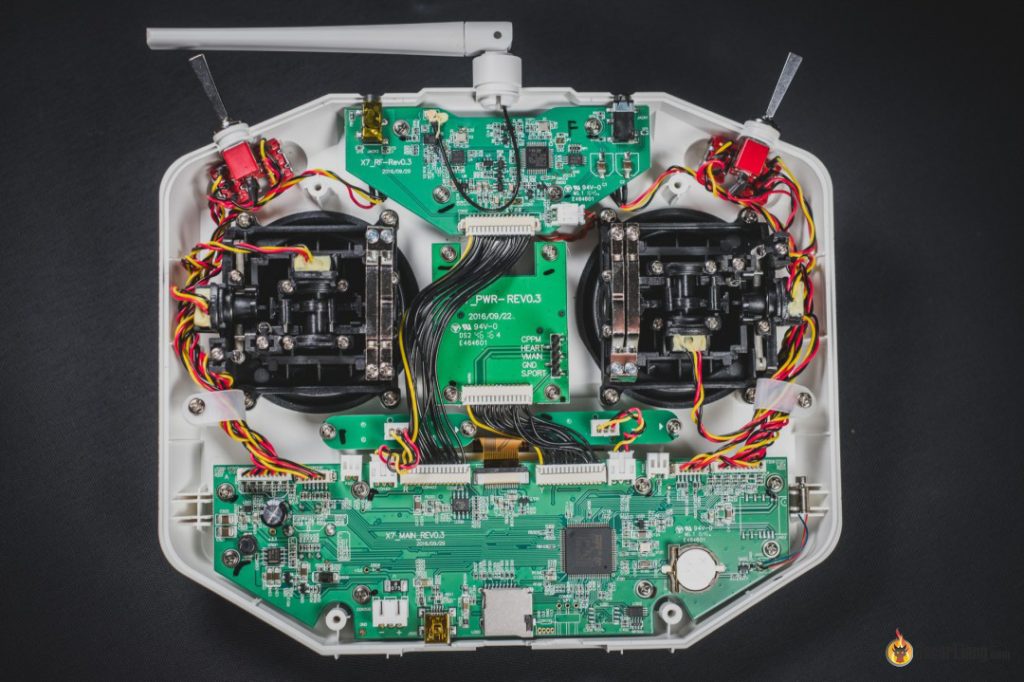 SF and SH switches are attached to the front panel and after dismantling they stay on it. A 2.4GHz 2dbi antenna connects to the module board via a small connector, so it's easy to repair, or do the 5dbi antenna upgrade.
Battery Options
Taranis Q X7 does not come with a battery and charger. There is no charging circuit inside the TX. It comes with an AA battery tray (6xAA) fitted in the back of the radio.
Battery bay dimensions are: 92mm x 59mm x 17mm (deep)
AA tray is removable but tweezers and a bit of force is required to get it out.
I found using AA batteries is actually the easiest solution. But that means you will need a separate charger and 6 or 12 AA 1.5V batteries. Also they don't last as long as LiPo or LiFe in terms of battery life.
Connector inside the battery compartment is a 2S balancing socket and I decided to use my FPV goggles' battery, which is a 2S 1300mah 20C LiPo. It is light and small and allows around 2-3 hours of constant use. However in my opinion it's not an optimal choice because LiPo's don't like to stay fully charged for long period of time (shortened battery life). But it's good enough for now.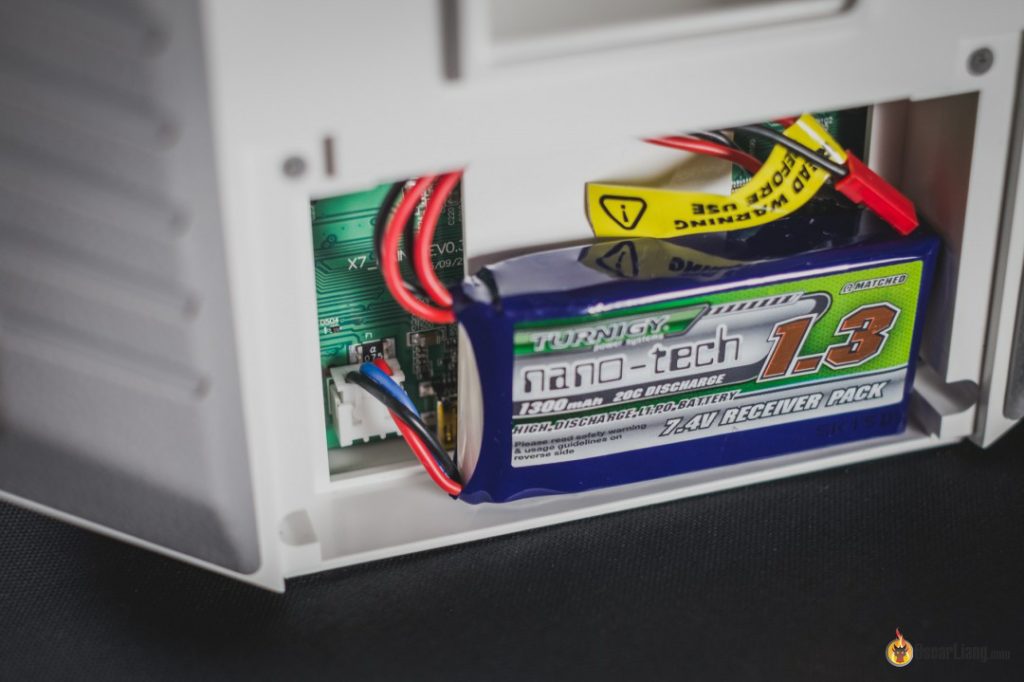 Taranis Q X7 next to Taranis X9D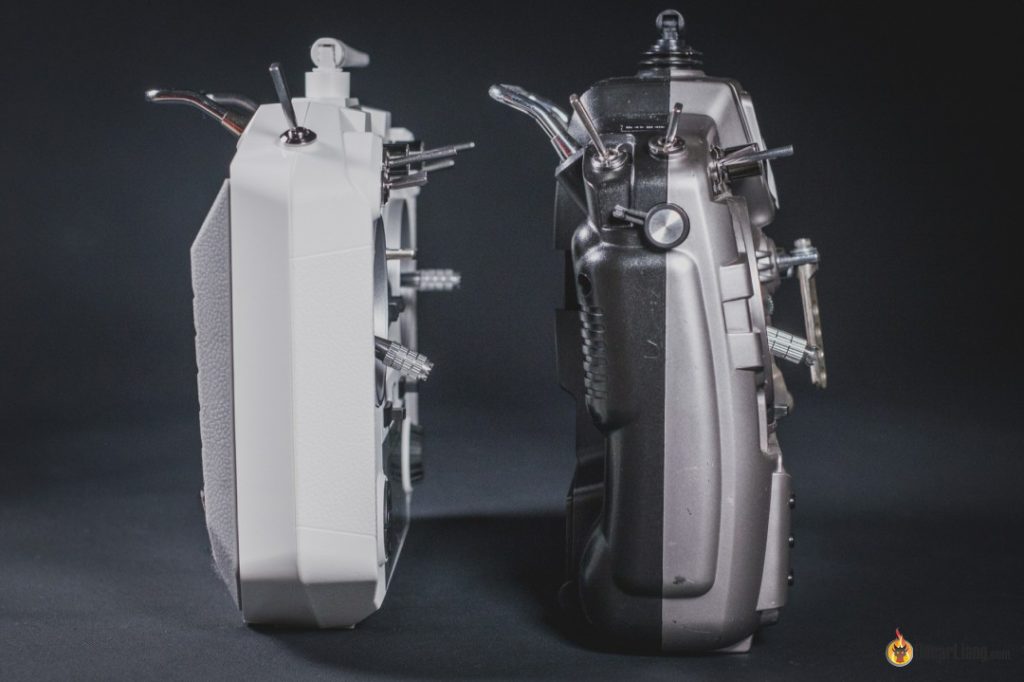 Range Test
I have tested this radio in various locations and conditions (park, underground car park) typically flown by some FPV pilots, and they have not noticed any difference in terms of range and signal strength comparing to the Taranis X9D.
This is what I expected anyway, because the internal XJT module is the same module found inside the X9D.
OpenTX Firmware on the Q X7
Taranis Q X7 came pre-flashed with OpenTX 2.2. OpenTX firmware is also used on other Taranis radios but this one is customised to work with Q X7 hardware specifically, which means some options might be omitted. For instance there is no backlight color change of the LCD screen nor model icon available. I believe this is due to the limits of the screen.
Also SWR parameter is also missing in the telemetry page.
SD card is required to get the radio to talk to you (in the lovely voice of a lady) and to be able to flash it with different firmware. Default SD card content is available for download on FrSky's website.
Menus are shortened to accommodate the narrower screen but it's still very similar to the X9D.
A few screenshots of the screen:
Positives about the transmitter
Cheaper alternative to Taranis X9D (around 30-40% cheaper)
Same internal XJT module as in X9D – similar range
Lighter and smaller
Good build quality
New, interesting, more futuristic shape
Two color options (reminds me of Star Wars – Darth Vader / Storm Trooper )
Antenna can be replaced (DIY solution)
Improved speaker without buzzing sound
Much more user-friendly menu navigation buttons and scrolling wheel
Feels great in hands thanks to rubber grip on the back
Doesn't look and feel cheap despite lower price
Negatives about the transmitter
Doesn't come with the battery and would be nice to have recommended battery as an optional purchase
Doesn't come with SD card
It would be nice to have hall sensor gimbals instead of ball bearing gimbals
LCD screen is of low resolutions and smaller. Only one backlight color that cannot be changed
No model icons option
Battery cover is a bit flimsy and difficult to remove
For the simulator users: USB socket could have been placed in some other location for convenience
Conclusion
The price of a Taranis X9D is a bit steep for pilots with tight budgets, apart from getting a Turnigy 9X/9XR and DJT/XJT module now we have a new alternative! The Taranis Q X7 was made for those who want cheaper Frsky solution without compromising much of quality.
If you already have a Taranis X9D then you probably wouldn't need the Q X7, because you already have the full package. If you're a beginner or someone want to step into FrSky "ecosystem", then the Taranis Q X7 is a great option.
FAQ
Is it still possible to flash external Receivers via Smartport?
Yes, It's openTX 2.2 so you can do it.
Does it fit the Turnigy 2cell 1800mah receiver pack from Hobbyking?
From the dimension, it seems possible. This LiPo Pack Size: 64 x 50 x 14mm.
Is it "plug 'n play" with FPV simulators?
Yes, it's the same as setting up the Taranis.
Where to get it?
The Taranis QX7 is available from many stores such as
http://store.rotorriot.com/frsky-taranis-q-x7-transmitter-radio-fpv-drone/