In this article we will compare all the FPV Drone simulators and decide which is the best for you. Quadcopter simulators have been around for decades, but only recently we've begun to see decent options designed specifically for FPV freestyle, some are even free!
tldr: Here're My Favourites
Some of these simulators are on Steam (a video game platform). The best part about Steam is that, if you don't like the sim you purchased for some reason (maybe your computer is too slow to run it), you might be able to get a refund if your play time is within 2 hours.
Now let's cover some of the basics.
What're FPV Drone Simulators?
They are basically games where you can control a simulated FPV drone with a radio. You can learn how to fly FPV drones on a computer FPV simulator.
Honestly it's the best way to get started for beginners and to improve flying skills. Whether you are totally new or someone experienced learning a challenging acrobatic trick, simulators can be highly effective for beginners and advanced pilots alike.
Only in simulators you are practice tricks that are almost impossible in real life :D
if you are new, here is an article to show you some insight of racing drones and how to get started. Featured image is from "Unreal FPV" simulator.
What You Need to Fly FPV Simulators
Before picking an FPV simulator, you should get a radio controller first.
I don't recommend using gaming console or keyboard. Using a proper radio is the best way to build up muscle memory, and get the most benefit from training. You can continue to use the same radio to fly the real drones later, so it's a worthy long term investment.
In the market for a new radio? See my radio recommendations here.
All the radios I recommend are plug and play – just connect the USB cable and it will show up as a gaming joystick on your computer. Then you should be able to use the radio in the simulator, it's that simple.
If you have a radio that don't support that, there are work-arounds, such as using a flight controller and radio receiver.
Does Quadcopter Simulator Physics Matter?
Yes, and no.
The physics of a drone simulator is highly subjective. They are getting closer and closer to real life, but it will probably never going to feel the same.
The point of a simulator is to help you learn how to fly and build up muscle memory. Just pick a simulator that feel real enough for you with graphics that you like (and runs smoothly on your computer).
Spend time on actually practicing rather than worrying about the physics.
If you are using an OpenTX radio, then you should know that OpenTX actually has a bug that introduces high USB link latency. EdgeTX is a fork of OpenTX, and it addresses the issue since version 2.5. OpenTX works just fine by all means, but if you want to have the best possible experience flying simulators, I recommend flashing EdgeTX to your OpenTX radio. It makes the physics in the sim feel more realistic. In this tutorial I will show you how to flash EdgeTX.
Now let's dive into each FPV simulator and talk about their features, pro's and con's.
LiftOff
One of the most complete simulators with regular content updates, has a large online community.
Liftoff is one of the most mature FPV sims out there in terms of features and content. The amount of content is simply impressive, nothing comes close in terms of selection of hundreds of models and thousands of tracks created by the community. Liftoff is the first to implement a "parts system" that allows you to customize your drone by changing components just like in real life.
It's one of the few sims that accounts for propeller damage (can be disabled too). It forces you to be more aware of obstacles and fly more carefully, hence offering a more realistic flying experience.
Liftoff is also the most graphically intensive simulator in the list, it takes a decent spec gaming PC to run smoothly. Many people with slow computers complain about the performance being sluggish, floaty and choppy. Recent updates have made the game easier to run on older PC's, so it's worth a try.
Liftoff has a 'Freestyle Mode' which rates your moves and tricks as you was in a competition. That really shows some real consideration for those who just love the aerial ballet.
Liftoff is the only sim that supports 3D mode (reversing motors in flight).
It's available on Steam – a platform where you can purchase and download games, it helps you manage games and makes updating much easier. Just google "download steam" and you will find it.
In my opinion, Liftoff is a great sim for both racing and freestyle. But it's not necessarily the best in both of these categories, not to mention it costs a bit more than other sims at $20, still it's a very solid sim.
Here is a video I captured using the DVR in my FPV Goggles which I used as an external monitor with my computer via HDMI cable.
VelociDrone
Great physics, probably one of the most realistic sims. Graphics doesn't look the prettiest but runs better on slower PC's. Racers love it.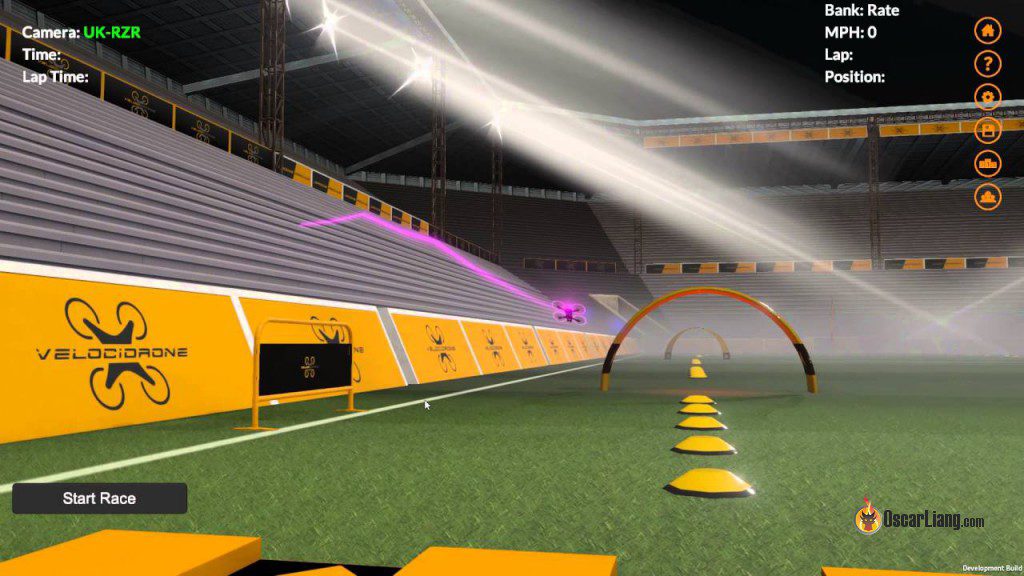 If your PC or laptop isn't great for gaming, consider Velocidrone.
The game has one of the best physics with a high degree of customizability. Through physics adjustments and rate tuning, I easily tuned Velocidrone to feel very much like my own drone. I have to say this sim is probably one of the best for mimicking the feel of a racing drone in real life.
It has a great selection of racing tracks and is an incredible tool for practice racing. In fact many MultiGP racers use Velocidrone exclusively for training and learn the courses.
According to the developers, Velocidrone apparently uses Betaflight firmware codes, and just like Betaflight you can make adjustments to your PIDs and rates. The camera FOV and angle can be set to your preference, and that it uses your TX's full range of motion without having to use offsets speaks volumes in my opinion.
The graphics isn't as good as other simulators, however this game is more performance based. You can practice flying all the same, and the game runs well on slower machines as well as the graphics requirement is lower. There is a great track editor, and multiplayer mode where you can jump between races and freestyle, have voice chats and changes courses, all in the same session.
However it's not on Steam, so updating takes slightly more effort, but it's also a good thing at least you are not forced to update if you don't want to.
Pros:
Physics is very realistic
Many different types of drone sizes, from 5″, to tiny whoops
Different modes for fun flying, including combat mode where you can play first shooter and shoot other drones down with laser
Low graphics requirement
Cons:
All the different game modes and drone classes mentioned have to be purchased separately
Not necessarily the best looking sim but decent enough for practice, and that's why it runs so smoothly on most computers
The DRL Simulator
The most fun sim
The DRL (Drone Racing League) simulator is interesting – they use the game to host online tryout events, and the top pilots can win a paid contract to race real quads professionally in the offline events.
As a gamer, I find DRL the most additive FPV sim of all.
The physics perhaps isn't the best among the list, but the maps and scenery are extraordinary, for example, in one of the environment, you get tall buildings, abandoned factories and a shipyard, all in a single map!
I really like the new system where you can race with the ghosts of pilots similar to your ranking. This system can motivate you to play, improve and move up your racking too. DRL is the online simulator that allows pilots on different platform to play together which is fun.
Look here I was having fun diving buildings, and trying one of the race tracks…
FPV Air 2 Simulator
For $5, FPV Air 2 is one of the cheapest simulators out there. It's very basic, and the physics is decent for beginners to get into FPV flying and learning tricks. But I dislike the fact that additional maps have to be purchased separately. If you have a tight budget, there are free options.
The graphics is decent and there are many settings you can play with, including customizable physics, Betaflight-like GUI and multiplayer mode. It packs most of the features you want in an FPV sim  It's not as polished as other better established simulators, and it lacks track selection.
It runs pretty smooth on a slow PC because it has an "ultra-low" graphics mode. Overall the graphics aren't the prettiest, the trees look like wall paper and there is a lot of motion blur. But that's not what we are here for, to look at the trees :) The affordability and flexibility make up for it. And I can't wait to see what the developer has to bring to the sim in the future since it's only at its early stage of development.
It's available on Steam so updating is very convenient.
Here is the review from Kaity, a member of IntoFPV.com:
I purchased FPV Air 2 to replace my aged copy of FreeRider Revamped and was truly surprised at how close it comes to the way my flying feels! The physics feel accurate, the ability to tune PID and rates is awesome and the ease of calibrating my QX7 really make me happy.

I plugged in my Taranis, selected Taranis from the CONTROL menu and then clicked calibrate. Moved the sticks around and that was all that was needed. The flight area are tracks more inclined to racing style than freestyle, but if you ignore the track there is a lot of practice to be had proximity flying the obstacles.

I have this sim tuned to pretty close to the way my 3″ Japalura flies and when I step outside to rip through a real life pack, it is close enough that it feels easy to switch between them. It is a lot easier on the equipment to figure out a maneuver in the sim and crash electrons instead of carbon fiber.
FPV.SkyDive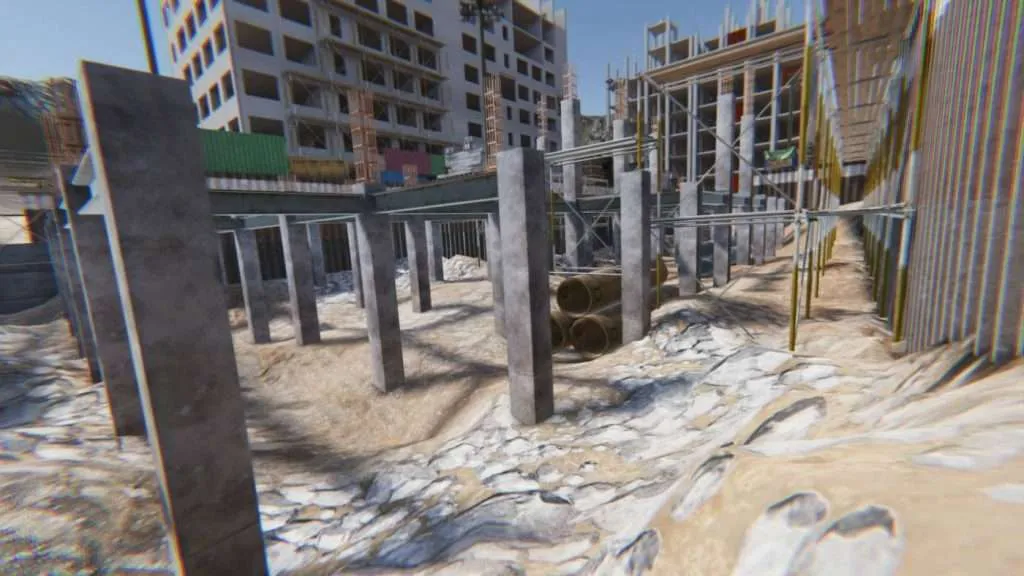 FPV.Skydive is developed by Orqa, available on Steam for FREE!
Pros
Free
Physics feels above average
Has a beginner training course, easy for new pilots to get into flying even without using a radio before
Cons
The levels and content is being added, but at the moment it's a bit limited compared to other more established sims (mostly because this sim is relatively new)
The racing aspect is not as well designed as other sims
Update (Mar 2022): Orqa released an Android/iOS version of this sim! It might not have as much content as the Steam version, but it's really convenient as it means you can take this FPV sim and practice everywhere!
Uncrashed
Pros
Insane environment / maps – you can chase racing cars, and you can fly in places that looks like the scene in the 5th Element with flying cars
Graphics looks amazing
Cons
The physics is average, it doesn't feel the most realistic compared to other sims, but decent enough to learn how to fly
Doesn't have multiplayer
VelociDrone Micro DLC
VelociDrone has a pretty good Micro DLC that is designed for Tiny Whoops. Yea… it costs extra, but it's worth considering especially if you are into participating in community events. Also the physics is one of the best in the whoop class sims, and it has a large multiplayer community you can race with.
Tiny Whoop GO
If you are looking for a free Tiny Whoop simulator, you have to try Tiny Whoop GO. It feels relatively realistic (except it feels a little too easy to fly than real life, for people who love challenges it could be a let down) and most importantly, it's free!
Liftoff: Micro Drones
Talking about Tiny Whoop sims, you must check out Liftoff Micro Drones simulator. It's a separate, brand new sim designed specifically for the tiny whoop class.
The physics is pretty good, if I have to be picky I would say the whoops seem to carry more momentum than the real thing, it's harder to control and make accurate turns than a real whoop. When you try to make a turn it just "slides" which I feel I need to make more stick adjustments and also slow down to make it through a race gate.
Tiny Whoop GO feels more forgiving for beginners and definitely easier to control, but for some hardcore racers that might compromises the experience. If you are looking for a more challenging sim to level up your whoop piloting skills, Liftoff Micro Drone might be a better option.
The attention to detail is amazing in this sim. For example in the warehouse map, you have sound from the forklifts and people working in the background, makes you feel like you are really flying in a real warehouse. In the "Prom Night" map, there are many interactive elements, you can pop balloons, get soda from vending machines, play song on DJ's laptop etc…
Other FPV Simulators
AI Drone Simulator
It takes your blackbox logs and try to emulate your drone in the real world.
There's no multiplayer yet, and it's $20… there are probably better value sims on the list.
FlowState
Flowstate is available on Steam, and it's free. It's tailored more towards racing, and lacking a lot of features on other paid sims.
FPV FreeRider
This is probably one of the oldest FPV simulators.
It's a cheap simulator and it has free trial. You are able to change some basic physics in the game, such as gravity, drag, quadcopter power etc. You can also change camera tilt angle, and FOV (field of view). In the free version you can't change any settings, and are limited to only one map.
It's outdated, and there are so many other better options out there. I would not normally recommend this sim, but it has one of the lowest graphics requirements, so if you have a very slow PC and you can't run all the other sims, you might want to give this a try. It's good enough for someone just starting to learn the basics of flying.
Simulator Tuning
Most FPV simulators allow you to "tune" them like a real quad: PID, rate, physics etc… The goal is to make the virtual drone perform more like the real thing. However I do think this is a feature for the experienced pilots, since new pilots probably don't have a good enough idea how a real quad should fly like.
If you are just starting out, I would suggest leaving everything at default, unless something is seriously off. The only thing you should change should be rates, which controls the sensitivity of your quadcopter. See this post for more detail.
Wearing FPV Goggles
FPV Goggles with HDMI input can be connected to the computer as an external monitor, and you can play FPV sim while wearing your goggles. This might help you get used to flying with your goggles earlier if you are just starting out.
LOS Drone Simulator (Line of Sight)
Most pilots can fly FPV well but lack the skill to fly line of sight (LOS). While it might help practicing LOS skills in a sim, it's probably not the best way.
First of all, you don't get the depth perception in a simulator as you would normally get in real life – it's very difficult to judge how far your quad really is on the screen. Also it's harder to tell the orientation in a sim because of the low resolution.
If you want to give it a shot anyway, the following sims offers LOS feature:
In Liftoff, press B to enter LOS mode
In Velocidrone you can zoom into LOS mode by scrolling the mouse wheel
In FPV Freerider, there is a LOS mode
Conclusion
FPV drone simulators can boost your flying skills, but they cannot replace real flying.
For a beginner, a simulator can be used almost entirely for practice to build up muscle memory and learning. As you progress however, real world practice becomes more and more important to achieve peak performance.
To Do
Add tryp
Rating:
my computer specs
Graphics (at best quality)
Smoothness (fps, delay etc at best quality, if slow, what settings does it run stable)
Content (number of quads/maps, quad classes, quad customization, map customization, game modes etc)
How Real (physics, PID/rates adjustments)
Multiplayer
Edit History
Mar 2015 – Article created
Feb 2017 – Updated, added Velocity Drone and FPV Event
Jun 2017 – Updated and edited FPV Event name/price change
Oct 2017 – Updated reviews
Jun 2018 – Tried all sims again and updated reviews; Removed sims that are no longer relevant
Sep 2018 – Added new sim – FPV Air 2 and DCL
May 2019 – Updated reviews, added "Wearing FPV Goggles in Sims"
May 2021 – Shortened URL, added Flow State, adjusted recommendations/reviews
Feb 2022 – Updated list with new simulators