By properly mounting and positioning your radio transmitter and receiver antennas, can optimize signal quality and range. In this post I will show you the the best ways to point antennas in various RC systems including Crossfire, ExpressLRS and Frsky.
Some of the links on this page are affiliate links. I receive a commission (at no extra cost to you) if you make a purchase after clicking on one of these affiliate links. This helps support the free content for the community on this website. Please read our Affiliate Link Policy for more information.
Receiver Antenna Explained
Most modern radio receivers such as ExpressLRS and Crossfire, use dipole antennas. Dipole antennas have two ends – one end is the antenna element and the other is ground. Both ends are equally important, if either end is damaged or bent will have some impact on performance.
The size of the antenna depends on the radio frequency, lower frequency such as 900MHz usually has a bigger antenna than 2.4GHz
Antenna Radiation Pattern
The radiation pattern of a dipole antenna is a doughnut shape, it has the strongest signal on the side and the worst signal on both ends.
Antenna Positioning vs Range
The alignment of transmitter and receiver antennas affects your range tremendously.
In example #1 in the following graph, it shows the optimal antenna alignment for maximum range where the antennas are parallel.
Now imagine your quad just rotates 90 degree, and we are in a situation as shown in example #2, where the RX antenna's tip is pointing at the TX antenna, and your range will be reduced.
The worst case scenario would be example #3, where the tips of both antennas are pointing at each other.
How to Mount Receiver Antenna
The Lazy Way
If you don't fly long range, it's pretty common to just strap the antenna to one of the arms using zip ties. This is probably the easiest way to install RX antenna.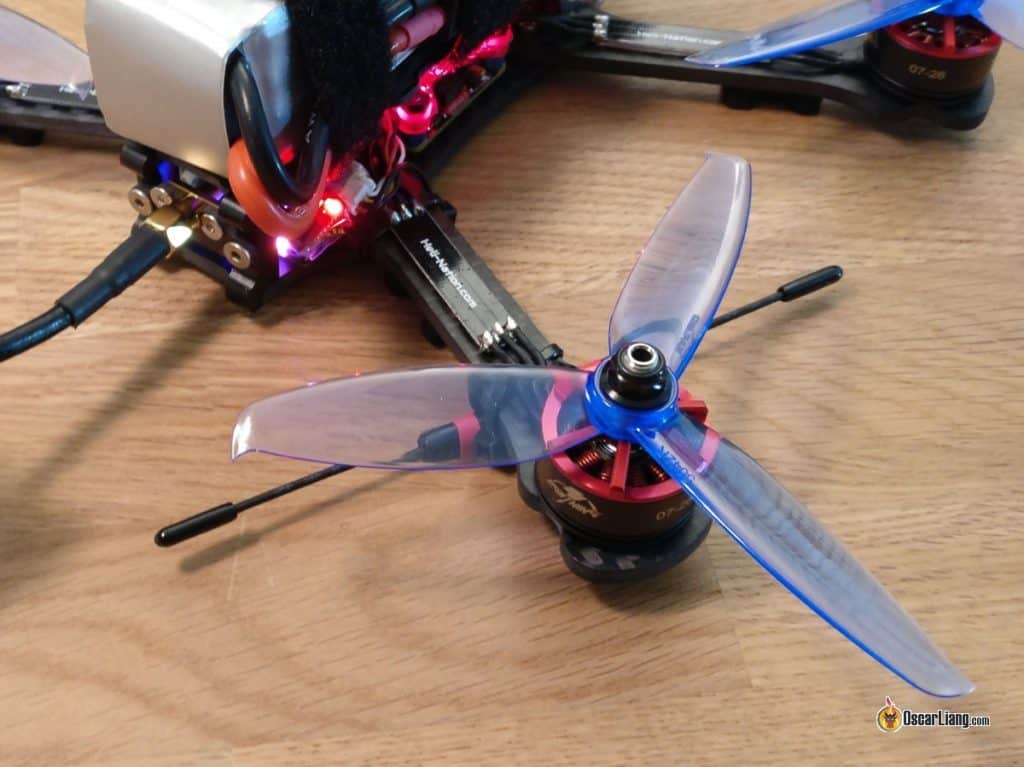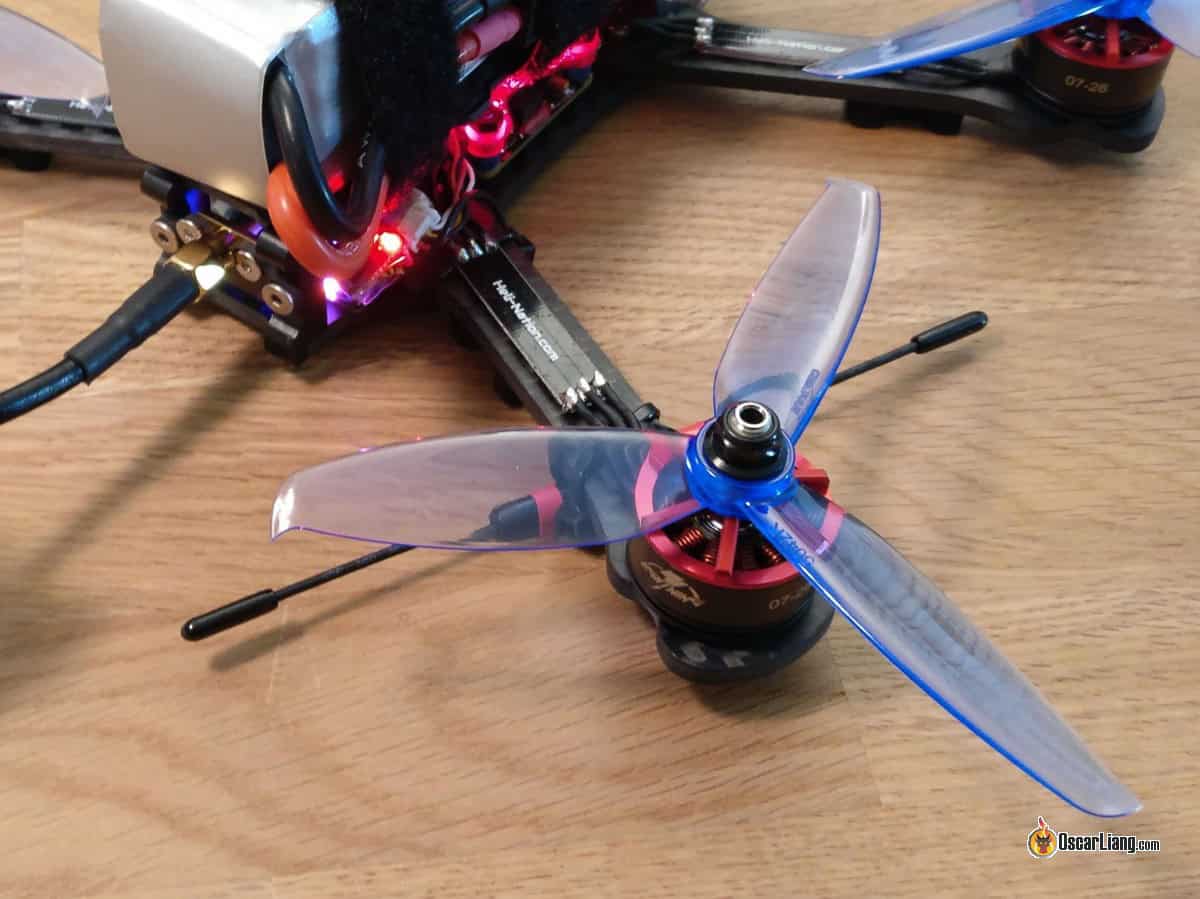 For "loose" dipole antennas, you can use two zip tie wrapped around the arm pointing at the opposite direction, and strap the antenna wires to the ziptie with heatshrink tubes.
Another common solution is to use 3D printed mount, which makes a clean looking build.
Here is a bad example, as you can see, both ends of the antenna are touching the carbon fibre. It's important to keep the active element of the antenna as far away from carbon fibre as possible if you want to get the best possible range. Carbon fibre is conductive and can block/attenuate radio signal.
The Best Way
For convenience and durability, most people would just mount their RX antenna horizontally, but the best way is to mount your antenna vertically so the receiver antenna is always align with the transmitter antenna.
You might be wondering why is the antenna tilted at an angle? Well, we have to compensate for the attitude of the aircraft when it's flying forward.
The Best Way to Point TX Antenna
I normally point the transmitter antenna up, so it would be parallel to the receiver antenna which I also normally have it mounted vertically. This is due to the radiation pattern as I showed you earlier, signal comes out from the side of the antenna and not from the tip of the antenna. This minimizes the chances of having both your antenna's tips line up and results in the worst possible signal.
If you have a moxon antenna on the TX, the same principle applies.
However, if you have your RX antenna mounted horizontally, this is actually not such a good idea as you will get something called "cross polarization", where signals are at 90 degree to each other, and this can result in a pretty big signal loss. If you are just flying around yourself in close range, this is usually fine, but this is not good for long range. It's important to have both antennas be parallel to each other for the most consistent signal.
To address this, you could point your TX antenna side way to match the receiver antenna, but you will have to make sure you don't fly to your sides and always have the model stay in front of you.
That's because the signal is the weakest when the tips of the antennas are pointing at each other. For example, this is bad.
You might need to change how you point your antennas depending on the situation.
Let's say if you were going to dive a building, you might be flying directly above yourself, then pointing the antenna side way would be beneficial in this scenario.
But if you are just flying around yourself, then it's probably better to point the antenna upward, and this is usually the case for most people.
If you are using other types of antenna on your transmitter rather than the usual dipole antenna, you might want to check its radiation pattern and determine how you should mount it for the best possible signal according to your flying style.
Monopole Antenna
Monopole antennas are basically just a piece of wire (sometimes with a grounded shielding), where the exposed wire is the active element. It has the most simple antenna construction.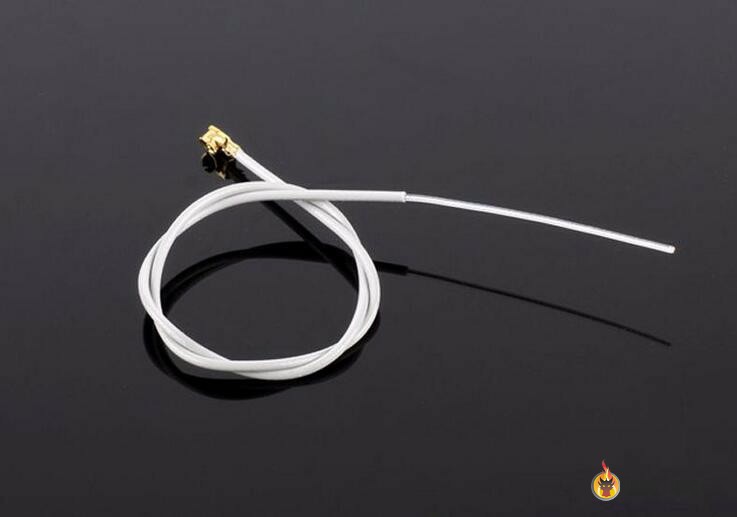 Most modern receivers have switched over to dipole antennas, but older receivers tend to use monopole antennas, such as the Frsky R-XSR. Sometimes it's also used in weight-critical applications, such as tiny whoop receivers where every gram counts (after all it's just a simple copper wire).
Monopole antennas have similar radiation pattern to dipole, it has the strongest signal on the side and weakest signal at the tip.
How to Mount Diversity Receivers Antennas
Single antenna receivers are aboslutely fine, but if you want more consistent/reliable radio signal I think diversity receivers are definitely the way to go. Check out the latest diversity receiver options for ExpressLRS. Make sure to get those with TCXO which has more accurate frequency.
Diversity receivers have two antennas, how you mount them depends on the application and how you fly.
Usually, you would want to them mounted perpendicular to each other (at 90 degree apart), so you can always get a good alignment with at least one of the antennas at all time.
But if you are mostly just cruising (no freestyle moves and acrobatics), I have found in my testing that mounting both antennas upwards actually gives better RSSI and more consistent LQ. But for freestyle and acro, it's probably safer to have one antenna pointing up and the other laying flat, which seem to perform better than having both at 45-degree to the horizon (90-degree apart).
For diversity receiver using monopole antennas, simply mount the two antennas at 90-degree apart, ideally pointing them upward for the reasons mentioned above.
It's also pretty common to lock a zip tie to each arm and to heat shrink each antenna to one of the protruding zip ties, this is easy and usually works fine for flying close range. The goal here is to have at least one of the two antennas stays in line of sight to the transmitter antenna.
Edit History
Oct 2018 – Tutorial created
May 2022 – Changed URL, updated post to include ExpressLRS receivers, added diversity receiver antenna mounting, added some more images for demonstration
Jan 2023 – Added data from diversity antenna mounting testing