We previously discussed how to dispose LiPo batteries, in this article we will talk about how to determine when to throw them out. Apart from physical damages, the most important factor is internal resistance (IR), which indicates the health and performance of the LiPo battery.
The Average Lifespan of a LiPo Battery – Discharge Cycles
If you are lucky enough not to damage your LiPo battery before its end of days, it should have an average lifespan of around 300–500 cycles according to Tattu – one of the LiPo manufacturers.
Of course this also depends largely on factors such as how much "abuse" you put your batteries through, and how you handle them on a daily basis.
A few hundreds of cycles might sound like a lot, but for us FPV drone pilots, it's quite likely that we crash and damage them way before we hit that number :)
But even if you have charged and discharge your battery over 500 times, you can still use it as long as you are happy with its performance and there is no visible damage. One of the biggest issues with heavily used LiPo would probably be the built-up internal resistance which causes bad voltage sag. Also they might not hold the charge that well when they get old.
Expiry Date?
LiPo batteries don't have an expiry date printed on them, but from my personal experience, new batteries almost always perform better than old batteries, even when they just sit there and not being used much.
I generally find batteries that are 12 to 18 months old to start showing noticeable drop in performance. I usually replace my batteries when they are around 2 to 3 years old, even when they might look completely normal on the outside.
It's helpful to label and date your battery packs when you first get them in.
Check Internal Resistance
One of the most useful battery health indicators would be internal resistance (IR).
As explained in my LiPo battery beginner's guide, IR determines how effectively a battery can deliver current to your quadcopter. Higher IR means lower performance, and more energy is wasted as heat, that's why it gets hot during charging and discharging.
For typical 1300mAh to 1500mAh packs (regardless how many cells), I would consider under 10mΩ to be in great condition, 10mΩ to 15mΩ to be fine, 15mΩ to 20mΩ to be a little old, and over 20mΩ to be "time to retire".
If one of the cells in your battery has noticeably higher IR than the rest (e.g. 100% higher), it's probably not a good idea to keep using it, I'd probably throw it out because that problematic cell will supply less current and heat up more than it should during usage. If you have a cell imbalance issue after every flight, this might be the reason too.
How to Measure IR?
Almost of all modern LiPo chargers these days can measure IR. for example the iSDT Q6 and TookitRC M6. IR of each cell is displayed on the screen when you charge the battery. If you are getting a charger I strongly recommend getting one with IR measurement.
When measuring internal resistance, you should try to keep all conditions constant, because several factors can affect your IR readings, such as:
Capacity of the battery
Quality of the cells
Chemical properties
Age (number of discharge cycles)
Temperature
Measuring equipment
Voltage of the LiPo
Discharge rating
IR depends on the size of the cells (i.e. capacity). Larger cells have lower IR inherently. For example, when you parallel charge, the IR will appear lower than when you charge those batteries individually.
Note that IR increases at lower temperature, that's why LiPo batteries perform worse in the winter, and it helps to warm them up in your pocket before flight.
Physical Condition
A visual examination of your LiPo battery can help determine if it should be retired.
LiPo batteries used on drones can easily become deformed in a crash since they are exposed on the outside. It's risky to use dented batteries, especially during charging.
Further Reading: Here are some tips to protect your LiPo batteries from physical damage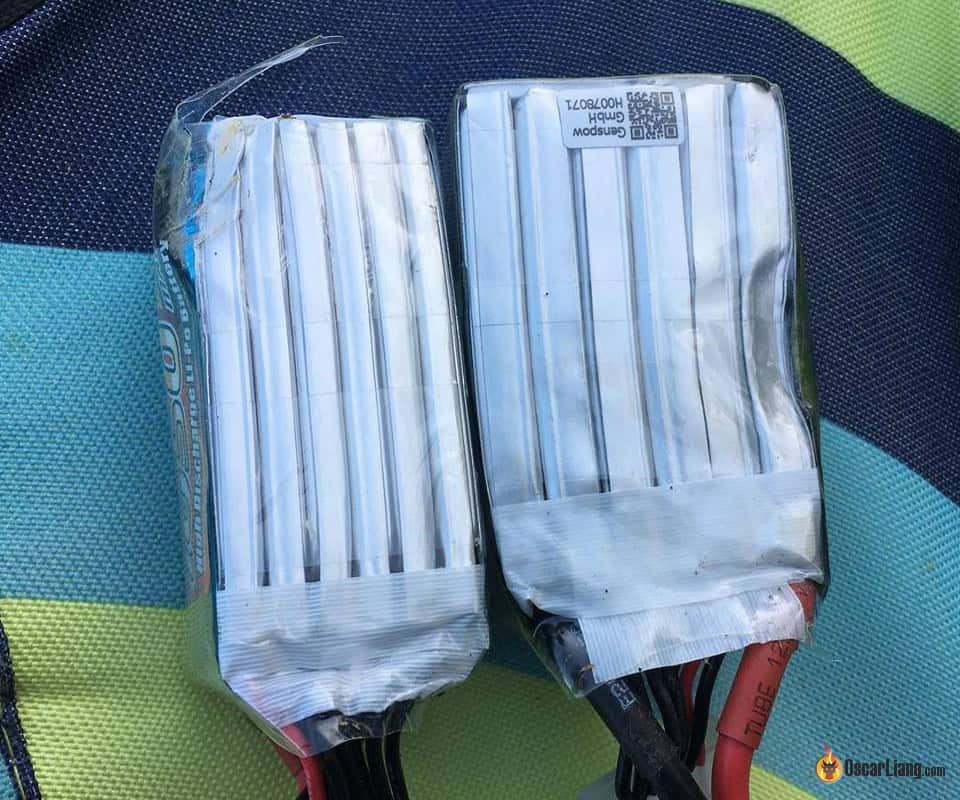 Your batteries can also become "puffed" after some abusive uses, or when they are getting old.
Unbalanced Cell Voltages
It's pretty normal that the cell voltages are slightly different after a flight, e.g. 3.55V, 3.59V, 3.61V. The point being, they should all be within reasonable range.
When the internal resistance of particular cells are wildly higher than the rest, the voltage always end up unbalanced after flight, it will put more stress on other cells. Higher IR cells also generate more heat during usage.
Pay Attention to Performance
Battery performance decreases when they get older:
Not holding charge, voltage drops after charging, and flight time reduced
Voltage sag is noticeably worse
Another thing to keep in mind is the temperature of the LiPo after a flight. If a battery is getting way hotter (can't hold it in your hand for more than 10 seconds) than others, it's also a sign of aged battery.
Check Temperature While Charging
Battery getting warm during charging (charging at 1C) is an extremely important sign that your battery has a problem, and you should stop immediately. LiPo batteries shouldn't get noticeably warm when charging at reasonable rate. The common cause is internal short and it can be extremely dangerous.
"Is My Battery Still Safe to Use?"
If you ever ask yourself this question, the answer is probably no.
If you handle a healthy battery properly, it should never set on fire. But when you have a battery with a dented corner, or one of the cells with unusually high IR, the risk increases exponentially.
Nobody can tell you if a battery is going to explode, but would you risk your house over a damaged $20 Lipo battery?
Edit History
Sep 2017 – Article created
Nov 2018 – Added effects of high IR and comments about "check bat temp while charging"
Mar 2019 – Added "is my LiPo still safe to use"
Feb 2020 – Added "how to measure IR"