Enable the "Remote Registry" service of the remote computer
Right click on "My Computer", go to Computer Management, Rgith click on Computer Management and remote to another computer, Alternatively you can type services.msc in Run, and connect to the remote computer. You should be able to find "Remote Registry" in Services
In the console pane, right-click Remote Registry and click Start.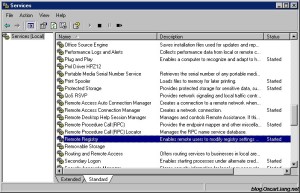 Some of the links on this page are affiliate links. I receive a commission (at no extra cost to you) if you make a purchase after clicking on one of these affiliate links. This helps support the free content for the community on this website. Please read our Affiliate Link Policy for more information.
Now you can go to RegEdit in Run, and connect to your remote computer and do your stuff.