Wanna get a tiny whoop but without the ducts? Check out the Flywoo Firefly 1S Nano Baby Quad, not only it's faster and more powerful, it's also super efficient giving you 8+ minutes of flight time on a single battery!
Some of the links on this page are affiliate links. I receive a commission (at no extra cost to you) if you make a purchase after clicking on one of these affiliate links. This helps support the free content for the community on this website. Please read our Affiliate Link Policy for more information.
Where To Buy?
Update (Jun 2023): there's a new version, check it out here, Review: Flywoo 1S Nano Baby Quad V2 DC16 / FR16 / Walksnail / Analog
There are 3 options when it comes to receiver: SPI Frsky (D8/D16), Crossfire and 2.4GHz ExpressLRS.
Note that the lipo battery is not included. Flywoo recommend 1S 450mAh and they send me one for testing. Check out what batteries I have tested and recommend here.
Specs of Flywoo Firefly 1S Nano Baby Quad
FC: GOKU Versatile F4 5-IN-1 1S AIO FC
250mW VTX
Optional Receiver: Frsky / ExpressLRS 2.4G / TBS Crossfire
Motor: ROBO 0802.4 16500KV or 19500KV
Gemfan 40mm bi-blade propellers (1mm shaft)
Camera : Flywoo 1S Nano Camera
1S LiPo Battery
Weight: 21.9g (without battery), 34.7g (with 1S 450mAh)
Here let me introduce you the flight controller and receiver used in the Nano Baby Quad.
Flywoo Versatile F4 1S 5in1 FC
Get this FC separately here:
Specs:
Input Voltage: 1S LiPo
BetaFlight FC Firmware: FLYWOOF411FR
MCU: STM32F411CEU6
Gyro: MPU6000
Built-in BetaFlight OSD
2 UARTs (Uart2 is used for VTx control, so actually just one spare UART)
Current Sensor: yes
Buzzer pads: yes
5Ax4 BLHeli_S ESC
Built-in VTX:

Switchable VTX Output Power: 25mW / 100 / 250mW
VTX Control: ImmersionRC Tramp

Stack Size: 25x25mm
Dimensions: 35x35xmm
Weight: 4.2g
Cool features of this AIO board:
designed for tiny whoops and tiny 1S quads
motors can be soldered directly to the board, it doesn't use connectors
it has built-in RX, however the RX is only SPI Frsky (D8/D16 compatible). You can still hook up an external RX to this FC as it has a spare UART, such as Crossfire or ExpressLRS.
it has a built-in VTX with 250mW output power
Antennas for both RX and VTX are removable – there are two IPEX connectors, the smaller one is for RX (Frsky SPI) and the bigger one for VTX antenna. If you are not using the Frsky RX, you can leave that antenna disconnected
the solder pads are small but nicely spaced out, so it should be easier to work with than most other whoop FC out there
Flywoo 2.4GHz ExpressLRS EL24E RX
Product Pages:
Cool features of Flywoo's own ExpressLRS RX
it's almost the same size and weight as the Happymodel EP2, which is super tiny!
it has built-in WiFi for firmware flashing
Device Category is DIY 2.4GHz, Device is DIY 2400 RX ESP8285 SX1280.
You can learn about ExpressLRS here.
Procedure of flashing and binding are exactly the same as all other ExpressLRS receivers. You can learn how to do it in my tutorial.
Closer Look at the Nano Baby Quad
It's basically a tiny whoop without those prop guards.
Although the difference is not huge, it actually benefits flight performance tremendously. The Flywoo Nano Baby Quad is slightly more powerful than a tiny whoop, and more importantly, it's super efficient. I am getting over 7 minutes of long flight time on 1S 450mah, and almost 10 minutes on 1S 650mah!
It comes with ExpressLRS receiver (2.4GHz), so you can actually bind it to any 2.4GHz ExpressLRS TX module (even different brands), including the Happymodel and BetaFPV .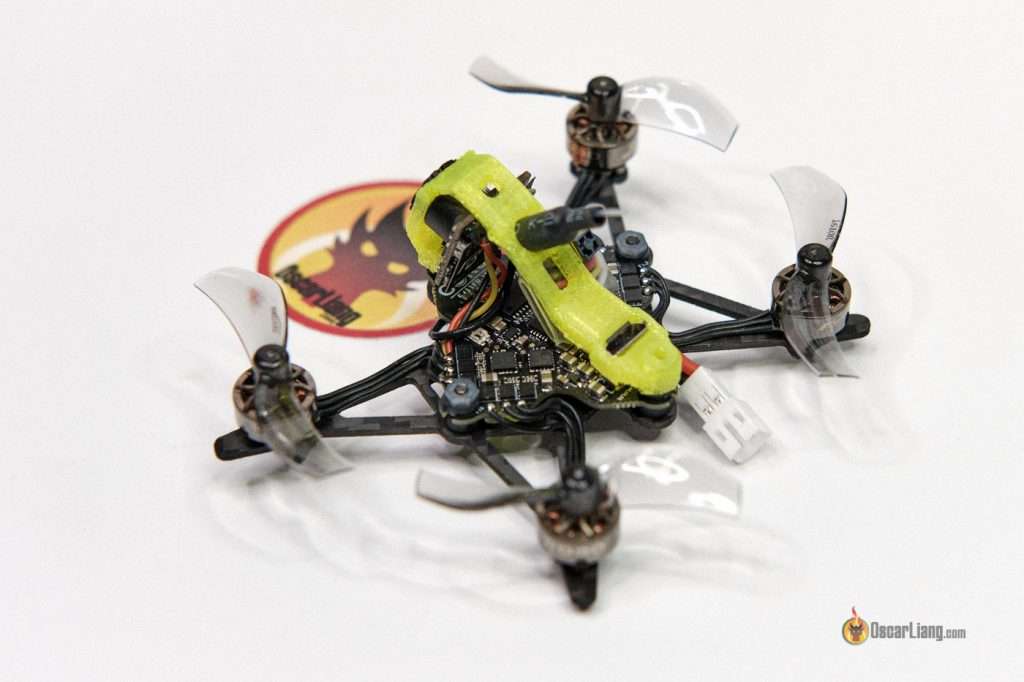 However the biggest bottle neck is probably the PH2.0 battery connector that has a bit higher resistance. It flies great  as it is but both performance and longevity will definitely benefit from something more robust. I would probably replace it with something like the BT2.0 connector, since I also have quite a few LiPo with that type of connectors anyway.
The frame is a deadcat design, which means the front motors are further apart than the rear motors, so you don't get the props in the camera's view.
The battery holder is 3D printed in TPU and it's a perfect fit for the battery they sent me (the 1S 450mah). However it's quite thin, and can wear out over time. Anyway I think you can replace it with just a rubber band.
The Flywoo Firefly Nano Baby Quad (what a mouthful) is absolutely tiny and quiet, perfect for flying in small parks. But beware it's still just like a tiny whoop, it doesn't handle the wind too well.
I think this quad is designed around flight time and efficiency, hence the use of two-blade props. Those props have 1mm holes , so make sure you get the right ones when buying spare. I do recommend getting some spare props as they can fly away in crashes, the fit on motor shaft isn't super tight.
Get spare props here: https://oscarliang.com/product-re23
The bottom plate is quite thin, at 1.5mm. It does flex a bit when you try to bend the arms but it doesn't seem to affect flight performance since it's so light. It's holding up well to a few crashes I had with trees and landed on grass.
How To Setup
FC Board Name: FLYWOOF411FR, pre-flashed with Betaflight 4.2.0. You can find the original CLI dump here.
Cool thing about this quad is that the ESC's are already flashed with BLHeli_S 16.80. I am not sure exactly which custom firmware they are using, but RPM filter is enabled out of the box, and possibly 48KHz too.
To setup it up, first of all, bind the quad to your transmitter. Because I got the ELRS receiver, so I had to flash the RX to the latest version first with my binding phrase. You can learn how to do this in my tutorial.
Device Category is DIY 2.4GHz, Device is DIY 2400 RX ESP8285 SX1280. For some reason when I flashed it via WiFi, it didn't want to bind to my TX although it came back with "flashing successful". In the end I had to flash it via Betaflight Passthrough for it to work.
Once it's bound and working (confirm in Receiver tab in Betaflight Configurator that the channels are responding to your sticks), you should make a few config adjustments.
In the Configuration tab:
change PID Loop Frequency to 4KHz (it was on 2Khz originally)
change ESC Protocol to DShot300 (from DShot600)
disable Motor_Stop
change motor poles from 14 to 12 (tiny motors have 12 poles, and 14 probably won't work well for RPM filter)
change arming angle from 25 to 180 (so you can arm the quad even when it's on unlevel surface)
Enable RX_SET under DShot Beacon, as it doesn't have a buzzer, this will help you find it after you crash
In Modes tab, assign switches to Arm, Beeper and Flip Over After Crash.
In OSD, choose whatever elements you prefer on the screen.
That's it! We are ready for first flight :)