Today I loaded up the Arduino Multiwii Quadcopter code on the Arduino Uno, and connected everything including  a Radio controller, the IMU, ESC and motors, it works straight away! It's so much easier than I thought.
Some of the links on this page are affiliate links. I receive a commission (at no extra cost to you) if you make a purchase after clicking on one of these affiliate links. This helps support the free content for the community on this website. Please read our Affiliate Link Policy for more information.
The reason I am using the Arduino as a flight controller was my KK2.0 was totally damaged in the last crash. Luckily everything else apart from the flight controller and frame is fine!
So I decided rather than buying a new flight controller, I might try to dig out a spare Arduino board to make one myself. Since there are already so many open source Arduino projects for quadcopter, it's not difficult at all to setup one. It's not a new thing at all, and they are very well documented as well. But since building a quadcopter isn't a straight-forward task, it does take time and effort to read and learn things.
I basically followed this diagram from the Arduino Multiwii website  to connect everything.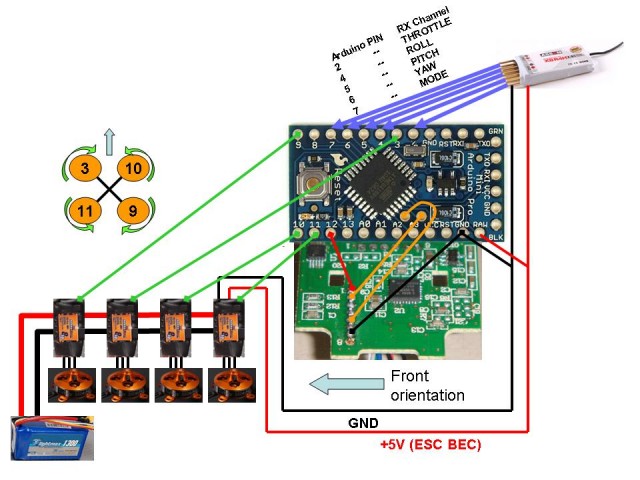 Here is the result.
The motors are controlled correctly, and also response to the IMU as well! I might actually mount the propellers on it and have a test hover flight this week.
For the start, I might just use Multiwii software, later on I might try writing one myself.