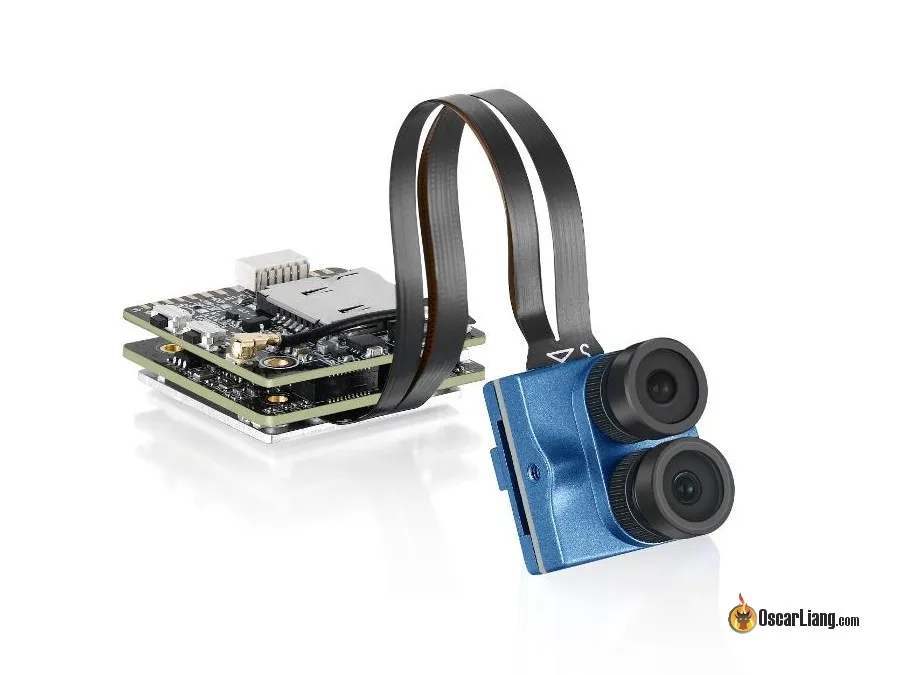 After using the Caddx Tarsier 4K camera for a while now, here is what I think. I am going to keep this review brief and go straight to the good and bad things I noticed while using it.
I am testing the camera in the Beta85X 4K Whoop (review), so thanks to BetaFPV.
Buy the Caddx Tarsier 4K Camera from here: http://bit.ly/tarsier-4k (currently on sale)
Dual Cameras
I am sure 99% of the people who are interested in the Tarsier because of the dual cameras.
At first I thought the dual camera setup looks cool and could be some fancy stabilization technology, which is widely used on smartphones. But not really, the top camera is for HD recording while the bottom camera is used for the FPV feed.
This is essentially a 4K HD camera sitting on top of an FPV camera, this ensures low latency with better FPV image quality. I do like how the FPV image looks, especially WDR and light handling. It's better than the Turtle and the Split, because their FPV feed is shared with the HD recording. I will upload some FPV footage shortly.
But the extra camera means extra hardware, and that's why there are two PCB's.
What You See Isn't What You are Recording
With Split style camera with only 1 lens, like the Runcam Split or Caddx Turtle, what you see in the FPV goggles is exactly what you are recording in HD. However, with the Tarsier, that's not the case since now there are two separate cameras.
If you are shooting very close to an object, the HD video will appear to be shooting at a higher angle than what you see in the goggles. That's not a problem though when you are shooting from a distance. But still that's a bit annoying as you have to constantly remind yourself of this when flying.
And the vertical FOV in HD seems to be significantly smaller than that in FPV feed. I guess he top and bottom of the frame are cropped in order to fit the 4:3 frame in a 16:9 aspect ratio.
Mounting Requirement
The Tarsier takes a lot of space to install due to its bulky dual-PCB design. The mounting holes are 20x20mm, so for the majority of builds that uses 30x30mm or 16x16mm FC stack will need some sort of adapter.
Make sure to mount the camera in a rigid frame/bracket to avoid jello in the HD footage.
Convenient WiFi App
The Tarsier has built-in WiFi and you can connect it to a smartphone to change settings, just like the Runcam Split 2. First you have to download the CaddxFPV app and I really like the APP design. Settings include ISO, Video Encoding, Brightness, Contrast etc…
Blurry Flying Video
The image is quite sharp when holding the camera in my hand, but it loses sharpness noticeably in flight when recording in 4K 30FPS. The blurriness gets even worse if your quad has oscillations and wobbles.
Using lower resolution (e.g. 1080p or 1440p) with higher frame rate seems to be an improvement, and footage appears to be slightly more fluid. But that defeats the purpose of the Tariser since it's marketed as a 4K camera.
ND Filter
Caddx made an ND filter (ND8) for the Tarsier: http://bit.ly/2xJOGiL
But why did they design it to cover both camera lenses? It makes no sense to dim or create motion blur for the FPV feed.
Split Huge Video Files
I tested the Tarsier using 4K 30fps with the highest bitrate. You have to set bit rate in the App, because by default it's using medium.
The video files are split every 3 minutes, with an average file size of 1.6GB. It will fill up your SD card really quickly, so you should get 64GB or larger cards.
Here is my SD card recommendation.
Sample Footage
Here are some demo footage of FPV, HD, with and without ND filter in 1080p:
Here is the raw 4K footage uploaded to Youtube: