In this article we will check out some upgrade parts for the Tiny Whoop from NewBeeDrone – the StingerVision FX798SC FPV setup, and Nitro Nectar Lipo batteries.
Some of the links on this page are affiliate links. I receive a commission (at no extra cost to you) if you make a purchase after clicking on one of these affiliate links. This helps support the free content for the community on this website. Please read our Affiliate Link Policy for more information.
Further Reading: Here are some of the best Tiny Whoops on the market.
StingerVision FX798SC Micro FPV camera With VTX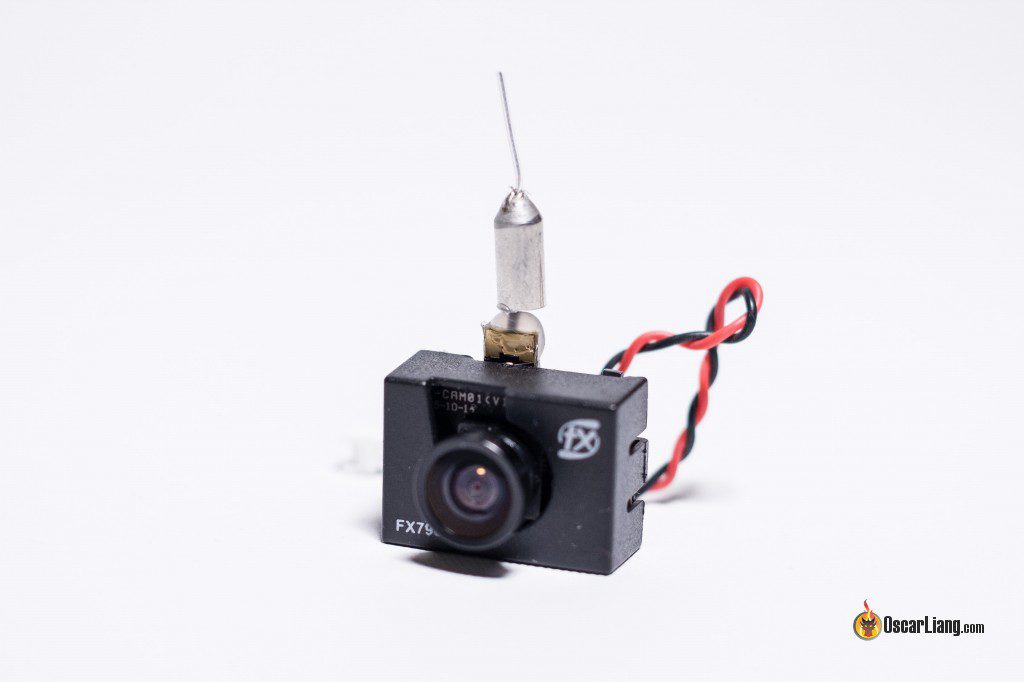 Stinger Vision FX798SC is a camera with video transmitter combo, it's available at NewBeeDrone.
Specification
Output power: 25mW
Input power: 2.5 – 5V
Field of view: 120°
Antenna dimensions: 20mm X 25mm diameter
Video output: NTSC
5.8GHz 5 bands 40 channels, with Raceband: 5658-5917MHz
Size: 17x20mm
Weight: 4.5g
The biggest difference from the highly popular FX797 and FX798 is the antenna. The FX798SC has a dipole whip antenna whereas FX797 and 798 have cloverleaf. Apart from this they look identical with the same dimension and weight. There is a drop of hot glue there to secure the antenna.
Testing video signal
I was flying a TinyWhoop with the StingerVision through my mini racing course located in my living room. After numerous crashes with chairs, walls and desk, I haven't noticed a single damage on the antenna. The Whip antenna coax is flexible unlike its counterpart, so it can take a lot more beating.
Video quality is very good, I didn't notice any image quality difference from the FX797 when flying indoor. At some point I had the impression that video signal was better, as the cloverleaf antenna on FX797 was already quite bashed up.
During the test outdoor, video signal was also pretty good. I didn't fly the Tiny Whoop too far out because it doesn't have a lost model buzzer. I was flying in-between trees and there was just a little statics on the video.
Short video clip from the forest:
Below is how bad the antenna has become on my FX797 after about month of use for reference purposes. Please ignore the dirty ducts, you can tell how much I fly this whoop :)
Despite having a protective cable tie above the cloverleaf antenna, every crash was taking its toll on it. All 3 lobes of the cloverleaf actually got ripped apart from the solder joint, and I had to solder them back together.
Nitro Nectar 210mah 35C 1S lipo
Tiny Whoop is such a fun and popular quad but only recently we start to see a few more lipo options surfacing to the market. One of them is NitroNectar 210mah 1S lipo which is available at NewBeeDrone.
I compared it to another popular lipo for the TInyWhoop from mylipo.de – 1S 205mah 25C. Both lipos weight the same at 6g exactly. NitroNectar has higher stated C rating of 35 than mylipo's 25C.
I was getting the same flight time on both MyLipo.de and Nitro Nectar, about 3:20 – 3:40 if I am not pushing the throttle.
The biggest difference between these two LiPo's was on punch outs. Nitro Nectar was clearly giving more punch on the throttle. This is probably due to the higher C rating (25C vs 35C), and it's very noticeable. The MyLipo.DE isn't that bad at all, but I definitely like the Nitro Nectar more.
NitroNectar makes a good battery choice for TinyWhoop. It's slightly cheape and more punchy than its competitor, yet still delivering good flight time.
However these batteries are not directly compatible with the Eachine E010, as the connectors are not the same type. You will probably need a converter cable to make it work.
Author: Artur Banach