Some mini quad motors are labelled CW and CCW, and it can cause a hell of a confusion for a lot of people in this hobby including experienced quadcopter builders. In this guide we hope to answer some of the questions with easy to understand diagrams.
Some of the links on this page are affiliate links. I receive a commission (at no extra cost to you) if you make a purchase after clicking on one of these affiliate links. This helps support the free content for the community on this website. Please read our Affiliate Link Policy for more information.
Update (Jan 2019): Motors used to have CW and CCW threaded shafts for mounting the props, but this is back in the days. New motors on the market does not have this distinction anymore, they all have the same thread direction, and you can disregard this article.
Basically CW (clockwise) and CCW (counter clockwise) motors are still the same motors, apart from the prop shaft threads which have opposite direction. That means for a CCW motor, the prop nut is secured by turning clockwise. And for CW motors, the prop nuts needs to be rotated anti-clockwise in order to fasten.
Some motors only supply standard direction thread, which is CCW; While some motors comes in pair of both directions, or you might be given a choice to choose which rotation you want when purchasing.
Prop nuts of different directions usually comes in different colour, such as black and silver for better user-friendliness.
Advantages of having different CW and CCW threads
So why having 2 different shaft threads and making it so confusing?
They call this 'Self locking', because on a quadcopter we have 2 motors spinning clockwise direction and the other two spinning counter clockwise. By using threads that are the opposite to motor spin direction, the prop nuts automatically lock themselves down and won't come loose.
However it becomes difficult to source spare prop nuts for both threads. And it also makes it confusing to which way we should turn to remove the prop nuts when changing propellers.
Prop nuts are basically M5 nylon nuts. In hardware stores, they are refereed to as right handed and left handed thread as opposed to CW and CCW.
Identify CW and CCW Threads
So basically if you can fasten the prop nut clockwise, then you have a CCW motor, for which you should get the Right handed thread nut (standard thread).
For CW motors, go for the Left hand thread nuts (reverse thread)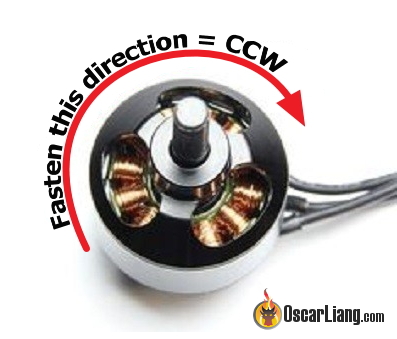 Where to install CW and CCW motors in a quadcopter?
To enjoy the benefits of CW and CCW motors, you should install them correctly, otherwise they will have the opposite effect.
Rule of thumb: Motor direction should be opposite to propeller spin direction.
For example, CCW motors should be installed on CW propeller rotation, follow this diagram.
And the left / right hand thread follows the right hand rule.