You can send RSSI via a spare channel in PPM or SBUS, and display it on your OSD (Betaflight OSD and MinimOSD). This trick applies to any Frsky receivers with telemetry, including the R-XSR, XSR, X4R-SB and the D4R-II.
Some of the links on this page are affiliate links. I receive a commission (at no extra cost to you) if you make a purchase after clicking on one of these affiliate links. This helps support the free content for the community on this website. Please read our Affiliate Link Policy for more information.
However one since the RSSI signal is PWM, a digital form, you need a low pass filter to convert it into analogue voltage level. I didn't use one and just connect them directly, it works, but the RSSI data is pretty inaccurate I must say. It changes very infrequently, and basically only jumps between 0 and 100.
Also RSSI pads on the receiver often tend to be very small and difficult to solder to.
Apart from getting this info from the telemetry port, I also recently found another way of getting RSSI value, which is more accurate, and no additional wire and soldering. If you are running PPM, and has a spare channel, you can assign this channel RSSI and send it back to your RX. Then you can configure your Cleanflight to recognise this channel as RSSI value. Finally you can setup the MinimOSD to get RSSI reading from Cleanflight, and display it.
The setup is the same for both Taranis X9D and QX7.
Configuration on Taranis – RSSI value in PPM Channel
First of all set up a input in Taranis.
I call it "rssi", and choose "RSSI" as the source. Leaving all other settings as default. Setting Scale to 100.
In Mixer, we choose a spare channel, in my case I chose Channel 7.
If you are not sure and don't want to upgrade firmware, just use 6 or fewer channels in PPM.
I name it "rssi", and I chose the input we just created which was also called "rssi" (it has an highlighted "i" icon before the name).
Note that a channel output should have range between -100 to 100. With default weight of 100 and offset 0, the RSSI  channel output will only be 0 to 100. Therefore I have made Weight 200 with offset -100.
We can now check the RSSI channel output. This is when the receiver is switched off, and RSSI iis 0% (output is -100)
And now if I turn on the receiver, we are getting a pretty strong signal.
Important Note! (12/07/2015) With Frsky D4R-II receiver, make sure you have the latest firmware installed to use more than 6 channel PPM. Basically with the old firmware, where the signal width was 18ms, it caused problems when you use more than 6 channel in CPPM. The new firmware resolved the issue by using 27ms signal width. Some shops sell the RX with new firmware, check with them first.
Configuration in Betaflight
We need to tell Betaflight/Cleanflight, that we are passing RSSI via a PPM or SBUS Channel.
In the Receiver tab, and choose the AUX channel you are using for RSSI. If you are using channel 8, then this will be AUX 4.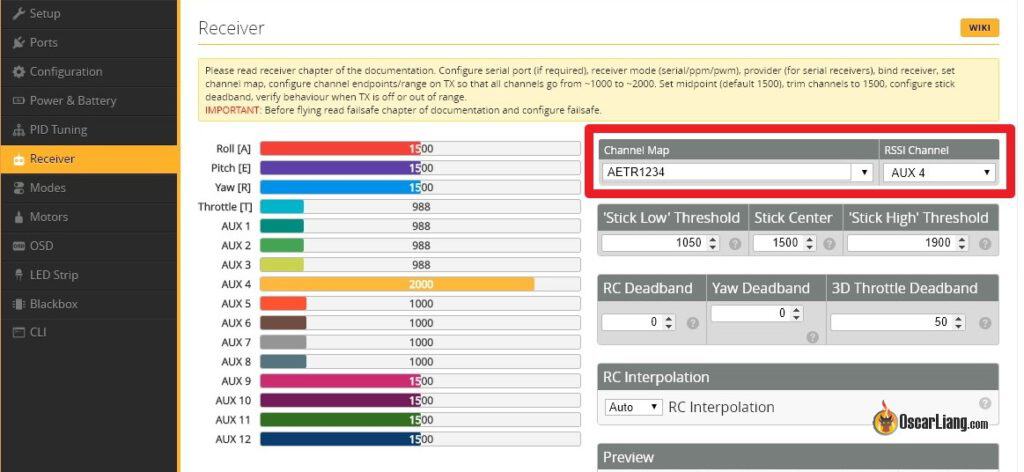 Once you have saved it and restarted the FC, and you should see the RSSI in the Setup page.
You can confirm this in the Receiver tab as well which is showing RSSI in PWM signal (1000-2000).
Displaying RSSI on Betaflight OSD
Basically you just need to enable "RSSI" in the OSD tab. Simple as that. Learn about setting up Betaflight OSD in this tutorial.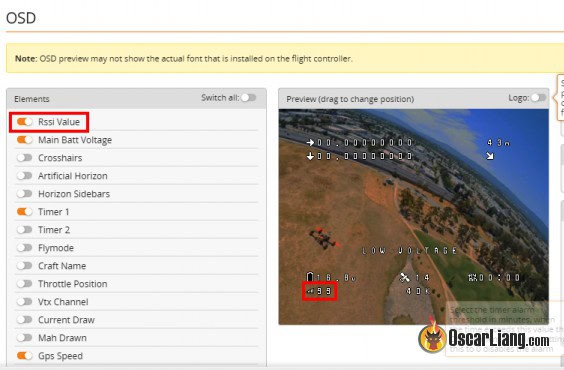 Warning: make sure failsafe for the RSSI channel in the failsafe tab in Betaflight is set to "set" to a value that indicates a signal lost (say 1000 which is equivalent to 0%). If you leave it on "hold" the RSSI value on OSD is going to get stuck on the last value before the failsafe. It might not even reset when you get your signal back.
Displaying RSSI on MinimOSD
If you are using MinimOSD with MWOSD firmware, you need to enable option "Use FC RSSI". Also RSSI Max has to be changed to 255, and Min to 0.
NOTE (16/Apr/2016): From MWOSD 1.6, the Max RSSI has been changed to 1023, no longer 255.
Important Note (Aug 2017): If you lose signal, your RSSI might get stuck at the last available value and does not change. You can lose RF link completely but still getting good RSSI value on your OSD. Here is how to avoid this problem:
Check on the receiver tab which AUX # your RSSI signal is.
After that go to the failsafe tab. All AUX channels are by default set to HOLD, they will just keep the last value when you switch off the radio. Set the correct AUX channel in failsafe to SET 1000 and save.
After this is done the RSSI will show 0% if your radio is off or when the link is lost.