In this tutorial we will have a overview on both normal size and Micro MinimOSD, how to configure and use MW-OSD firmware, connect it to Naze32 and RX, and firmware flash.
Some of the links on this page are affiliate links. I receive a commission (at no extra cost to you) if you make a purchase after clicking on one of these affiliate links. This helps support the free content for the community on this website. Please read our Affiliate Link Policy for more information.
What Are MinimOSD and Micro MinimOSD
MinimOSD is probably one of the most powerful, affordable OSD device for quadcopter and other multicopters.
The micro MinimOSD is much smaller but has exactly the same capability as the full size version. The MinimOSD we are referring to here is the one with KV Team Mod, which has soldering pads for RSSI, Current sensor, Voltage Battery monitor pins, so no extra soldering to the main chip required.
Buy the Micro MinimOSD from Banggood | Amazon
Although It's more complicated to setup than those standalone plug-n-play OSD, such as the Super Simple OSD or E-OSD, it can do lots of cool stuff, and the on screen display is extremely customizable.
Some of the great features includes GPS data display, customizable style and fonts, using the OSD menu to change your PID and rate settings by linking it to the flight controller etc. Here is an example of full flight data OSD.
Adjusting PID in OSD menu. :)
Dimension, Weight, Pin-out and My Space-Saving Soldering
Full Size MinimOSD
This OSD has been around for years. The good thing about this MinimOSD with KV Mod is there are pin-outs on the side for RSSI, current sensor, voltage sensor etc. In the old days, people had to hack it by carefully soldering directly to the micro processor chip, which was extremely difficult and painful. With this modified version MinimOSD, things get much easier. The one I bought is the latest version V2.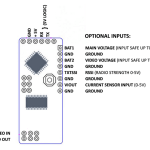 Dimension of MinimOSD with KV Mod V2: Width: 21mm, length: 43mm, weight: 5.5g (with pin headers soldered)
Micro MinimOSD
I am amazed by the micro form factor of this tiny OSD, yet it still obtains the capability of its full size predecessor. Except it doesn't have the 12V to 5V voltage regulator, which isn't used very often anyway due to historical overheat issues. So it was sensible to get rid of it and shrink the size down.
Check out this page for how much current it draws.
The micro version is roughly 1/3 the size and weight of the normal MinimOSD (with connectors).
Soldering Connectors
Soldering of the normal size MinimOSD is easy and straight forward. But as for the Micro MinimOSD, I didn't like the way how people normally solder it.
So I had a creative moment, and use 90 degree servo pin headers instead of straight, so I can save even more space when this little OSD is plugged in, inside the multicopter.
And finally wrapped it with heatshrink sleeve to protect soldering joints and wires.
Connection with Naze32, Battery, RX, Camera, VTX
Setting it up in my quadcopter was actually very straight forward. Here is how everything should be connected: Naze32 Flight Controller, LiPo Battery, Radio Receiver, FPV Camera, and Video Transmitter.
 [normal size MinimOSD – connection with Naze32, camera, VTX, RX, Battery]
And this is how to connect the micro osd system.
 [Micro MinimOSD – connection with Naze32, camera, VTX, RX, Battery]
FAQ 1 – Some people reported issues with OSD text disappearing when throttle up. Solution: connect all VTX/OSD/Camera to a common ground.
FAQ 2 – No OSD, only picture, or no Picture only OSD. Solution: Try to toggle PAL / NTSC in your OSD settings in GUI.
VBAT1 pin on OSD is connected to the main LiPo battery, to read the voltage level. RSSI pin is connected to the RX to get signal strength. (In this case, RX is the Frsky D4R-II, in CPPM mode, Pin 1 is PPM signal, Pin 2 is RSSI outputs)
By connecting the MinimOSD to the Naze32 through serial port (TX and RX), Naze32 can send flight data to the OSD, such as GPS data, quadcopter heading (compass data), changing PID with radio transmitter, and OSD menu and much more.
But be aware that the computer connection uses the same serial port, that means if you want to use Baseflight, or Cleanflight configurator, you will have to disconnect the TX and RX from the OSD first.
Without serial port connected, you can still run the MinimOSD as a standalone OSD, to just display RSSI and voltage data.
If you are using the Taranis in PPM mode, Check out this post on how to get RSSI info via a spare channel (without any extra wiring)
 How it looks like when connected inside my mini quad.
Config via MW-OSD GUI Software
There are quite a few OSD firmware available for the MinimOSD, my favourite one is the Multiwii-OSD (mwosd). The current version is 1.3, and the configuration software interface is very user-friendly. On screen display text is clean, firmware is more updated as it specifically supports Cleanflight and Baseflight. It also allows you to tune PID with OSD menu.
Connection between MinimOSD and FTDI Programmer
Either to configure it or flash firmware on it, a FTDI programmer is required. There are 5 pin connections required, DTR (GRN), TX, RX, 5V and GND.
Configuring MinimOSD with MW-OSD GUI
On the GUI, enable whatever flight data you need. Since I fly mini quad, all I need is battery voltage reading, RSSI, and timer. I use 4S lipo batteries, and voltage alarm is set at 13.6V (3.4V per cell, I should really set it higher). For 3S Setup, set voltage alarm at 11V should be okay. And my FPV system is in PAL format.
One thing that you need to play around to get right, is the battery voltage value. It's way off with the default setting, and you need to play around with "voltage adjust" value until you get the correct reading. Here is how I did it.
Default "voltage adjust" was 200, and the voltage was 21.0V on the OSD. I used a multimeter to check the actual LiPo battery voltage which was 11.1V (you can also use a voltage alarm with display).
Now lower "voltage adjust" to 110, and the voltage was 11.5V on the OSD. To avoid going forth and back, we can now safely calculate the exact "voltage adjust" we need using algebra, and the information we now have. :D We just need to know how much OSD voltage reading every 1 "voltage adjust" changes.
(21.0-11.5)/(200-110) = 9.5/90 = 0.1056
We know the correct voltage OSD should display is 11.1V, so the "voltage adjust" should be:
110 - (11.5-11.1)/0.1056 = 106.21 (106 would do)
Update (01 May 2015): just realized "voltage adjust" can now be changed in the OSD menu, so you don't need to connect the MinimOSD to the computer and open GUI to change it anymore. But if you are not using the OSD menu, you still need to use the above method.
Arduino as FTDI programmer for MinimOSD?
I tried to use my Arduino UNO board as a FTDI programmer as it worked before with some other devices. I managed to get it write/read settings to the OSD on the MW-OSD GUI software. However I was having trouble flashing firmware on it using the Arduino, I kept getting this error:
avrdude: stk500_getsync(): not in sync: resp=0x00.
It looks like a data sync issue, but I made sure I connected DTR to the RESET pin on the Arduino, not sure what more I can do, so I used my dedicated FTDI programmer in the end for firmware uploading, which works perfectly.
OSD Menu: Adjust PID and Rate settings, Voltage, RSSI
OSD Menu is my favourite feature of all, and that's mainly why I switched over from Super Simple OSD. There are so many parameters you can change without connecting to a computer. For example I can now change PID values in the field using my radio transmitter, no Bluetooth or computer required! However it still cannot change roll rate and pitch rate separately for Cleanflight, at the moment they are still linked. (in the latest Cleanflight firmware, the two rate values became independent)
To access the in-built OSD menu in MW-OSD, disarm your quadcopter first.
THROTTLE MIDDLE
YAW RIGHT
PITCH FULL
To navigate through menu in the OSD:
PITCH/ROLL sticks are used to navigate
YAW stick is used to adjust / change values
OSD Menu Index:
PID Config (Roll/Pitch/Yaw PID for many flight modes)
RC Tuning (RC Rate, RC Expo, Pitch/Roll Rate, Yaw Rate, TPA (Throttle PID Att)
Voltage (Display voltage on/off, Adjust Voltage, Voltage alarm, Cells)
RSSI (Display RSSI on/off etc)
Current (Display Amp on/off, Adjust Amps)
Advanced (Unit – Metric or Imperial, Signal – Pal or NTSC, Mag Calibration)
Display (On/Off switches for Horizon, Sidebars, Scrolling bars, Throttle, GPS Coordinates, Sensors, Gimbal, Map Mode)
Statistics (Trip, Maximum Distance, Max Altitude, Max Speed, Flying time)
Firmware Flash
Some sellers of MinimOSD flash the latest firmware for you, so you don't need to mess with the firmware flashing. But there are times when you want to update to the latest firmware, or want to try a different firmware. To check what version of firmware you currently running, hook up the OSD to your quad, you should see version number on start up screen.
It's described in great detail how to flash OSD firmware on each firmware project page. Here is a summary what I did.
Download firmware files.
Donwload Arduino IDE
Open firmware files with Arduino IDE
Change config tab to your needs
Connect FTDI programmer to MinimOSD / Micro MinimOSD
Compile and Upload sketch