OSD is a great addition to multicopter FPV flying. In this article we will look into what an OSD is and the benefits of using it. We will also cover how we connect an OSD to our FPV system, and finally we will go through a few popular OSD's and the features they offer.
Some of the links on this page are affiliate links. I receive a commission (at no extra cost to you) if you make a purchase after clicking on one of these affiliate links. This helps support the free content for the community on this website. Please read our Affiliate Link Policy for more information.
For more mini quad components suggestions, check out our mini quad parts list.
What is OSD and the Benefits
OSD stands for "On Screen Display". It basically overlays flight information onto your FPV video feed.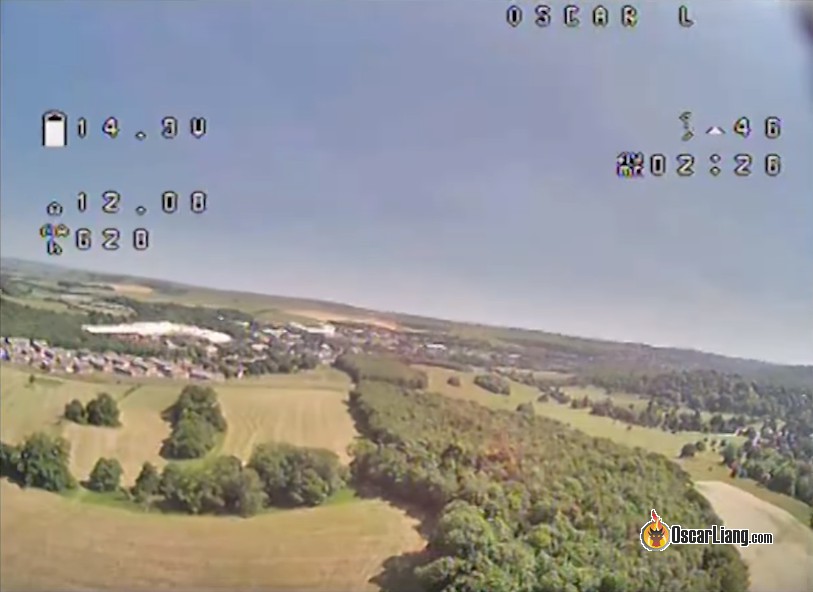 For quadcopters, OSD hardware can exist as an external device in the form of a small PCB board, or it can be integrated into another device, such as your flight controller, PDB or FPV camera. It allows you to monitor your quadcopter status in real-time while flying FPV.
You can display flight data of your choice on your FPV goggle or monitor (if they are available), such as battery voltage, how much current the quadcopter is drawing, your altitude, distance from takeoff point, GPS coordinates etc. OSD can make FPV safer if you know the status of your craft.
OSD is not necessary for FPV flying, but as you can imagine it's a powerful tool. I recommend at least get a simple OSD to display battery voltage to avoid over-discharging your LiPo, because as you fly further away, the low voltage alarm is harder to hear.
The types of data can be displayed on OSD
Here are some of the most common types of data that are displayed in an OSD.
Timer
Depending on the type of OSD you have, this could be "flight time" (from the second the multicopter is armed), or "on time" (from the second the quad is powered on).
Battery Voltage
This is the most basic and essential feature of an OSD, therefore nearly all OSD units support voltage reading. Battery voltage reminds the pilot to land before over-discharging the battery. Remember that LiPo batteries suffer from voltage "sag" so with high throttle inputs your voltage will drop quickly but will usually recover slightly when the throttle is returned to a lower level.
Current
With a current sensor you will be able to monitor how much current is being drawn from your LiPo battery, and the total mAh consumed during a flight. As long as your current meter has been properly configured, the total "mAh drawn" is actually a more reliable indicator than voltage for determining how much of your battery capacity you have used.
Further Reading: When to land a quadcopter?
RSSI
RSSI is the indication of your radio signal strength, usually displayed as a percentage in OSD. The further you fly away the weaker the signal will be, with this info you know when you should head back.
Warning
Some OSD allows you to set up alarms, to alert you when critical values are reached, such as the battery voltage level, or RSSI being too low and so on.
Flight Mode
Shows the current flight mode of your quadcopter. It's useful if you switch frequently between flight modes like manual, self-level or loiter mode, so you don't get confused what mode you are currently using.
GPS
By using GPS, not only do you get the coordinates of your drone, you also get altitude data (although it's more accurate with a barometer or sonar sensor). Thanks to some clever calculations, you can also get the ground speed of your multicopter, the distance from your take-off point, and home direction (A graphical indication to which direction you should fly back, a very helpful feature in case of loss of orientation)
Artificial Horizon
This is a virtual horizon, usually displayed as a line in the center of the screen (when your craft is level) to help the user with roll axis balance. The horizon line is determined by the attitude of the craft using the accelerometer. However some acro pilots prefer to disable the accelerometer, which will also disable virtual horizon.
OSD Connection with Camera / VTX / Flight Controller
The connection of OSD depends on which of the following types the OSD is:
External/Standalone OSD
FC dependent OSD
Hybrid type (can be connected to the FC or used as a standalone OSD)
OSD integrated in FC/PDB
OSD built-in FPV Camera
External OSD
A standalone OSD doesn't talk to the flight controller, and only connects between the camera and VTX. It might also connect to GPS and other sensors directly if supported. A good example would be the Skylark OSD (GPS/Current Sensor) or Super Simple OSD.
FC dependent OSD's rely on data supplied by the flight controller, they usually are passed through a serial port (RX / TX). On its own the OSD does nothing apart from overlaying text on the screen. The MinimOSD from Hobbyking is a good example. One advantage of this type of OSD is, while OSD is getting flight data from the sensors on FC, the sensors can also be used by the FC to assist flying. A standalone OSD system, sensors/GPS connected to OSD are not shared with the flight controller.
Hybrid type OSD can be used as a standalone OSD or connects to the flight controller for richer range of flight data. The MinimOSD with KV team Mod is a good example: when used as standalone, you can display RSSI and voltage. But when used with a flight controller with GPS connected, you can display flight mode, GPS data, altitude and so on.
Here are some connection examples.
Simple Connection Example – Standalone OSD
As an example, this is the connection of Hobbyking Super Simple OSD, with FPV camera, video transmitter VTX, and a 3S LiPo battery. You can monitor a second battery with Bat2 port.
Advanced Connection Example – Hybrid OSD
Note that with this MinimOSD, battery voltage reading and RSSI are measured right on the OSD, although it's also possible to connect both of these to the FC instead, and pass this info via serial port, both ways work just fine.
Of course you can also connect a GPS module to the Flight Controller if you want GPS data like coordinates, home distance, home direction etc displayed on your FPV video.
FC Integrated OSD
This type of OSD is widely used in Betaflight flight controllers, and the connection is much simpler. Here is a detail guide to setting up Betaflight OSD.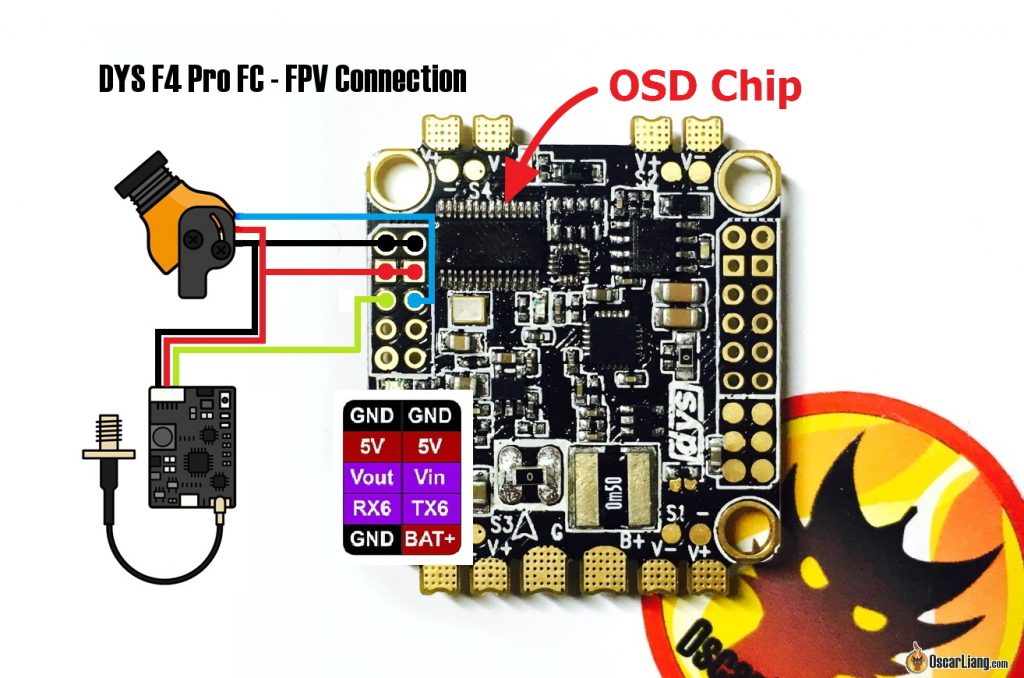 OSD built-in FPV camera
Often the built-in OSD in FPV cameras can only display LiPo voltage and timer.
OSD's that I have Tried
Betaflight OSD
If you fly mini quad and love Betaflight firmware, you cannot go wrong with this. The integrated OSD saves you from wiring nightmare and hassle of flashing the OSD firmware.
Here is a detail guide to setting up Betaflight OSD.
MinimOSD
MinimOSD is a powerful device and used to be my favorite before FC integrated Betaflight OSD came out. With the correct firmware installed, it can be used with many different FC including the Naze32, CC3D, Multiwii boards, APM and PixHawk. It's very powerful as it can display literally any flight information as long as it is available.
With the latest firmware, you can even tune your PID with the OSD menu. Here is a tutorial on how to setup MinimOSD with Naze32.
MinimOSD Micro
Basically the same OSD as the MinimOSD but in a much smaller form factor. Be aware that it doesn't have the 12V to 5V voltage regulator though. People tend to power the MinimOSDD with 5V anyway due to regulator overheating issues. You can flash and program MinimOSD with Arduino.
BrainFPV
BrainFPV is a flight controller that has built-in OSD system, which can be configured through the FC software client. it's perfect for those who don't want to mess with wiring, and desire a clean, compact FPV system.
Skylark OSD
The Skylark OSD is a standalone GPS OSD system. It can display GPS (coordinates, home distance, altitude, speed), current, battery voltage, timer.
It was one of the first OSD systems and I used (with the KK2 FC a long time ago). It was a great option as I was looking for an OSD that didn't need to connect to the FC, yet was capable of showing GPS info. Skylark OSD did the job well, and it usually found GPS satellites within seconds. The OSD system comes with a GPS module as well as a current sensor.
I only moved away from it as I started flying mini quad. It's simply too bulky for small size models.
Super Simple OSD
Like the name suggests, it's super simple to connect and setup, and does the job well. It's one of the very few simple OSD's that is rated up to 4S (2S-4S ), though the accuracy is not as good as the E-OSD (which is only rated up to 3S). It can only display battery voltage and timer.
Hobbyking E-OSD
I would recommend this OSD to anyone who wants a simple solution when running 2S-3S on your multicopter. It's also "hack-able", by flashing it with customized firmware, you can display RSSI data with the secondary battery input (BAT2). However it is only capable of displaying battery voltage and timer.
Edit History
Jun 2015 – Article created
Aug 2017 – Updated info – Betaflight OSD
Aug 2018 – Edited