Here we have the Speed Addict Racing Mini Quad frame from Catalyst Machineworks, which was only released on 3rd of August 2015. I got really excited when I knew this frame comes with a GoPro/Mobius protective cage, since I am a camera destroyer :)
Some of the links on this page are affiliate links. I receive a commission (at no extra cost to you) if you make a purchase after clicking on one of these affiliate links. This helps support the free content for the community on this website. Please read our Affiliate Link Policy for more information.
Get your Speed Addict FPV Racing Frame from Catalyst. See here for build log of this frame.
They made an improved version of this frame, check out my updated review.
Features!
With over 30 different mini quad frames out there, what is special about this frame? I found these features interest me the most.
Multi-configuration: convertible between 265mm Mini Quad, 330mm Mini Hex and 320mm Quadcopter.
GoPro/Mobius Camera protection cage
FPV Camera protection mount
Comprehensive assembly manual
For a full list of features and specification, go check out Speed Addict frame product page. Now let's dive into the detail.
Frame Overview and Assembly
This is a "Speed Addict FPV Racing Frame" full kit, which includes parts for all 3 configurations: 265mm quad, 320mm quad and 330mm hex. You can choose which particular configuration you want for a cheaper price.
There are also the antenna holder and tilted motor mounts, which can be purchased separately as accessories.
The frame is made from high quality carbon fibre and some 3D printed parts. The standoffs are black aluminium which is light and strong.
The arms are just under 3mm thick. The thickness of body plates are 1.5mm.
In picture 3 below, the first arm is for the 265 quad, second arm is for the 320 quad, and the 330 hex uses both second and third arms.
The provided manual for assembly is excellent, lots of super clear diagrams and the instructions are concise. Took me only 20 mins to learn and put this thing together, I am sure most of us can do it quicker.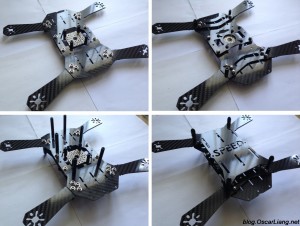 Camera Protection Cage and FPV Camera Mount
It's always been a concern to people who use HD camera such as the GoPro or Mobius on a Mini quad. As often seen they are mounted on the top of the frame, in a crash these cameras will inevitably take some impact.
I personally have smashed 2 GoPro LCD screens, one of them is even completely dead. It really hurts as they are expensive. I really like the idea of a camera protection cage. And what's even better on the Speed Addict frame, is the anti-vibration dampers in the camera cage.
Putting GoPro Hero4 Camera in the cage.
And it's also compatible with the Mobius/Runcam HD camera, with some different 3D printed mount.
The camera mounts have a fixed angle of 20 degrees. It's disappointing that you can't change it. I guess you could 3D print one yourself if you need a smaller or larger angle.
I wish they have made the cage just a little bit wider. I found it just a bit too tight for the GoPro with LayerLens. It fits, but the Layerlens bangs on the cage standoff as the quad shakes. The circular GoPro official protection lens works fine.
Just bear in mind that because of the position of the cage and camera, the LiPo battery has to be placed far back to maintain a good COG. Otherwise your front motors will run a lot harder than the rear motors, and causing instability to your quadcopter.
I really like the design of the FPV camera mount. It's easy to install, and the camera is well protected. But unfortunately  you can't change the tilt angle and it's the same as the Gopro cage that has a fixed angle of 20 degrees.
Or you can replace the FPV camera mount with one of these camera that comes with a swivel mount.
Multi Configuration Frame
This is a very unique feature on the Speed Addict frame. The small form factor 265mm mini quad configuration is probably my favourite. However it's not a lot lighter than the other 2 larger config. It still weights 225g with the frame alone.
Frame designer Neill reminded me that the ESC tray and camera cage can be removed to reduce weight.
265 Quad base weight = 190 grams (same of the new ZMR250 V2 and Zuul Superbeast)
265 Quad with FPV cam cage = 200 grams
265 Quad with ESC tray and FPV cam cage = 225 grams
This frame can be turned into a 330 mini hex, by replacing longer arms and adding two middle arms. The frame weights 290g, and it fits maximum 6′ props.
It can also be converted into a larger quadcopter (320mm), which allows you to run 7 inch propellers. This configuration weights 241g.
Antenna Holder and Tilted Motor Mounts
Antenna holder is not compulsory but it makes your build look slicker, and protects your antenna well in crashes.
The motor mounts offer 11 degree tilt, which is really great for those who fly fast. With these motor mounts you can see better what's in front of you in a full throttle flight, rather than just ground.
With the 20 degree tilt on the cameras, I could fly just fine without the motor mounts. In fact I was in a bit of trouble landing when I was using the tilted motor mounts. I couldn't see the ground at all when levelled ! :D
Final Thoughts
Definitely a high end mini quad frame, very good quality and very strong. The convertible frame configuration gives you much flexibility, if you want to try a different config you can just buy additional arms for it rather than a whole new frame. I know the camera protective cage is not 100% guarantee of the safety of your camera, but it just makes me feel much more confident to fly faster.
There are many small, thoughtful details in this frame that make building/setup easier, such as the ESC tray and the 3 holes on the top plate for VTX antenna.
However there are a few things I think can be improved on this frame:
The tilt angle of FPV camera and Gopro/Mobius is not changeable.
Frame is pretty heavy for a mini quad, especially if it's for racing.
Maybe Arms can be made 4mm? I haven't crashed hard enough to break one, but I am sure many people would be concerned 3mm might not be enough, maybe 4mm arms can be offered as an option in purchase.
With the GoPro and camera cage installed, it gets really heavy at the front and requires the LiPo to sit far at the back, to keep COG in the centre. I guess this is a common issue for all the mini quad frames that has a Gopro cage like this.
Even the ZMR250 has dedicated PDB now, which makes building so much easier! I think Catalyst can look into developing a full PDB for this Frame.
Wider camera cage for some GoPro protective lenses such as the LayerLens.
The owner of Catalyst, Neill, is truly passionate about his products. He is extremely helpful, so if you have any question about this frame, just drop him an email on info AT catalystmachineworks.com