Spent one whole day building this new Catalyst Speed Addict Racing Quad! And it looks absolutely fantastic!
Some of the links on this page are affiliate links. I receive a commission (at no extra cost to you) if you make a purchase after clicking on one of these affiliate links. This helps support the free content for the community on this website. Please read our Affiliate Link Policy for more information.
Check out my review and assembly of the frame.
Components of My Speed Addict Racing Mini Quad
I will be building this racing quadcopter frame with the following parts:
RotorGeeks RG20A Opto ESCs with BLHeli 1.4 firmware
RotorGeeks 5V BEC for RX and FC
Boscam TS832 32ch 5.8Ghz Video Transmitter
Sony Super HAD 600TVL FPV Camera
Hobbyking SuperSimple OSD
Frsky D4R-II Radio Receiver
Gemfan 6045 Propellers and HQ6045
4S 1800mah 65C Lipo
Naze32 Flight controller with Cleanflight 1.9 firmware
Some flights with this frame!
09 Aug 2015 – Sheepcote Time Trial Racing
Still got a bit of jello in the video, I need to work on how to mount the GoPro camera on this new frame!
But this new build is so bloody fast and locked in! I feel like the RotorGeeks ESCs gives the motors a better punch at full throttle, than the Blue Series ones, despite they are on the same BLHeliSuite settings.
30 Jul 2015 – FPV Meetup
My first ever test flight with this frame. Very smooth on a calm day, even though I was just using the cheap Gemfan 6045 props. PID was completely copied from my EVO250 build, and it just works! Maybe still need to tweak pitch axis a bit more. But i am very happy with the result!
https://www.youtube.com/watch?v=o0VlvGfd7EA
Practice Session
https://www.youtube.com/watch?v=RPPSWPo7zq4
Current PID and rates
Still working on optimal values, come back later!
Let's Start Building!
Traditionally I would put the ESCs on the arms, for better cooling. But this time I want to test the ESC tray that comes with this frame, so I am putting them under the frame. Also a good chance to test the limit of these ESCs. :)
I am installing the 11 degree tilted motor mounts, just to see how they performs. But in the end I have to take them off. Don't get me wrong, they are great! The extra 11 degree tilt really gives you the freedom to go faster and still have the horizon in view. But it's a bit too much for me, and I was having trouble landing as I could not see the ground at all as I level the mini quad.
And I think I am doing a pretty good job with the wiring lol.
And I am using a voltage regulator to get 12V along with a LC filter to clean up the power for my FPV gear. Next picture shows the installation of FPV camera.
I am putting 1 LED strip under each arm, so when I fly forward and the quad is tilted, my fellow pilots can see me from behind, so we don't crash into each other. These LEDs strips are recycled from the ZMR Diatone PDB, they support up to 4S.
I am putting both video transmitter and radio receiver on the top plate, and using jumper cables to connect them to the electronics on the main frame.
One thing we need to be aware of is the position of the LiPo which need to stick out to the tail of the frame in order to get a good COG balance. If you are not using the GoPro camera cage, then this shouldn't be a problem for you.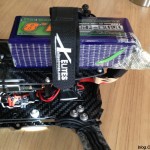 And there we have it! I went for the full frame setup which the frame weights 220 grams. But that doesn't seem to affect my speed much.