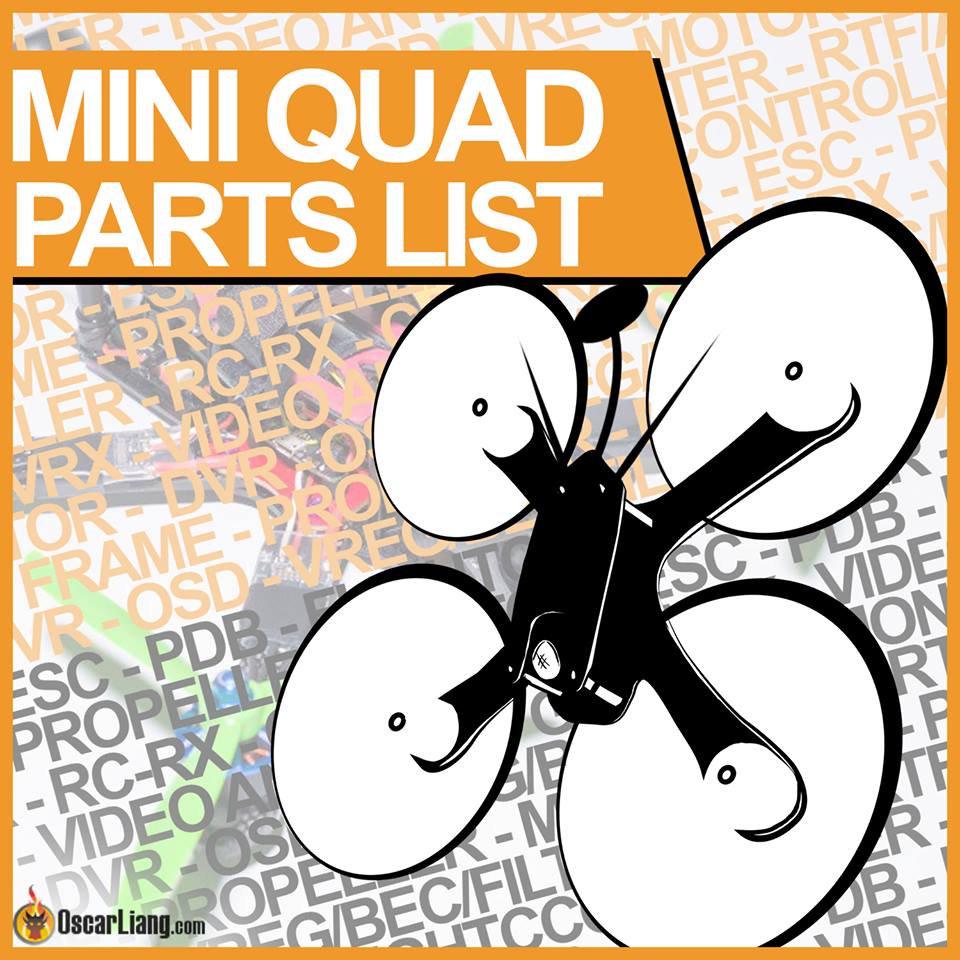 In this post I compiled a list of parts and brands for FPV mini quadcopters, that runs 5″ or 6″ propellers (aka Racing Drones). It's an awesome time-saver for your research of next mini quad build, and keeps you updated on all amazing parts .
The Almost Complete 250 Mini Quad Parts List
Are you interested in and new to mini quad? Make sure to check out this drone racing guide first.
New products are added on a monthly basis, so make sure you come back to check regularly. I will try my best to maintain and keep this list up to date, if you spot any missing products that worth mentioning, please let me know on this forum section.
New products are added to the bottom of the list. I also remove parts that no longer available.
FPV Drone Racing is an fast growing market. It becomes increasingly difficult to keep track with new mini quad products that get released everyday. Hopefully this guide can help you stay up to date with the latest in the industry.
Updates History
Dec 2014 – Created this article
May 2015 – Some edit
Nov 2015 – Some edit
Mar 206 – Added 20+ new products
Aug 2016 – Added 100+ new products; Removed 30+ obsolete products
Frame – Mini Quad Parts List
A good frame should be crash resistant, rigid, easy to build and have well thought-out design. By carefully choosing a reliable frame can give you an enjoyable building experience, keep your downtime to the minimum, and save you money getting replacement parts. It does not only protect your electronics inside, but it's also closely related to flight performance.
To learn about the basics of mini quad frames, I've written a guide for it.
Here are a list of popular racing drone frames, from the cheapest, to the more expensive ones. Some frames might not appear in this list, or get removed if they are out of stock for a long time. There is information about price, material (arm thickness), size, and weight.
Flight Controller
The standard size of racing mini quad flight controllers are 36mm x 36mm (30.5mm mounting holes). Here is a list of flight controllers that are known to work well with mini quads. For a more detail comparison chart, check out this post about how to choose flight controller, and read about the difference of F1 and F3 boards.
Firmware
For majority of the FC's run Cleanflight and Betaflight (F1, F3 and F4). Raceflight is mainly run on F4, although it does support F3 as well. Kiss FC runs Flyduino's own firmware, and it's recently supported by Betaflight.
BrainFPV RE1 FC runs dRonin which is a fork of OpenPilot (LibrePilot) like Taulabs, however it now supports Betaflight too.
| | | | | |
| --- | --- | --- | --- | --- |
| Name / MCU | Picture | Price | Features & comment | Review URL |
| Naze32 Rev5 Acro F1 | | $25 | The most popular F1 FC, but outdated not recommended | Oscar |
| Naze32 Rev5 Full F1 | | $50 | Same as Naze32 acro, with extra mag/baro sensors. Outdated. | |
| Naze32 Rev6 F1 | | $20 | MPU6500, Built-in SBUS Inverter | |
| CC3D F1 | | $32 | | Intro, RCG |
| Flip32 F1 | | $25 | Clone of Naze32, a little cheaper | |
| Mini APM | | $40 | Minature version of APM FC | DIYDrones |
| BrainFPV F4 | | $130 | Built-in OSD, only runs Taulabs software | Oscar |
| Serious Pro Racing SPRacing F3 | | $65 | Designed by Cleanflight Developer | |
| Motolab Tornado F3 | | $29 | | |
| RMRC Seriously Dodo F3 | | $50 | | |
| Revo F4 | | $57 | | |
| Sparky V2 F4 | | n/a | | |
| KISS FC F3 | | $35 | Runs ustom FC firmware by Flyduino | Oscar |
| SPRacing F3 Mini | | $60 | | |
| Skyline32+OSD FC | | $30 | integrated OSD | Oscar |
| XRacer | | $30 | MPU6000 with SPI | IntoFPV |
| TBS Powercube F3 | | $140+ | ESC/PDB integrated stack | |
| Motolab Cyclone F3 | | $37 | | |
| Singularity F3 | | $69 | Built-in VTX | |
| SPRacing EVO F3 | | $37 | | Oscar |
| Piko BLX F3 | | $39 | Integrated PDB, small size – 26x26mm | Oscar |
| Kombini | | $49 | Integrated PDB | Oscar |
| BrainFPV RE1 F4 | | $79 | Integrated OSD, only support dRonin software | |
| Chickadee Polystack F3/F4 | | $100+ | Stackable modular FC system | Oscar |
| DTFc F3 | | $45 | Integrated PDB | |
| Sirin FC F3 | | $99 | Built-in VTX, OSD, MicroSD | |
| Motolab Tempest F3 | | $40 | Integrated PDB | |
| Rotoracer Racebase F3 | | $55 | Integrated OSD, BEC, video filter | |
| BG AIO v1.1 F3 | | $23 | Integrated OSD, SD card logger | |
| Racecube F3 | | $66 | Integrated OSD, RX, ESC, PDB, logger, Buzzer | |
| BG AIO v4 F3 | | $53 | One board, integrated VTX, OSD, PDB | |
| Radiance F3 | | $30 | 5V/12V output | Oscar |
| Betaflight F3 | | $43 | Integrated PDB, OSD, designed by Boris B | Oscar |
| Revolt F4 | | $40 | Official Raceflight FC | Jimmy |
| Omnibus F4 | | $40 | MPU6000, SD card logger, designed for BF | |
| Soul F4 | | $44 | | |
| Rotorgeeks SSD F3 | | $33 | SD logger | |
| LUX V2 F3 | | $40 | MPU6000, SD logger | |
Motors
Motor is a major decision when building a mini quad, it is one of the the main factors that determines your quadcopter's speed, flight time and performance. There are just as many options as mini quadcopter frames if not more. These motors have been selected as they all run 5 or 6 inch propellers.
Motor Name /Size
KV
Picture
Weight
Max.Thrust/g(cell:[email protected])
Price
Test Data
EMAX Cooling 2204
2300 KV
25g
390 (3S : 5040 @ 8.4A)
510 (4S : 5040 @ 10.7A)
620 (4S : 6045 @ 15.7A)
$18
EMax MT2204
2300 KV
25g
380 (3S : 5030 @ 7.7A)
413 (3S : 5040 @ 8.9A)
579 (3S : 6045 @ 14.8A)
$16
Fyathyrio
MultiStar 2206
2150 KV
30g
380 (3S : 5030 @ 7.9A)
460 (3S : 6030 @ 9.4A)
610 (4S : 5040 @ 13.8A)
$15
Baby Beast
DYS BE 1806
2300 KV
18g
415 (3S : 5030 @ 9.0A)
485 (3S : 6030 @ 10.2A)
580 (3S : 6045 @ 16.1A)
$15
Mustang,Fyathyrio
MultiStar 2204
2300 KV
24g
812 (4S : 5045BN @ 17.2A)
814 (4S : 5040×3 @ 18.2A)
$16
FPVModel 2206
2000 KV
33g
586 (3S : 6030 @ 9.0A)
570 (4S : 5030 @ 10A)
840 (4S : 6045 @ 21A)
$16
Oscar
Cobra 2204
2300 KV
25g
436 (3S : 5030 @ 8.6A)
559 (3S : 6030 @ 11.0A)
$21
McGinnis
Cobra 2204
1960 KV
23g
330 (3S : 5030 @ 5.7A)
533 (4S : 5030 @ 8.1A)
587 (4S : 5040 @ 11.2A)
$21
Oscar
SunnySky X2204
2300 KV
21g
442 (3S : 5030 @ 8.5A)
539 (3S : 6030 @ 10.0A)
$23
RCG
Cobra 2206
2100KV
37g
Pending
$26
Cobra CM2208
2000 KV
44g
579 (3S : 6030 @ 9.6A)
912 (4S : 6030 @ 14.4A)
1153 (4S : 6045 @ 22.7A)
$26
foobar
Xnova 2204
2300KV
29g
1090 (4S : 5045BN @ 22.8A)
1134 (4S : 5040×3 @ 24.7A)
$25
Xnova 2206
2000KV
36g
Pending
$27
EMAX RS2205
2300KV
30g
1069 (4S : 5045BN @ 22.7A)
1167 (4S : 5045×3 @ 25.4A)
$16
Oscar
EMAX RS 2205
2600KV
30g
1282 (4S : 5045BN @ 28.8A)
1357 (4S : 5040×3 @ 32.4A)
$16
Oscar
EMAX MT2204
2300KV
25g
Pending
$16
EMAX MT2205 II
2300KV
29g
Pending
$18
Lumenier RB2204 SKITZO
2500KV
22g
989 (4S : 5045BN @ 23.4A)
991 (4S : 5040×3 @ 25.3A)
$29
Scorpion M-2205
2350KV
31g
Pending
$25
DYS SE2205
2300KV
30g
1066 (4S : 5045BN @ 22.5A)
1164 (4S : 5040×3 @ 25.7A)
$20
ZMX 2205 V2
2300KV
n/a
1109 (4S : 5045BN @ 23.5A)
1167 (4S : 5040×3 @ 25.7A)
n/a
Cobra Champion 2205
2300KV
30g
1161 (4S : 5045BN @ 23.8A)
1229 (4S : 5040×3 @ 27.4A)
$23
DYS SE2008
2300KV
33g
1255 (4S : 5045BN @ 27.4A)
1328 (4S : 5040×3 @ 31.2A)
$18
Oscar
Edge R2204
2300KV
26.5g
994 (4S : 5045BN @ 20.4A)
1031 (4S : 5040×3 @ 23.1A)
$18
Gemfan RT2205
2300KV
31.5g
1150 (4S : 5045BN @ 24.6A)
1218 (4S : 5040×3 @ 27.9A)
$21
LDPower 2206
2200KV
30g
1108 (4S : 5045BN @ 23.4A)
1179 (4S : 5040×3 @ 26.4A)
$13
Lumenier RX2205
2400KV
24g
1013 (4S : 5045BN @ 21.2A)
1037 (4S : 5040×3 @ 24.4A)
$26
RCINPower GT2205
2300KV
30g
1097 (4S : 5045BN @ 23.6A)
1169 (4S : 5040×3 @ 26.1A)
$19
RCTimer FR2205
2300KV
29g
1134 (4S : 5045BN @ 22.8A)
1190 (4S : 5040×3 @ 25.0A)
$14
RCX SE2205
2400KV
40g
1050 (4S : 5045BN @ 22.6A)
1091 (4S : 5040×3 @ 25.1A)
$15
Rebel Pro 2206
2600kv
pending
1168 (4S : 5045BN @ 24.1A)
1257 (4S : 5040×3 @ 27.6A)
$35
Storm M2205
2350KV
25g
1096 (4S : 5045BN @ 23.3A)
1127 (4S : 5040×3 @ 25.8A)
$23
T-Motor F40 V2
2300KV
27g
1041 (4S : 5045BN @ 21.1A)
1088 (4S : 5040×3 @ 21.8A)
$20
T-Motor F40 V2
2500KV
27g
1117 (4S : 5045BN @ 25.1A)
1165(4S : 5040×3 @ 27A)
$20
T-Motor F60 V2
2450KV
33g
1230 (4S : 5045BN @ 25.8A)
1400 (4S : 5040×3 @ 32.0A)
$26
T-Motor F40 II
2400KV
2600KV
28g
Pending
$25
XNova Hypersonic
2300KV
2600KV
30g
1153 (4S : 5045BN @ 23.9A)
1208 (4S : 5040×3 @ 29.4A)
$29
Tornado T1 2205
2300KV
29.5g
1152 (4S : 5045BN @ 23.8A)
1223 (4S : 5040×3 @ 27.7A)
$25
Lumenier RX2206
2350KV
27g
986 (4S : 5045BN @ 19.1A)
1050(4S : 5040×3 @ 21.6A)
$25
EMAX TS2306
2300KV
34g
1200 (4S : 5045BN @ 25.4A)
1295 (4S : 5040×3 @ 30.0A)
1500 (4S : 6040 @ 36A)
pending
ZMX Fusion 2206
2300KV
2522KV
30.5g
1250 (4S : 5045BN @ 26.1A)
1300 (4S : 5040×3 @ 30.0A)
$21
Tornado T2 2206
2300KV
2600KV
30g
1213 (4S : 5045BN @ 25.7A)
1300 (4S : 5040×3 @ 29.8A)
$24
Oscar
Multicopter Builders 2207
2400KV
2500KV
30g
1250 (4S : 5045BN @ 27.1A)
1335 (4S : 5040×3 @ 31.5A)
$23
DYS Fire 2206
2100KV
2300KV
2600KV
32g
1099 (4S : 5045BN @ 22.0A)
1157 (4S : 5040×3 @ 25.5A)
$20
Hyperlite V4 2206
2300KV
2522KV
28.6g
1209 (4S : 5045BN @ 25.2A)
1271 (4S : 5040×3 @ 28.9A)
$25
Jimmy
Emax RS2205S
2300KV
2600KV
28.8g
1251 (4S : 5045BN @ 31.7A)
1232 (4S : 5040×3 @ 28.8A)
$20
Oscar
RMRC Rifle 2206
2300KV
2550KV
30.5g
1180 (4S : 5045BN @ 24.3A)
1256 (4S : 5040×3 @ 28.0A)
$25
TBS Steele 2306
2345KV
28.5g
1141 (4S : 5045BN @ 24.3A)
1194 (4S : 5040×3 @ 28.2A)
$28
Lumenier RB2205
2400KV
24g
Pending
$35
T-Motor F40 Pro 2305
2400KV
2600KV
30g
1349 (4S : 5045BN @ 29.8A)
1441 (4S : 5040×3 @ 35.4A)
$23
T-Motor F60 Pro 2207
2200KV
2450KV
34g
1232 (4S : 5045BN @ 25.5A)
1325 (4S : 5040×3 @ 29.4A)
1711 (4S : 6040 @ 36.4A)
$25
You might see thrust data different elsewhere, due to these tests were done under different equipment and condition. Some thrust data are pulled from MiniQuadTestBench.com.
Thrust is not everything, there are many other factors to consider to choose the best motors for your mini quad. Remember, build quality, motor response, and efficiency, RPM, current draw under different throttle are just as important as peak thrust.
Here is a guide to highlight some of the important things to bear in mind when choosing motor.
Propellers (Prop)
Before you start with selecting propellers, make sure you understand the basics or props first.
Get lots of spare
Propellers is the "consumable" of the hobby. Especially so for mini quad because we crash a lot. It's inevitable to break props, lots of them. :) Propellers are generally fairly cheap, therefore it's a good idea to get a bunch of them in in case you run out.
Always get "durable props"
Originally mini quad props were mainly made of ABS or other types of mixed plastic, and they are very easy to break. Manufacturers of the mini quad market have introduced new material, soemtimes referred to as "durable" or "indestructible". These durable props are kind of flexible, yet very hard to break, you will save money and time replacing them. There are 2 downsides though to "indestructible" props
They often bend after crashes, because they don't break, so it's hard to spot, which could cause vibration in flights
Because they don't break, the crash impact is transferred to your motor bearing, and might shorten motor life
Dual-blade, Triblade, Quadblade or Hexblade?
The more blades, the more thrust it should deliver (if the motor has enough torque to handle the propeller), but it will also increase current draw dramatically. The fewer blades the more efficient generally speaking. IMO Hex props aren't very practical and very low in efficiency. Currently tri-blades is the most popular because it has a good balance between thrust and efficiency.
Not a complete list
It's impossible to list every single prop and brand (there are hundreds of them), but google what you need usually shows you what you need. Popular brands that make propellers are: DYS, HQ, Gemfan, DAL (or DALProps), FC, Kingkong, Racerstar etc. If you are a beginner, I personally would recommend Racerstar, Kingkong and DAL props. Those are what I am currently using, they are cheap, durable yet perform well.
ESC – Electronic Speed Controller
After making the choices of  motor and prop, you should now know roughly the current requirement for your mini quad. If your motors draw more current than the ESC's can handle, your ESC's will eventually fail. (To find out your motor max current draw, check the motor thrust data, or do your own testing)
For a more detail guide on choosing ESC, check out How to choose ESC for Racing drones.
In this list we have the ESC current rating, price, input voltage, and weight. There is also firmware/software which the ESC supports. SimonK and BLHeli firmware are known to perform better than some factory firmware, that's why many of us will flash the ESC to the latest version of BLHeli. (Note that not all ESCs allow you to flash custom firmware) Learn abou the Difference between SimonK and BLHeli in 2 mins.
The latest ESC's perform similarly well these days. They come with BLHeli_S firmware installed, and support DShot600 and Multishot, these are the preferred firmware and ESC protocols.
Newer ESC's are added at the bottom of the list.
Some resellers rebrand ESC's under different names so be aware.

LiPo Battery
Once you have determined what motor, props and ESC you are going to put on your mini quad, you can now look at choosing LiPo batteries. The decisions you need to make are:
Cell count
Capacity
C rating – max discharge rate
This article explains the basics of LiPo battery.
Cell Count – 3S Or 4S?
Motor/ESC manufacturers normally suggest how many cells LiPo you can use with their motors. The higher cell count means more power thus faster speed, but make sure your charger can support it.
I personally would recommend going 4S because it's more powerful, faster and a lot more fun. It's not a lot harder than building a 3S quad anymore, over the time manufacturers have made products support 4S better.
Capacity
The most popular capacity range for mini quad is between 1300mAh and 1800mAh for both 3S or 4S setup. Basically you need to find a good balance between flight time and weight. More capacity gives you more time in the air, but it's also heavier. When it gets too heavy, the aircraft starts to feel sluggish and flies like a tank. For serious racers and free-styler pilots, you want the aircraft to be as light as possible, so 1300mAh and 1500mAh are the most popular packs.
C Rating
Safe peak current draw = C-rating * capacity
So for example if a mini quad draws 48A in total at 100% throttle (12A per motor), any 1300mah battery that has a C rating around or higher than 37C should be good enough.
For instance,  these battery would be the fine candidates for this example:
ZIPPY Compact 1300mAh 3s 40c Lipo Pack
Turnigy nano-tech 1300mAh 3S 45~90C Lipo Pack
Some people believe low C rating battery works just as good, while some say if C rating is below requirement, the quad will have no punch (voltage sag). It could even cause battery to overheat, which is bad for battery health.
Note that higher C rating batteries tend to be heavier as well.
HVLi?
There is a new type of batteries called HVLi (or sometimes LiHV), stands for High Voltage Lipo battery. These allow you to charge them up to 4.35V per cell, giving you higher starting voltage and more capacity. Check out this post for all the pros and cons about LiHV batteries. But watch out for its longevity, it's been reported they don't last long compared to regular LiPo batteries.
FPV Camera
Now as we are moving into FPV system, you should learn about it first in my FPV guide.
PZ0420 (Sony Super HAD) used to be the best board FPV camera out there, but nowadays more people prefer to use a camera in a protective case, like the Runcam Swift or HS1177. They are easier to install on a mini quad, and have similar performance if not better than the PZ0420. I personally prefer the Swift, with proper settings they work really well under most situations.
For night FPV flying, there are "Starlight" cameras available such as the Runcam Owl Plus and Foxeer Night Wolf. The Night eagle even perform better!
CMOS camera are also making a come back, with even better WDR and light handling performance than CCD. The Aomway 700TVL is a good example, not to mention the Runcam Eagle, WDR is excellent, it's probably one of my favourite FPV cameras currently.
I've written a guide on How to Choosing a FPV Camera.
Video Transmitter / Receiver
There are many choices for video transmitter (vTX) and video receiver (vRX). There are even different frequency for FPV such as 1.2GHz, 1.3GHz and 2.4GHz (not legal in some countries). The reason everyone prefer 5.8Ghz is mainly because of the tiny antenna and VTX unit. And the fact that mini quad doesn't usually fly long range, so 5.8Ghz is enough for most people.
Here is a more detail guide how to choose video transmitter.
It's important to know there are 5 common frequency bands used in 5.8Ghz video transmission for FPV, they are known as the A, B, E, F and Raceband bands (ABCEF). Newer VTX supports 48 channels – 6 bands and they are labelled as ABCEDF. Here is a 5.8Ghz Frequency band table that explain what the frequencies are in each band, and which brands use them.
Video Transmitter
Power
Picture
Price
Input Voltage
Channels
Support Bands
Review URL
Eachine
600mW
$25
7V-23V
32 ch
ABEF
Oscar
FX795T-2
25mW
200mW
$30
7V-24V
40 ch
ABCEF
Pending
FX796T
200mW
600mW
$33
7V-20V
40 ch
ABCEF
Oscar
Atas Raceband
600mW
$45
7V-20V
40 ch
ABCEF
Oscar
ImmersionRC
600mW
$70
7V-25V
8 ch
F
Oscar
TS351
200mW
$18
7V-16V
8 ch
E
Pending
Boscam TS832 
600mW
$50
7V-16V
32 ch
ABEF
Oscar
TS5823 5.8GHz
200mW
$34
7V-24V
32 ch
ABEF
Oscar
Aomway 5.8Ghz
500mW
$46
7V-16V
16 ch
E F
Pending
Aomway 5.8Ghz
200mW
$20
7V-24V
32 ch
ABEF
Pending
Hawkeye
200mW
$31
6V-24V
32 ch
ABEF
Pending
Foxeer TM25 Switcher
25mW/200mW/600mW Adjustable
$33
7-24V
40ch
ABCEF
Pending
Immersionrc Tramp HV
1mW – 600mW linear power control
pending
2s-4s (HV)
48ch
ABCEF + Race Wand
Pending
RMRC Cricket VTX
25mW/200mW/600mW
$50
7-20V
40ch
ABCEF
Pending
TBS unify pro 
25mW – 800mW Adjustable
$50
4.5-5.5V
40ch
ABCEF
Pending
DIATONE SP2
25mw/200mw Adjustable
$32
6-30V
40ch
ABCEF
Pending
DIATONE SP3
25/200/600mW, integrated OSD
$40
10-25V
48ch
ABCDEF
Grisha
FT48X
0.25-600mW adjustable
$28
6.5-25V
48ch
ABCDEF
Pending
When it comes to VRX, make sure it's compatible with your choice of video transmitter (works on the same frequency band). If you are getting a pair of FPV Goggles, it might already come with a built-in RX so you won't need an external one.
FPV Antenna
VTX and VRX normally come with whip antennas. They work fine, but to get better range and penetration it's always advised to replace them with some circular polarized antennas. Here is a tutorial on how to choose the best FPV antenna.
To further improve range, sometimes directional antennas like helical or patch are used on the video receiver. They can give you more range, but they also have a narrower beam of reception. That means you will get weaker signal on your left and right, even worse behind. They come with different gains, the higher gain, the more directional it is. Here is a guide about how antenna gain affects range in FPV.
Lastly, when choosing antennas for video transmitter and receiver, make sure the type of connectors are compatible. To learn the difference, check out the guide on SMA and PR-SMA connectors.
FPV Goggle / Monitor Display
You can't fly FPV without display equipment! FPV Goggles give a better flying experience, but there are also cheap alternatives such as a small LCD monitor.
I used to fly with a 7″ monitor, it's great for people who wear glasses. It also allows you to switch between line of sight and FPV quickly. However it's hard to see what's on the screen under the sun, and FPV goggles give you a much more immersive experience.
For a full list of FPV Goggles, Check out this guide for shopping FPV goggles.
Here are some choices of monitors.
It's worth knowing that some FPV goggles come with great features, such as built-in video receiver, DVR (digital video recorder), head tracking, etc, which you don't get on a monitor.
OSD – On Screen Display
OSD is an optional device that display flight information on your screen. For most mini quad pilots, we only need the basics like battery voltage and timer. But of course you can also just use Telemetry for that purpose.
Update 02 July 2015 – check out this OSD Guide.
| | | | | |
| --- | --- | --- | --- | --- |
| OSD Name | Picture | Price | Display Data | Support Voltage Monitor |
| Hobbyking E-OSD | | $14 | voltage, timer | 7.2V-12V (2S – 3S) |
| Super Simple Mini OSD | | $9 | voltage, timer | 5V-26V (2S – 6S) |
| MinimOSD | | $20 | Voltage, timer, GPS, etc | n/a |
| MinimOSD with KV Mod | | $11 | Voltage, timer, GPS, etc | 2S-4S |
| Micro MinimOSD | | $15 | Voltage, timer, GPS, etc | 2S-4S |
My favourite is the Micro MinimOSD. It's cheap (only $7), and powerful. It allows you to display many types of data such as voltage, RSSI, current, GPS info etc. With MWOSD firmware you can even change your PID/Rate settings on your quad. However some find it easy to break, and it's seriously vulnerable to voltage spikes in power system.
PDB and Voltage Regulator
I would recommend getting a good PDB (power distribution board) that comes with voltage regulator (5V/12V output), and power filters. You can also just get voltage regulators, but the wiring would be messier.
LC Power Filter is used to reduce noise in the power. If you are powering your video transmitter and FPV camera from your main LiPo pack, you may notice the jumping white lines across the picture when flying, this is when the LC filter comes into play. You can buy them or make one yourself.
FPV Recording Camera
There are usually two cameras used on the same mini quad. One is the FPV camera, it's used for the actual flying which we just talked about. The other camera is used to record HD footage (e.g. 1080p 60fps). Most high quality videos you see on Youtube/Vimeo are filmed using one of these HD cameras.
The best known camera among these are probably the GoPro. The Runcam HD and Mobius are the popular low end cameras. Compared to the GoPro, they are only a fraction of the cost, lighter, yet capable of capturing decent footage. The Xiaomi Yi is also very popular especially with the custom Superview Script, it can produce some great footage close to the quality of a GoPro.
Miscellaneous Items
There are many other parts, tools you might or might not need for building your quadcopter. I will make a list here and will expend on the subject in the future.
Soldering Iron / station
Battery Straps
Heatshrink
Power Distribution Board
Liquid electrical tape
LED lights (strip)
Mini Quad Kit | RTF | BNF | ARTF
Some mini quads are pre-built with majority of the parts that you need, e.g. motors, ESCs, FC, etc. Although i do recommend reading up and choose each part yourself, some beginners might find this option easier. Here are some nice RTF/ARTF Mini Quads:
You've Made It!
I hope this post gave you some insights and ideas of building a mini quad, what's involved and what options are out there. Even if you are still puzzled, don't worry! Join our forum (IntoFPV.com) and we are always there to help.
History of Mini Quad Frames
Like the tide, many mini quad frames have come and gone. Here is a list compiled by figgoat to remember all of our once favourite frames.