Here's a parts list for the cheapest 5-inch FPV drone build I came up with in 2022-2023. It might be cheap but the components are decent and it will still perform extremely well. I will also provide a list of budget gear like radio, LiPo chargers and FPV Goggles. Prices have been going up like crazy in the past couple of years, it's time to think about saving money!
Some of the links on this page are affiliate links. I receive a commission (at no extra cost to you) if you make a purchase after clicking on one of these affiliate links. This helps support the free content for the community on this website. Please read our Affiliate Link Policy for more information.
Let me know in the comment if there are other affordable parts/equipment that you would recommend.
Reminder: AliExpress is an interesting place and worth checking. Similar to Banggood, shipping can take a long time (for me in the UK, usually around 2-3 weeks), and it can be a hit and miss sometimes, but you can get some extremely good deals there occasionally.
The Cheapest 5″ FPV Drone Build
These are the lowest prices I can find on GetFPV, RaceDayQuads, NewBeeDrone, BetaFPV and AliExpress at the time of publishing this post. I have a build log here using similar parts if you are new to FPV.
Drone costs:
| | |
| --- | --- |
| Frame: Source One V5 | US$29.99 |
| FC and ESC stack: Speedybee F403 V3 | US$66.79 |
| Motors: 4x Emax ECO II 2207 | US$63.96 |
| VTX: Speedybee TX800 | US$23.99 |
| FPV Camera: Foxeer Racer Micro | US$17.99 |
| Receiver: BetaFPV ELRS Lite | US$11.99 |
| LiPo battery: CNHL 6S 1100mAh | US$25.34 |
| Props (1 set of 4) | US$3.00 |
| Total | $243.05 |
And other gear:
| | |
| --- | --- |
| Radio: T-Lite V2 ELRS | $58.70 |
| FPV Goggles: EV800D | $67.99 |
| LiPo Charger: iSDT 608AC | $64.99 |
Let's assume we already have got all the tools, to build the cheapest 5″ drone with decent performance, $243 is kind of the minimum you have to pay nowadays. The days of $99 budget drone builds or $150 cheap builds are gone.
To include radio, goggles, and charger, we are looking at at least $434.73 for a budget setup. Honestly it's not bad, considering BetaFPV's latest FPV kit (a very basic kit that comes with a 2S whoop) already costs around $290.
Frame
The cheapest frame that I would recommend is probably the Source One V5. It has an update-to-date design with decent quality carbon fibre. Lots of open source 3D printed parts available online. Can't go wrong for just $29.99 on most domestic RC shops.
Get the SourceOne V5 Frame here:
---
Flight Controller and ESC Stack
I have been flying the Speedybee F405 stack for a few months now, it's currently one of the best flying quad in my fleet. More surprisingly it's one of the most affordable stacks in 2022. Again, if you want to save money this is the one to get IMO, and it will still offer top notch performance.
Get the Speedybee F405 Stack here (there's a sale on AliExpress for only $66.79, other places have it at $69.99):
The other option would be the T-Motor Velox F411 Lite Stack, slightly more expensive but also a good value combo. I have not tested it personally, but on paper the specs look pretty good.
Get the T-Motor Velox F411 Lite Stack here:
---
Motors
The Emax EcoII are great value motors at only $15.99 a piece. For a 6S build, you can choose between 1700KV and 1900KV, personally I'd pick the 1900KV as it gives more power and flight time difference should be negligible when you are just cruising. Get the Emax Eco II 2207 Motors from:
---
Video Transmitter
For a budget build, you probably still want to go with analog FPV system, digital is going to cost a lot more.
Seems like most decent 800mW VTX with 20x20mm mounting nowadays are priced around $24, the Speedybee TX800 being one of them. It comes with a heatsink for cooling and durable MMCX connector. Another cool thing is the included whip antenna, not the best for multirotors, but still ok for close range flying and saves you money buying one.
Get the SpeeydBee TX800 VTX here:
---
FPV Camera
At only $17.99, the Foxeer Razer Micro is probably the cheapest worth having analogue FPV camera. Make sure you get the Razor Micro and not other Razer's, as it has the best image quality out of the whole Razer series IMO. The Razer Nano is also ok but it's smaller than the micro (14x14mm) and will require an adapter to fit in the Source One frame.
Get the Foxeer Razer Micro here:
Radio Receiver
The cheapest ExpressLRS receiver I can find is the BetaFPV ELRS Lite (ExpressLRS 2.4GHz) at only $11.99. Make sure to get the tower antenna version, for me it has been performing better than the flat red antenna version.
Get the BetaFPV ELRS Lite RX here:
Review: BetaFPV ELRS Micro TX Module 1W Edition + Lite Receivers
LiPo Battery
6S 1100mah to 1300mAh batteries are all good sizes for the 5″ build we listed here. If you don't mind waiting 2-4 weeks, you can usually find some good deals on AliExpress, at around $25-$30 per pack on sale (right now I am looking at CNHL 6S 1100mah 2 packs for only $50.69 free shipping): https://s.click.aliexpress.com/e/_DFTgcen
In the US, RDQ is doing a 3-pack bundle for only $94.99 ($31.6 per pack), a pretty sweet deal: https://oscarliang.com/product-qkni
Make sure to get your LiPo batteries from a reputable brand. Don't cheap out on LiPo, low quality packs perform worse and are more likely to catch fire. I listed all popular brand names here:
Using LiPo Batteries for FPV Drones: A Beginner's Guide with Top Product Recommendations
---
Propellers
Props are the cheapest part in an FPV drone, normally cost around $3-$4 for a set of four, so you can try out many different brands and types and see what works the best for you. Here are my recommendations:
The Ultimate Guide to FPV Drone Propellers: How to Choose the Best Props for Your Quadcopter
---
The Cheapest FPV Gear
Radio
If all we care about is price and value, the Jumper T-Lite V2 is definitely one of my favourite. It's only $58.7 on AliExpress! Radios at this price point will come with some compromises, but the T-lite does pretty much everything you need in FPV and it's also one of the smallest radios, makes it easy to carry. I'd recommend getting the one with ExpressLRS built-in, so no external module is needed. It will work with any ExpressLRS receivers regardless the brand.
Get the Jumper T-Lite V2 here:
---
FPV Goggles
The EV800D is probably the gold standard in budget FPV goggles. It doesn't look as slick and compact as the high end goggles, but they will get the job done just fine. Normal price is around $100-$120 depending on where you get them from, but I just saw a sale on AliExpress for $67.99. That's shockingly cheap and I honestly have no idea how they are doing it, so make sure you check what you are getting before ordering, get them from a reputable seller if in doubt.
Buy the EV800D from:
You can learn more about FPV goggles in this post.
Ultimate FPV Goggles Guide: Find the Best FPV Headset for Every FPV System
Charger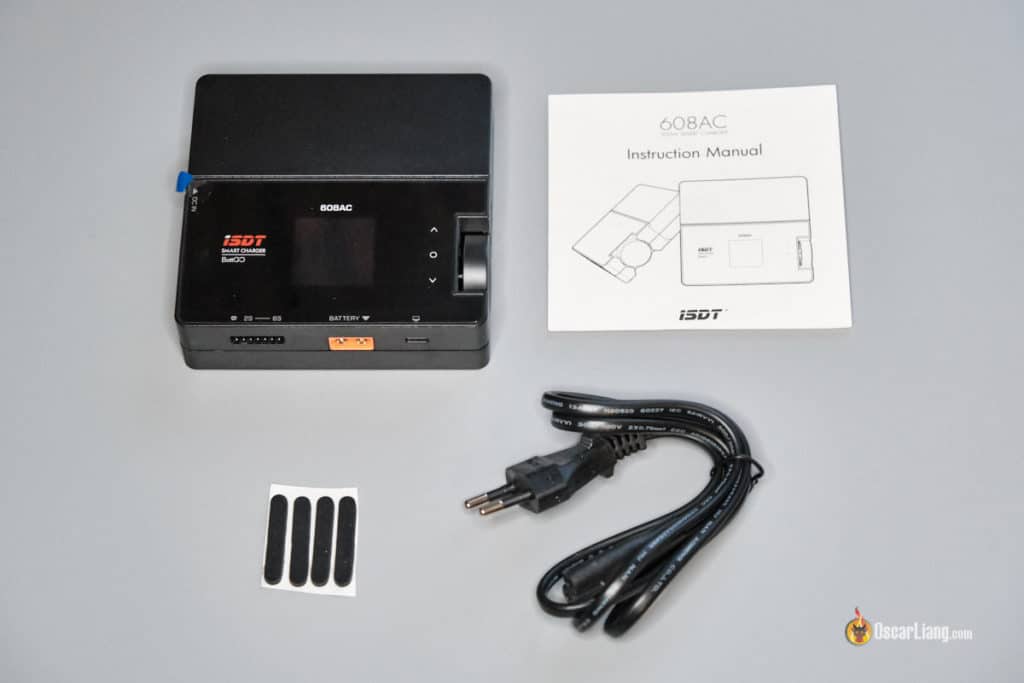 At $64.99, the iSDT 608AC is my pick for the best budget LiPo charger. It comes with a detachable power supply that allows you to power the charger off your wall socket, saves you headache and cash picking a power supply. Although it's limited to 50W when powered from AC, it's enough for someone just starting out IMO. When you are ready, get an external power supply and you can get up to 200W out of this charger which is plenty even for some of the experienced pilots.
Get the iSDT 608AC charger from: