The BetaFPV Cetus X FPV kit is probably one of the best beginner kits you can get right now. It comes with everything you need to start flying: the drone, radio, FPV goggles, battery and charger. This is BetaFPV's 3rd generation FPV kit, the Cetus X has been improved considerably from the previous Cetus Pro.
Some of the links on this page are affiliate links. I receive a commission (at no extra cost to you) if you make a purchase after clicking on one of these affiliate links. This helps support the free content for the community on this website. Please read our Affiliate Link Policy for more information.
It's a great RTF kit for beginners to learn how to fly FPV drone.  In this review I will talk about the pros and cons, and how you can setup it up for your first flight.
Where to Buy?
You can get the BetaFPV Cetus X FPV Kit from
Receiver options available are ExpressLRS 2.4GHz and Frsky D8. There are also two FC options: Betaflight and Cetus. The Cetus is BetaFPV's own developed firmware. I will be reviewing the ExpressLRS and Betaflight version, this is also the version that I'd personally recommend.
It comes with the following items in the box:
1 x Cetus X Brushless Quadcopter
1 x LiteRadio 3 Transmitter (ELRS 2.4G)
1 x BETAFPV VR03 FPV Goggles
4 x 1S 450mAh Lipo Battery (BT2.0)
1 x Battery Charger
1 x USB-C charging/data Cable
1 x Type-C to FC Adapter
1 x Prop Removal Tool
8 x Gemfan 2020 4-Blade Prop (Spare Set)
1 x Portable Storage box
If you want spare propellers and batteries:
Specs and Features
Cetus X Brushless Quadcopter:
Wheelbase: 95mm
FC: F4 1S 12A AIO FC
Motors: 1103 11000KV Motor (1.5mm motor shaft)
Props: Gemfan 2020 4-Blades Props
Camera: C04 FPV Camera (Caddx Nano Ant Camera/Runcam Nano 4)
Camera Adjustable Tilt Angle: 0° to 40°
Receiver Protocol: ELRS 2.4G (SPI)
VTX: M04 25-400mW
Input Voltage: 2S
Recommended Battery: 2x 1S 450mAh with BT2.0 connectors
Weight: 56g w/0 batteries, 81g with 2x 1S 450mAh batteries
VR03 FPV Goggles
5.8GHz 48 Channels
Screen Size: 4.3 inch
Screen Resolution: 800*480
Aspect Ratio 16:9
Built0-in 1S 3.7V 2000mAh
Working Time: About 2 hours (Normal mode)/1 hour 10 mins (Recording mode)
Max Charging Current: 1A
Antenna Port: RP-SMA (Whip Antenna included)
Charging Port: Type-C
Micro SD card slot for DVR (SD card is not included). Supports FAT32 format, maximum 64GB storage. Class10 is recommended
DVR: Resolution 480P, AVI Format
Size: 130*145*90mm
Weight: 330g with strap
LiteRadio 3 Transmitter (ELRS version)
Support Protocol: ExpressLRS 2.4G
Output Power: 25mW/50mW/100mW
Internal 1S 3.7V 2000mAh Battery
Supports USB-C Charging / Firmware Update
Supports FPV Simulator
Supports External TX Module
Weight: 247g
Closer Look at the Cetus X Whoop
The micro drone had a massive upgrade from the previous Cetus Pro.
You can purchase this quad separately: https://oscarliang.com/product-wl3u
The Cetus X drone still uses similar frame design but it's much more powerful. It's now powered by 2S (7.4V), previously with the Cetus Pro it was only 1S (3.7V). This enables the Cetus X to handle windy outdoor environment better and fly more steadily.
Besides Betaflight FC, there's also another option for the Cetus FC with optical flow camera and LiDAR sensors, that enables altitude hold flight mode. In my opinion I think the Betaflight version is better, it's simpler and altitude hold flight mode doesn't really teach you how to fly, it only makes things more complicated. Master angle mode, then learn air mode, that's it.
The Cetus X has a pretty cool double battery design, it takes two 1S 450mAh batteries which are connected in series to double the voltage for the drone.
The advantage of using two 1S batteries instead of a single 2S battery is that you can reuse those 1S 450mAh packs on other models such as the popular mobula7 (though you need to replace the battery connector to BT2.0) or other 1S BetaFPV whoops.
Overall I think the Cetus X performs much better than the Cetus Pro, despite being heavier and bigger. It flies really well indoor, and it handles the wind better than the Pro. The frame is very durable compares to other drones of similar sizes.
BetaFPV redesigned the canopy and it now allows you to change the camera angle, this is one of the biggest improvements in my opinion for beginners. By changing the camera angle you can easily adjust your flying speed according to the environment.
However, the main disappointment for me personally would be the video transmitter antenna. It's pointing horizontally behind the camera, which means when you are flying away or towards yourself, you will have the worst possible signal. This significantly limits how far you can fly this drone. The ideal antenna placement should be pointing it upward, but I think this design decision came down to durability, the antenna is fully protected this way when you crash. Anyway, if you truly care about range, I'd probably drill a hole on the canopy and poke the antenna through.
The other thing is the lack of a buzzer which is quite important especially for beginners, it can help you locate the drone after crashing. The Cetus X doesn't have a buzzer, but you can use the motors as beeper which would be helpful. I will show you how in the "how to setup" section later.
I wish the drone came with UART receiver instead of an SPI one. The difference is in firmware updating and future ExpressLRS support. SPI receiver are still being supported by ELRS V3, but it's hard to say beyond that. Also SPI receiver firmware is part of the FC firmware, so to update the receiver you'd have to update Betaflight. Therefore you can't update ExpressLRS to V3 firmware yet as support won't come until Betaflight 4.4. So at the moment we can only use ExpressLRS V2. Anyway, as long as you keep the radio and drone on ExpressLRS V2 firmware, it's not a problem.
You can also control the Cetus X drone using another radio with ExpressLRS 2.4GHz TX module (V2 firmware).
Closer Look at the VR03 FPV Goggles
The VR03 goggles are very basic but get the job done, for $70 it's not bad at all I got to say.
You can purchase this goggles separately: https://oscarliang.com/product-ckgq
I don't have the exact number but I think the FOV (field of view) is around 40 degrees (noticeably smaller FOV than the HDO2).
There's no focal length adjustment, and no way to use diopter lenses, so if you wear glasses, this goggle might not work for you. However, I wear glasses (near-sighted and I use -2 diopters on my other goggles), I can still see the screen well enough to fly.
They made some improvements from the last version. The new VR03 goggles have built-in DVR, and an external antenna for better signal.
The DVR has the same menu interface as the Fatshark goggles, similar video quality, records at 480p with a bitrate of 7.5Mbps and in AVI format. However, SD card is not included, here's my SD card recommendation for DVR.
The antenna is removable, you can swap it out to a higher gain antenna if you want. The antenna connector is RP-SMA.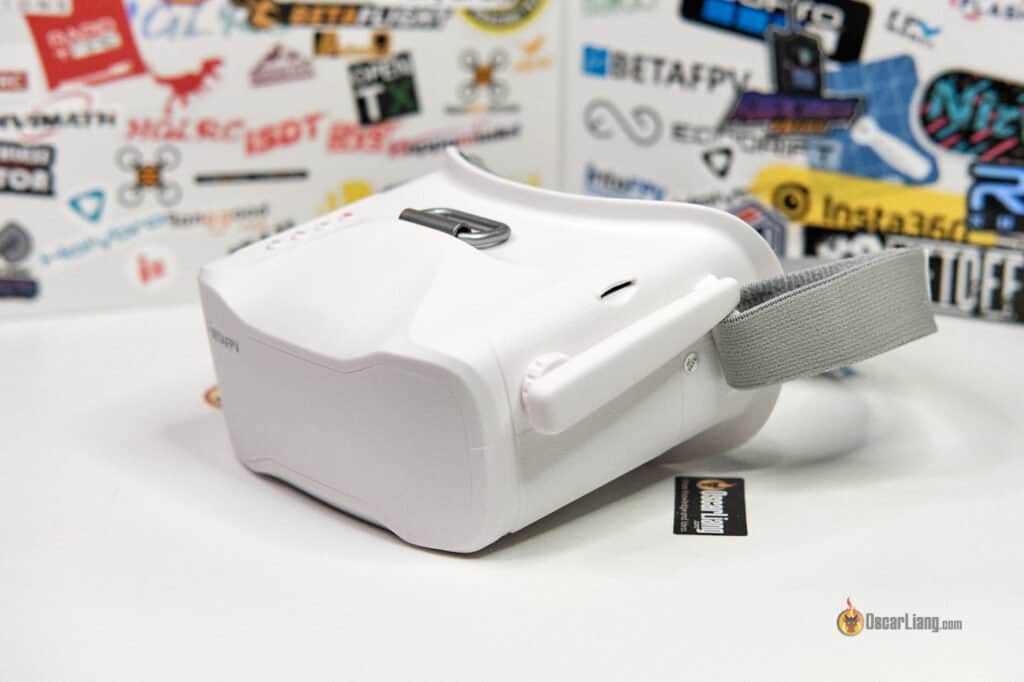 Charging power from USB-C gets up to 4.7W, to fully charge the radio from empty would probably take around 1.5 hour.
Closer Look at the LiteRadio 3
The BetaFPV LiteRadio 3 is as basic as it can get, it has just enough controls and switches to let you fly a drone. The gimbals are not the best quality but get the job done. There is no screen and menu buttons, the only status indicator is the power button LED.
You can purchase this radio separately: https://oscarliang.com/product-yplm
To configure the radio and internal ExpressLRS module, you'd have to use BetaFPV's own configurator.
It is a pretty compact radio, and the gimbals are quite small and doesn't have the control precision as some other bigger and more expensive radios with full size gimbals. But again, it's not bad as a budget beginner radio and will get you in the air. There are four switches, SA and SD are latching switches, SB and SC are 3-position switches.
The antenna is hidden inside the housing, it's a clean design and easier for transportation, but it won't give you the best possible signal compared to an external antenna. But ELRS is a solid radio link and it makes up for that. In my testing, the radio link at 100mW (max power) definitely outperforms the video link so that's not something to be concerned about.
The USB-C port on the bottom is for charging, as well as connecting to computer for FPV simulators.
The LiteRadio 3 actually supports external TX module as well! It's great if you want to use a higher power ELRS module for example.
Unfortunately, my radio wasn't setup properly out of the box.
Firstly it didn't want to bind with the quad. It turned out that the internal ELRS RF module was not enabled. To enable it, I had to connect the radio to the BetaFPV configurator. I will explain how I did it in the "how to setup" section later.
Because the radio has no screen and voice feedback, it's a bit confusing what is actually going on. Unlike OpenTX/EdgeTX radios that give you warning when the switch positions are not set properly when powered on, the LiteRadio 3 just turns on regardless the switch positions, e.g. if the arm switch is enabled, it will still turn on and just ignore the arm switch. However the quad will not arm (motors don't spin) until you disarm it, then arm again. With throttle stick, it would show a warning (red LED) and it won't work until throttle is moved to the lowest position.
Charging power from USB-C gets up to 4W, to fully charge the radio from empty would probably take around 2 hours.
You can control another drone with ExpressLRS receiver (V2 firmware) using this radio.
Charger
The charger doubles as a voltage checker. It has two channels meaning it can charge two batteries at once, those are separate channels, you can plug in or unplug one of them at any time.
When charging two LiPo simultaneously charging power gets up to 12W using a fast charging adapter, to fully charge two batteries from empty would probably take under 1.5 hour.
How To Setup For First Flight
The Cetus X FPV kit comes with a really well written manual, it explains pretty much all the details you need to know to set up the drone and system. Anyway I will talk about the steps I took to get the Cetus X off the ground.
First thing first, charge the radio and goggles (see chapter 4.5 and 5.4 in the manual). Also charge the batteries (chapter 3.6)
To turn on the radio, hold down the power button until you hear 3 beeps.
Ideally your drone should be bound to the radio out of the box. If not, bind them following instructions in Chapter 8.2 .
If you can't get them to bind, go to the BetaFPV configurator and see if the Internal RF module is enabled. Maybe it's turned off just like mine. Download the BetaFPV configurator here: https://github.com/BETAFPV/BETAFPV_Configurator/releases
Connect the radio to your computer via the USB-C cable. In the configurator, click "Activate Configurator for Radio Transmitter", then click "Connect RC" button. (no need to select any COM port)
In there, you can also change other ELRS settings such as output power and packet rates there.
Once the binding is complete, you probably want to calibrate the sticks too. It only needs to be done first (see chapter 8.3)
Now, connect the quad to Betaflight using the USB adapter and cable provided.
Download and install Betaflight: https://github.com/betaflight/betaflight-configurator/releases
In the Betaflight configurator, go to the Receiver tab, and check if the channels are responding when you move the radio sticks.
To setup DShot beeper, simply enable RX_SET under DShot beacon in the configuration tab (select 3 Beacon Tone which is louder than 1)
In the modes tab, assign beeper to the SD switch which is unused. That's it. Your motors should now beep when you push the SD button.
Insert the batteries to the drone.
Now power on the goggles, and search for the drone's video signal by holding down the search button (S button) for 3 seconds (see chapter 5.2). Note that the auto search function isn't always accurate, it might only find a frequency that is near the channel the drone is broadcasting on, and it's not good for your video signal. To find exactly what channel the drone is using, you should go to the OSD menu, Features, VTX (see chapter 6.2 in the manual for instructions).
You can manually set a channel here, as well as output power.
It's best to set Band to Raceband, Channel to 8, and set Power to 400mW (that's the maximum for this drone, but if that's illegal where you live, you should stick with default of 25mW). Now go to Raceband channel 8 on your goggles, and you are all set :)
You can now take the quad for your maiden flight!
You can learn about what the controls and switches do (e.g. arming, flight modes etc) in chapter 4.
You can record your flying using the DVR in the goggles (see chapter 5.3). Apart from sharing your video with friends and family, DVR can be useful also when you fly outside. If you crash and have no idea where the drone is, you can review the footage and see where the crash happened.
The flight controller is running the latest Betaflight 4.3.1 firmware, the FC board target is BETAFPVF4SX1280. Original CLI can be found here. The onboard SPI ExpressLRS receiver comes with firmware ELRS V2.X.
Flight Performance
I was a bit frustrated by wrong radio configuration, it took me nearly an hour to figure it out. But once I set it up, it just flew beautifully, it really put a smile on my face :) Really stable when flying indoor, BetaFPV has done a good job tuning its PID. It's got plenty of power because it's 2S, but it doesn't feel over-powered and still easy to control when flying inside the house.
By default it's in Angle mode, you can switch to Rate mode (they call it Air mode) by flipping the SB switch, but it's a challenging flight mode for beginners, so only try it once you have mastered Angle mode. Horizon mode is just Angle mode with the ability to do flips, no need to spend time on it.
I also flew this drone outdoor, but it struggled in the 15MPH wind (which is typical weather where I live). It constantly got pushed around, but I think it should be flyable in under 10MPH wind condition.
No issue with range when flying in the house, but when flying outside, the range is only about 150 meters roughly. It's mostly limited by video signal due to the poorly positioned antenna. If it's mounted properly you will get a lot more range. But for learning how to fly, 150m is plenty, especially if you are just flying around the house.
Flight time is about 4:30 minutes indoor, 3:30-4:00 minutes outdoor.
When it comes to more advanced acrobatic flying, the Cetus is probably not the best. It's quite heavy for a 2S whoop, has some yaw washouts when recovering from dives (yaw wiggles), and it's not as nimble as some other more powerful/lighter 2S drones like the Flywoo Nano Baby 20. But in my opinion that's not what the Cetus X is designed for, it's meant for durability and learning. Overall The BetaFPV Cetus X is a decent beginner's FPV kit for diving into how to fly a drone and how to use Betaflight on a budget.