We all love the Mobula6 because it's so damn fun to fly. But what if I tell you there might be something even better? Let's check out the new Happymodel Mobula7 1S Tiny Whoop.
Some of the links on this page are affiliate links. I receive a commission (at no extra cost to you) if you make a purchase after clicking on one of these affiliate links. This helps support the free content for the community on this website. Please read our Affiliate Link Policy for more information.
Check out my buyer's guide for the best Tiny Whoop and accessories.
Where to Buy?
Unlike many other whoops from Happymodel, the Mobula7 1S doesn't come with LiPo batteries, so you need to get your own. These 1S 450mAh packs work great and fit well in the battery bay.
Get GNB 1S 450mAh
Get EMAX 1S 450mAh
Also a good idea to grab some spare propellers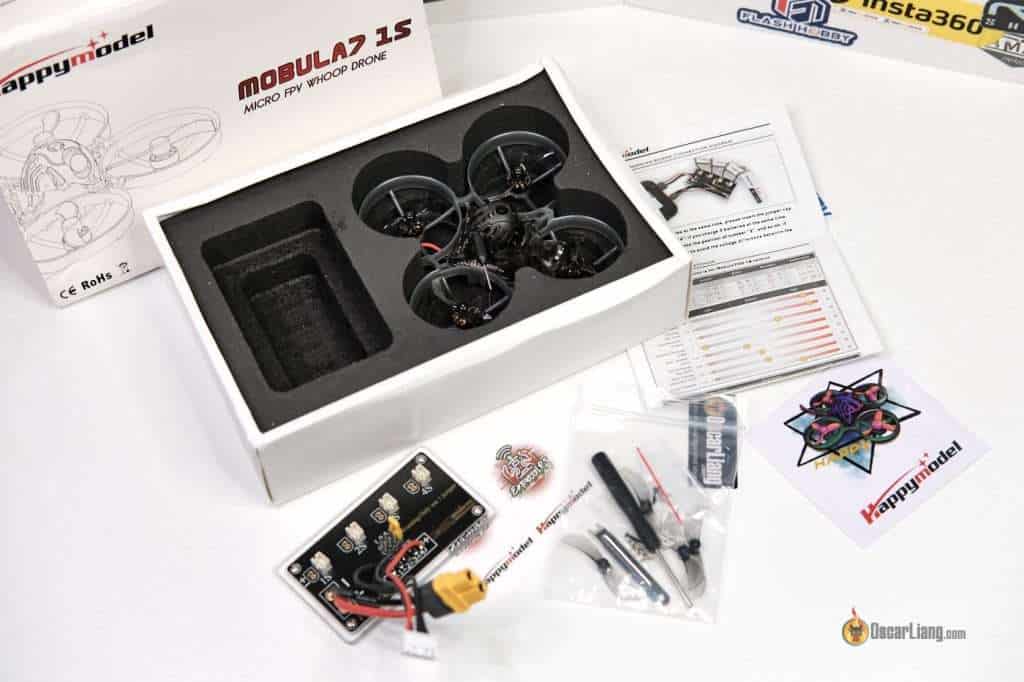 Inside the box, you get the following accessories:
1S LiPo series charging board
1 set of spare propellers
spare screws
spare canopy
screwdriver
prop removal tool
manual
stickers
Key Features and Specs
The Mobula7 is like the Mobula6 in a bigger platform.
Instead of 31mm props, they put 40mm props on the Mobula7. The increased disk area makes it more efficient and powerful at the same time. There are also some other improvements and new features too.
X12 5-IN-1 AIO flight controller w/ built-in 2.4GHz ELRS (V2.0)and OpenVTX (400mW)
New motors! RS0802 20000KV Uni-bell Motors with 1.5mm motor shaft
RunCam Nano 3 – the lightest 1/3 CMOS 800TVL camera available
Compatible with 1S Lipo (4.20V) and LiHV (4.35V)
Specifications:
Input Voltage: 1S LiPo
Max Continuous Current: 12A
Motors: 0802 20000KV
Camera: RunCam Nano 3
Wheelbase: 75mm
Dimensions: 99x99x40mm
Weight without battery: 24.1g
Weight with Emax 1S 450mah: 36.9g
Closer Look at the Mobula7
Frame and Canopy
The frame looks to be the mobula7 V4 frame which they used in the Moblite7 before. It's a tried and tested frame that has been refined over the years, very durable almost indestructible.
The Canopy has been redesigned, it's probably one of the lightest canopies I have seen in all the whoops I reviewed, weighing in at only 0.8g. Besides, it's using all four mounting points, making it sturdy and not wobbling around which will help with avoiding jello in video. There's also a piece of foam underneath the camera to further help with jello and protection.
Flight Controller
The Mobula7 1S whoop is using Happymodel's X12 AIO 5in1 FC (with 12A BLHeli_S ESC built-in). Initially, they didn't sell this FC separately unless you get the Mobula6 or Mobula7, but now they do which makes it possible to replace it if it gets damaged.
FC, ESC, VTX, RX, OSD all integrated into one single board! How compact is this?! It even has a current sensor!
The X12 AIO FC has ExpressLRS (ELRS) receiver built-in. ELRS offers ultra low latency (up to 500Hz update rate), and range is no longer a concern, your video signal will most likely to give up first before you lose radio signal. Another benefit of ELRS is the tiny little ceramic tower antenna (just under the canopy), no more worry about antenna wire getting in the way of spinning propellers.
Note that the ELRS receiver is connected via SPI instead of regular UART, while this is more compact and doesn't take up a UART, this comes with a downside. By integrating the RX into the FC, the ExpressLRS code needs to be merged into the flight controller firmware, so you need to flash Betaflight in order to update the receiver firmware. But you don't really need to update receiver firmware that often unless there's a new feature or bug fix you really want. As long as both of your TX module and RX are on the same major version, they should just work fine.
Motor and Propeller
These are the same motor size (0802) and similar KV (20,000 vs 19,000) as the Mobula6, the new motors RS0802 on the Mobula7 uses larger 1.5mm motor shaft which is fantastic. Normally these 1S whoop motors use 1mm shaft and they can break even when you just trying to change props.
The props are Gemfan 1610 two-blade. This motor-prop combo has a lot more power than the mobula6 setup, it can manage to carry a bigger battery without compromising power.
Battery and Charging
The battery connector is a solid pin PH2.0, for this setup this is good enough. Perhaps not much, but I think you can still get a bit more power and flight time out of this whoop by using BT2.0 if that's the type of connector you prefer.
I recommend using 1S 450mAh LiPo batteries as the tune is based on this specific battery weight, if you use something else it might mess up the tune. Not to mention the battery holder is catered for this very specific battery size too. If it's loose just wrap a rubber band around the frame.
It comes with a series charging board which I absolutely love. Yes, it requires a LiPo charger to use it, and you can't just plug it into a USB charger, but it's much faster and easy to use.
Looking for a LiPo charger? Check out my recommendations.
Note that this is NOT a parallel charging board, it's a series charging board. For example, when you connect 4x 1S 450mAh LiPo to this board, it becomes a 4S 450mAh LiPo! It doesn't combine the capacity like a parallel charging board does. The benefit is that it doesn't care what the voltage of the batteries is when you plug them in, they will all get "balanced" during charging.
You can charge up to four LiPo at the same time, just remember to move the jumper according to the number of packs you are charging.
Flying Experience
I heard so many good things about the Hapypmodel Mobula7 1S whoop, it's one of the reasons I decided to give it a try. And I can confirm it's just as good as what everybody says about it.
The PID tune is really good out of the box. It's one of the best 75mm whoops I have ever flown. I think I enjoy the Mobula7 more than the Moblite7 – not only the overall specs are just better and it's more robust, I don't need to "fix" the camera angle every time it crashes.
Thanks to the 400mW VTX and ExpressLRS receiver, I am able to fly around the whole house without any signal issue.
The Mobula7 has a lot more power than the Mobula6 and can go faster in straight line. Because it carries more weight, it tends to "drift" around corners and doesn't feel as precise as the Mobula6. But with practice I think that's something you can get used to.
The efficiency is decent, I get over 5-6 minutes of flight time on a 1S 450mAh, and it actually got some serious punch too when flying outdoor when it's not too windy.
It's slightly louder than a 65mm whoop because of the two-blade props and being a bigger, more powerful whoop after all.
Setup
The manual is really helpful when I was setting up the whoop. There are only a few things I have to do to get my Mobula7 off the ground.
The Mobula7 came loaded with Betaflight 4.3.0. The firmware target is: HAMO/CRAZYBEEF4SX1280
Here's the original CLI dump.
I just had to bind the ELRS RX to my radio (plug in battery and unplug, repeat it for 3 times to enter bind mode). Then setup switches in the Modes tab for arming and angle mode, rearrange the OSD, and we are in business.
The other thing I will do when I have time is to flash Bluejay firmware to the ESC, it allows the ESC to run at higher RPM frequency for better efficiency and enable RPM filter for better flight performance.
Happy flying.
Mobula6 or Mobula7?
Between the two I'd get the Mobula7 because:
ELRS support
More powerful 400mW VTX
More powerful and longer flight time
Better motors