One of the most useful features of FrSky radio would be telemetry. Telemetry is designed to transmit in-flight data from the radio receiver back to the radio transmitter. These telemetry data informs the pilot what is going on with the aircraft.
Some of the links on this page are affiliate links. I receive a commission (at no extra cost to you) if you make a purchase after clicking on one of these affiliate links. This helps support the free content for the community on this website. Please read our Affiliate Link Policy for more information.
In this guide we will focus on the Telemetry system on the D4R-II RX. The D4R-II is a popular Frsky receiver often used in mini quads. It's compact, light weight as well as having PPM and telemetry support.
Another popular Frsky Telemetry system is called Smart Port. It's mainly available on the X-series receivers. This guide explains how to setup Smart Port if you have one of those RX.
Frsky Telemetry – RSSI and LiPo Voltage
FrSky telemetry has an impressive list of features and is capable of sending various types of flight information. As an example, we will show you how to set up telemetry to receive RSSI (Signal strength indication) and LiPo battery voltage readings, and display them on your TX screen.
Some might ask "why do you want to use telemetry when Lipo alarms and OSD are available?". Well, Lipo alarm might be hard to hear when it's a long way from you. While OSD is a great tool, it doesn't hurt to add an extra layer of safety by having telemetry as well. It's much easier to notice with warning coming right from your TX when something reaches critical level, such as RSSI or LiPo battery voltage.
The Steps to setup D4R-II telemetry are:
Connecting telemetry pin on RX to FC
Setup FC in Betaflight/Cleanflight configurator (chrome app)
Setup your Taranis to read the Telemetry data
If you like Taranis hacks, you might find this tutorial interesting too: Taranis Custom Sound Track tutorial.
Connection Setup For Telemetry
Battery Voltage monitoring
To enable in-flight battery voltage monitoring and alarm, connect the VBAT pins on the flight controller to the battery or any same connection on the PDB. Make sure you have the polarity correct.
Many FC's these days can be powered directly by LiPo battery, which monitors the voltage level at the same time, therefore don't require additional VBAT connection.
Telemetry Connection
D4R-II receiver has an external analog telemetry port. It comes with a cable composed of four wires – in the order of black, white, red and green.
We will use the black and green wire only, which is ground and RX. White and red are used for other telemetry information that is no relevant here. They can be removed completely or cut short. Some people have been using the green wire only without the black wire (ground) for simplicity.
For F3, F4 and F7 boards, simply connect the telemetry wire (green) to any TX pin of a spare UART.
For F1 boards such as the Naze32 FC, you can connect:
Green wire goes to the Telemetry "+" on the Naze32
Black wire goes to the "-" on the Naze32
With all cables connected correctly, Taranis should be ready to receive Telemetry information from the RX. Note that on Naze32, Telemetry will only work when the board is armed.
Betaflight/Cleanflight Configurator Setup
For F3, F4 and F7 FC's, you will need to configure it in the configurator first.
In the port tab, enable "Frsky" under the telemetry dropdown list for the UART you are using for Telemetry.
And don't forget to enable "Telemetry" feature in Configuration tab.
Taranis telemetry screens setup
On the radio itself we need to go through the configuration setup in order to:
display correct voltage information
alarm on low voltage
warning on low RSSI signal.
display additional information (Altitude etc.)
On the Taranis, when we are in the model menu, it takes us to the telemetry screens by holding down the PAGE button. There are three screens and we can customize how the telemetry information is presented and displayed.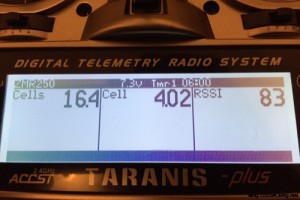 In above examples I setup Screen 1 to show numeric values of Total lipo voltage level (Cells), Per Cell and RSSI Signal Strength. (Apart from telemetry, it's also possible to get RSSI value via a spare PPM Channel)
Screen 2 was setup to show the same values but with a graph (bar chart). It has the low value set to 3.3V and high to 4.10 (which is 100% of the battery voltage). Tmr1 is a timer which is set to 7 minutes, which is my normal average flight time.
Parameters used in telemetry screens are:
Cells – displays total voltage of the battery
Cell – displays Cells divided by a number of battery cells.
Voltage level is detected by the Naze32 of the whole LiPo battery, so it is impossible to get voltage of each single cell. Cell value is used for setting voltage alarms on the radio.
Configuration can be done using radio screen or CompanionTX software (available to be downloaded on the OpenTX website), which allows you to upload settings to the radio from your computer. Setting it up directly on the TX takes longer, but you don't need a computer. Using Companion app is much easier in my opinion, due to the nice and user-friendly interface.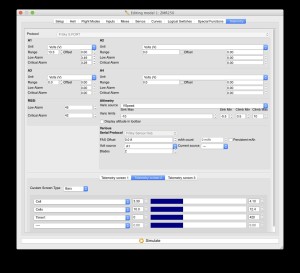 A1 and A2 are the analog telemetry ports on the receiver. On D4R-II we are using A1. First we need to setup the range. The receiver's maximum input voltage used for telemetry is 3.3V. Internal voltage divider is 4:1. Maximum voltage reading for A1 is 3.3×4=13.2. In my setup I use 13.3V as this is recommended. Detailed video on telemetry voltage calibration can be found here.
Low battery alarms are a matter of personal preferences. In general we don't want the battery to go completely flat during flight so setting low alarm to 3.5V – 3.7V is sufficient. Use whatever values that you feel should give you enough time to fly back and land safely. Critical alarm means that at this stage, we need to land immediately, otherwise the quadcopter will be likely falling out of the sky due to lack of power.
Taranis telemetry "talking" voice setup
One great feature of the Taranis is the custom voice capability, you get a lovely lady voice talking to you. Taranis radio can return us the information by "talking" to us while we are flying, so we don't need to look down on the LCD screen. We can configure the radio switches to report battery voltage, or configure it so it warns us when RSSI reaches low or critical level and so on.
My "talking" custom voice setup has three scenarios:
Taranis tells me when the battery voltage goes down below 3.44V.
After the board is armed, Taranis reminds me every 60 seconds what the battery voltage is.
When SH switch is toggled, Taranis tells me the current battery voltage.
In order to do that I set Logical switch L1 with value Cell set to 3.44V. In special functions I have created SF1 that is constantly looking if L1 switch is true to play the sound batlow (battery low).
Created also SF2 to tell me current voltage when switch SH is pressed down. Switch SF3 and SF4 are applying to my timer settings. Switch SF5 speaks voltage value every 60 seconds when arming switch, in my case SF was pressed down to arm the board.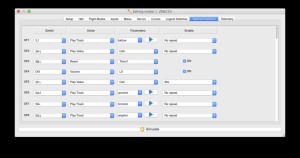 Edit History
Apr 2015 – guide created
Aug 2017 – updated how to do this with F3/F4/F7 flight controllers, and updated screenshots for the latest Betaflight configurator GUI