The Runcam Micro Swift 2 is one of the smallest FPV cameras and the new version has just added voltage OSD and some other improvements.
Some of the links on this page are affiliate links. I receive a commission (at no extra cost to you) if you make a purchase after clicking on one of these affiliate links. This helps support the free content for the community on this website. Please read our Affiliate Link Policy for more information.
Update (Mar 2018): There is a new version for this camera, the Micro Swift 3!
To learn more about FPV camera: How To Choose FPV Camera For Quadcopters and Drones
Purchase From:
What's special about the Runcam Micro Swift 2?
2 new features have been added to the popular Micro Swift FPV camera:
OSD capability to display battery voltage, timer, pilot name etc. Voltage OSD can be calibrated with precision down to 0.1V. The menu is very easy to work with
"One click" scene preset change – allows you to change camera pre-defined settings based on lighting, using the OSD menu control
Specification
Price: $35
Sensor: 1/3″ SONY Super HAD II CCD (same sensor used on the Swift 2)
Weight: 5.8g
dimension: 19mm x 19mm x 19mm
Input voltage: 5V-36V
Lens: M8 2.1mm​ FOV160° or 2.3mm FOV145° (option available at purchase)
Unboxing
The Swift Micro 2 camera comes with 6 screws (2 different sizes), a sturdy, metal mounting bracket, a silicone wire and an OSD menu control.
The Micro Swift 2 looks nearly identical to the previous version: using the same housing material and design, same weight and dimension, they even have the same lens on. The only visible difference is the additional "VBAT+" pin on the back.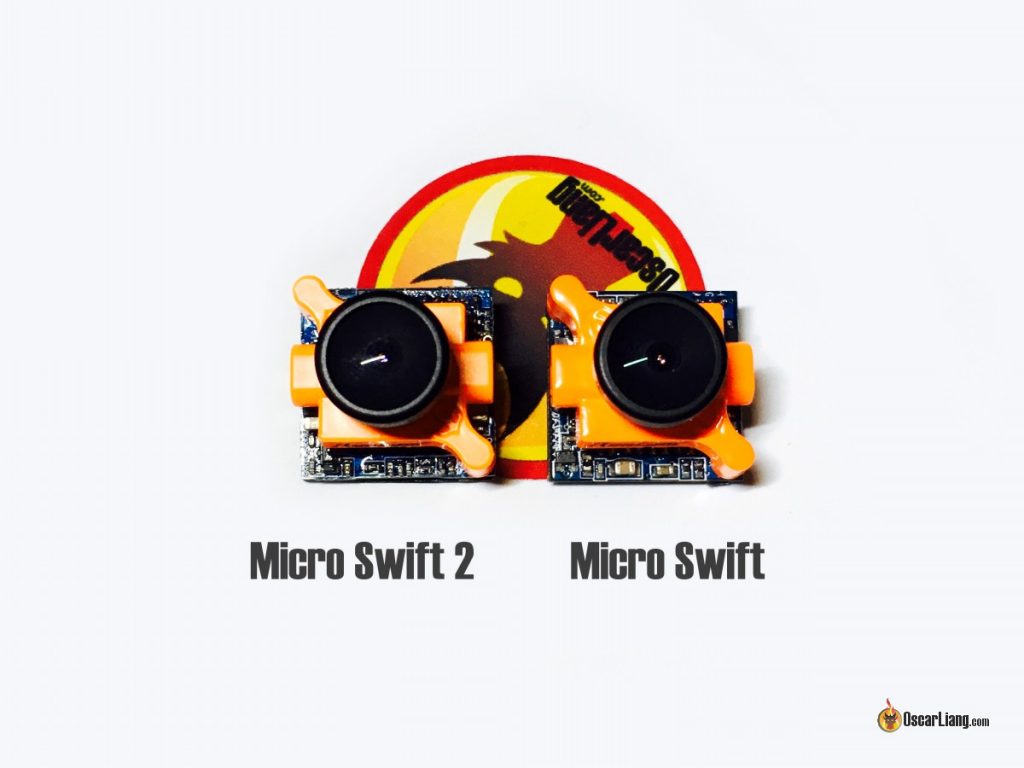 Close up of the Micro Swift 2 PCB and sensor. Unlike the previous Micro Swift that has the IR filter glued to the sensor, in the new version has been moved to the lens.
Here is the manual.
Go through the OSD Menu
The camera setting menu is exactly the same as the previous micro swift, or the swift 2, so we will just have a look at the OSD menu.
The OSD is pretty simple, there are 5 elements that can be displayed, and they can be turned on and off individually:
System info: it tells you if your camera is PAL or NTSC, and what scene setting you are using. This info only appears when you power up your camera and will disappear after a few seconds
Horizon: not very useful IMO. It doesn't really show you the horizon because the camera doesn't have an accelerometer nor connected to one. It's just a horizontal line on the display
Voltage: that's your battery voltage. If nothing is connected, 4.5V is displayed
Pilot Name: your customized name, allows 7 characters max
Timer: the time since the camera has been powered on
To activate OSD menu – long press UP for 3 seconds
To calibrate VBAT voltage – long press LEFT for 3 seconds
To switch between preset scene configuration – long press RIGHT for 3 seconds
To reset all OSD settings back to default – long press DOWN for 10 seconds
Here is how the OSD menu looks like, all the OSD elements can be configured here:
Changing pilot name takes a bit of practice and patience. You can't seem to jump characters, but select them one by one.
Another cool feature is the voltage colour warning. When the VBAT voltage drops below your "Alarm" voltage (which you can set in the OSD menu), the voltage would become purple and start flashing.
Finally there is the "one-touch" scene setting control. Runcam pre-configured 5 settings for different lighting conditions:
Lightrax
Outdoor
Indoor
Cloudy
Twilight
Personal (your own setting)
This is a pretty cool feature as it could save us tons of time figuring out the best settings for our flying environment. However I don't see too many people would be using it because it requires the OSD menu control to be plugged in. Once the camera is installed in the frame, the connector becomes very difficult to access. This is especially the case for micro quads.
Image Quality and Camera Latency
I have tested latency which is very similar to the previous Micro Swift, at 28ms.
Here is the image quality testing:
Some flight footage from the camera:
My Favorite settings
Brightness – 55
Contrast – 120
Sharpness – 31 (max)
Display – LCD
Gamma – 0.5
Comparison to other Micro FPV Cameras