Recently I received the tBeacon GPS tracker for lost multicopter/plane RC models. I haven't used this device long enough yet to make a in-depth review, so this post is more of a introductory post.
Some of the links on this page are affiliate links. I receive a commission (at no extra cost to you) if you make a purchase after clicking on one of these affiliate links. This helps support the free content for the community on this website. Please read our Affiliate Link Policy for more information.
Nowadays most flight controllers supports buzzer and bright LEDs, that can be triggered by a TX switch, so you can find it after it's crashed and lost in tall grass. However there are a few problems with this solution.
It relies on the main lipo battery, in a crash it's possible that your lipo gets disconnected.
If quadcopter crashed too far away, you cannot hear the buzzer or see the LED light.
Even if the main lipo is still connected, battery can run down very quickly within hours. (imagine with all the FPV gears and electronics connected you will be drawing more than 500mA per hour, for a 50% full 2000mAh battery, you only have about 2 hours to find your model before the buzzer stop working)
And the tBeacon tracker solves these problems by:
Independent power source, a small, light weight 1S  lipo battery. (It is claimed that 50mah miny battery is enough for 7 days of standby time)
Voltage monitoring of the Main Lipo battery
Activation via call from UHF handheld radio or by timer
Built-in Loud Buzzer and Bright LED
Sends back GPS coordinates from on board GPS unit, to your handheld radio.
weights only 5.5g including 50mah battery.
Programmable
A quick demo what it does.
Visit tBeacon's website for more detail. And discussion on RCGroups.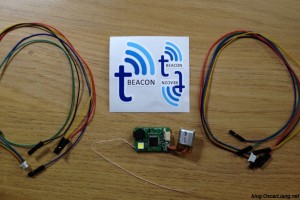 Thoughts
First impression is, i think they need to make some casing for the unit. At the moment they provide heatshrink, but I think better protection and water-proof is needed.
Configuration software is reported to contain malware by my antivirus. This was mentioned in the FAQ and it says it's completely safe, and suggest antivirus should be disabled to run it. I really think they should fix this issue.
I mainly fly mini quads, which don't have on-board GPS. Also I don't fly too far out anyway so the GPS reporting feature is not really needed. So i was trying to setup this tracker to be triggered by timer, but no luck. Manual is detailed, but the explanation is not very clear.  And I don't have a UHF handheld radio to test other features yet.
Lastly I really want to see them do a simpler version tracker for small size, short range multicopters, that only has loud buzzer and super bright LEDs. It shouldn't require any extra hardware (such as a hand held radio), and should be able to connect to a radio receiver or flight controller. It should be able to be activated by a TX AUX switch, or detect lost of signal/lost of power.