I touched on how to setup Model Matching in ExpressLRS briefly, but I didn't explain why you might want to use it. In this guide we will explain what Model Match does and how to set it up.. ExpressLRS Model Match is a powerful tool that can solve some fundamental problems. However, it can also be a bit confusing and annoying to set up.
Some of the links on this page are affiliate links. I receive a commission (at no extra cost to you) if you make a purchase after clicking on one of these affiliate links. This helps support the free content for the community on this website. Please read our Affiliate Link Policy for more information.
Understanding ExpressLRS Model Match
Without Model Match, your radio will be able to control all of the models it binds to (when those models are powered on). This is convenient if you use the same model profiles for all of your models, but this can be a problem if you have different quadcopters or fixed wings set up differently. For example, you might have a tiny whoop to fly inside the house, and a long range quad you fly outside. If you intend to create different model profiles for each of these models because you configured them differently in the radio, loading the wrong model profile could create a safety issue, and you won't notice because the model match ID are the same and you can still control both of them with the same profile.
Using Model Match prevents this issue, by ensuring that the radio only binds to the correct quadcopter when the correct model with a unique ID is loaded.
However, it's also a feature that most people have to turn off because when it's on, their receivers won't bind.
How to Set Up Model Match
I explain how to setup Model Match in my ExpressLRS tutorial, but I will repeat the steps here.
First, you'll need to turn on Model Match in the ExpressLRS LUA script.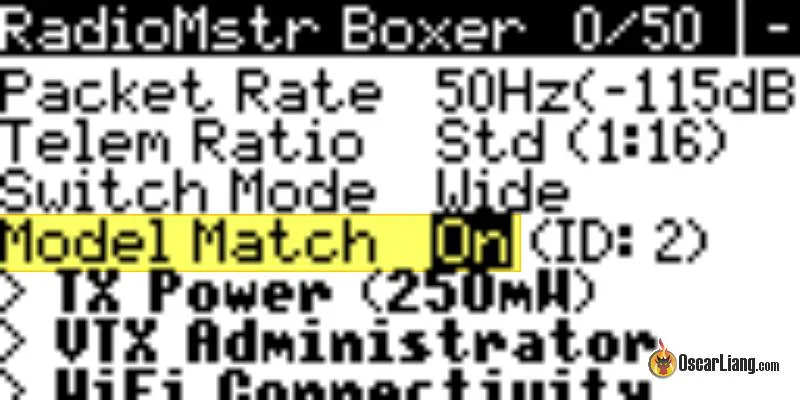 Assign RXnum/Receiver ID in the controller, Model Setup page, under Internal/External RF.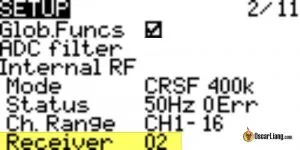 Then, you'll need to turn on Model Match in the receiver. To configure the receiver, you'll need to go to the web interface on the receiver. To do this, you need to have the receiver LED fast flashing. You can either do this by powering up the receiver by itself and waiting about 30 seconds, or you can go into the ExpressLRS Lua script, scroll down to Wi-Fi connectivity, and then enable RX Wi-Fi.
Once the receiver is in Wi-Fi mode, you'll go to your laptop, phone, or computer and look for the ExpressLRS_RX Wi-Fi network. Connect to that with the password 'expresslrs' (all lowercase), and then open your web browser and go to 10.0.0.1 or expresslrs_RX.local.
Once you've got that webpage up, you'll see that you're connected to the receiver. Scroll down and look for the 'enable model match' option. Enable Model Match here and assign this receiver a model ID, which is simply a number between 0 and 63.
Once you've done all that, you're good to go. Your radio will now only bind to the correct quadcopter when the correct model is loaded, and you'll be able to use the ExpressLRS options without any issues.
Going Forward
If you've enabled Model Match, you can assign a unique model number to each of your receiver. You can start with number one and work your way up as you start using Model Match.
Note that the receiver number can be shared across multiple aircraft/receiver if you wish they share the same model profile in your radio. For instance, you could use the same profile for all your 5-inch freestyle rigs, and another profile with a different ID for your tiny whoops etc, assuming they're all set up the same. This means that all of the aircraft that share a receiver number will share certain characteristics so that they can have the same model on your radio.
Final Thoughts
In conclusion, ExpressLRS Model Match is a powerful tool. However, it can also be a bit confusing to set up and cause binding issue if you accidentally enabled it. But with a bit of patience and understanding, you can harness the power of Model Match and improve your FPV experience.