FuriousFPV regularly releases new firmware for the True-D diversity module, which is deigned for the Fatshark Dominator FPV Goggles. In this post we will explain about how to flash new firmware and update the logo.
Some of the links on this page are affiliate links. I receive a commission (at no extra cost to you) if you make a purchase after clicking on one of these affiliate links. This helps support the free content for the community on this website. Please read our Affiliate Link Policy for more information.
This guide covers:
Updating Firmware on V3 Modules (via Micro USB Interface)
Updating Firmware on V1/V2 Modules (Via FTDI cable)
Calibration (very important that you do this before first use, and after each firmware update)
Updating Firmware on V3 Modules
The new True-D V3 modules come with integrated USB port that allows you to update firmware much easier. There is no more FTDI cable required.
Connect micro USB port to a computer, a new COM port should appear (I use Windows 10)
Download the following files from FuriousFPV's website: https://furiousfpv.com/download.php

"XLoader Update firmware True-D Version 3"
One of the Version 3 firmware files with your favourite logo (I chose IntoFPV, because it's my favourite forum :) )

Unzip both files and run XLoader.exe as administrator
In Xloader GUI, Select your firmware file (.hex file)
Set Baud Rate to 57600, and set the correct COM port, leave Device as "Uno(ATMega328)"
Hit "upload"
That's it! It should only take 10, 20 seconds until your module restarts and displays your new custom logo at start-up.
Here is a list of custom logo's available for the V3 module Updated on the 22nd Feb 2017.
Create your own logo?
First you need to create a logo, then send it to FuriousFPV and they will create a custom firmware including the logo for you.
Logo requirement:

file format: PNG
image dimension 128*64 pixels
logo max size – 128 pixels by 54 pixels (leaving at least 10 pixels at the bottom)
colour must be black and white

Email – sales AT furiousfpv.com
Is there V3 firmware for V1/V2 modules?
The firmware used in the V3 module is also available for the V1/V2, the firmware number is V2.1. The following instructions should work, only difference is you should now download the V2.1 firmware to upload.
---
Update True-D Firmware on V1/V2 Modules
First of all, can V1 and V2 True-D module update to new firmware? The answer is yes by using a FTDI cable. New module you buy in the future should come with USB port, so there is no need for a FTDI cable. However if you already own the V1 or V2 module and wish to update the firmware, this guide might help you. (Warning: I take no responsibility for damaged module during firmware flashing, flash at your own risk. Please Consult FuriousFPV if in doubt)
There are more than 1 way of flashing, one way is using XLoader.exe, which we use in this guide. Another possibility is using OSD_Config.exe, explained by FuriousFPV.
You will need this FTDI232 adapter (only $3!). And in this guide we are using Windows 10.
1. Download Firmware
https://furiousfpv.com/download.php
2. Open Xloader.exe
Xloader.exe is located in:
Update_FIRMWARE_TRUE_D_REV_2.0\XLoader\XLoader.exe
3. Load Hex File, and Xloader Settings
Find the .hex file "True_D_REV_2.0" inside the folder FIRMWARE_TRUE_D_REV_2.0
 Update_FIRMWARE_TRUE_D_REV_2.0\FIRMWARE_TRUE_D_REV_2.0\True_D_REV_2.0.ino.hex
Set Device to ATmega328, and Baud Rate to 57600. Make sure you choose the COM port of your FTDI adapter.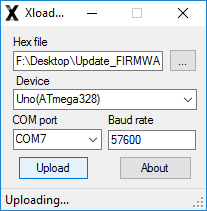 4. Connect FTDI Module with your True-D module
Remove the white plastic piece from the module, and you should see the 6 pins next to the antenna connectors.
Pinout is DTR,TX,RX,VCC,CTS,GND (from left to right). TX and RX should match on the FTDI and True-D, i.e., TX to TX, and RX to RX.
On the FTDI module you can select 3.3V or 5V. I use 5V because when I chose 3.3V, it doesn't power up the module.
When you plug in your FTDI module to your computer, a new COM port should appear in Windows, if this is the first time you use this FTDI module, make sure you install the necessary drivers first.
When FTDI and True-D are connected correctly, you should see a solid green LED on the true-D and it should power up like normal.
5. Flashing
On Xloader, select the COM Port of the FTDI, and press Upload.
FTDI lights will start blinking rapidly indicating that it's talking to the True-D. Flashing will take a minute, when it's finished, it will say "done" at the bottom of Xloader.
Note: Do not remove connection, or power down devices during firmware upload, it might damage your True-D. If it get stuck at uploading it could mean your TX and RX connection are reversed, or these pins are loose. Double check and try again.
True-D Module Calibration
Why Calibrate True-D?
It's important to calibrate your True-D diversity module when you first receive it. Also it's necessary to calibrate it again every time you update firmware.
You should also try calibrate it first If you find symptoms such as
smart search function not working
screen rolling issue
worse signal overall
True-D Calibration Procedure
Remove both antennas from True-D
Power on your quadcopter (with VTX and FPV camera)
Move your quad about 5m (15ft) away from the True-D unit
On the True-D unit, press the middle button and navigate to SETTING and select CALIBRATE
After calibration, make sure the lower value is within 155 to 205 and upper value is within 380 to 440
If values are correct, press SAVE and EXIT, if not need to re-calibrate again.
Edits History
Update (16/Nov/2016): I'm having trouble flashing one of my units, when using XLoader, it simply gets stuck at uploading, and FTDI adapter LED doesn't flash (no data activity). When using OSD_config, it returns an error saying "Failed to talk to bootalder". I am looking for a solution and when I manage to fix it I will come back and update on this page.
Update (20/Nov/2016): Some people having issues of "failed to talk to bootloader", or stuck uploading error, was able to flash their modules by performing "timing trick). Basically, if you are using XLoader, you should hit upload as soon as you power up the module, and if you use OSD_Config, you should load the firmware file as soon as you power up the module.
However so far only modules of Rev01 and Rev02 confirmed they were successfully flashed their module with timing trick, Rev00 are still having this issue. You can find the Rev version under the screen, it's printed on the PCB. See comments here for detail.
Update (22/Feb/2017): Added instructions for True-D V3 modules.
Update (13/Apr/2017): Added Calibration instructions.