After building a few small size multicopters, I realize where I live is too windy for them and I decided to build a full size FPV tricopter with high quality components for better performance.
Some of the links on this page are affiliate links. I receive a commission (at no extra cost to you) if you make a purchase after clicking on one of these affiliate links. This helps support the free content for the community on this website. Please read our Affiliate Link Policy for more information.
Tricopter an aircraft similar to a helicopter and quadcopter except it has three motors. The yaw is controlled by the servo turning the back motor. The beauty of the design compare to quadcopter is that 1) foldable; 2) natural flying orientation; 3) fewer point of failure. It is simple, cheap, easy to build with no advanced electronics needed.
Parts I used
By flashing the ESC with simonK firmware, the performance is so much better. The modified firmware has little to none filtering of the PPM signal which means that the throttle response is much quicker.
Total Weight: 1.2KG, Flight time: 8 to 9 Mins. I actually came up with a good method of selecting Batteries by estimating flight time.
I made some modifications to the original frame setup. I replaced the original short arms with 38cm Carbon fibre arm (almost twice as long), to gain some more stability when it's windy. Also the original yaw mechanism was a little loose, and wasn't smooth at all. So I added some thrust bearings to get rid of the sloppiness.
And finally the frame turns out to be huge.  ;-D
Power distribution is a cable I made myself.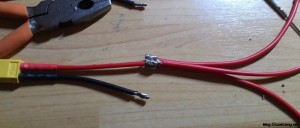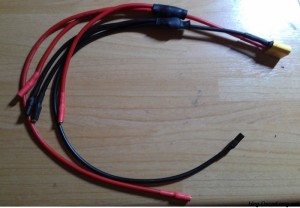 FPV Tricopter Test Flight
After 2 weeks of stormy weather, we finally had a sunny day. It wasn't windy (8mph) so it's perfect for FPV. The tricopter is pretty stable without too much PID tuning, and I am happy with the stability of the video too given that the camera is mounted straight onto the tricopter frame, and there is nothing extra for vibration damping.
FPV Tricopter – First outdoor flight with GoPro Hero3 from Oscar on Vimeo.
Camera Mount Experiment
I probably tried 3 different ways of mount the camera. Here is the first way, using two plates with vibration damping balls in between. The result wasn't good at all, the balls are too elastic.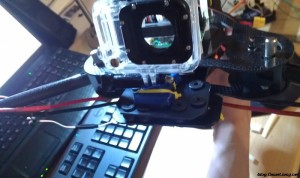 The Second method was to replace the elastic balls with some vibration absorbing foam. It was a little better than the balls, but still wasn't good enough.
At the end I went with the simplest way – mounting the camera directly on the frame.
Recently I built a piano wire camera mount for it, which works brilliantly!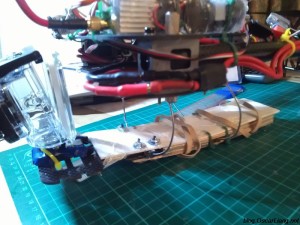 Here is a video showing the result.
Video Transmission System
Here it comes the trickier part. I am using a 5.8GHz video transmitter, which requires 7.4V to 14V input. However I am using 4S Lipo battery and I don't want to risk burning the transmitter out by connecting them directly. It is recommended to use 12V as input source, I could either use a 3S lipo, or a step down voltage regulator in order to use the 4S as power supply. To use a 3S lipo as a separate power source, it stops me from worrying about any noise issue that is caused by the ESCs. but that would add extra weight to the copter! So I decided to use a regulator.
Because of the noise in the power system, when the tricopter is flying there appears white lines jumping on the screen. It's even worse when pulling the throttle up. A simple LC filter fix the issue easy which is just a capacitor and a inductor (a torroid coil).
Mounting GPS OSD and video transmitter.
That's it for now, stay tuned for more updates, flight video or modifications.
First major fly away and crash
I went onto a hill, and thought it would be cool to take some video. Didn't think the wind would be so strong that it pulled the tricopter away, so far away I eventually lost signal, and it crashed.
Not thing too serious, only broke two arms and a prop. Fixed and up in the air again a few hours later.
Found a nice Training spot
I have seen quite a few people riding dirt bike here, but also perfect for FPV training.
 Evening Training