The Cinemizer OLED Glasses is a well known high end multimedia platform from Zeiss. It's capable of displaying 1080p video and in this review we are going to see if it's any good for FPV.
Some of the links on this page are affiliate links. I receive a commission (at no extra cost to you) if you make a purchase after clicking on one of these affiliate links. This helps support the free content for the community on this website. Please read our Affiliate Link Policy for more information.
Looking for a nice pair of FPV goggles? Make sure to check out my FPV Goggles buyer's guide first.
Cool things about the Cinemizer
Before we go on and show you the Cinemizer goggles, here are some cool things and features that I found during my testing.
The screens have separately adjustable diopters of -5 to +2, and it supports IPD (Interpupillary distance) range of 59mm – 69mm. The diopter effectively moves the screen further away or closer so your eyes can focus better.
It's great if you wear prescription glasses (long/near sighted). I'm near-sighted, and one eye is slightly worse than the other. The diopters have been working perfectly for me as I can adjust them separately, which I wasn't able to do on my Fatshark. This makes it so flexible for users so they don't need to wear contact lenses to use these goggles.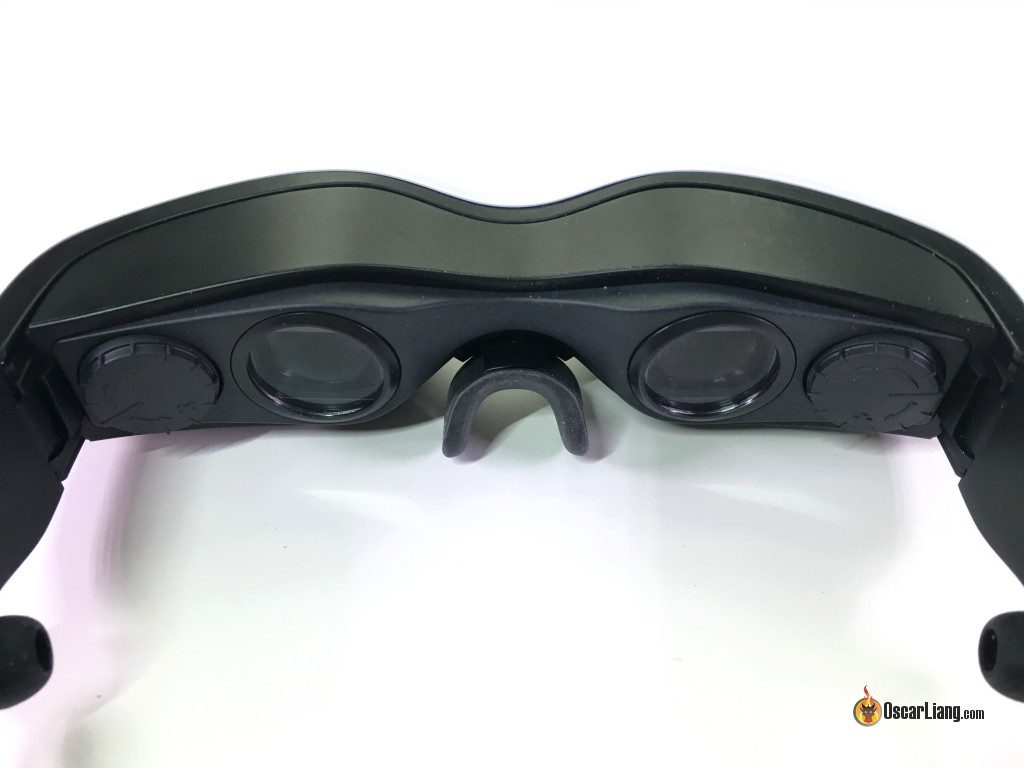 Although the Cinemizer is primarily designed for multimedia playing, but it can also be used for FPV too! It has a HDMI input as well as an analogue AV input, making it compatible with 5.8Ghz analogue and Connex HD digital transmitter/receiver systems.
It support 3D video playing, and many different formats (side by side, top bottom, Line interleave etc). Therefore it also works with 3D FPV systems from the analogue AV input.
I am amazed by the excellent definition and picture quality these glasses offer, colour representation is fantastic, brightness and contrast is great even in a bright day. But you cannot compare them with a desktop monitor, after all they are just tiny displays that get magnified. I've found them having problems displaying tiny text, but that hasn't caused much a problem otherwise.
You get a battery low warning on screen which is handy. More surprisingly to me, the Cinemizer was released 5 years ago (in 2012)!
For a more detail spec, check out their website.
Appearance
Cinemizer Glasses
The Cinemizer OLED Goggles come in a nice travel case.
The housing of the Cinemizer is made of plastic.
It's different from other FPV goggles we normally see, that have a headband to hold the goggles to our faces. The Cinemizer looks like a pair of sun glasses with arms (ear rests). The arms have a bit of grip that help hold them firmly on the face.
Each arm has a adjustable side pieces that can move forth and back. When you put these glasses on, and push these side pieces all the way to your ears, they lock the goggles on your face so they don't fall off. They work really well, I tried to shake my head vigorously and they just stayed on.
The 2 little pockets on the arms are for storing the supplied ear-buds during transport. If you don't like using these ear buds, you can unplug them from the goggles, and plug your own headphone into the 3.5mm port on the battery hub.
It comes with 3 types of nose support depending on the shape/size of your nose.
Battery Hub
The Cinemizer OLED has a long, non-removable cable, and on the other side of that cable is the battery hub. The hub holds a 450mah LiPo battery, and it serves as the control panel as well.
You can actually use the goggles while charging it, so really there is no limits on how long you can run it for. But it's recommended to perform a complete charge/discharge cycle once a month to keep the battery going well.
On the front you can see there is the Mini HDMI port (type C), the product comes with a mini HDMI to HDMI adapter (Type C to Type A). On the left hand side there are
Power button
Control/volume button
2D/3D Modes LEDs
AV input (3.5mm Jack)
Power LED – Green (full battery), Orange, Red (low battery)
Mini USB port for charging
The HDMI module is removable. AV input only works when this is removed.
On Screen Display Menu
The OSD menu is minimalist, you can:
Change 3D format
Check video connection status and firmware version
Adjust brightness
Set Contrast to Normal or High
Change aspect ratio
Adjust screen width/height
Eye Cups
Because of the design of the Cinemizer (sun glasses design), you will get some light leaks when using it outdoor. It's not too bad though I found, the screens are bright enough to allow me to see clearly as long as I stay under the shade. But they sell these eye cups separately, I believe they are designed specifically for those who use them outdoor.
However personally I don't like them because they are not compatible with my face :D I wish they could have made them a little larger, with softer material. And I was still getting a little light leak through the nose support. And not to mention, they cost $30 extra!
These eye cups also make your lenses steam up, a common problem when the environment is either too hot or too cold. Fatshark goggles used to have this problem too before they added a fan to their faceplates.
Size Comparison with Fatshark
Is it good for FPV?
Image Quality is excellent, but smaller FOV?
First thing I noticed when using it was the FOV, which is only 30 degree. It's smaller than some other popular FPV Goggles out there (e.g. the Fatshark DomV2 I have is 35 degree) The Cinemizer has a wide screen, so it makes it especially noticeable that vertical FOV is smaller. Despite the smaller FOV, OSD text is just as crisp as the Fatshark Dominators due to the higher definition. And I quickly got used to the smaller FOV after using it for a few flights.
Marc Vernet from MicroOLED replied to my comment regarding FOV:
The FOV is indeed smaller than some Fatsharks. This is linked to the optical and display technology used (some info on the 'about us' section of our cinemizeroled.com website). Some pilots flying Cinemizer also appreciate having the full picture close to the Center of the vision to limit eye movement. A matter of preference I would say.
In my testing, I found the size of the screen was like looking at a 30 inch monitor from 5 feet away. Overall I am very happy with the image quality, and the smaller FOV doesn't really bother my that much because the image quality is much sharper and clearer.
Aspect Ratio
Although it's a 16:9 wide screen, I was thrilled to find out that aspect ratio can be changed to 4:3 in AV mode. You can avoid image compressing or stretching whatever FPV cameras you use, whether it's 4:3 or 16:9. However when using 4:3 aspect ratio, the FOV will become even smaller.
Extra Gear/Cost to Fly FPV?
Unlike most FPV goggles with built-in video receiver, an external ground station is required to fly FPV with the Cinemizer. (Ground Station: video receiver / antenna / battery / optional DVR)
But connection is simple by using the 4-pin 3.5mm AV cable.
I can even output video from my Fatshark goggles (which has an AV output), so I could show my spectator what I see when I am flying :)
The Cinemizer is $790, and it's just the glasses alone. If you fly HD FPV system, and need something to play multimedia at home (like 3D content etc), then you should consider the Cinemizer for its multi-function.
But if you only fly 5.8Ghz analog systems, then I don't think you get much advantage using these HD glasses, and there are much cheaper options out there. There are "all in one" solutions which they integrate video receiver, even DVR. However It would be future-proof though if HD FPV systems becomes more affordable and available later on, and the Cinemaizer can cope with it straight away.
Is it Comfy to wear?
It's pretty comfortable to wear at first, but the goggles weight 120g, my nose and ears start to feel uncomfortable after a while (30 mins or so). To be honest I prefer the Faceplate + headband style over the glasses arms for long time usage.
Battery life is great, every charge gives me 2 and a half hours for digital (HDMI) and 6 hours for analogue (AV – FPV). More than enough for a flight session!
Marc Vernet from MicroOLED responded to my comment:
In order to enable long/comfortable sessions, we usually recommend to use a simple elastic strap as shown in this picture. They can fit around the Ear sliders, or if you have small metallic ring on it, you can use the tiny hole at the end of branches.

This is what we gave to pilots at Paris Drone Festival. It solves 2 issues: eye cup are better blocking light, without pressing on ears. And you can keep goggle on the head when not in use, this keeps the lenses warm which also limits the creation of fog on them.
Home Cinema is great though
I absolutely love it for playing movies though. I played some of the 3D content already available on Youtube and it's amazing! :)
Other Accessories You Can Get
iPhone/iPad adapter that allows you to stream HD videos from these devices.
There is Cinemizer Ski Goggle Mod you can do, it basically turns your glasses into a faceplate style goggles. But it voids your warranty.
Finally, huge thank you to Zeiss for providing me with the Cinemizer for this review.