I recently received a Drone Lab 4S 1500mah LiPo from RadioC.co.uk for review. I have flown with this battery more than 10 times now, and so far I am very pleased.
Some of the links on this page are affiliate links. I receive a commission (at no extra cost to you) if you make a purchase after clicking on one of these affiliate links. This helps support the free content for the community on this website. Please read our Affiliate Link Policy for more information.
Get your Drone Lab 4S LiPo from RadioC.
I am currently running a mini quad with Cobra 2204 1960KV motors and 6045 propellers. Mini Quad LiPo batteries I have been using are
Turnigy Nano-tech 4S 1800mah 65C-130C
Turnigy Nano-tech 4S 1300mah 45C-90C.
Here is a video of me flying with the DroneLab Lipo.
Comparing the DroneLab Battery with Turnigy, Here is what I think.
| | | | | |
| --- | --- | --- | --- | --- |
| Battery | Price | Weight | Flight time | Punch |
| Drone Lab 4S 1500mah 50C | $24 | 157g | 4-5 mins | 8/10 |
| Turnigy 4S 1300mah 45C | $19 | 156g | 3-4 mins | 5/10 |
| Turnigy 4S 1800mah 65C | $28 | 229g | 5-6 mins | 9/10 |
They are all similar height and width, but the DroneLab 1500mah is just slightly longer than the Turnigy 1300mah.
The Turnigy batteries are generally very good, but they are either always out of stock, or you have to buy them from China where shipping can cost a lot. If you are looking for LiPo locally this is a good choice IMO.
Weight and capacity wise, I would definitely go for the DroneLab battery over Turnigy 1300mah. I can confirm I get at least a min or two more flight time. (although it wasn't a fair comparison, my Turnigy batteries are almost 8 months old)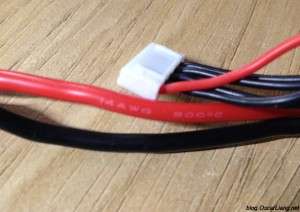 Only concern I have with the DroneLab Lipo is the discharge wire. If the claimed C rating is correct, the max discharging current should reach 100C*1500mah = 150A. I would expect at least 12AWG wires used. But this battery uses 14AWG. So is the C rating correctly stated? I don't know, but I can confirm it is very punchy on my mini quad.