In this post I will share 3 modifications I have done on the Eachine E010, hoping to make it fly better. Not all of them worked though but it was nice to try different ideas :)
Some of the links on this page are affiliate links. I receive a commission (at no extra cost to you) if you make a purchase after clicking on one of these affiliate links. This helps support the free content for the community on this website. Please read our Affiliate Link Policy for more information.
The Eachine E010 is a great little quad that is dirt cheap, great alternative to the Inductrix.
Mod #1 – Transmitter Sticks Extension
I complained a lot in my Eachine E010 review about the TX, where the sticks are very difficult to control. Thanks to CesiumSalami who commented in my post, he showed me about a handle extension mod someone did in a different model. That TX is different, so I went ahead and designed one for the Eachine E010.
This TX extension mod hugely improve control accuracy. It's still not as good as holding a proper TX, but it's a lot better.
STL files can be found on Thingiverse.
Mod #2 – Chaoli Motors "Upgrade"
Got these Chaoli 0615 6mm motors for this quad, as they are branded as the Inductrix/Tiny whoop upgrade motors. Swapping out the motor is easy, it's important to write down what colour wire is positive and negative before de-soldering.
However the result isn't as good as I expected. I even got slightly less flight time than the stock motors. It didn't feel as punchy as well.
The Eachine stock motors are actually pretty decent already, so there is no need to change them out with the Chaoli (unless you are looking for replacement).
Mod #3 – 2 Blade Propellers
Quad-blade props are known to be less efficient than props with fewer blades, such as 2 blade. So here I tried to remove 2 of the blades from the stock propellers and see what happens.
I cut the props with a wire cutter, and then finished with some sand paper.
Only do this mod if you have spare props!
The result is surprising, I get about 25% more hover time!!!
| | | |
| --- | --- | --- |
| Hover Time | Original Motors | Chaoli 0615 |
| 4-blade (stock) | 3:35 | 3:30 |
| 2-blade (moded) | 4:30 | 4:20 |
Maybe it feels a little less punchy, but it's hard to tell. Another thing to notice is it's noisier with only 2 blades, probably because of the higher RPM.
I think this mod should also work on the Inductrix/Tiny Whoop too, but i don't have one to try :)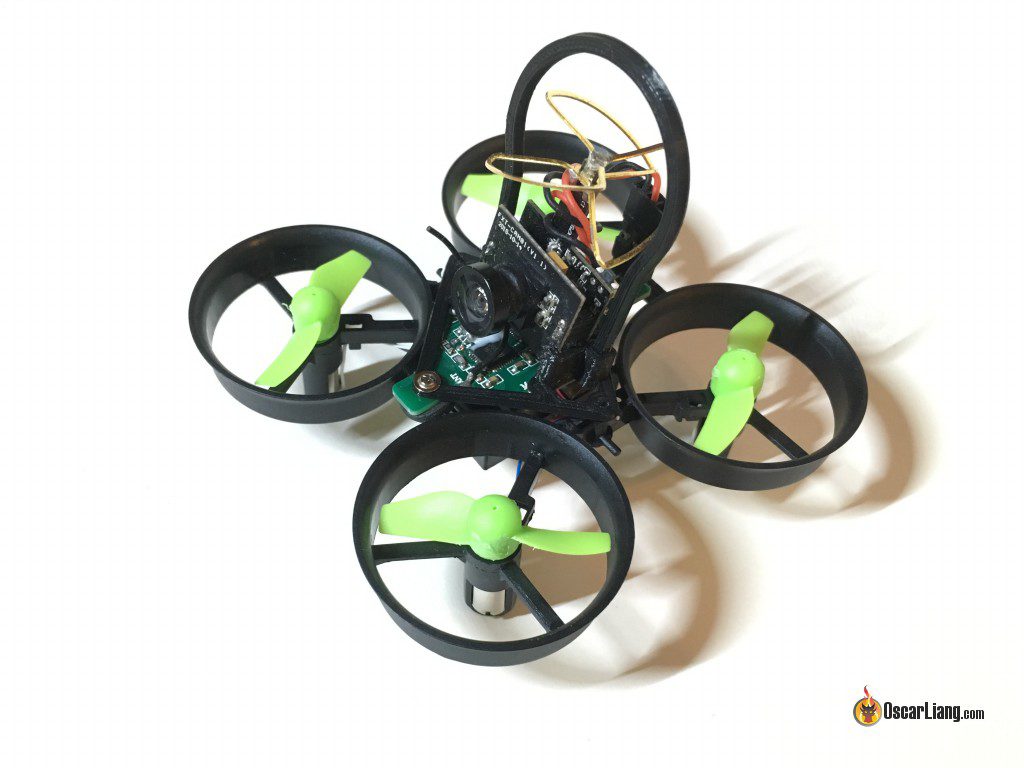 I definitely recommend mod #1 and #3 in this post, very happy with the result :)
No 3D printers?
I don't know if there would be any interested in the 3D printed parts I designed. But if you don't have a 3D printer I am happy to print them for you. I normally ship 1-3 days after order, excluding weekend.
Kit including:
FX797/798 VTX mount and antenna protector (choose tilt angle between 10, 15 and 20)
A set of stick extension (choose your preferred extended length between 15mm and 20mm)
Price: £6.99 Postage £2.99 (worldwide)
Availability: Discontinued