FPV Camera Lens makes a huge difference to image quality. This article covers some of the most significant aspects of FPV camera lenses when it comes to maintaining and choosing one.
Some of the links on this page are affiliate links. I receive a commission (at no extra cost to you) if you make a purchase after clicking on one of these affiliate links. This helps support the free content for the community on this website. Please read our Affiliate Link Policy for more information.
There are a lot more to consider when picking an FPV camera lens, I will keep adding and updating info in this article.
Check out my tutorial to learn more about FPV Cameras, here are my FPV camera recommendations.
Table of Content:
FPV Camera Lens Affects Image Quality
The lens of your FPV camera can affect your image quality in the following ways:
FOV
Colour
Detail & sharpness
Brightness and contrast
When it comes to image quality, different FPV camera lenses are really "apples and oranges". It's impossible to tell which is best until you try it yourself and look at the images in your own FPV goggles.
Here is an example where I tested 3 different lenses for the Runcam Swift a while ago.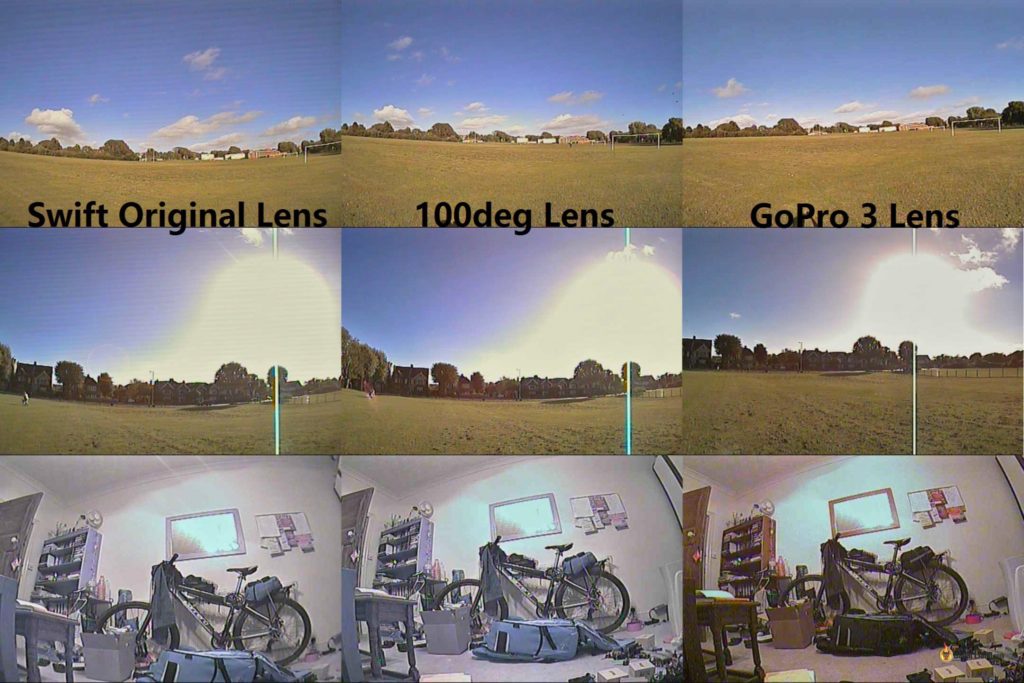 FOV and Focal Length
The FOV (Field of View) is one of the most important factors when choosing an FPV camera or lens.
Generally speaking, shorter focal length gives you a wider FOV, however focal length of the lens does not equate to FOV.
To give you some idea, here is a rough estimation for a camera with 1/3″ sensor size in 4:3 aspect ratio:
| | |
| --- | --- |
| Lens Focal Length | Approx. FOV |
| 1.6mm | 170°+ |
| 1.8mm | 160° – 170° |
| 2.1mm | 150° – 160° |
| 2.3mm | 140° – 150° |
| 2.5mm | 130° – 140° |
Focal lengths range from about 2.8mm to 1.8mm. I find it easier to choose when the manufacturer tells me what the FOV is for the different lenses they offer, otherwise it's more or less a guessing game even if I know the focal length. I do find it a bit annoying and strange that they seem to always tell you the focal length of the lens and not always the FOV.
However there are some guidelines you can follow. For example, a 2.8mm lens will have a narrower field of view, while a 2.1mm lens will have a wider FOV but with a stronger fisheye effect and more distorted image.
For FPV, I recommend a focal length between 2.1mm and 2.5mm. The wider FOV gives more peripheral vision in the goggles and makes it easier to tell where you are in relation to the proximity around you. Basically you can see the obstacles coming earlier and react sooner.
Another advantage of having larger FOV is that you need less camera up-tilt angle because you can see more above and below the horizon. Making it easier to land and manage your throttle level.
Lens Diameter & Element Size
From my experience, I found lenses with larger diameter can have a positive effect on image quality.
A larger lens diameter might have the same FOV (focal length) and max aperture as a smaller one, but it's bigger just purely because it's using a larger lens elements. This could have advantages with regard to image sharpness and the way light is let into the image sensor.
Perhaps that's why we begin to see more and more Micro FPV cameras using larger size lens again, such as the Micro Eagle and Micro Swift 3. The M8 threaded lens is replaced by the M12 that is normally used on standard size cameras. M12 lenses obviously can house a much larger lens element while they can have the same aperture and FOV to a much smaller M8 size lens.
Lens Thread Size
When choosing a new lens for your camera, you have to make sure it fits. This is determined by the thread diameter of the lens.
There are 2 sizes, M8 and M12 (8mm diameter and 12mm diameter).
M8 is used in most micro cameras, and M12 is used in Mini and Standard sizes cameras. Some newer Micro cameras are beginning to use the larger M12 lens too for the better image quality.
You can find the lens size of all FPV cameras in this spreadsheet.
| | |
| --- | --- |
| | I compiled the specifications of all FPV cameras for mini quad in this spreadsheet so you can compare them more closely. |
IR Filter (IR Blocked)
IR (infrared) filter is there to block light of certain wavelength, it's sometimes referred to as IR block. In your FPV camera, you can usually find a filter on either your FPV camera lens or sensor – a layer of coating that reflects red/pink light.
IR filter on the lens:
IR filter on the image sensor:
If your sensor doesn't have the IR filter, and you use a new FPV camera lens that also doesn't have it, your image will look pink.
Once you have mounted the correct lens your image will look normal again :) Now we just need to fix the focus :)
See how the image is all blurry? Because the lens is out of focus. Here is a guide on how to adjust the focus of your FPV camera lens.
I hope this guide has been informative and useful. Please let me know if you have any question.