Today we will check out the Happymodel Crux3. Yea I know, another 3″ long range FPV drone powered by 18650 Li-ion cell, but it has something unique to offer, so don't get bored just yet :)
Some of the links on this page are affiliate links. I receive a commission (at no extra cost to you) if you make a purchase after clicking on one of these affiliate links. This helps support the free content for the community on this website. Please read our Affiliate Link Policy for more information.
Where to Buy?
Inside the box we have
Crux3 FPV Drone
4x Gemfan 75mm bi-blade propellers
1x Screw Driver
1x Propeller disassemble tool
FPV Camera Setting Joystick
Manual and stickers
Batteries are not included. You will need to get some decent 18650 Li-Ion cell with high discharge rate. The recommended battery is Sony VTC6, VTC5A also works but with slightly less capacity.
Specs and Features
FC (flight controller): Happymodel ELRSF4 2G4 AIO 5-in-1
Receiver: ExpressLRS 2.4GHz (integrated inside FC)
Camera: Caddx Ant Nano FPV Camera
VTX: 5.8GHz 25mw~200mw 40ch VTX (integrated inside FC)
Propellers: Gemfan 75mm bi-blade Propellers
Motors: Happymodel EX1202.5 11500KV
GPS: Happymodel Mini M8N
Size: 125mmx115mmx40mm (without propellers)
Weight: 68g (without battery)
I have tested a few different 3″ long range drones that are powered by a single 18650 cell, and they all have something unique to offer. What stands out most with the Happymodel Crux3, are the onboard ExpressLRS receiver and GPS module.
ExpressLRS needs no more praises, it's one of the most competitive RC systems right now. It's affordable, ultra low latency and great at long range too. I have a whole article talking about ExpressLRS if you are interested.
You can't really call a drone long range if it doesn't have GPS. Many of us have been trying to add a GPS module to these 3″ long range drones, but usually not possible due to the lack of UART. Finally, this time Happymodel ships out the Crux3 with GPS already installed.
With GPS, you can see exactly how far you are, you have a home direction arrow in case you are lost, and most importantly, your drone will fly back to you if you lost signal using Betaflight Rescue mode.
Closer Look at the Crux3
The FPV camera holder is made of aluminium, which is a bit more durable than the 3D printed ones. FPV camera is the popular Caddx Ant, which is used in most other options in this class, so you can expect image quality to be similar if not the same.
Motors are 1202.5 11500KV, almost the same specs as the original Rekon3.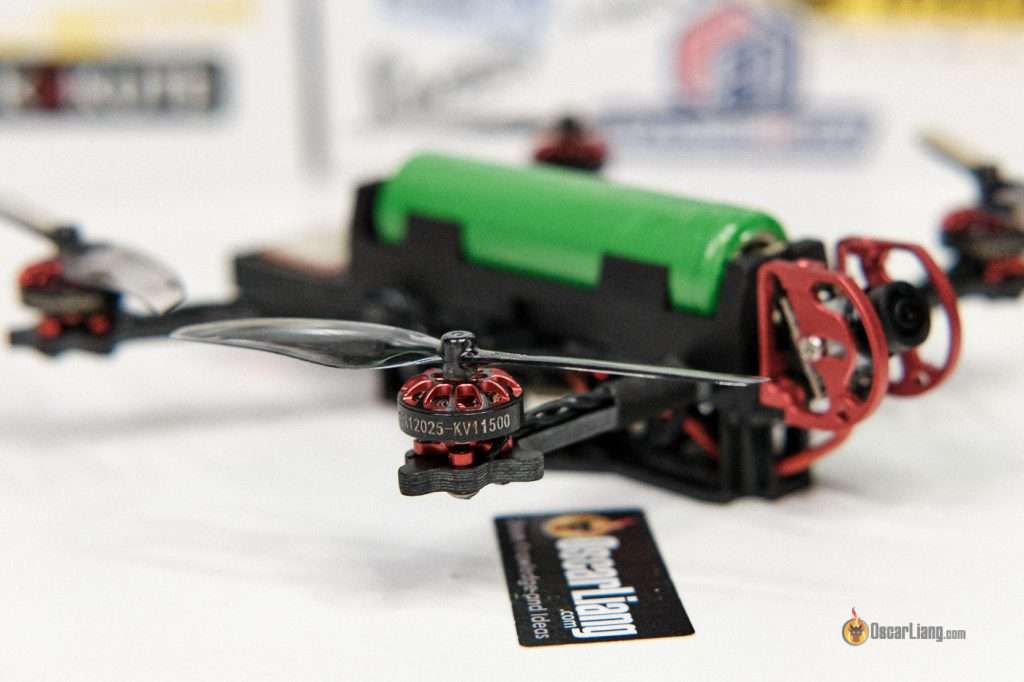 The Crux3 is using ExpressLRS receiver, which is great for range. It will definitely out-range the commonly used Frsky D8/D16 RX. While it's nice to see the tiny ceramic receiver antenna here, which is compact and convenient, I would rather prefer the longer traditional style antenna for better range. After all this drone is built for long range.
I also love the fact that it has a buzzer, which is missing in a lot of other BNF builds. It will help a lot when you crash and search.
The frame design is very similar to the Rekon3, which is known to have weak arms. The arms are very thin in the Crux3 and it's probably not the most durable frame in the world. So avoid crashing :)
Flight Testing
Just like other 1S 3″ long range I have tested, they don't handle wind very well due to the lack of power, but on a calm day they can fly very smoothly. By the way, it's strictly for cruising, and not designed for acrobatic flying.
GPS takes about 3 to 5 mins to get a satellite lock for the first flight, which is not too bad. It gets faster after the first flight. You need to get a satellite lock before take off, otherwise rescue mode won't work properly.
Rescue mode is working as expected and it's all setup out of the box. However you should still go through the configuration and make sure the settings are suitable for your particular flying style and environment. See my Rescue Mode tutorial for more info.
Flight time takes a hit because of all the additional weight from the GPS module, buzzer etc. It gives me around 12 to 13 minutes of flight time vs. the 15+ minutes from other similar models. But still it's more than enough for me, some people might find it boring after 10 mins of cruising :)