iSDT, the company that makes my favorite LiPo charger, the SC-620, recently released a very fancy battery checker, the BG-8S. I decided to get one and see what's special about it.
Some of the links on this page are affiliate links. I receive a commission (at no extra cost to you) if you make a purchase after clicking on one of these affiliate links. This helps support the free content for the community on this website. Please read our Affiliate Link Policy for more information.
Purchase: https://goo.gl/VGWqRL
Take a look at the list of tools that are useful for building quadcopters.
Features
Apart from LiPo battery voltage checking, the BG-8S also has a few other handy features:
5V USB Charger for cameras, phones & tablets etc
LiPo Battery Cell Balancing
Radio Receiver Signal Analyser: PWM, PPM, SBUS, gives you the value of each channel
Supports BattGo Technology
You can use it to charge your GoPro or iPhone at the field using one of your LiPo batteries with the BG-8S. And I would be able to troubleshoot my receivers if I am having trouble getting it to talk to the FC.
The voltage checker is called "BG-8S", not because of Banggood :D, but the support for a new technology in LiPo battery – "BattGo" (check out our article for more info).
LiPo batteries with BattGo technology have data and settings stored inside the battery pack. By connecting the battery pack to the BG-8S you would be able to read this data, and change settings on the battery.
Spec and Unbox
Voltage checking supports 1S to 8S batteries (0.8V to 4.8V per cell)
Voltage measurement accuracy +/- 5mV (0.005V) @4.2V
For the 5V USB charger to work, input voltage must be within 5V to 36V
USB charging support maximum of 12V @ 5A.
It comes with a manual, a screen protector, and a wrist rope.
The Screen, Buttons and Connectors
It has a really bright LCD screen with adjustable brightness, it's not a problem at all using it under the sun.
There are 3 buttons for operating the menu, up, enter/confirm, and down.
On the left side you have the XT60 connector and a balance port that supports 1S to 8S LiPo batteries.
The XT60 connector has a 3rd pin on top for communicating data with "BattGo" batteries. But it's also backward compatible with normal LiPo batteries.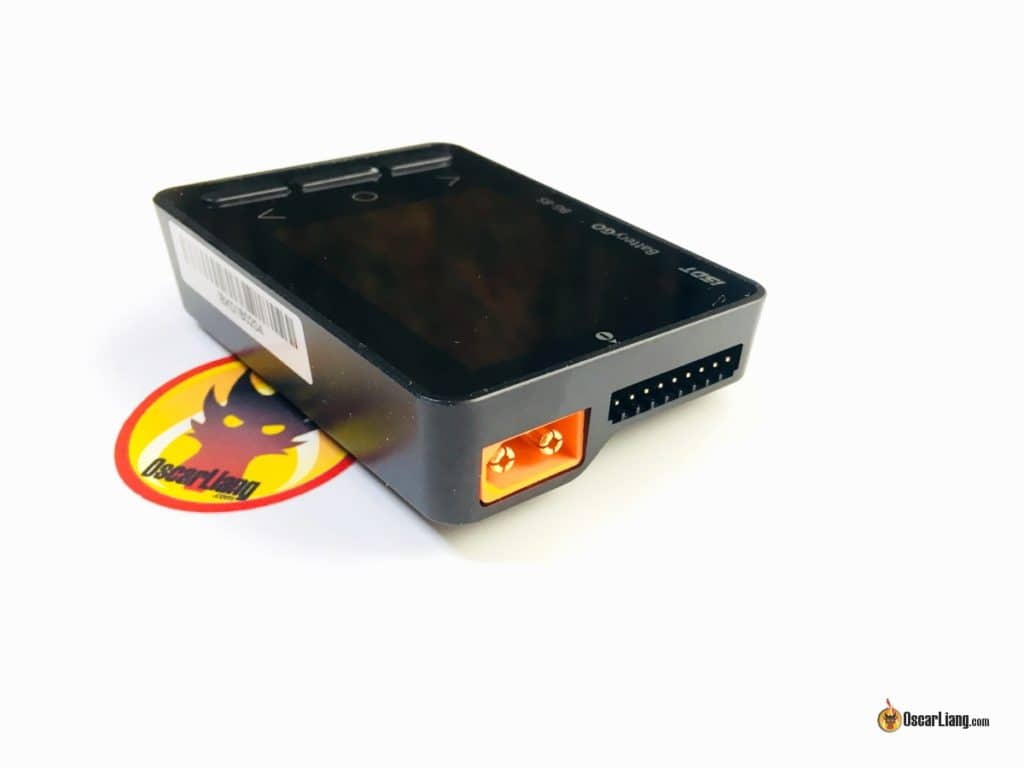 On the left side, there is a Micro USB port for connecting to a computer for firmware updates, and a USB port for charging external devices.
I have to say, the build quality is excellent just like any of iSDT's chargers.
The Menu and Modes
The Menu is super easy to understand and operate, let's walk through some of the features and settings.
Voltage Checker
The voltage checker turns on almost immediately after you plugin the balance lead, you get a nice voltage read out of each cell.
The voltage measurement has very high resolution as it shows you the voltage down to mV (0.001V). I confirmed the accuracy to my multimeter and it's within 5mV (0.005V), exactly what the spec states.
But it doesn't give you a percentage of how much capacity is left in the pack like many other cheaper battery checkers can do.
One thing I noticed was the different voltage measurements between the XT60 connector and balance port when plugged in individually. The XT60 connector reading seems to be 20mV higher than the balance port, but the balance port always overrides the voltage reading when it's plugged in probably because of its higher accuracy.
Cells Balance
Cell balancing is a pretty cool feature on a small voltage checker like this. But I am not entirely sure why you would need to do that since you can always "balance charge" your batteries and the cells are balanced during charging anyway.
Anyway it's interesting that the BG-8S is capable of doing that.
I tested this feature using a 4S 1000mAh pack that has a cell voltage difference of 130mV, and it took about 10 mins to reduce the difference to about 15mV and stopped.
USB Charge
It has a USB port that outputs 5V, you can use it to charge your GoPro or Smart Phones at the field, and it can deliver a solid 2A of current maximum.
Receiver Tester
It can be used to test receivers of different RX protocol including PWM, PPM and SBUS. It basically can show you the value of each channel up to 16 channels. Sounds like a great tool for troubleshooting RX, for example if you connect an RX to an FC and it's not picking up signal, you can test it with it.
Is the BG-8S Worth it?
It's an expensive tool. But for $30 you are not just getting a battery checker, it's a lot more. You could be paying $10-$15 just to get a XT60 to USB charger.
If you use BattGo batteries, the BG-8S voltage checker would be an extremely useful tool. You can modify battery settings and monitor battery status wherever you go. But if you don't, this is probably an overkill.
One thing I don't like about the BG-8S is the location of the balance port which is on the left. I am a right handed person and I usually hold the battery with my right hand, so it would be more convenient if the balance port is on the right hand side of the checker.