I will show you how to build a DIY LiPo Battery discharger easily with 12V halogen light bulbs. It's capable of discharging 2S, 3S, 4S, 5S and 6S LiPo batteries.
Some of the links on this page are affiliate links. I receive a commission (at no extra cost to you) if you make a purchase after clicking on one of these affiliate links. This helps support the free content for the community on this website. Please read our Affiliate Link Policy for more information.
As discussed in the article, how to dispose LiPo batteries, using salt water to discharge LiPo batteries is not a very efficient and effective method. Not only it can take a long time to discharge your battery, salt water can sometimes corrode metal contacts and stop the discharging completely leaving plenty of charge left in the pack.
So I built this light bulb discharger as a better way to discharge my damaged or old LiPo batteries. Just plug in your battery and just leave it in a fire-safe place, when the discharge is complete the light will go out. It can discharge a 2000mAh 3S LiPo battery in less an hour.
Further Reading: What are LiPo batteries and how to handle them properly?
Update (Jan 2018): I have been using this discharger for over 2 years now, it's still going strong and very reliable for me :) I have discharged over 15 batteries of various sizes and cell counts with it and I have not changed a single light bulb.
LiPo Discharger Circuit Diagram
I am using 6 light bulbs in this discharger with an on-off toggle switch too.
There will be an option for 12V/24V discharging mode:
12V is for 2S/3S LiPo
24V can be used for 4S, 5S and 6S
The max voltage of 6S is 25.2V which is higher than 24V. But it should be fine for a short period of time, most of the times you are discharging half empty batteries anyway.
The bulbs are rated at 20W, so at 12V, each will be drawing 1.67A of current. 3 of them will be drawing  a total current of 5A with 3 bulbs in parallel, on paper it can drain a 2000mAh 3S battery completely in 24 minutes.
However the current draw decreases as voltage drops, and the discharge will slow down gradually. It will most likely take slightly longer than 24 minutes to finish the process.
The light bulbs also has a cut off voltage at about 1 to 2V, which means it won't completely discharge the LiPo, but the charge left in the pack is so little, I normally just finish it by shorting the positive and negative leads in the battery. (Do this extremely carefully in a fire-safe place) Or you can connect it up to a power resistor.
Components for the Battery Discharger
I am trying to keep it as simple as possible, all the parts should be available on Amazon or eBay. The material should cost less than $10.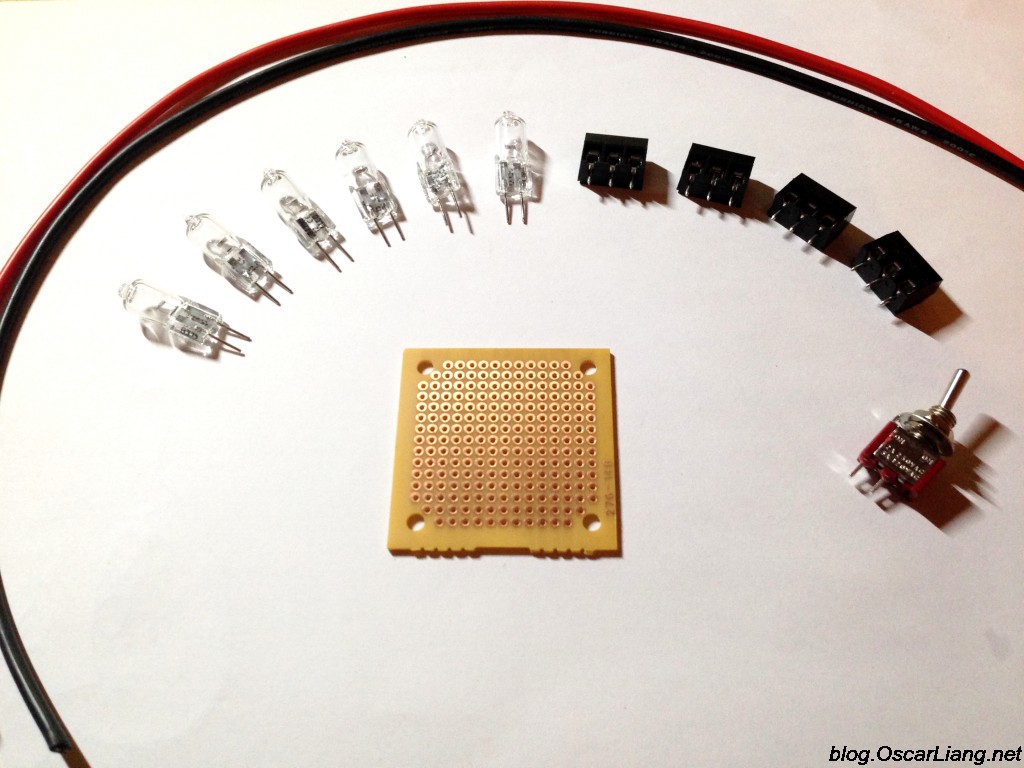 Building the LiPo Discharger
PCB screw Terminals
You can solder the light bulbs in the PCB directly, but I prefer using screw PCB terminals because it makes bulb replacement much easier. You can connect as many bulbs as you want and it's very flexible.
They also allows you to connect other types of load including high current resistors or motors :)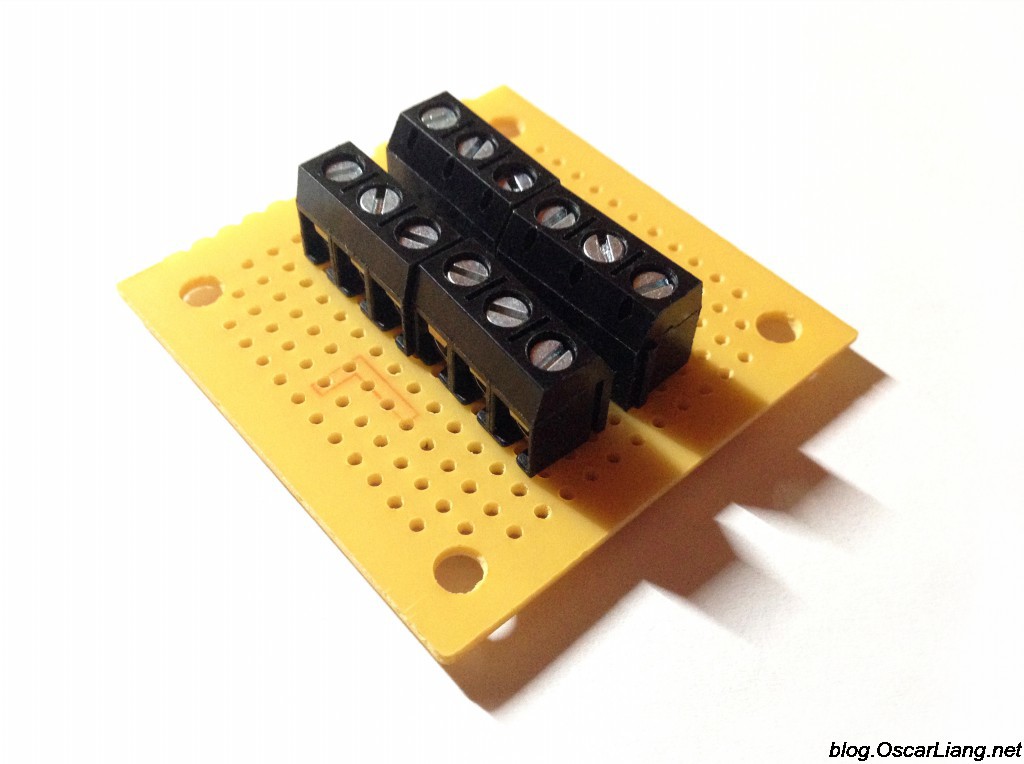 Make sure to add a lot of solder because there will be a lot of amps to go though.
12V/24V Discharging Mode Switch
These light bulbs are rated for 12V, so if you are discharging a 4S battery or higher cell count, you need to put these bulbs in series, which effectively will double the voltage rating to 24V.
Here is a simple "mode switch", which basically is just a bullet connector, either connects to the ground when it's in the 12V mode, or to another array of bulbs in parallel in the 24V mode.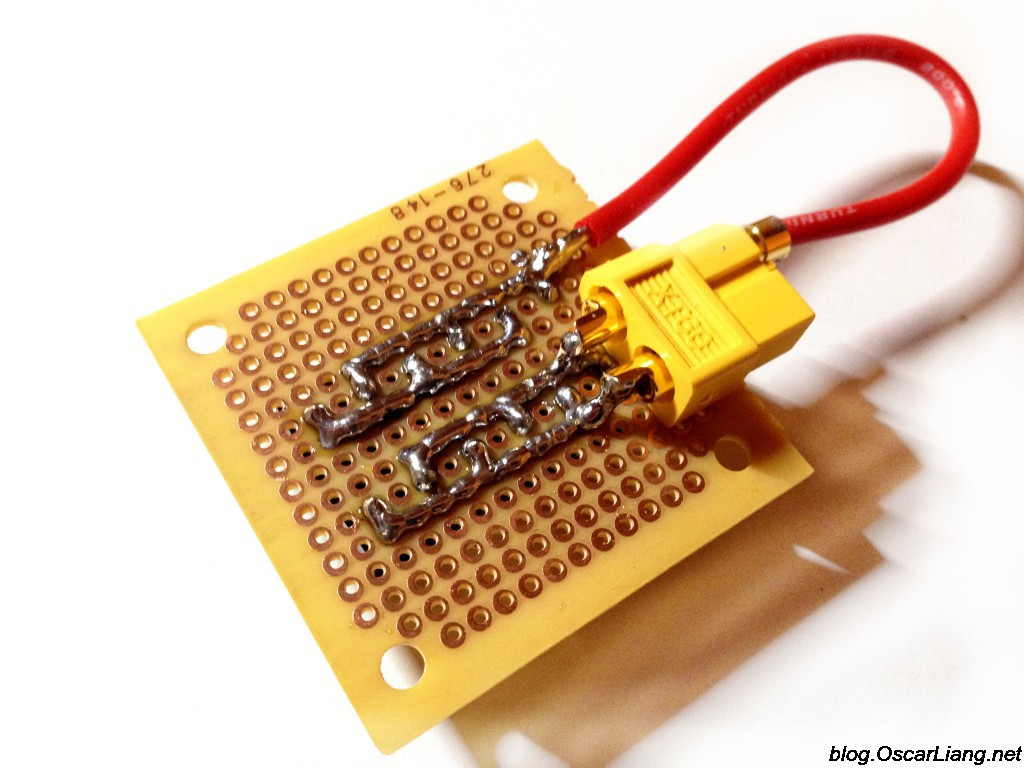 On Off Switch and Discharge Cables
The on-off switch is not a necessary item, because you can turn the discharger off by unpluging the battery, or the 12V/24V switch connector.
But I think the toggle switch can make this tool a bit more convenient and safe to use, in case something goes wrong during discharging, I can just flip the switch to shut it down if I am unable to unplug it from the battery's end. (for example, battery is on fire?)
Notice that I am using some pretty long electrical wires, because I want to be able to place the battery as far as possible from the light bulbs during discharging, which should be easier to manage when something goes wrong.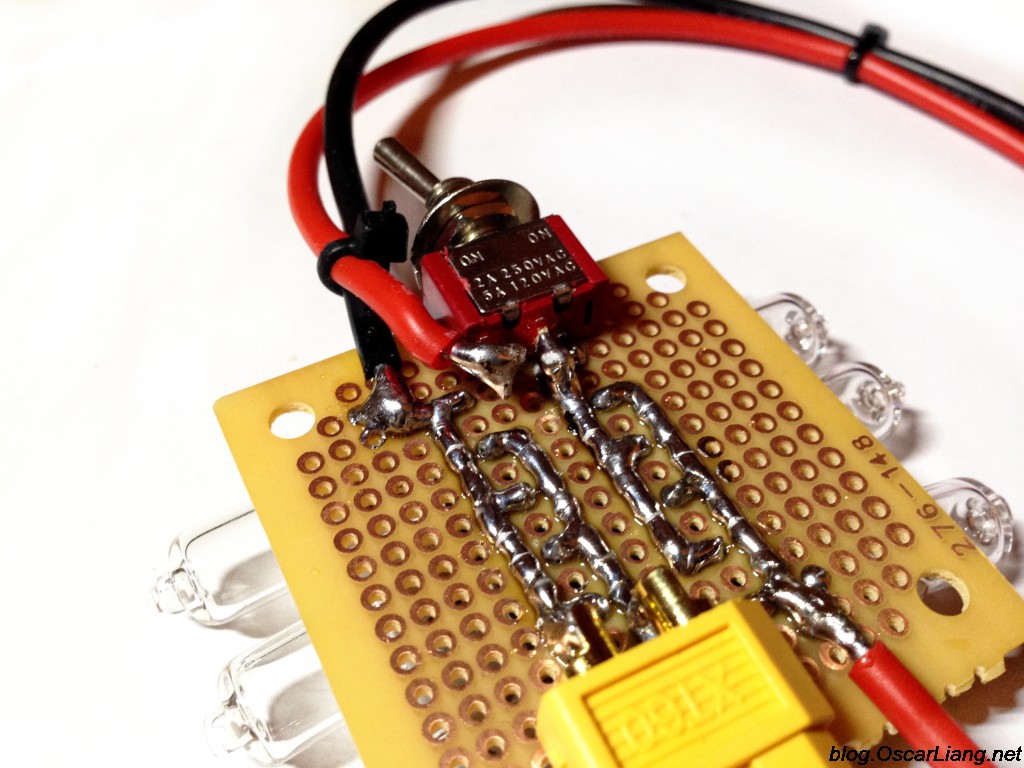 Future Upgrades
These bulbs can get very warm! I think it might be a good idea to put a fan on top to help heat dissipation. A small fan usually require 5V, which means we will need a step down voltage regulator, but it can be powered by the discharging battery.
I will also put some liquid electrical tape on all the soldering and connections to avoid shorts.
Testing
I tested the unit with just 1 bulb connected.
When turning on the light bulbs, I noticed there was a current surge of 2.6A at power up, and it quickly stabilized at 1.6A. If I reconnect the bulb again, the current surge doesn't happen any more, probably because the bulb is warmed up. It's not a biggie, I just found it interesting. :)
These bulbs are rated at 20W, with my 11.9V battery the actual power is 19W so it's pretty close.
Using the 24V discharging mode, the power drops almost half which is expected because the resistance increases when you put loads in series. So once you have discharged your 4S, 5S or 6S battery below 12V, it's a good idea to switch to the 12V discharge mode to discharge it more efficiently.
Edit History
Oct 2015 – Article Created
Jan 2018 – Updated article with a list of build components