Diatone is always pushing the edge of what's possible in FPV and there's no exception with this new H743 flight controller! As an added bonus, it also features 8 motor outputs for octo builds!
Some of the links on this page are affiliate links. I receive a commission (at no extra cost to you) if you make a purchase after clicking on one of these affiliate links. This helps support the free content for the community on this website. Please read our Affiliate Link Policy for more information.
Where to Buy?
What's included in the box:
Two sets of rubber grommets
Two FC to 4in1 ESC cables of different length
EMI shielding (to be inserted between FC and 4in1 ESC)
Note that in the longer ESC cable, the wires are not intentionally inserted in the plug. It allows you to re-arrange the wires in the correct order in case you are using a different brand ESC. It's a nice touch by Diatone.
Specs and Features
Input Voltage: 3S – 6S
MCU: STM32H743 (480MHz)
Gyro: BMI270 or MPU6000 (option on product page)
Barometer: Yes
OSD: Yes
Blacbox: 128M Flash Memory
Uarts: 8Set
ESC Signal: 8Set
Protocol: Dshot300/600/1200
ESC Telemetry: Yes
Power Led: Yes
LED Controller: BF LED/MB LED
I2C: Yes
F.Port: Yes
Buzz: Yes
TVS Protection: Yes
BEC: 3.3V 0.5A & 5V 3A (System Power)& 5V 3A(LED) & 9V 3A
Mounting Pattern: 30×30 M3
Here's the manual and wiring diagram.
Closer Look at the Mamba MK4 H743 FC
The latest Mamba MK4 H743 FC from Diatone continues with similar design to the previous Mamba F722 MK2.
First of all, the pin layout of this board is pretty user friendly and clean.
They keep in mind what components you are going to connect and group these solder pads in different sides of the board. However none of the pads are labelled, so you would have to constantly refer to the manual when soldering, this is probably one of the major complaint I have.
Great to see they are using a USB-C connector here instead of the older and more fragile micro USB port.
It has an array of LED at the bottom left of the board, giving you an overview of the system status, what's working and what isn't, which is a handy feature for experienced pilots.
It supports both analog FPV system and DJI FPV system. It has the AT7456E chip for overlaying Betaflight OSD on analogue video feed, as well as a powerful 9V BEC for DJI Air Unit/ Caddx Vista (DJI FPV system).
There are 8 UART's available so realistically you won't have to worry about running out of ports to connect to peripherals. It also has i2c port too for certain types of GPS and compass.
It has built-in TVS diode for reverse polarity protection.
There's onboard 128MB Flash Memory for blackbox logging, more than enough for tuning.
They avoided any solder pads on the bottom of the board, which is a smart and considerate design decision to keep wiring clean and easy to do.
The Mamba H743 FC offers flexible control of LED. You can either control LED through Betaflight, or the FC's own LED control system.
This is made possible by bridging solder pads on the FC. By bypassing Betaflight and use the FC's own LED control system, you can control LED's color and pattern with just a push button (located under the boot button). This makes switching to different color super easy in the field.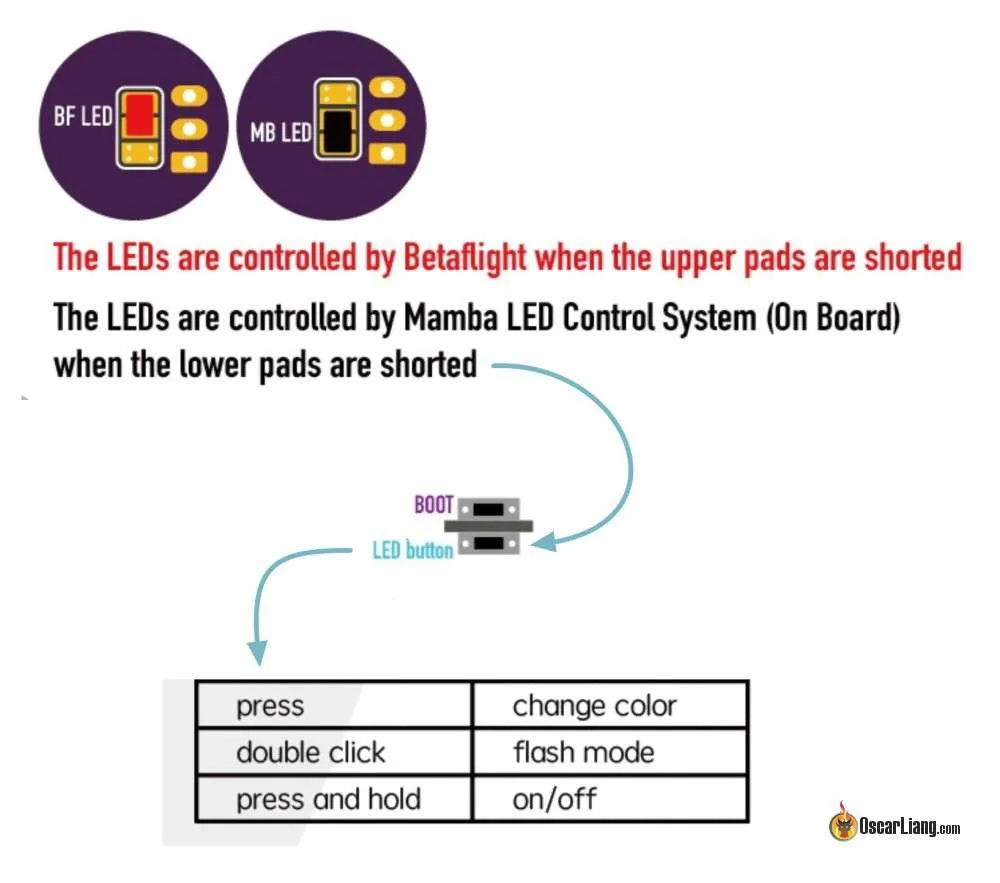 Overall a well designed board that is packed with features. I will be using this board on a feature build, stay tuned for more.