This month there are some incredible deals on Bind-n-Fly FPV drones from Banggood. In this post, I will recommend a few drones that are worth considering and are now available at a discounted price. This post is sponsored by Banggood.
Some of the links on this page are affiliate links. I receive a commission (at no extra cost to you) if you make a purchase after clicking on one of these affiliate links. This helps support the free content for the community on this website. Please read our Affiliate Link Policy for more information.
DarwinFPV BabyApe II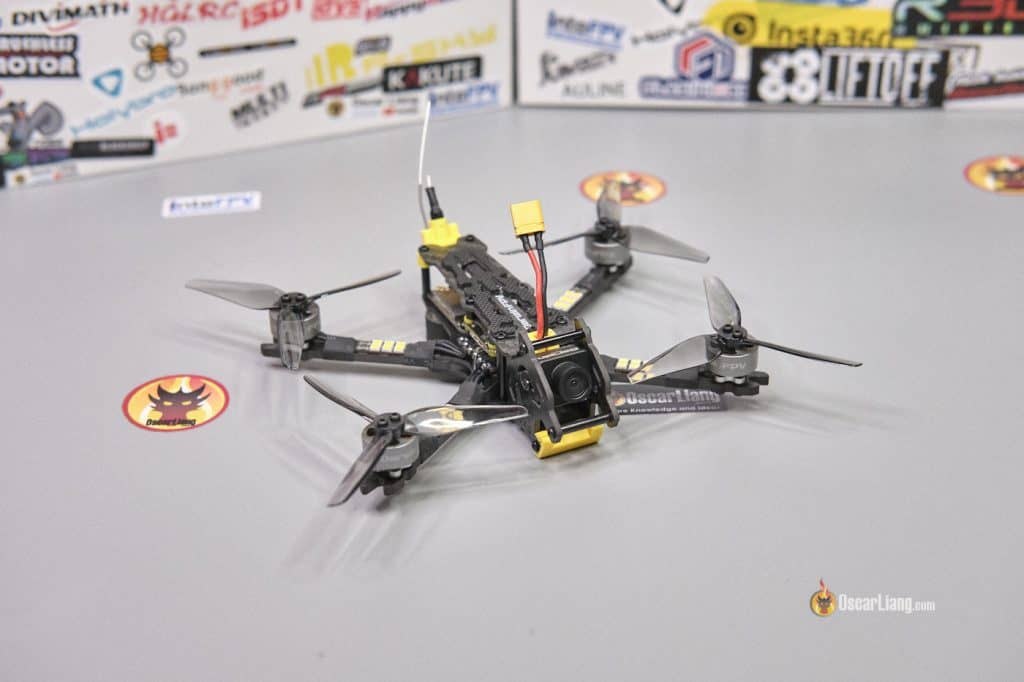 Get 18% off the BabyApe II from Banggood using coupon BGb10bd1 (exp 11/30): https://oscarliang.com/product-q2vv
The DarwinFPV BabyApe II is a compact and lightweight 3.5″ FPV drone, priced under $140, offering incredible value. Despite its low cost, it boasts features typically seen in pricier models, like great flight performance, bright LEDs, and a 6S power support. The drone's design ensures agility, making it suitable for both beginners and experienced pilots. Its 6S setup offers punchy flight dynamics and can handle windy conditions. Potential issues include a buggy VTX and an exposed RX antenna. Despite these drawbacks, its performance and affordability make the BabyApe II highly recommendable. It's an ideal choice for those seeking a budget-friendly, yet powerful FPV experience.
You can learn more about this product here: https://oscarliang.com/darwinfpv-babyape-ii/
Mobula 8 with DJI O3 Air Unit
Get 10% off the Mobula 8 O3 Edition from Banggood using coupon BG8182d6 (exp 11/30): https://oscarliang.com/product-wkbz
The Happymodel Mobula 8 with DJI O3 is an 85mm micro FPV drone, a larger version of the standard Mobula Tiny Whoops. With an updated flight controller for HD digital FPV systems and a unique ExpressLRS UART receiver, it offers a versatile flight experience, suitable for both indoors and outdoors. Despite its slightly chunky design, it performs agile maneuvers with a decent flight time, averaging 3:30 minutes. Concerns include vulnerable antenna placement and a challenging-to-access USB port. When compared to BetaFPV Pavo Pico, Mobula 8 stands out for its power and agility. Overall, the Mobula 8 offers a strong flight performance, though with room for design improvements. It's recommended for those seeking power in their micro cinewhoop experience.
You can learn more about this product here: https://oscarliang.com/happymodel-mobula-8-dji-o3-whoop/
Happymodel Bassline 2S HD
Get 10% off the Bassline 2S HD from Banggood using coupon BG060894 (exp 11/30): https://oscarliang.com/product-b122
The Happymodel Bassline HD Toothpick FPV drone is a lightweight, agile, and quiet drone, perfect for park flying. Weighing around 49 grams and compatible with 2S batteries, it offers both agility and power. The Walksnail edition features the latest camera and VTX, providing HD video feed in a small form factor. However, some challenges arise from inconsistent hardware quality control by Happymodel, and the need for potential PID tuning for windy conditions. Despite this, its low noise, speed, and HD video capabilities stand out. Although the setup might be daunting for beginners due to the lack of documentation, its performance and affordability make it recommendable for those seeking a quiet and nimble freestyle experience.
iFlight Nazgul 5 V3
Get 12% off the Nazgul 5 V3 from Banggood using coupon BG97e2b3 (exp 11/30): https://oscarliang.com/product-89nl
I reviewed the The iFlight Nazgul5 V2 quite some years ago and determined it was one of the best BNF back then. Now the V3 is optimized for the DJI O3 Air Unit and is designed for both freestyle and long-range cinematic shots. It can accommodate a GoPro camera, offers a 6S battery option, and comes with XING-E Pro 2207 1800KV motors. Its CNC aluminium camera mount reduces vibration, ensuring better video quality. It's not the cheapest drone on the market, but it's still a popular model due to its performance, build quality and ease of setup. Overall, its versatility, sturdiness, and power make it a top recommendation for FPV enthusiasts that don't want to build their own drone from scratch.
iFlight

Chimera7 Pro V2
Get 7% off the Chimera7 Pro V2 from Banggood using coupon BG5e90bf (exp 11/30): https://oscarliang.com/product-pzuw
The iFlight Chimera 7 Pro V2, designed for the DJI O3 Air Unit, offers an impressive build with protective side panels, ensuring the drone's internals remain safe from mud and dirt. Being a 7inch FPV Drone, it's more efficient and can carry a bigger battery than smaller drones like a 5″, therefore it offers longer flight time and can cover longer distance than smaller drones.
Its lightweight structure, combined with O3's clear signal, allows for long-range flights, even in challenging conditions like strong winds. The drone provides crystal-clear video feed, some might even consider the onboard recording good enough to replace the GoPro, reducing weight and enhancing flight efficiency. The Chimera 7's smooth and efficient 1250kv motors make it perfect for both capturing stunning cinematic shots and performing acrobatics. While it's feature-rich, it's the user experience, durability, and flight capability that stand out, making it highly recommended for those who are into long range and endurance flying.
Hope you find these sales interesting. Let me know if there're other models you want to get discount on and I will see what I can do.