PWM and PPM are two of the radio receiver protocols used to transfer data from RX to the flight controllers. In this article we will explain the differences between them and how to convert one to the other.
Some of the links on this page are affiliate links. I receive a commission (at no extra cost to you) if you make a purchase after clicking on one of these affiliate links. This helps support the free content for the community on this website. Please read our Affiliate Link Policy for more information.
PWM and PPM Introduction
PWM stands for Pulse Width Modulation and PPM stands for Pulse Position Modulation. PWM is a technique used to relay data in the form of a varying pulse width. In PPM (Pulse Position Modulation) the analogue sample values determine the position of a narrow pulse relative to the clocking time.
RC Devices that use PWM Pulses:
Servos
Electronic Speed Controllers
R/C receivers
Data loggers
Autopilot/Stabilization systems
Servo Controller
RC Devices that use PPM Pulses:
R/C transmitters
R/C receivers
Autopilot/Stabilization systems
PCTx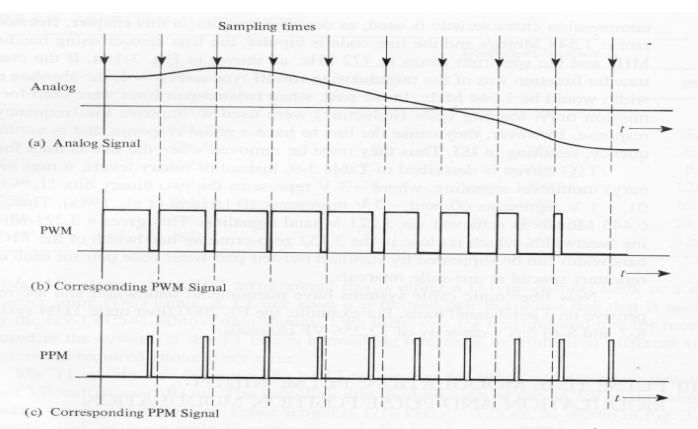 PWM – Pulse Width Modulation
In PWM each RC channel has it's own cable. If we want 9 channels we must wrie all 9 cables along with the power and ground. The value of each channel is represented as a 1 millisecond (ms) to 2ms "ON" signal and this signal repeats (or updates) every 20 milliseconds. It goes high for the 1-2ms, then it falls to Low. The length of time it is high is the value for that channel. We see this in the GUI directly as 1000-2000, so we are seeing the raw ON time in microseconds.
The whole frame is 20ms long, the important part of the pulse is the time the pulse is on; 1-2ms. Although the time between pulses is not as important it does play an important role. Usually keeping the time between pulses around 20ms is best. If the delay is longer, a servo for example will lose holding power. A pulse can be generated much faster but 20ms is best for most situations.
PPM – Pulse Position Modulation
Think of PPM as several PWM signals lined up back to back (not really, but that's what it does). In PPM, the same signalling is used but each channel is sent successively, then a delay, then it loops back to channel 1.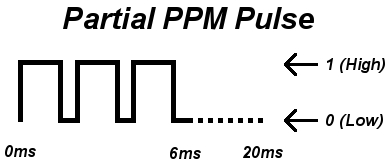 In normal PWM there are 50 updates sent per second (50Hz) which means each update takes 20 milliseconds. So if each channel takes up to 2ms, then we can do 10 channels within that 20ms before which we need to loop back to ch1. So we don't even have a downside of multiplexing all the channels down to 1 wire and yet we have less wiring, and in our case 2 extra AUX channels! If you can do PPM, it's better!
However PPM is not the most popular because many radios don't support PPM. If you don't have a PPM transmitter and receiver you can use a little device that converts between regular PWM and PPM. The MultiWii supports PPM input. Just define the appropriate option SERIAL_SUM_PPM in config.h and wire the PPM signal into the Throttle channel. The rest of the transmitter inputs like roll, pitch, and yaw are now free for other things. It is also possible to obtain PPM from PWM by using a mono-stable multivibrator circuit.
Conversion example
Here is a DIY project that uses Arduino to convert PWM into PPM signal.
You can buy PWM-PPM converters: Amazon | Banggood | GetFPV