The Realacc Strange Third Hand is a soldering helper and is a great tool for any quad build you need to do.
Some of the links on this page are affiliate links. I receive a commission (at no extra cost to you) if you make a purchase after clicking on one of these affiliate links. This helps support the free content for the community on this website. Please read our Affiliate Link Policy for more information.
You can order the Realacc 3rd hand soldering station from http://bit.ly/2mcroeI. This review is written Xtopher98 (intoFPV member).
Looking for more useful tools for building drones? Here is a great list to get started.
Unboxing
First off, let's start with the packaging. It came very well protected to the point where it was actually hard to get to the parts themselves. There is the base and 6 armsi. The little instruction sheet has pictures showing various uses and also giving the starts of the soldering smoke sucker fan.
Putting the arms together took a little bit of work due to the large amounts of friction between each joint on the arms.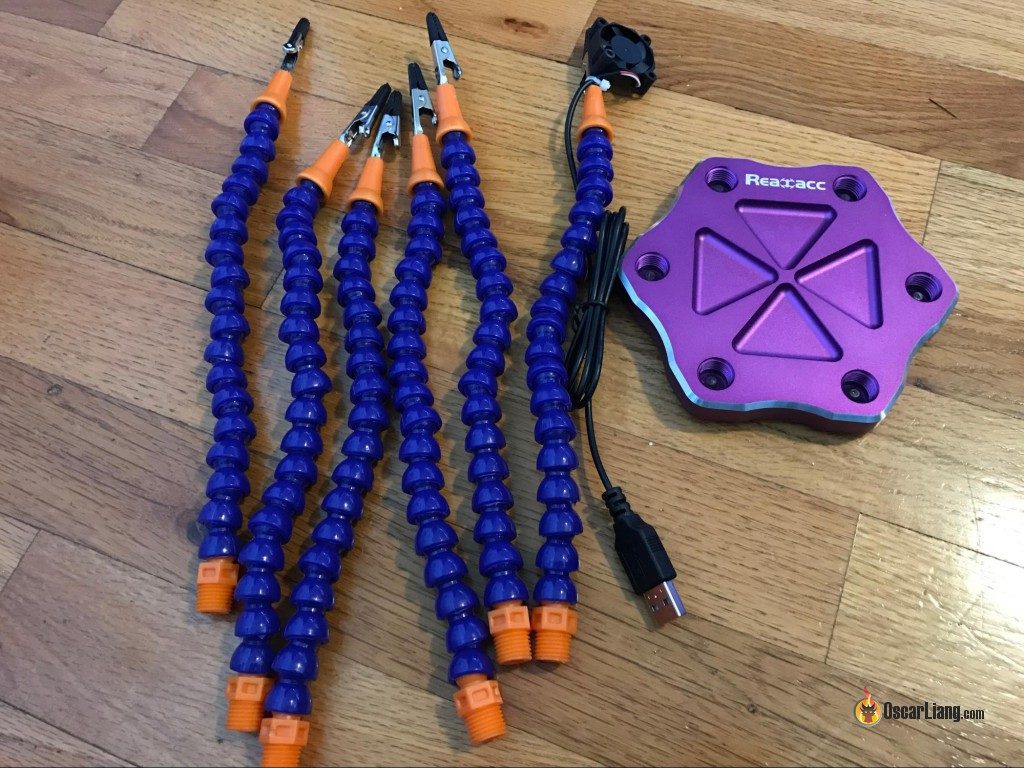 Arms and Grippers
The arms themselves are quite long, at 295mm each.
The grippers on the ends of each arm are actually just alligator clips with a bit of heat shrink over them to protect against hurting whatever they are holding. When I used this to solder a Tiny Whoop antenna back on, it made a large indentation on the antenna. I really wish that the clips themselves were not so strong, or softer material can be added to the "teeth". Also I found they bite so hard, making small adjustments is difficult.
Each joint of the arm is held very securely which is both good and bad. It's good because the arms will always stay exactly where you put them, even with a bit of a load on them. The downside is that they are hard to position accurately. It takes a little bit of fiddling to get them to stay exactly where you want them.
USB fan for soldering smoke
The USB fan is an interesting addition to this item. It's zip-tied and screwed to one of the arms directly. It's also USB powered, e.g. from your computer, powerbank or even a phone wall charger. The cable is a meter long.
The fan is also almost completely silent. When I first turned it on I thought that it wasn't working until I put my ear right next to the fan. It does have a strong enough pull to suck the smoke away from your soldering job but the fan has to be quite close and I was worried I was going to actually touch it with my iron.
Base
The base is really heavy as it is made of aluminum alloy. It looks really nice and is very sturdy. The arms screw into the base and held very securely. There are four little indentations in the center that are meant to hold things but I didn't find them useful.
On the bottom of the base there are six little rubber knobs that keep the base securely on the ground even when you are using it and bending the arms.
The base comes in three different colors, black, purple, and blue. The arms are the same color on all models, blue with orange tips.
Verdict
Pros:
Well designed
Strong Grips can hold anything you need
Comes with a fan to suck up soldering smoke (good for your health!)
Already has protection on the alligator clips
Arms stay where you put them
Easy to assemble
Six "3rd hands" – enough for most applicaitons
Base is heavy and very stable
Folds up nicely for storage
Cons:
Alligator clips are too strong!
Arms are stiff and hard to position precisely
Fan has to be close to the soldering iron to work well
In conclusion I really like this third hand soldering station, and I will be using this for my future mini quad builds. It is super handy and really easy to use. I would recommend this to anyone who builds multirotors and does a lot of soldering. Fantastic tool by Realacc.
You can order this here: http://bit.ly/2mcroeI