In this review we will check out the TBS Groundsation, a 2.4GHz video receiver for long range FPV flying with a built-in screen and many more other features.
Some of the links on this page are affiliate links. I receive a commission (at no extra cost to you) if you make a purchase after clicking on one of these affiliate links. This helps support the free content for the community on this website. Please read our Affiliate Link Policy for more information.
This reivew is written by Matt Lanham (FPVAntics), edited by Oscar. Get the TBS Groundstation from: https://goo.gl/43eMTK.
If you're following the latest hype you'll know that many pilots having been pushing the limits of their quads in long range flying.
Once you've got the long range urge, the first step in your adventure is increasing the overall efficiency and flight time of your rig. You will also need a long range RC system that can give you additional range. But you'll soon realise you want more, so your next challenge is going beyond the 5.8GHz video link.
Further Reading: A basic Intro to the Crossfire RC System.
2.4GHz vs. 5.8GHz for FPV
Keep in mind that you can fly pretty far on 5.8GHz with the right antennas, so before you dive in to alternative options it's worth investing in a 5.8GHz diversity setup (such as the Pro58 module) and directional antennas, and seeing how much extra that gives you.
However, like Crossfire it's not just about the theoretical range, it's much more about having the confidence that it won't let you down, and that the maximum range is further than you anticipate going.
That's what took me down the road of investigating 2.4GHz, I wanted more confidence, and there was also just a part of me that wanted to try something new!
To summarise, The advantages of 2.4GHz over 5.8GHz are:
Better range, overall more reliable video performance
Better penetration, 2.4GHz doesn't get blocked by obstacles as easily as 5.8GHz
The downsides of 2.4GHz are:
Larger antennas
Fewer VTX, VRX and antenna options
You have to use another frequency for RC link, such as 900MHz of the Crossfire or Frsky R9M, you cannot also use 2.4GHz for your radio transmitter and receiver
You probably can't fly with people who are using 2.4GHz…
2.4GHz is a "busy" frequency, a lot of things use 2.4GHz including WiFi and Bluetooth can cause interference to your signal
Anyway, make sure to check your local regulations regarding 2.4GHz before transmitting.
Getting into Long Range Wings
I've been pushing the range of my quads over the past 6-8 months, but more and more of the pilots that inspire me have been also getting in to wings, especially after the launch of the TBS Caipirinha 2. Wings bring with them an added efficiency letting you to go much further than a multirotor, making it possible to stay in the air for 60+ minutes. So I guessed I may as well embark on them alongside the exploration of 2.4GHz as this would really allow me to test the range.
With 60 minutes or more of flight time on a single battery it made sense to consider a ground station, especially if I could also introduce a 2nd screen for spectators. That's where the TBS Groundstation fits in, which is an all encompassing unit with in built screen, 2.4GHz video receiver, tripod mount – and an easy 5.8GHz relay for your goggles – everything you need!
TBS Groundstation Closer Look
Pulling the TBS Ground Station unit from the protective bubble wrap, you instantly feel its quality – it's heavy (in a good way) and it feels really well built. From what I understand these are built on demand with various ready to assemble parts. Clearly the QA process is top notch as it is perfectly assembled.
Here are the specifications of the TBS Groundstation:
16 channel video receiver, fully supports Lawmate (TBS) and Airwave (ImmersionRC, Boscam) bands
Built-in 4″ LCD screen
2 x analogue video output ports
2 x RJ45 ports for audio, video, 5V and 12V
12V power supply for FPV goggles
Built-in 5V USB charger
Low voltage alarm
Video transmitter port for broadcast / video relay
XT60 port for power input (3S LiPo required)
Dimensions: 10.7cm x 8.5cm x 4.5cm
The 4" screen is really clear, and small enough to keep the unit compact, but large enough that you could use to fly with. It's also large enough for a spectator to see what you're seeing.
The addition of a USB slot shows the attention to detail they have put into making this truly versatile – it's super convenient to charge up your GoPro after a long flight.
Another feature I really like is that there are 2 x RJ45 ports that allow you to transmit the video and audio link, as well as power your FPV goggles, and they supply a cable to do that in the box. (However, make sure your Goggles can actually support either 5V or 12V first, many goggles only support 2S input, e.g. 7V-8.4V)
You can invest in a larger LiPo battery to powering this ground station and have hours of fun without worrying about running out of juice.
If you don't like the idea of being tethered to the TBS Groundstation then fear not. TBS has supplied a 5.8GHz Unify VTX with the kit that plugs straight into the Groundsation, so you can rebroadcast (relay) the 2.4GHz video link to your 5.8GHz FPV goggles receiver, this also allows anyone else with 5.8GHz goggles to also get in on the action.
2.4GHz VTX and Antenna Options & Testing
The kit comes with a basic dipole antenna, but I didn't bother testing that as I knew it wouldn't be optimum for long range, so I purchased the IBCrazy BluBeam Ultra antennas initially.
It's an ideal antenna for flying around yourself as it's circular polarized (CP), and I managed to fly 4.5Km away from myself before the video link got bad – quite impressive range for a CP antenna.
For the VTX I used the TBS Unify 800mw 2.4GHz and used the BluBeam antenna initially and then upgraded it to a TrueRC Singularity as it's smaller and less likely to suffer damage from any impacts. I would recommend the Singularity for wings or quads because it's roughly the same size as a 5.8GHz TBS Triumph antenna.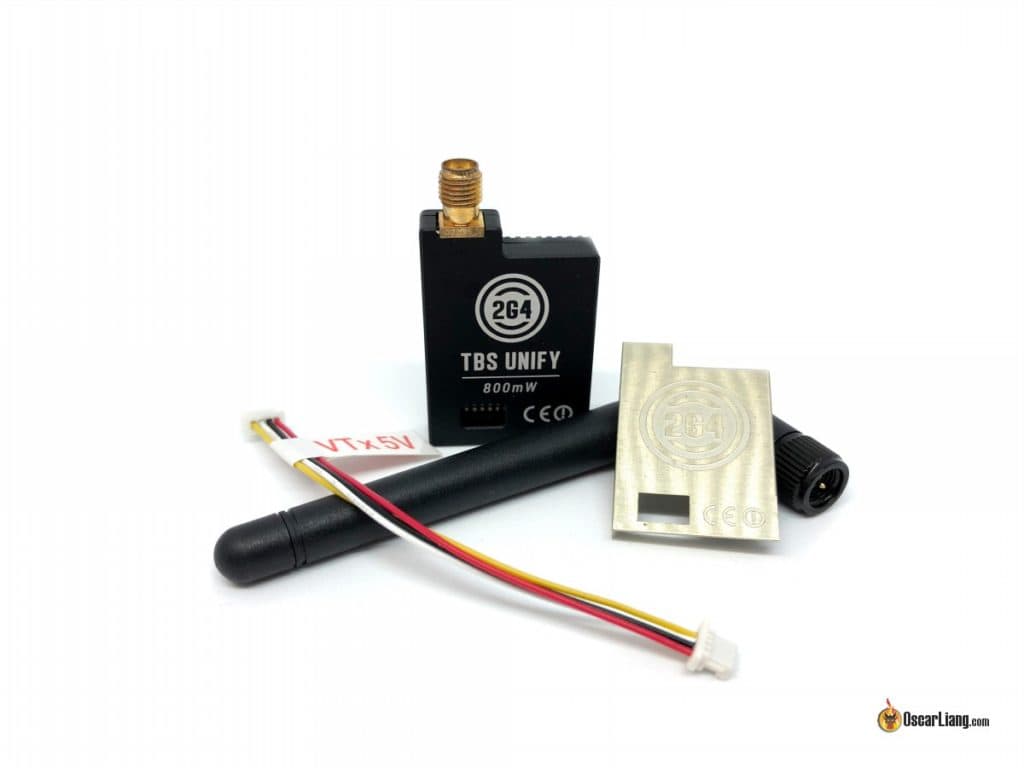 But 4.5Km wasn't quite enough for me. I started looking at other antennas and and noted that the recommended antenna from TBS is the 2.4GHz Yagi, so after a little more research I decided to pick one up.
The Yagi is much more directional, so I would still find plenty of uses for the BluBeam antennas as your not always going for range. I'd recommend having both options avaialble.
I went back to the same location of my original test, and flew the same route again so I could compare.
With the Yagi I flew 7.5Km and didn't have a single video blip! I just wanted to keep on going, and I could have except I didn't have my current sensor active and knew I would be in a headwind on the return flight.
Luckily that flight ended positively even though I was sweating with fear during that return as it required full throttle to get 50% of the speed I had on the way there!
It's worth mentioning that I was using the ZOHD Nano Talon for these tests, such a great little wing and so stable and efficient. That flight lasted a total of 30 minutes to fly over 15Km in total, and I only used 1000mAh. If I'd had my current sensor active I could have gone further, never mind, got to leave something to test for the next flight!
On one of my test flights my goggles started beeping, which sent me into a brief panic. I couldn't possibly run out of battery because I was 5Km away from home! Then I remembered I had the built-in screen on the TBS Groundstation (easy to forget when you're in the goggles).
I've also found it fantastic during an automated RTH (return to home) mode where I could just take the goggles off and kept an eye on progress via the screen whilst I was warming up my hands!
Conclusion
Outside of flying I've also found the screen extremely useful whilst building, or bench testing my wings (yes, I bought more!!). It's super handy to not have to dig out my goggles to check if the OSD is working or camera settings are correct.
The Groundstation is compatible with a tripod mount, and it's as straightforward as screwing it on. Even with the tripod attached it is still fairly compact, and lightweight – it takes 60 seconds to pull out the tripod legs and attach a LiPo so its not adding too much delay in getting in the air.
Overall I am really impressed, both with the quality of the unit and with the improved range it has given me. My plan is to keep pushing the range, and of course to do some comparisons with a 5.8GHz setup.
As of writing this I have purchased another 3 wings (S800, Caipirinha 2 and a My Twin Dream) and they will all on 2.4GHz for FPV based on my positive experience.
I hope this article is useful to those of you looking to explore new video link options and who have considered the TBS Groundstation.