In this post we will discuss the differences in frequency bands for FPV: 5.8GHz, 2.4GHz, 1.2-1.3GHz and 900MHz. Each of these frequencies have pro's and con's such as range, cost, antenna size and regulations.
Some of the links on this page are affiliate links. I receive a commission (at no extra cost to you) if you make a purchase after clicking on one of these affiliate links. This helps support the free content for the community on this website. Please read our Affiliate Link Policy for more information.
To fly FPV, we need two signal links, one is the radio control signal, the other is the video signal coming from the aircraft back to the pilot. These two signals are normally on different frequency so they don't interference with each other.
The most common frequency combo is 2.4GHz for radio control and 5.8Ghz for video. But did you know that there are many other frequency bands that are used for FPV? In this article we will take a look at the pro's and con's of each of these frequencies.
This guide goes into more detail how an FPV setup works.
How Many FPV Frequencies?
The frequency is determined by the equipment you use. These are the common frequencies used in FPV:
900 MHz
1.2 GHz / 1.3 GHz
2.4 GHz
3.3 GHz
5.8 GHz
We don't have the exact figure, but if I have to guess, I'd say at least 80%-90% of the people flying FPV are using 5.8GHz. I will explain why in the following chapter.
Differences in FPV Frequency
Here is a summary of the differences:
Range: lower frequency allows for longer range and can penetrate obstacles more effectively
Image Quality: the higher frequency allows for higher data rate and therefore the image looks better
Antenna Size: the higher the frequency the smaller the antenna
Regulations: not all frequency bands are legal for hobbyists, and even if it's legal there is usually restriction on the maximum transmission power
The laws can be different in every country, so find out about your local regulations before getting into FPV. In this article, I will use the United Kingdom as an example.
5.8 GHz

I want to talk about 5.8GHz first because it's confidently the most widely used frequency in FPV worldwide. It's so popular for a number of reasons:
Lots of options when it comes to gear – available from many brands, in different sizes, power level, and features
Antennas can be made extremely compact and light weight
Decent (enough) range for multirotors and even fixed wings
Affordable
Legal to use in many countries (under certain power)
Compatible with majority of the radio control links such as 900MHz and 2.4GHz
5.8GHz has the widest product range – I am collecting specs of all new VTX in this spreadsheet, it's an ever growing list. Some VTX have up to 72 channels in 5.8GHz as explained in this article, that allows you to fly with more people at the same time thanks to the wider frequency separations. This guide explains which channels are the best on 5.8GHz band.
It doesn't affect 2.4GHz or 900MHz radio control links (much), making it a great companion frequency.
5.8GHz has a decent range to power ratio, but because of the high frequency, penetration property is very poor. Therefore, flying is mostly restricted to line of sight, and it's only ideal for short range flying mostly.
Further Reading; Tips on Flying Long Range FPV
If you want to have really good range with 5.8GHz, using decent FPV Antennas is extremely important.
Perhaps not the most noticeable benefit, but 5.8Ghz does have slightly better video and audio quality than lower frequency bands due to the higher data rate.
900 MHz

The lower the frequency goes, range and signal penetration becomes greater, so in theory, 900MHz should be the best frequency on the list in that regard. However it's probably the least used frequency band for FPV because of the huge antennas and the lack of equipment options.
1.2 GHz / 1.3GHz
1.2GHz and 1.3GHz provide great range and signal penetration ability. However the antenna is also pretty big, and you could run into trouble pairing this next to your 2.4Ghz radios, as they sometimes interfere with each other. Low pass filters are often used to solve this problem.
Beware that this frequency band might be illegal to use for FPV in many countries, including the UK. People in the US are allowed to use 1.3GHz for transmitting video/audio only if they have a HAM license.
You can learn about 1.3GHz FPV system in this guide.
2.4 GHz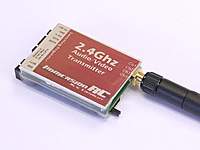 You can get decent range out of 2.4GHz, and it has a very good range to power ratio. It was much more popular back in the days with 27MHz, 72MHz and 433MHz radios, because they wouldn't interfere with each other. A lot less so now as we FPV hobbyists mostly use 2.4GHz for radio control.
The range and penetration ability is in between 1.2GHz and 5.8Ghz.
However, given the fact that it is the most used band in many different devices and equipment, such as WiFi, Bluetooth, RC transmitters/receivers, and even Microwaves, you could run into some serious interference issues. So usually if you decide to go with this band for FPV, you need to choose a different frequency for your RC transmitter other than 2.4GHz, such as the 900MHz TBS Crossfire.
I reviewed a few products on 2.4GHz before: TBS Groundstation 2.4GHz Video Receiver, and FuriousFPV 2.4GHz FPV Goggles module.
3.3 GHz
3.3GHz is a relatively new frequency for FPV. It's potentially a good alternative to 1.2GHz and 5.8Ghz, as it's a "happy middle ground". It also doesn't interfere with 2.4Ghz radio control links, nor the 900MHz. However, 3.3GHz is illegal to use in many countries for FPV.
Legal FPV Frequency and Power Level In The UK
Not only are there certain frequencies that are illegal for FPV flying, but also constraints on the transmission power level. For more detail check out this PDF.
2.4Ghz and 5.8Ghz frequency bands are okay to use for FPV in the UK, but there are power limits: for 2.4Ghz, the max power is 10mW. For 5.8Ghz the max power allowed is 25mW. (Source)
It's worth knowing some channels on the 5.8Ghz band might be outside of the legal frequency range, so make sure you know which ones are allowed in your country before transmitting.
Conclusion – What Frequency to Use for FPV?
At the end of the day, it depends on what kind of flying you plan to do. But if you want to do it legally, then unfortunately you don't really have much choice. Most decent FPV equipment is basically illegal to run due to restrictions on transmission power and frequency.
That's why most people use 2.4GHz for radio control and 5.8GHz for FPV, for reasons of being legal and the most easily accessible.
It's not uncommon to use an illegal frequency or transmit over the power limit without getting caught. Let's face it, regulations regarding RF transmission is hard to police. Anyway, you should always follow the law, and don't do anything unsafe or stupid.
Edit History
Jan 2014 – article created
May 2017 – article revised
Jan 2019 – Updated info about 5.8Ghz
Oct 2019 – Added some links to useful related articles